Page 3 of 3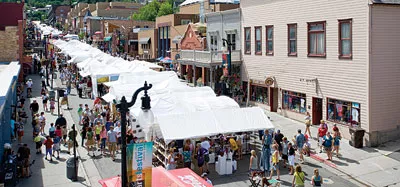 ARTS
Friday-Sunday, Aug. 1-3
Park City Kimball Arts Festival
While the valley heat soars, a mountain weekend getaway can give you a chance to enjoy some of the region's best visual artists, craftspeople, musicians and food purveyors, including the brand-new Artisan Tasting area for local creators of hand-crafted specialty foods.
Main Street, Park City, Aug. 1, 5-9 p.m.; Aug. 2, 9 a.m.-7 p.m.; Aug. 3, 9 a.m.-6 p.m., $5-$10, free to Summit County residents, ParkCityKimballArtsFestival.org
MUSIC
Saturday, Aug. 2
Vans Warped Tour
From metal to ska, folk to hardcore, the genres represented at the Vans Warped Tour are diverse indeed, proving the all-day event has come a long way since its early days as a punk-centric showcase. Young music lovers can look forward to a lineup that features K.Flay, Air Dubai, Breathe Carolina, Chelsea Grin, Cute Is What We Aim For and more. Utah State Fairpark, 155 N. 1000 West, Salt Lake City, 11 a.m., $23.50-$30 in advance, $40 day of event, VansWarpedTour.com
ACTIVE
Saturday, Aug. 2
Layton Triathlon
Are you beast enough to bike 11 miles, swim 600 yards and run three miles? This year, prove to your friends that you're the best at exercising by signing up for the sixth-annual Layton Triathlon. If this sounds too extreme, there's a mini course (half the distance) and even a special triathlon for kids 12 and under. Surf N' Swim, 465 N. Wasatch Drive, Layton, 801-335-4940, prices vary, LaytonTriathlon.com
ACTIVE
Tuesday, Aug. 5
Ice Skating at the Olympic Oval
The best way to beat the heat this summer might be to chill out at the Olympic Oval with some counter-clockwise ice-skating, six days a week. Rentals are available for $2.50.
5662 Cougar Lane, Kearns, 801-968-6825, Mondays-Fridays 7 a.m.-9 p.m., Saturdays 1-3 p.m. & 5-7 p.m., $4 for adults, $3 kids and seniors, UtahOlympicLegacy.com
FOOD & DRINK
Thursday, Aug. 7
Thirsty Thursday With the Salt Lake Bees
Though it's unfairly excluded from the classic ballgame song, beer goes along with baseball even better than peanuts and Cracker Jack. The Salt Lake Bees recognize this, offering beer (and other drinks, too) for just $2.75 during every Thursday home game, excluding July 24. Smith's Ballpark, 77 W. 1300 South, Salt Lake City, 801-350-6900, various dates and times from June through August, $9-$26, SLBees.com
MUSIC
Thursday, Aug. 7
Paul McCartney
With a huge setlist made up of Beatles hits and songs from his Wings and solo days, Paul McCartney's Out There tour gives fans who weren't around for the Fab Four's heyday the chance to authentically experience some of the best music ever made. EnergySolutions Arena, 301 W. South Temple, Salt Lake City, 8 p.m., $26.50-$249, PaulMcCartney.com/Live
ARTS
Thursday-Saturday, Aug. 7-9
Utah Festival Opera & Musical Theatre: Les Misérables, The Student Prince, Oklahoma!
For 22 years, the Logan-based company founded by Michael Ballam has been putting together a summer repertory season of wonderful Broadway musicals and classic operas, plus informative lectures. This year, catch the wildly popular musicals Les Misérables and Oklahoma!, along with Sigmund Romberg's classic American operetta The Student Prince. Eccles Theater, 43 S. Main, Logan, 435-750-0300, $13-$77, full calendar at UtahFestival.org
CULTURE
Friday & Saturday, Aug. 8 & 9
Friendly Island Tongan Festival
This two-day festival at Fairmont Park is a nonstop extravaganza of activities and entertainment. Attendees can take it easy and enjoy the live music, interactive craft demonstrations and plentiful food, or really get into it by taking part in a rugby game or volleyball tournament. Fairmont Park, 1049 Sugarmont Drive, Salt Lake City, all day, free, NTASUtah.org
CULTURE
Sunday, Aug. 10
Urban Flea Market
The largest and most diverse pile of knick-knacks and do-dads can be found at the Urban Flea Market, which has scads of locally made goods, hard-to-find records, thingamabobs, vintage whatchamicallits and second-hand doohickeys.
600 South between Main Street and West Temple, also July 13, 9 a.m.-3 p.m., free, FleaMarketSLC.com
FOOD & DRINK
Sunday, Aug. 10
Blues, Brews & Barbecue
Every Sunday from June through September, Earl's Lodge at Snowbasin Resort is the site of national touring bands, local craft beers and barbecue. This free family-friendly event will also host a playground
packed with bouncy houses for the kiddos. Snowbasin Resort, 3825 Snowbasin Road, Huntsville, 801-620-1000, Sundays, noon-5 p.m., free, Snowbasin.com
ARTS
Monday, Aug. 11
Footloose: The Musical
The 1983 movie musical that made Utah locations famous continues to thrive in a musical stage incarnation. Enjoy the story of a rebel named Ren shaking up the ideas of a conservative community, in a lovely outdoor setting. Sandy Amphitheater, 1245 E. 9400 South, Sandy, 801-568-2787, Aug. 8-9 & 11-16, 8 p.m., $8-$16. SandyArts.com
ACTIVE
Wednesday, Aug. 13
Geocaching Adventure at The Swaner Preserve
Do you like using your legs? Geocaching is great exercise and a fantastic excuse to hike the great outdoors. Arm yourself with sunscreen and scour the great wilderness of The Swaner Preserve & EcoCenter using one of Swaner's GPS units to guide you to colorful little boxes hidden in the bushes. 1258 Center Drive, Park City, also June 14, July 9, July 12, Aug. 13, Aug. 16; 6:30 p.m. Wednesdays, 11 a.m. Saturdays, $15, SwanerEcoCenter.org
ARTS
Friday, Aug. 15
Salt Lake Gallery Stroll
On a warm summer night, it's easier than ever to visit the many Salt Lake City-area art galleries that offer open houses for current exhibitions, often with the artists present to answer questions about their work. Grab a few snacks, take in some of the extraordinary work being showcased at local venues, then walk—or take a quick drive—to yet another impressive show. Various valley locations, also June 20 & July 18, 6-9 p.m., free, see participating locations and show descriptions at GalleryStroll.org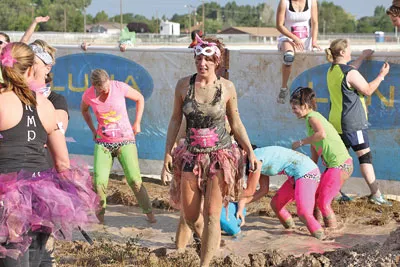 ACTIVE
Saturday, Aug. 16
Kiss Me Dirty Mud Run
If coating your face with mud at an outdoor obstacle course sounds better than doing the same in a relaxing spa setting, the Kiss Me Dirty Mud Run has you covered—literally. The non-competitive 5K is for people of all activity levels and features two brand-new obstacles for 2014.
Salt Lake County Equestrian Park & Events Center, 10800 S. 2200 West, South Jordan, 8:30 a.m., registration starts at $27, KissMeDirty.com
CULTURE
Friday & Saturday, Aug. 15 & 16
Ferragosto Italian Festival
Every August it's the same old question: What's the best way to celebrate the Assumption of the Blessed Virgin Mary? This year, do it right with the Ferragosto Italian Festival, a free, family-friendly event featuring authentic Italian food, arts, music and even a bocce-ball tournament. St. Ambrose Parish, 1962 S. 2300 East, Salt Lake City, free, ItalianInUtah.com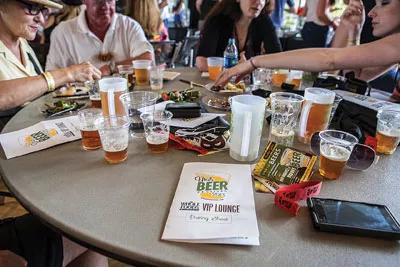 FOOD & DRINK
Saturday, Aug. 16
Utah Beer Festival
Tons of local and regional brews will be poured at
City Weekly
's fifth-annual beer festival. Local food, live music and a VIP lounge make this event a summer must for all beer lovers.
Washington Square, 450 S. 200 East, Salt Lake City, $5-$50, UtahBeerFestival.com
FAMILY
Sunday, Aug. 17
Lagoon Amusement Park
After more than 125 years in operation, Lagoon isn't just an amusement park, it's an institution. There's truly something for all ages, from the tame rides of Kiddieland to the wild thrills of roller coasters like Wicked, The Bat and BomBora, plus the cool-down water-park attractions of Lagoon-A-Beach. 375 Lagoon Lane, Farmington, 801-451-8000, $35.95-$47.95, open daily through Aug. 24, weekends through October, LagoonPark.com
FAMILY
Wednesday, Aug. 20
Broadway Across America: Wicked
In two previous visits to Salt Lake City, the celebrated 2003 musical—about the friendship between Oz witches Galinda and Elphaba—packed the Capitol Theatre with audience members of all ages. Now the kids can appreciate show-stopper "Defying Gravity" as the song that won a Tony for Frozen's Idina "Let It Go" Menzel. Capitol Theatre, 50 W. 200 South, Salt Lake City, Tuesdays-Sundays, July 9-Aug. 24, $65-$175, full schedule and showtimes at ArtTix.org
MUSIC
Friday-Sunday, Aug. 22-24
Ogden Valley Roots & Blues Festival
Escape the relentless heat of summer by attending the Ogden Valley Roots & Blues Festival at the picturesque North Fork Park in the mountainous Ogden Valley. Put on by the Ogden Friends of Acoustic Music, the Americana-centric event will feature Booker T. Jones, The Black Lillies and Jeffrey Broussard & the Creole Cowboys, with more names to be announced. North Fork Park, 6413 N. North Fork Road, Eden, three-day pass $45 in advance, three-day pass $60 at the door, single tickets $27 in advance, kids 16 and under free, OFOAM.org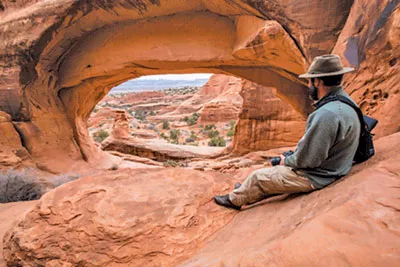 FREE
Monday, Aug. 25
Free National Park Entrance Day
It's the National Park Service's birthday, so you can experience the views from Angel's Landing in Zion National Park, soak in the red rock at Arches National Park or walk through a canyon wash in Capitol Reef and enjoy the majesty of our beautiful state—all for zero dollars.
All national parks, all day, NPS.gov/FindAPark/FeeFreeParks.htm
ACTIVE
Wednesday, Aug. 27
Zumba/Core Workout
The summer starts out full of good active intentions, but by August, you're just a pool of jelly stuck to an office chair. No excuses: Get to the Gallivan Center at 5:30 p.m. for free after-work exercises—zumba/core on Mondays and Wednesdays, and yoga on Tuesdays and Thursdays. 239 S. Main, Salt Lake City, 801-535-6110, June-August, Monday-Thursday, free, TheGallivanCenter.com
FAMILY
Friday, Aug. 29
Movie Under the Stars: Frozen
Try to resist singing along with the family on the next blanket at this free outdoor showing of the hit Disney movie. To get you in the musical mood, a concert will kick things off at 7:30 p.m. on the lawn of the Utah Capitol; the movie will begin at dusk. Utah Capitol, 350 N. State, Salt Lake City, 801-538-3000, more info
CULTURE
Friday & Saturday, Aug. 29 & 30
Midway Swiss Days
Swiss Days attracts thousands yearly to the beautiful mountain town of Midway. The two-day event features one of the largest gatherings of artisan and craft booths you'll find in Utah, a grand Swiss Days Parade with participants adorned in beautiful traditional costumes, yodelers, the crowning of the Swiss Miss royalty and, of course, delicious Swiss and German food. 130 W. Main, Midway, 7 a.m.-8 p.m., prices vary by event, MidwaySwissDays.com
ACTIVE
Saturday-Monday, Aug. 30-Sept. 1
Great Salt Lake Yoga Fest
A yoga practice doesn't get more efficient than this weekend event, where 35 yoga teachers from around the country will teach 75 classes for kids, beginners and hard-core yogis who need help with their headstands. When you need a break from downward dog, you can take in a spiritual seminar, learn how to prepare raw-food meals, listen to live music and watch as artists paint yoga-inspired pieces. SLC Krishna Center, 965 E. 3370 South, Salt Lake City, 801-798-3559, $60 for weekend pass, $30 per day, UtahKrishnas.org
FOOD & DRINK
Monday, Sept. 1
No Name Chili Festival
Dust off your homemade wooden spoon and vote for the best local chili that Utah has to offer, from seafood chili to Bourbon steak chili; it's all here. Bring the kids for snow cones and facepainting; there's also a beer garden for the grownups. 3825 Snowbasin Road, Huntsville, 801-620-1000, $12, $8 with three or more canned food donations, Snowbasin.com
MUSIC
Tuesday, Sept. 2
The Eagles
The Eagles' notoriously pricey ticketing practices haven't softened with the times; Don Henley's denim shirts aren't going to pay for themselves. But, when you're The Biggest Selling Band of Time, Space and Eternity, there's no such thing as "the cheap seats." As the name implies, the History of The Eagles Tour setlist covers the band's '70s/'80s heyday, with a handful of rockers from Joe Walsh's solo career tossed into the mix. EnergySolutions Arena, 301 W. South Temple, 8 p.m., $46.50-$176, EnergySolutionsArena.com
ARTS
Thursday-Saturday, Sept. 4-6
Salt Lake Comic Con
It already feels so much like a Utah institution that it's hard to believe it's been less than a year since the first record-setting event. The successful formula will still include a massive convention floor of vendors and artists; panel discussions on every possible topic from movies, television and genre literature; and more creative cosplayers than you can shake a light saber at. And then there are the special guests, which (at press time) are scheduled to include notables like Bruce Campbell, Christopher Lloyd, Erin Gray and Cary Elwes. Salt Palace Convention Center, 100 S. West Temple, Salt Lake City, $17-$250. SaltLakeComicCon.com
CULTURE
Friday-Sunday, Sept. 5-7-8
Salt Lake City Greek Festival
The Greek Festival is one of Salt Lake City's longest-running and largest cultural festivals. The four-day event offers authentic Greek cuisine, live music, an outdoor marketplace and more. Self-guided tours through the Holy Trinity Cathedral and Hellenic Cultural Museum are also encouraged during the festivities. Holy Trinity Cathedral, 279 S. 300 West, Salt Lake City, 801-328-9681, SaltLakeGreekFestival.com
MORE SUMMER GUIDE 2014

Summer Day Planner
Tee Time
Summer TV 2014
Seize the Day
Playing Hooky
Elective Summer Reads
Under the Sun
Fair Weather Fun
Center Stage
Summer Concerts