Page 12 of 23
LET THE GOOD TIMES ROLL
Biking doesn't have to be an uphill climb. Remember when it was awesome?
By Allison Oligschlaeger
comments@cityweekly.net
In the endless crusade to burn calories, it's tempting to turn once-enjoyable activities into grueling challenges. Sunday mornings once whiled away on a beach cruiser are now spent sweating it out pedaling up a steep canyon road or on the stationary mount in the basement. The blood, sweat and tears can cloud our vision, making it difficult to see what we enjoyed about biking all those years ago.
Here are some ways you can keep the shiny side up (and the rubber side down!) this summer.
Riding for the Cause
Whether you're riding for fun, fitness or charity, chances are you're not alone. Why not try riding with the neighbor kids again? Casual riders will enjoy the weekly group rides offered by local bike shops, whereas more ambitious cyclists may prefer training groups like Schmos to Pros Cycling (Meetup.com/Schmo-To-Pro-Cycling) and Team Fast Lane (TeamFastLane.com). For particularly passionate peddlers, Salt Lake City offers several cause-focused biking groups, including the Huntsman Cancer Institute's Bonneville Cycling Club, Cycle4aCure and Animal Liberation Racing, a group of endurance athletes dedicated to showcasing the health benefits of a vegan diet. (BCCUtah.org, Cycling4ACure.org, AnimalLiberationRacing.com)
Go the Distance
Satisfy your inner Boy Scout with a biking/camping combo trip led by the Salt Lake Randonneurs (SaltLakeRandos.org). This summer's upcoming randonnees (French for "excursions") range from 200-1,200 km, lasting up to four days. For a more competitive trek, try Planet Ultra's Hoodoo 500 (Hoodoo500.com), a 500-mile race through three Utah national parks, starting Aug. 28. Racers can compete on a solo bike, tandem bike or relay team.
Peak Experiences
Maximize your downhill time by taking advantage of Utah's summer resort packages. For a premium, Solitude Mountain Resort, Park City Mountain Resort and Snowbird Ski & Summer Resort all allow guests to haul mountain bikes up their chairlifts. Stick around Sundance Mountain Resort after a biking date for a romantic Full Moon Lift Ride, $28 for two people. (SkiSolitude.com, $10; ParkCityMountain.com, $15; Snowbird.com, half-day $19).
Bikes & Beer
Adult beverage enthusiasts can get in on the action by joining one of several pedal-powered pub crawls. Check out Cutthroat Racing (CutthroatRacing.com), a collaboration between Brewvies, Pie Hole and Uintah Brewpub, or CrankSLC's (CrankSLC.com) weekly bar and taco tour, the Tuesday Night Slow Roll. Already have a drinking team? Book a night out on the Pedal Hopper (PedalHopper.com), a human-powered wagon that can shuttle as many as 16 people from bar to bar.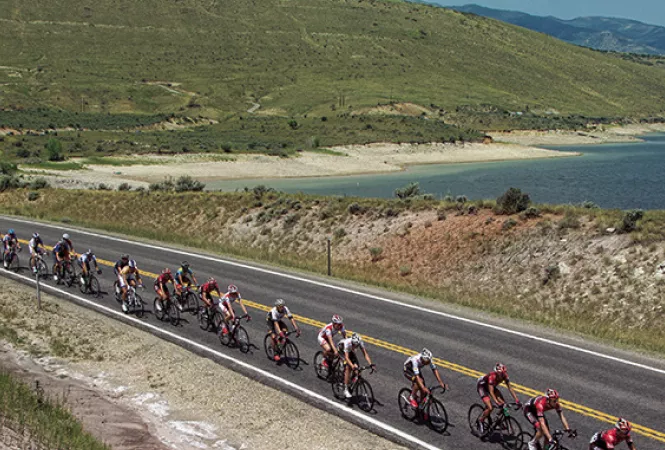 Race Ya!
Revisit the schoolyard with Sundance Mountain Resort's weekly bike races. Held alternately at Sundance and Soldier Hollow (SoldierHollow.com), these casual competitions welcome riders of all ages and experience levels. Particularly ambitious amateurs can ride alongside the pros in the Tour of Utah's Ultimate Challenge (TourOfUtah.com), a week-long riding event, Aug. 3-9, that exposes cyclists to the world of professional racing. Cool off with a friendly game of bike polo in Liberty Park, hosted every Sunday by the Beehive Bike Polo Team.
Double Date ... or Not!
Put date night on wheels with a tandem rental from Bingham Cyclery (BinghamCyclery.com) or the SLC Bicycle Company (SLCBike.com)! The team efforts of pedaling, steering and braking make great bonding experiences. If you're looking for something a bit less pedestrian, local bike shops offer several additional variations on bicycles, including unicycles, electric road bikes and the Elliptigo, a mobile elliptical machine designed for those with joint pain or other mobility issues. Utah Home Fitness (UtahHomeFitness.com) offers half-, full- and two-day Elliptigo rentals.
Sharing Your Ride
GREENbike's (GreenBikeSLC.com) ridership increased by 184 percent in 2014, making it the most successful bikeshare program in the country. With more than 150 bikes at 20 different stations, Salt Lake City's newest transportation system continues to expand, making it an increasingly viable option for commuters or people who don't own bikes. Pay as you go or purchase a one-year unlimited pass for $75.
Pedicabs:
Pedaling on your own power just isn't your speed? No worries. Thanks to Salt Lake City's emerging pedicab industry, you can still enjoy the benefits of zero-emissions wheeled transportation. Flag down a Salt City Cycle Cab (SaltCityCycleCab.com) operator for a pleasant, sustainable ride of up to 60 miles.
Meet a pedicab driver Louis Gasper
Founder/owner of Salt City Cycle Cab
What's your favorite part of driving a pedicab?
Every day is different and has a lot of different challenges. A lot of people come to work and get really bored with whatever they're doing. That monotony isn't found here. Yes, the grind is the same, but the people and the experiences are always unique. You might have a chance to drive Ralph Becker around or get Michael Jordan in your cab.
Do you have a favorite ride memory?
The one that was like, $375 at the end of it? That was memorable. The other memorable rides are the ones to unique places, like 1400 East or outside 2700 South, or things that are halfway through the valley—those are memorable. But I don't know, it's all so much. I've been doing this for 5 1/2 years. How am I supposed to just isolate one fare?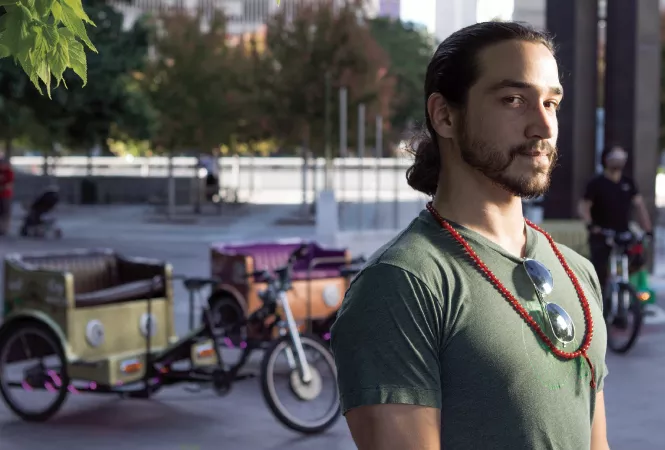 What do you look for in a rider?
An attitude, a little bit. They can't be taken advantage of. On top of that, somebody who is mechanically inclined—anybody who can bring their own wrench to work and not have me do everything for them is great.
How do you deal with maintenance and repairs?
I am responsible for all my own maintenance. At first, I was sourcing certain things as simple as fixing wheels to other bike shops, but I realized they were just charging me way too much. And as soon as you get into the self-sufficient areas of biking mechanics, you eventually just incorporate that into everything—not just biking, but also welding and making your own metal and parts and batteries. It's an endeavor.
As someone who bikes for a living, how would you encourage people to get out there and pedal this summer?
Get off your ass, man! Biking changes the world in a way that we can measure with each pedal stroke. It's our responsibility as a community to improve the quality of the lives of others, and if you're not doing what you can by riding a bike—if you're out there driving a gas guzzler—it's time to start."