Page 17 of 23

ON THE LOOSE
Curio shops, off-the-grid eateries and wayward haunts in which to while away a lazy summer day
By Randy Harward
comments@cityweekly.net

Remember summer vacations? Everyone signed your yearbook saying "stay cool" and "have a fun summer"—and that's exactly what you did. You attached Iron Maiden buttons to bottle rockets and sent them on a parabolic trajectory toward the neighbor's parched back lawn. You threw Chinese stars into the side of the landlord's shed. You slept outside in order to swathe That Girl's house in a two-ply expression of your love, signed, "Very truly yours, Prince Charmin'." Oh, and then there was the time you and your buddies made fake IDs out of baseball cards and told the Sugar House liquor-store security officer that, yes, you are frickin' Fernando Valenzuela, and kindly accept this jar of coins in exchange for that bottle of mezcal.
'Scuse me. I'm getting misty.
Summer is such a magical time for a youngster, but who says the adventure has to end with graduation, or employment, marriage, parenthood and other such shackles? Even if you have to take it down a notch in order to demonstrate a modicum of personal growth, you can still have a good time. So reclaim your childhood this summer, starting with these suggestions, which are designed to get you out exploring new neighborhoods. (And maybe take the kids along—good parenting starts with being a good example.)
DOWNTOWN
Screw the ice-cream man—gimme a cookie!
Downtown Salt Lake City, being, you know, downtown doesn't seem like the kinda neighborhood that could benefit from press. But suppose you don't get down there very often? There are a few places you should know about. One of 'em is RubySnap (770 S. 300 West, 801-834-6111, RubySnap.com) a cute little bakery with riot-grrl spunk—so much so, that a portrait of Rosie the Riveter hangs behind the counter. What's more, each cookie is given a female name, and they work their way into your heart via your tummy. So here's your ostensibly counterintuitive summer tip: Thumb your nose at the ice-cream man this summer. Head into a tiny little building where the ovens are going all day long. Fork over 3 bucks for a cookie. Reflect briefly on how, to paraphrase Vincent Vega in Pulp Fiction, this better be one effin' good cookie. Then discover that, yes, yes, it is.
MAGNA
Monsters, tattoos, pizza, beer and sausage: Magna has it all.
What's to do in Magna? Well, until "Super" Dell Schanze ruined it for everybody, you used to could kick an owl while piloting yer paraglider. Verily, this sleepy little mining town at the foot of the Oquirrhs has occasionally been the butt of jokes about its lack of activity. Magna, however, is full of surprises. A big one is the combo tattoo studio/horror memorabilia shop, Art On You Studios (8971 W. 2700 South, 801-981-8180, ArtOnYou.com). Cool enough for downtown Salt Lake City or Sugar House, the combo vintage horror-movie theater/Old West tattoo shop overflows with small-town friendliness. Owner Storm loves to chat with fellow horror fans while pointing out such cinematic treasures as a film canister that once held a test reel for The Exorcist. There's also fresh, hot popcorn. His tattoo work, by the way, is top-notch and photo-realistic.
Next door, there's a decent pizza shop secreted inside The Filling Station (8987 W. 2700 South), a good-size bar with a similar aesthetic, a killer jukebox and Nonna's Pizzeria in back. Two blocks down the road, you can get your meat on at Colosimo's Standard Market (9009 W. 2700 South, 801-250-1088). You can either eat the soppressata and goat cheese on premises, or take it back up to Art on You, where you can pretend with Storm that they're your exposed innards. Afterward, head up into the Oquirrhs for a scenic hike. When you get to the top, peer down into the Kennecott copper-mine abyss, which looks suspiciously like the backyard of the Titty Twister in From Dusk Till Dawn.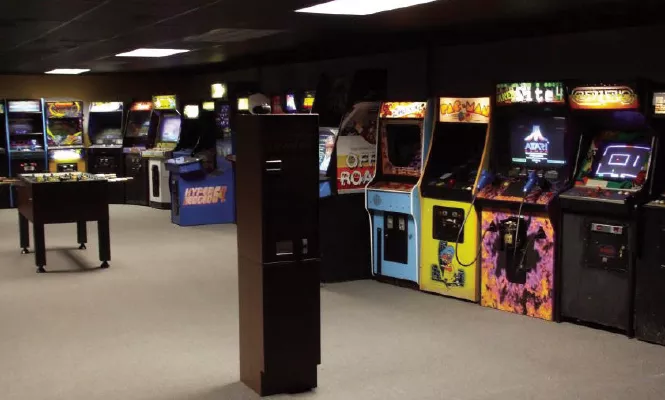 If you're free on July 18, Art on You Studios gets together with other Magna businesses and throws one hell of a block party: Halloween in July. For more information, visit HalloweenInSummerFestival.com.
WEST VALLEY CITY
Slashing prices at the swap meets.
Shopping, particularly sidewalk sales and swap meets, are big during summer months. The biggest swap meet in town is at the Redwood Drive-In (3688 S. Redwood Road, 801-973-7088, RedwoodDriveIn.com). On Saturdays and Sundays, 7 a.m.-4 p.m., the theater's parking spaces are packed with merchants offering great deals on new and used goods (cars start filing in for outdoor double features later in the evenings). So if you're lookin' for Mexican candy, furry seat covers, ladies' unmentionables, yard-sale/pawn-shop sundries, or a sweet butterfly knife, this is the place to go.
If you're in the mood for a little comparison shopping, head a few blocks north to Salt Lake's Indoor Swap Meet (3500 S. 1500 West, 801-887-7927, SaltLakesIndoorSwapMeet.com), which has all the same stuff—but, one reckons, an even wider selection of ridiculously ornate blades. Or go southwest to Randall's Market (3235 W. 4100 South, 801-966-7474) a converted 7-Eleven that's been selling tchotchkes and "close-coded" (read: expired but still safe) groceries since 2001. There, you can get three ice-cold cans of Coke for a dollar, or pop-culture treasures like Day of the Dead zombie costumes. They have some killer knives, too.
MILLCREEK/HOLLADAY
Get fragged in the shade at The Atomic Arcade
Vintage arcades, like movie theaters, make for a great escape from hot summer days. The Atomic Arcade (3939 S. Highland Drive, 801-634-1130) provides not only a place to cool off, but also a time-warp back to your childhood. Nice and dark, like an arcade should be, The Atomic Arcade offers vintage games at vintage prices. That means a pocketful of quarters gets you hours of fun on classic games like Galaga, Marble Madness, NBA Jam, Pengo, Tron, Off Road, Q*bert and various Pac-Mans. Once done, you can head across the street to A Bar Named Sue (3928 S. Highland Drive, 801-274-5578, ABarNamedSue.net) for some beer and grub, then carefully wobble back to the arcade, open from 3 p.m. until 1 a.m., for more gaming.