Page 3 of 23
IT'S A WATERFUL LIFE
Utah summers are hot and dry, and that's all the more reason to take the plunge
By Geoff Griffin & Kathleen Curry
comments@cityweekly.net
When a city is named after a body of water, it's not surprising that water activities factor heavily into its recreational possibilities. Salt Lake City's nearby lakes and rivers provide numerous boating, kayaking, fishing and other opportunities. However, Salt Lake City is also a place where you don't need any specialized equipment or know-how to enjoy splashing in the water.
From water slides and hot springs to interactive fountains and running waters, check out these spots where you don't need anything more than a swimsuit and sunscreen and, in some cases, you don't even need money. Just take the plunge, already!
Slip-Slidin' Away
On a hot summer day, there's nothing more refreshing than shooting down a water slide and being launched full-force into a cool pool. The Wasatch Front is loaded with water parks where you can combine your love of water with the need for speed: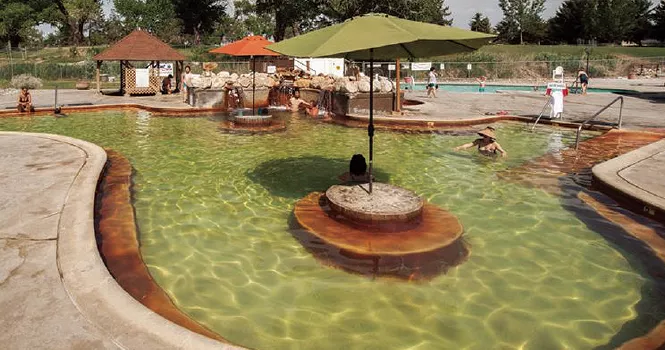 Seven Peaks Salt Lake
Conveniently located close to downtown in Salt Lake City's Glendale neighborhood, the park features 14 water slides, including two face-first mat slides, along with a 400,000-gallon wave pool. 1200 W. 1700 South, Salt Lake City, 801-972-3300, SevenPeaks.com, day pass $24.99.
Farther south, sister park Seven Peaks Provo has 17 slides and features a giant half-pipe and a ride with a 100-foot free-fall. 1330 E. 300 North, Provo, 801-373-8777, SevenPeaks.com, day pass $24.99
Lagoon A Beach
Boasts a series of slides, rivers and water features spread out over six acres. The water park is just one part of the larger Lagoon experience that features exhilarating amusement-park rides (see p.34). 375 Lagoon Lane, Farmington, 801-451-8000, LagoonPark.com, Single Day Passport $49.95 (includes admission to Lagoon Amusement Park)
Cowabunga Bay Water Park
Nothing says "extreme water park" like naming a ride "Mondo." Mondo lives up to its name by offering 1,000 feet of twists and turns through darkness. The Bay also features a gigantic 1,500-gallon bucket—so big, it's visible from the freeway—that periodically spills out onto guests below. 12047 S. State, Draper, 801-553-1000, CowabungaBay.com, day pass $19.99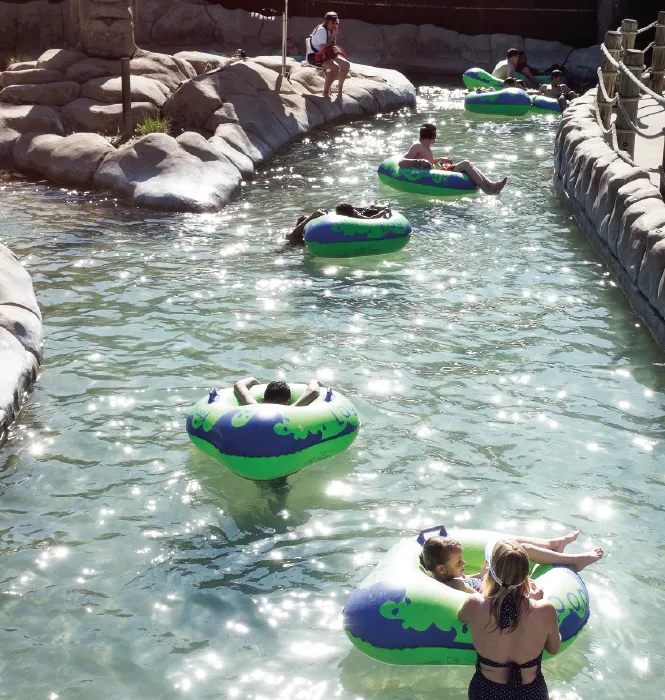 Cherry Hill Water Park
Guests who try the Cardiac Canyon River Run at Cherry Hill will experience a ride that, just like a real river, has caverns, waterfalls and sudden drops. 1325 S. Main, Kaysville, 801-451-5379, Cherry-Hill.com, day pass $20
Soak It In
There's a reason songwriter Charles Tobias wrote about the lazy days of summer. Sure, it's a time to get out and play, but it's also a time to kick back, relax, and enjoy soothing natural spring waters:
Crystal Hot Springs
Just an hour north of Salt Lake City off Interstate-15, these ancient springs produce natural waters loaded with all sorts of healthy vitamins and minerals. Temperatures range from very hot (120-134 degrees) to the very cold (65-75 degrees) within 50 feet of each other. There are also two water slides. On the way to and from the springs, you'll pass by Brigham City, which has a number of good restaurants allowing you to turn this into a full day or evening getaway. 8215 Highway 38, Honeyville, 435-279-8104, CrystalHotSprings.net, pool pass $7, pool & slide pass, $10
Lava Hot Springs
Head two hours north out of Salt Lake City, cross the Idaho border and arrive in the small town of Lava Hot Springs, whose five outdoor pools filled with spring waters have no chemicals, sulfur or odor, and range in temperature from 102-112 degrees. In town, there is a large pool and a river, which you can float down on a rented tube. For a small town, Lava offers a surprising number of great dining options and a favorite pastime for Utahns is to drive up for dinner and a soak. You can also make it a quick getaway trip and stay at one of the hotels in town, some of which feature their own access to the spring waters. 430 E. Main, Lava Hot Springs, Idaho, 208-776-5221, LavaHotsprings.com, Monday-Thursday $6, Friday-Sunday and holidays, $10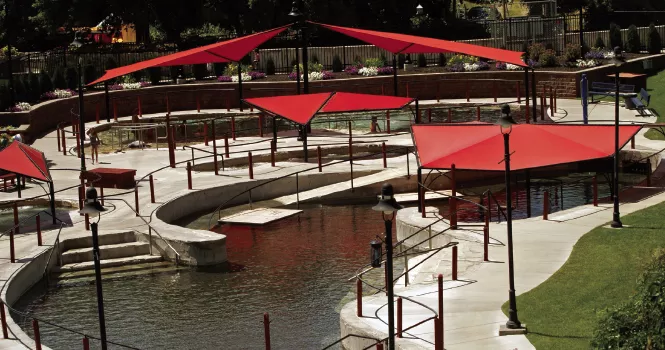 Homestead Crater
A visit to the Homestead Crater is both a Utah tradition and an otherworldly experience. Reservations are required to enjoy the 96-degree waters that are found inside a 55-foot tall limestone cone with a hole at the top. 700 Homestead Drive, Midway, 435-657-3840, HomesteadResort.com, 40-minute soak, swim or snorkel, $11 Monday-Thursday, $16 Friday-Sunday
Free Fountains
Many water offerings in Salt Lake City require little or no expense. All you need to do is show up:
Gateway Olympic Snowflake Fountain
The Gateway fountain pays tribute to Salt Lake City's hosting of the 2002 Winter Games. In the 13 years since the Olympics, most kids (and adults) find it a temptation overload to walk past the jets of water shooting up out of the ground to synchronized music without breaking down and deciding to get soaked. 18 N. Rio Grande St., 801-456-0000, ShopTheGateway.com.
Seven Canyons Fountain
For a geography lesson and afternoon of fun all in one, this fountain simulates rivers and streams coming down from the mountains and through to the Great Salt Lake. It was originally created to be something people just looked at, but the sight of water running along channels in an open area became too much for kids to resist splashing around in. A filtration system was added to keep the water clean, and now it's an interactive attraction. While you're at Liberty Park, stroll over to what is known as Liberty Lake (a very generous use of the word "lake") where paddle boats can be rented for $8. Liberty Park, 600 E. 900 South, 801-972-7800, SLCGov.com
Jordan River Parkway
The Jordan River flows northward more than 50 miles from Utah Lake to the Great Salt Lake. Paralleling the river is the Jordan River Parkway, a trail system that weaves in and out of urban areas, parks and marshy areas throughout Utah, Salt Lake and Davis counties. Hikers, cyclists and equestrians all enjoy the trail, just as canoers, kayakers, and rafters enjoy floating the river. Visit the Bend-in-the-River Open Space at 1030 W. Fremont Ave. and the Jordan River Peace Labyrinth at 1550 S. 1125 West. For a map, visit SLCo.org
Tanner Fountain
Located on the University of Utah's Marriott Library Plaza, the Tanner Fountain has been beloved by generations of Utes. Rather than shooting water into the air, the fountain's waters cascade down a series of steps. Signs are clearly posted that people should not climb on the fountain, but children and college students ignore them. After all, if you're going to create a cool fountain with steps, you have to expect that there will be climbing. Utah.edu
A River Runs Through It
Sometimes the best way to experience water on a summer day is simply to stroll along next to a creek or stream, have a picnic in the shade as water rolls by, and interact with the riparian wildlife. Salt Lake City offers a number of experiences of this type:
Sugarhouse Park
Feeding bread to the resident seagulls, ducks and geese at Sugarhouse Park is a long-standing tradition. The whole reason Salt Lake City survived its infancy is because seagulls saved the Mormon pioneers and their crops from swarming crickets. Don't begrudge the gulls a crust of bread! Thanks to the addition of The Draw, which opened in the summer of 2014, visitors can now walk west out of Sugarhouse Park under 1300 East to emerge in Hidden Hollow. Here they can enjoy walking or sitting by the ravine that runs through the area. There are also various interpretive signs describing the area's bat population, and telling the history of how Utah's sugarbeet industry gave Sugar House its name. 1400 E. 2100 South, 385-468-7275, SugarhousePark.org
Memory Grove
Another spot to enjoy running water is Memory Grove, where City Creek comes trickling towards downtown Salt Lake City amid beautifully landscaped grounds and historical buildings. 300 N. Canyon Road, 801-972-7800, SLCParks.gov.
City Creek Center
If the Great Outdoors isn't your thing, consider sitting creekside at City Creek Mall's 1,200 foot stream featuring six separate fountains, rippling pools, ponds and waterfalls. With aquatic plants and trout, the creek almost seems like the real thing. But if you think it is, you need to get out more. 50 S. Main, 801-521-2012, ShopCityCreekCenter.com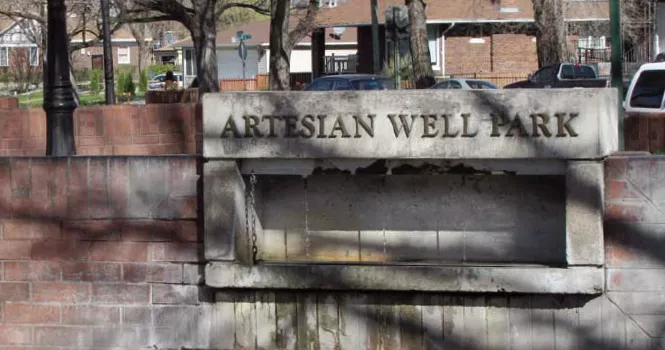 Drink Up
Artesian Well Park
The artesian well sitting on this quarter-acre spot is listed as a city park, but the main reason people flock here is to fill up jugs with the water that constantly flows from an ancient well. Diehards won't drink anything else, due to its delicious taste. Legend has it that Brigham Young commissioned this park and even blessed the well that it would forever produce water. Of course, he may not have foreseen that 21st-century beer hobbyists would find these waters perfect for brewing their suds. 500 E. 800 South, SLCGov.com
When Brother Brigham led the Mormon pioneers here on July 24, 1847, they looked down from the mouth of Emigration Canyon on a desert valley that had one tree and a huge lake filled with salt water. Finding a source of fresh water was the first order of business. Once they were able to get the waters flowing, they made the desert, as predicted in Isaiah 35:1, "blossom like a rose." Water is what allowed a patch of desert to turn into a thriving city, and water keeps our city thriving. Drink up, Salt Lake!