Page 6 of 11
THE POLITICS OF SUMMER
Want to know where local politicos bask in the sun? Read on.
By Jordan Floyd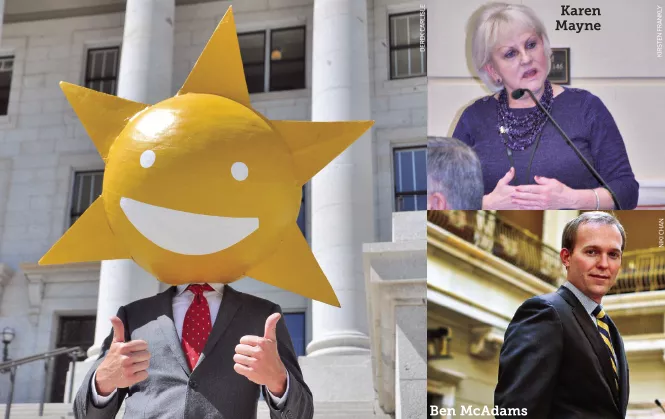 The year 2016 might go down in history books as one of the strangest and most stressful times in all of American politics. In the summer before the big election, how, then, can a Utahn kick back and forget about a race that has featured the likes of the (possible) Zodiac Killer, a robot who tried to convince American youth she is "cool" by whipping and nae-nae-ing, Karl Marx reincarnate and seemingly the devil himself? City Weekly spoke with six local politicians to find out. From ultimate Salt Lake outdoor activities to favorite summertime drinks, these subjects seem to know how to spend a summer day relaxing and forgetting about the impending doom of November. After all, they are human, too.
Karen Mayne (D), Utah State Senator, District 5
What is the ultimate Salt Lake City summer activity?
I love to play golf. I love to play golf poorly. But I like it. Anywhere, with anyone—I don't keep score, so if they don't, I'm good.
What's your favorite summer memory?
Spending time in Sun Valley with my family. We used to go there regularly.
The best part of summer is: walking outside without having to wear jacket—I usually forget my jacket some places, so it saves a lot of wear and tear on me.
Jim Dabakis (D), Utah State Senator, District 2
What is the ultimate Salt Lake City Summer activity?
A Speedo walk along the beach at the Great Salt Lake with a can of Raid.
What's your favorite summer memory?
I remember sitting back in Derks Field, [now Smith's Ballpark,] and looking up in the mountains and enjoying the game and thinking that this is about as good a thing as someone could do. I used to do it when I was growing up at Red Sox games with my grandfather, my dad and myself. We could all sit there and watch the game and understand each other.
What is your favorite summer drink?
A beer at Brewvies while watching Deadpool.
Jackie Biskupski (D), Salt Lake City Mayor
What is the ultimate Salt Lake City summer activity?
Definitely getting out on my mountain bike. Finding time for it will be a bit of a challenge now, but I'll do my best to get out on the trails this summer. I'm also looking forward to bike riding with Archie, my 6-year-old son. He got his first two-wheeler last Christmas. We've been taking it easy while he gets a little more confidence on his bike, riding in school parking lots and around our neighborhood. I think next summer he'll be ready for some longer rides.
What's your favorite summer memory?
I grew up in Hastings, Minnesota—a town of about 24,000, and 30 miles southeast of the Twin Cities. Summers were warm and short. So when we were kids, we would sneak into huge cornfields around town and throw parties. We could hide in the cornstalks—by late July they were tall enough to get away with it. It's just what we did. Great memories, those cornfield parties.
Ben McAdams (D), Salt Lake County Mayor
What is the ultimate Salt Lake City summer activity?
The ultimate summer activity for me and for my family is the Farmers Market and all the food booths at the summer street fairs. We love to sample the fresh produce and the unique menu offerings.
What's your favorite summer memory?
My favorite summer memory is getting into the garden with my kids. We grow carrots, tomatoes, squash, but have failed with watermelon.
What was your best and worst summer job?
I worked several summers as a young teenager on a pumpkin farm. We worked in the heat of the summer days hoeing and weeding long rows of pumpkin seedlings. It was hard work, but I loved the job. Once I turned 16 and could get a non-farm job, I rolled burritos at Taco Time. Smelling like day-old Mexi-fries wasn't great, but working in air conditioning and employee discounts on soft tacos were worth it.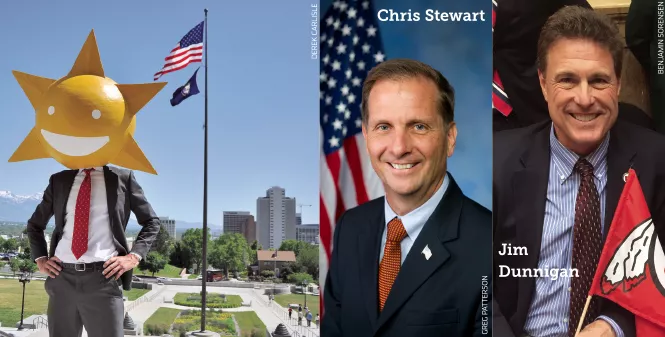 Chris Stewart (R), United States Congressman, Utah's Second Congressional District
What is the ultimate Salt Lake City summer activity?
Rock climbing the north face of Mt. Olympus. It's a great day-hike and has a perfect view of the valley. It's the best part about living on the Wasatch Front.
What is your favorite summer memory?
I have the best memories growing up on a farm. After we were finished hauling hay for the day, we would be hot and tired. We'd ride our motorcycles down to the flume, a place where the canal water would cross 50 feet above the road through a metal tube. We would float through the flume, which would cool us down and was always fun. A great adventure for a kid.
Where were you during the summer of '69?
I turned 9 that summer, so I mostly just hung out with my family on the farm. My mom wouldn't let me go to Woodstock. She said I was too young. But there was some great music that summer, and I was always listening to the radio.
Jim Dunnigan (R), Majority Leader, State of Utah House of Representatives
What is the ultimate Salt Lake City summer activity?
My summer activity is the Taylorsville Days Festival. It's the annual celebration of our city's founding. It includes a lot of great free entertainment—a parade, a 5K, a car show, 30 different food booths and the best firework show in the valley.
What is your favorite summer memory?
When I was a kid, it was going on a road trip with my parents. They had a station wagon. They'd pack us five kids up and we'd go on an adventure.
What is your favorite summer vacation spot?
Christmas Meadows in the High Uintas.