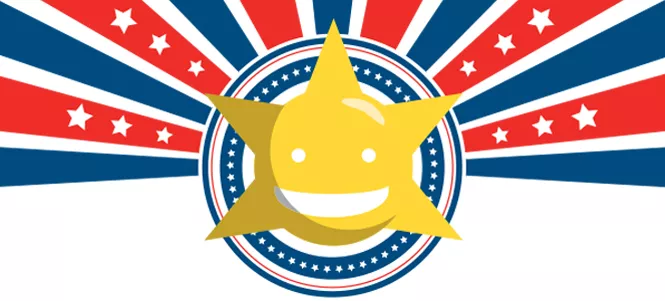 Dust off the tank top collection and bust out the heavy artillery SPF, baby ... summer is here! OK, we're technically jumping the gun here as the first official day of summer isn't till June 20, but can you blame us? No other season has the effect good ol' summer has. Think about it, when was the last time you exclaimed, 'Fuck yeah, autumn!'
With weather already peaking at at triple digits (thanks Obama), and non-stop news coverage of the current presidential election cycle, we figured we'd put one more proverbial nail in the bipartisan coffin and give our biggest Summer Guide yet a political hue.
Are you at your most American during firework displays? Our sunny candidate has you covered. You can also feast al fresco like a regular Kennedy and sip like a pro after checking out our Cocktail Caucus. Political pinkies up! Whatever party you swear allegiance to, one thing is for sure: ain't no party like a summer party 'cause a summer party gets weird. Ditch the luau theme and check our our offbeat suggestions instead.
We also catch up with some of SLC's favorite politicos and ask them about their most memorable summer tales. Scandal alert: One of them confesses to hoeing during his youth (though it's probably not what you think).
So go ahead, Make America Groove Again (or at least Salt Lake City) with a playlist built exclusively by local musical constituents. Feel the burn (actual one coming from a raging fire) and ditch the barbecue in favor of something a little bit more continental for a memorable gathering and say #IStandWithHerds of hulking mammals at Antelope Island and beyond.
Inside these patriotic pages, you'll also find a roundup of the best road trips, theatre and outdoor music fests the season has to offer. Is staying in basking in the AC more your speed? Curl up with your favorite super delegate and binge-watch some good summer TV shows or chill to any of our politically tinged presidential films.
So go head, pull a lever for democracy. Just don't filibust all over the place.
-Enrique Limón
OFF WITH A BANG
A round-up of Utah's biggest Independence Day celebrations.
By scott Renshaw

Lehi
Thanksgiving Point's Electric Park (just west of the Megaplex Theatres) hosts afternoon and evening activities on July 4, with concessions and vendors beginning at 4 p.m. Fireworks are scheduled to begin at 10 p.m., set off from the north side of the property. Admission is free.
ThanksgivingPoint.org
Magna
Activities begin with the 7:30 a.m. 5K Fun Run/Walk at Copper Park (8950 W. 2600 South), with check-in beginning at 6 a.m. Non-runners can enjoy the Lions Club Breakfast in the park (free, but donations accepted) from 7 a.m. to 11 a.m., with cannonade and flag ceremony at 7 a.m. Magna's parade follows at noon on Main Street, with inflatables, games and other activities returning to Copper Park from 1:30 p.m. to 10 p.m. ($12 for unlimited ride wristband, 50 cent game tickets). Enjoy music in the park by Bad Feather from 8 a.m. to 10 p.m., wrapping up with fireworks at 10 p.m.
MagnaUtah.org
Murray
July Fourth marks the culmination of Murray's "Fun Days" which also includes a production of the musical 1776 at Murray Park Amphitheater. Independence Day activities begin with Rotary Club community breakfast (6:30 a.m.–10 a.m.), sunrise service with Murray Concert Band (7 a.m.) and 5K (8 a.m.) at Murray Park. Murray also hosts one of the earlier parades, beginning at 8:30 a.m. at Fashion Place Mall, continuing down State Street north to Vine Street and east to Murray Park (no car access in or out of Murray Park between 7:30 a.m. and 11 a.m.). Activities at Murray Park throughout the day include food and game booths, coed volleyball tournament and plenty of kid-friendly games. Entertainment headliners include Slickrock Gypsies, Red Desert Ramblers and Charley Jenkins, culminating in fireworks at 10 p.m.
Murray.Utah.gov
Park City
Park City's annual Old-Fashioned Fourth of July Celebration begins with the traditional pancake breakfast at City Park (1354 Park Ave., 7 a.m.). Cole Sport Mountain Fun Run 5K begins at 8 a.m., with rugby games, live music, beer garden and barbecue at City Park 10 a.m. to 4:30 p.m. The parade route heads down Main Street beginning at 11 a.m., with more than 70 floats celebrating local history. Enjoy a free concert at Park City Mountain Resort (1345 Lowell Ave., 7 p.m.–9:30 p.m.), with fireworks at dusk. Or get the weekend started early with Utah Symphony's Patriotic Concert at Deer Valley Resort Snow Park Amphitheater on Saturday, July 2 (7:30 p.m.).
PCLodge.com
Provo
The state's most elaborate red-white-and-blue festivities take place in Utah Valley, including the Freedom Days activities July 1, 2 and 4 on Provo's Center Street, featuring food, entertainment, arts and crafts vendors and carnival. The July Fourth Grand Parade—the state's largest—begins at 9 a.m. at 960 N. University Ave., with the route proceeding south to 100 South, east to 200 East and north to Center Street, ending at 900 East. But the big event, as usual, is the Stadium of Fire concert and fireworks show at BYU's Lavell Edwards Stadium (1700 N. Canyon Road), scheduled this year for Saturday, July 2 at 8 p.m. Country star Tim McGraw headlines; tickets are $29-$175.
FreedomFestival.org
Riverton
Riverton Town Days allow one of the opportunities for patriotic fun that avoids the Fourth of July crowds. The Town Days parade takes place on Friday, July 1 on a route that includes Redwood Road from 13400 South to 12800 South, ending at Riverton City Park (1452 W. 12600 South). Follow that up with a full day of activities on Saturday, July 2, including Riverton Country Mile 5K/10K/mile run and Tour De Riverton bike race, chuck wagon breakfast (7 a.m.–10 a.m.), games and vendors at Riverton City Park, and fireworks display (10 p.m.).
RivertonCity.com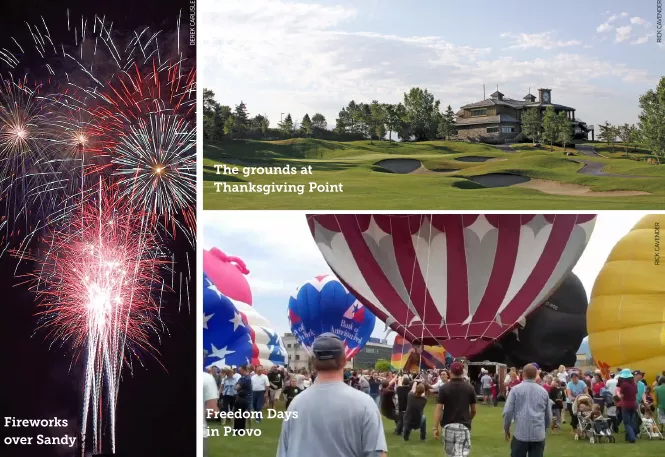 Sandy
The annual July Fourth festivities once again take place at the South Towne Promenade (172 W. 10000 South), with inflatables, Youth Arts Festival, vendors and 5050 BMX stunt shows throughout the day. Daytime entertainment includes Synergy Dance Group, The Middle Mountain, Acadamh Rince Irish Dance Group and Cinders before the parade (6 p.m.) around the festival grounds. Evening headliner The Salamanders (8 p.m.–10 p.m.) leads in to the fireworks "sky concert" at 10 p.m., with The Salamanders continuing a post-fireworks show.
Sandy.Utah.gov
Snowbird
Celebrate Independence Day at the 'Bird with family-friendly rides and activities, live music and an all-you-can-eat pancake buffet on The Plaza Deck (9 a.m.–noon). Enjoy live music while you eat with the C.J. Santoro Dixieland Band.
Snowbird.com
South Salt Lake
Start your day with a hotcakes/waffle breakfast at Fitts Park (3050 S. 500 East) from 8:30 a.m. to 11 a.m. Parade begins 9:30 a.m. on the west side of the Columbus Center (2531 S. 400 East), continuing south on 400 East to 2700 South, turning right on 500 East to Fitts Park. Freedom Fest at Fitts Park (11 a.m.-2 p.m.) includes live music, food, entertainment, vendors, train ride, bounce house, games and more.
SouthSaltLakeCity.com
Sugar House
The Sugar House Arts Festival (2100 S. Highland Drive) begins at 10 a.m. on July 4, now officially combined with the fireworks show at Sugar House Park (1330 E. 2100 South). Businesses are scheduled to set up stops in Hidden Hollow with games and other activities. Food trucks and vendors will be on the west side of Sugar House Park, while on the northeast side, War Scores will be setting up the game of Bubble Soccer; other music and entertainment still to be determined at press time. Fireworks are scheduled to begin at 10 p.m.
SugarHouseChamber.org/ArtsFest
West Jordan
West Jordan's Independence Day Parade begins at 10:30 a.m., with a route from 7000 South to 8040 South on Redwood Road. For something a little different from the usual Independence Day festivities, the annual PRCA Rodeo Western Stampede (July 1, 2 and 4, 8035 S. 2200 West, $10-$17) offers a variety of roping and riding events. The Fourth of July program leads up to free evening events at Veterans Memorial Park (1985 W. 7800 South), including a family-friendly movie at 9 p.m. (still to be determined at press time) and fireworks at 10 p.m.
WesternStampede.com
SIX PARTY SYSTEM
Planning a Slip'N Slide rager? Yawn.
By Westin Porter
It's summer in Utah—the season of love, high pollen counts, construction, don't-drive-air-quality days and, of course, summer parties. But for those of you who are tired of the same old BBQ, house party or bar, look no further than the City Weekly Stupid Summer Party Guide. Here, we'll explore a few half-baked ideas that could either turn out to be the best summer party you've ever thrown, or a depressing reminder of how very few friends you have. We'll shoot for the former.
Summer Slam
Think you outgrew your love for professional wrestling along with your Jincos and Third Eye Blind CDs? Or perhaps you were always too sophisticated for such a mockery of true athletic feats. Either way, get over yourself. Reach deep into your bottom drawer of nostalgia for that plastic WWF Intercontinental Champion belt you purchased mostly ironically from Toys R Us, strap on your tightest spandex, (or better yet visit Pib's Exchange and buy some that accentuate your package and/or cleavage,) pull on that blonde bowl-cut wig and get ready for Summer Slam 2016, hosted by you in your backyard, brother! The '90s had a lot to offer, but the resurgence of professional wrestling toward the turn of the century was best. Whether you were into wrestling or not, there was a collective vaunting of the ridiculous sport and its accompanying pay-per-view viewing parties, early internet forum exchanges and even the oh-so-controversial "backyard wrestling" matches. Just make sure you and all of your friends have coordinated who will be dressing up as who, so that you don't end up with 12 Stone Cold Steve Austins ... Or, better yet, just throw a Stone Cold Steve Austin party.
The Redneck Rager
Whether you're actually a redneck or not is not important for this party idea. If you are, think of it as your own little holiday on which you get to celebrate your blue-collar, country culture by swilling warm Busch, combining cowboy boots and shorts, having "biggest-dip of Copenhagen Long Cut" contests and eating a lot of red meat. If you aren't a redneck, however, think of this as an opportunity to indulge in the behavior you so haughtily hold yourself above. Get a keg, throw a tarp in the back of your truck and fill it up with the garden hose for a true, redneck hot tub.
Donald Trump Might Actually Be President Blowout
Remember Y2K? The parties people threw that were one-half celebratory, one-half scared shitless, all in the spirit of embracing possible doom? That's the feel of this party idea. At this point, if we're this close to actually electing Donald Trump president of the United States of America, aren't we kind of already screwed? So buy some wine coolers, put on your baggiest Tommy Bahama, and be the first to host this sure-fire rager. And in true Trump fashion, to keep those unwanted party guests out, just put up a wall.
Beach Games Utah Style
What to do when the weather app reads triple digits for every foreseeable day in the forecast, without an ocean nearby and the nearest lake uninhabitable to everything but brine shrimp? Beach day, baby! That's right, who says you need an actual beach for beach day? Find your old kiddie pool, procure two bags of sand, break out the volleyball net and invite the whole neighborhood. Just make sure not to eat at least 30 minutes before getting in the water to prevent cramps.
Super Garage Band Concert Series
Look, we all love Twilight and the Red Butte Gardens Concert Series to bits, but sometimes we just can't make it—whether it's the crowds, the cover charges or maybe the D.D. fell through while you were pregaming and Uber is on surge pricing. When it happens, dust off the old Squire Strat (with the shredded stock strings), break out your little brother's pawn shop drum kit with the cottage cheese drum heads and relearn the power chords to your favorite songs. Something about a lot of booze, basement acoustics and Sabbath covers brings out the party animal in all of us.
Millenial Party
Selfie sticks, Bud Light Lime-A-Ritas, hashtags, hoverboards ... we want to see all the stops pulled out for this one. Known for their ability to connect with masses from all over the globe all without the attention span and social awareness to maintain eye-contact during conversation, millenials will be sure to make this party look like the best place to be to everyone who isn't there. Later on, host a double-feature screening of The Lion King and Toy Story, serve Pop-Tarts and Otter Pops and post about the sweet, sweet nostalgia on your Myspace.
VOTE FUN
Your Ultimate Summer To-Do List.

By Mikey Saltas
Utah summers are much like comets: We diligently wait for them for ages only to have them pass by in the blink of an eye without fully appreciating their beauty and radiance. Take advantage of these short-lived months—utilize trails and hikes otherwise covered in snow for much of the year, explore Utah's hidden treasures, escape the dry heat and get soaked—all without breaking the bank. This summer bucket list will serve as your guide to getting the most out of your summer. But act fast—it'll be Labor Day before you know it and the flash that is summer will be gone without so much as a warning.
Best Hikes
The 'Living Room' Hike
A classic Salt Lake City hike complete with stones arranged to form chairs to relax and take in the surrounding scenery. Bring enough water for you and your companions as there's a 1,000-foot gain in elevation in just over a mile from the starting point. Rush hour on the trailhead is right before dusk in order to catch a glimpse of the setting sun over the valley, so plan accordingly.
Start: From Foothill Drive, turn east onto Wakara Way, right onto Colorow Road. 383 S. Colorow Road
Distance: 2.5 miles
Dogs: on leash
Level of Difficulty: moderate
Morris Meadows Trailhead
One of the trailheads of the Bonneville Shoreline Trail—a series of trails along the Wasatch Mountains resulting from the recession of Lake Bonneville—Morris Meadows Trailhead offers a spectacular view of the city with just a moderate incline. Short, sweet and unbeknown to most, Morris Meadows is ideal for those looking for a quiet hike with room to roam for their furry companions.
Start: North on I Street until it becomes Northhills Drive
Distance 1.5 miles
Dogs: yes
Level of Difficulty: easy
Donut Falls Hiking Trail
Vastly popular during summer, fall and even the winter for snowshoe enthusiasts, Donut Falls unquestionably lives up to the hype as one of the area's premiere spectacles. Unfortunately, no, there's not a Banbury Cross donut stand at the end of the trail, although that's the only accessory that could make this hike more splendid. Rather, a stream cascading into a "donut hole" will astonish trekkers of all ages.
Start: Drive approximately 9 miles up Big Cottonwood Canyon to the signed Mill D Trailhead
Distance: 3.5 miles
Dogs: no
Level of Difficulty: easy
Bell Canyon
Dust off your camera: Bell Canyon is brimming with photogenic waterfalls and gorgeous reservoirs. This hike can be as easy or strenuous as you desire—the first reservoir is a half-mile above the trailhead and many about-face at this point. Two miles ahead (totaling about five miles) is the first and most impressive waterfall. After that, only experienced hikers should undertake the considerably more strenuous terrain to reach the upper reservoir—a trek totaling around 9.5 miles.
Start: 10245 S. Wasatch Blvd. (clearly signed)
Distance: 1-9.5 miles
Dogs: no
Level of Difficulty: easy-hard
Urban Adventures
Red Butte Garden
Explore the mystical fields of blooming bulbs that is Red Butte Garden. Operated by the University of Utah, the gardens house 450,000 plants that bloom at differing points of the seasons, resulting in a new experience in every nature walk. With themed gardens and great views of the valley, Red Butte is the perfect—and most breathtaking—place to decompress, enjoy a picnic or just take in the different sights and aromas. They also offer free Wi-Fi that allows people a serene environment to study or work.
Price: $12 for non-members
Location: 300 S. Wakara Way, Salt Lake City
Utah's Hogle Zoo
Whether you're 8 years old or 80, the diverse wildlife of Utah's Hogle Zoo will leave a lasting impression for years to come. The zoo houses 800 different animals found in all parts of the world ranging from imposing mammals, an aquatic section and other animals that come in all shapes and sizes. Exhibits currently include the African Savanna (African lion, giraffe, zebra), the Great Apes (orangutan, gorilla) and the Rocky Shores (bald eagle, grizzly and polar bears, various fish), among others. The wildlife truly needs to be seen in person, and Hogle Zoo offers that right in our own backyard.
Price: $15
Location: 2600 E. Sunnyside Ave., Salt Lake City
Tracy Aviary
Tracy Aviary shelters hundreds of birds from all corners of the globe. Did you know that of all bird species, 12 percent are considered endangered or threatened to become endangered, due to habitat loss, predation and illegal capture? Tracy Aviary offers refuge to these birds and contributions to the aviary help in conservation efforts across the world. The star of the show is the endangered Andean condor named Andy—a massive bird that has resided in Salt Lake City for nearly 60 years. Come for the birds, leave with new insight and memories to last a lifetime.
Price: $10
Location: 589 E. 1300 South, Salt Lake City
Antelope Island State Park
There's no shortage of activities at Antelope Island State Park. You can hike, mountain bike or horseback ride one of the numerous trails to vantage points overlooking the vast Great Salt Lake, or spend the night under the stars at one of the campsites. The 28,000-acre state park is also a great place to explore and observe wildlife as it is home to antelope, deer, bobcats, bighorn sheep and imposing herds of American bison.
Price: $10 per vehicle
Location: 4528 W. 1700 South, Syracuse
Fun in the Sun (for cheap)
Shoot the Tube
The "Tube" is an aqueduct that drains Parley's Creek, and runs directly under I-215. The fun arises in damming the entrance of the aqueduct using old signs or tarps, wait for the water to build up on a tube or other floatation device, then remove the dam and race down the tunnel on a wave of water into a natural pool waiting on the other side of the Interstate. An attraction mostly known to native Salt Lakers, shooting the tube is almost like a rite of passage, coming out of the bottom as a full-fledged Salt Lake City "local."
Price: free
Location: access through Parley's Creek bike trail at the end of Wasatch Boulevard.
Downtown Farmers Market
The Downtown Farmers Market has gained popularity since its humble beginnings in the early '90s. The market features local goods, as farmers from across Utah and bordering states (produce must be grown within 250 miles of Salt Lake City) converge on Pioneer Park to sell fresh fruit, vegetables and more every Saturday over the summer and fall months. Also included are various food trucks from across the valley, baked goods and arts and crafts vendors.
Price: free
Location: Pioneer Park, 300 S. 300 West, Salt Lake City
Liberty Park
Opened in 1882, Liberty Park is the oldest public park in Salt Lake City and perhaps the most vibrant. As an escape from the city—in the city—people can be seen running, biking, rollerblading or basking in the sun. Other amenities include a basketball court, public pool, playground for the children, bocce ball pits and terraces for picnics. Spend a morning enjoying all Liberty Park has to offer—and if the thought of being active terrifies you, the Park Cafe's glorious bacon and eggs is right across the street.
Location: 600 E. 900 South, Salt Lake City
Gilgal Sculpture Garden
Unknown to most, Gilgal Sculpture Garden is a small, quirky space that boasts 12 stone sculptures and more than 70 stones engraved with scriptures, quotes and poems. The visionary behind the garden is the late Thomas Child, an LDS bishop renowned for his advanced masonry techniques. The sculpture of the sphinx with the face of Mormon founder Joseph Smith has been nothing short of an urban myth in these parts, but can indeed be found in the collection. The garden had fallen victim to vandalism until the Friends of Gilgal Garden (FOGG) gained public and state support of former mayor Rocky Anderson and renovated and reopened the garden in 2000. If nothing else, Gilgal provides visitors a step back into Utah history, and is as abstract as it is mysterious.
Price: free
Location: 749 S. 500 East, Salt Lake City
Beware the Splash Zone
Lagoon A Beach
Lagoon amusement park has tons of rides for everyone, from kids to hardcore thrill seekers (i.e., Cannibal, Wicked, Skycoaster). When riding the coasters gets too much in the summer heat, make your way to the park's Lagoon A Beach, which boasts a six-acre space filled with all sorts of water slides, tubes and pools. Slides can reach nearly seven stories and range from straight drops to twisting and turning tubes—although those wishing to kick back and relax are able to rent tubes and drift on the lazy river.
Price: $54 single day pass
Location: 375 N. Lagoon Drive, Farmington
Seven Peaks Waterpark
Zipping and zooming on twisting and turning water slides is endless fun, and Seven Peaks Waterpark has it all. Conveniently located just minutes from downtown Salt Lake City (and another park in Provo), Seven Peaks has 13 water slides of all levels on the thrill spectrum as well as five pools. It also has a tidal wave pool—every few minutes, the waves increase in size, propelling swimmers around until the waves subside. Get a group together and soak in the summer sun at this classic Utah oasis.
Price: $25 day pass
Location: 1200 W. 1700 South, Salt Lake City
Cowabunga Bay
Driving on I-15 near Draper, everyone's eyes are drawn to the high-rising and colorful slides of Cowabunga Bay. They're adorned with wacky structures, such as a giant dancing cow, sandcastles and even a retro Volkswagen bug. The main attraction is the slide called the Mondo—1,000 feet of tubing that maneuvers in utter darkness. Park-goers are also granted free parking, tubing and life jackets. Cowabunga Bay is fun for all ages and also has a safe toddler zone for those just getting their feet wet.
Price: $20 day pass
Location: 12047 S. State, Draper
"Slide the City"
Remember the 10-foot backyard Slip'N Slides of your youth? Now imagine a 1,000-foot slide running across North Temple in downtown Salt Lake City with hundreds of fellow thrill seekers. Pay for a wristband, grab a tube and race down the track that seems to never end. "Slide the City" tours the entire country with its giant contraption and is hugely popular among city dwellers looking forward to a day of zipping through the streets. Also enjoy live music, food, drinks and water.
Price: $35 pre-order, $45 day-of
When: Saturday, June 18
Location: North Temple and Main, Salt Lake City
ROADSIDE ODDITIES OF UTAH
Road trips are a lot more fun when they get weird.

By Randy Harward
I don't think I have to sell you, necessarily, on the appeal of the road trip. Jumping in the car with your family or friends and driving anywhere for as long as an hour or an entire day, with or without a particular place to go—well, that's a blast. You eat terrible food, listen to great music, tell stories or just stare out the window and think—or not think at all.
Sometimes, while you're gazing through the safety glass, or hanging your head out the window, mouth open, wondering if your gaping gob creates enough drag to slow down the car (what, you don't do that?), you see something—among all that nothing—that'd make your jaw drop, if it wasn't already low. Something weird. Something awesome.
What I'm sayin': Road trips, whether short jaunts to Wendover or cross-country treks, appeal to our need to escape, to reboot our minds and activate our possibly dormant childlike sense of adventure and wonder. They make us feel alive again. (Or at the very least, provide us with Instagram fodder.) But they're a lot more fun when random, crazy shit happens.
Maybe you're on Redwood Road and you spot someone riding an elephant—and then you see the big top for the traveling Mexican circus. (Caution: elephants, as my daughter pointed out, are covered in "poky" stubble.) You might spot Dancing Steve, the retired anesthesiologist, who wears purple velour outfits and dances and juggles at intersections in the Holladay area. Or, on westbound SR-201 east of Wendover, you'll see this crazy structure with no immediately discernible point or purpose that appears to be the creation of a madman, but qualifies as art and makes you wonder what it means. (See "Metaphor: The Tree of Utah.") Sometimes it's a pile of mildly interesting junk, or a historical landmark you never knew existed—or could fathom existing.
Like the following list of roadside oddities ripe for your to ogle. From downtown Salt Lake City to all six corners of Utah, there is an abundance of roadside oddities to ogle while thinking, "What does it mean?"
Rubin and Ed Locations
Trent Harris's beloved cult film from 1991 was shot entirely in Utah. The desert scenes, where Rubin discovered he's the "king of the Echo People," were shot in Goblin Valley State Park in Green River. On Main Street in nearby Hanksville, you can visit the tiny gas station (called The Prod Pump & Rest in the film) where Rubin found his way out of the desert. The Fontenoy Inn, where Rubin (Crispin Glover) lived with his mother and dead cat, is actually the Mountain Courtyard Suites at 350 S. 300 East in downtown Salt Lake City. At 222 E. Broadway, you can walk down the alley where Rubin kicked his platform shoe at his tormentor. Also downtown, last we heard, is Trent Harris' office, where the stuffed cat, named Thistle, sits on a shelf. But don't show up there hoping to see it. Maybe just leave a watermelon at the door. If you've seen the film, you know why.
Roller Mills
Everyone knows that the site of Kevin Bacon's iconic dance-fit in the 1984 film Footloose is in or near Lehi (I think, exactly six degrees from wherever Kevin Bacon is currently breathing). But who, among us locals, ever goes there? Even if you don't dance, why wouldn't you go, if only to be that close to where the magic happened?
Mounted Head of the Dog
Located up north near Ogden, Huntsville ain't all that big, but Buck—the St. Bernard whose gargantuan cranium is mounted in the Shooting Star, was once the largest of his breed according to the Guinness World Records. As of 1957, the giant pooch is chasing 18-wheelers in the Great Beyond—but they're still using his carcass to make the Shooting Star's famous burgers. (That's a joke.)
Mountain Meadows Massacre Mass Grave
It's horror movie fodder, the idea that a group of territorial religious zealots, masquerading in redface as Native Americans, would slaughter scores of innocents and bury them in a mass grave. Standing at this monument, located off of Highway 18 in Central Utah, is good for a chill, or a couple of dozen whispered, WTFs.
Thunderbird Restaurant
With a name sounding like it came straight from a 1970s blaxploitation flick, this little joint in Carmel, right outside of Zion National Park, also boasts that they serve "Ho-Made Pie." I wonder if they also serve ho cakes. 'Cause, you know, hoes gotta eat, too. (John Witherspoon, Hollywood Shuffle, 1987)
Lightning McQueen and Scooby-Doo Van
North of Moab, in Thompson, Papa Joe's gas station has replicas of Lightning McQueen (from Pixar's Cars) and the Mystery Machine, aka the "Scooby-Doo Van." Tip: Don't ask if you can hotbox the MM.
Real This Is the Place Monument
Say whaaaaaat? It's true. The big monument off of Sunnyside and below Hogle Zoo isn't the real place where Brigham Young and company decided, "Screw it, the mountains were a bitch to get over—let's stay here." The real spot is actually located over a half-mile away, marked by a tinier monument, which oughta be shaped like an asterisk.
Giant Soda Cans
Oh, we Utahns love our carbonated beverages, don't we? In Salina, somebody likes 'em so much that they painted giant storage tanks like Coke, Sprite, Diet Coke and Monster cans. There used to be a Pepsi product in there, so the neighboring Carl's Jr. may have influenced the change.
Spiral Jetty
Robert Smithson's earthwork sculpture sits, since 1970, on the northeastern shore of the Great Salt Lake near Promontory. The 15-foot wide coil of mud, basalt and crystal reaches more than a quarter-mile into the lake and is sometimes obscured when the water is high. A high-clearance vehicle is mandatory, according to RoadsideAmerica.com, where you'll find dozens more places to check out this summer. The politics of summer
THE POLITICS OF SUMMER
Want to know where local politicos bask in the sun? Read on.
By Jordan Floyd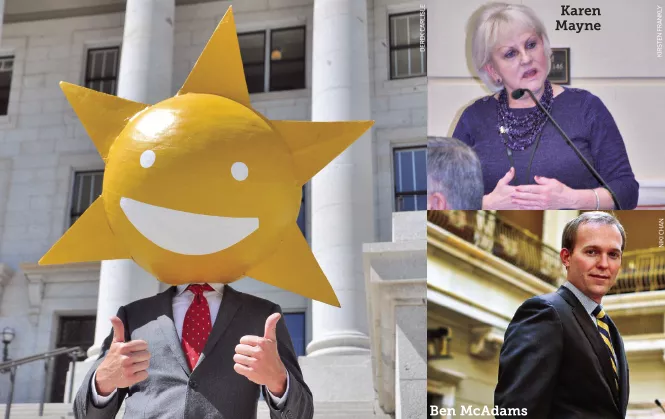 The year 2016 might go down in history books as one of the strangest and most stressful times in all of American politics. In the summer before the big election, how, then, can a Utahn kick back and forget about a race that has featured the likes of the (possible) Zodiac Killer, a robot who tried to convince American youth she is "cool" by whipping and nae-nae-ing, Karl Marx reincarnate and seemingly the devil himself? City Weekly spoke with six local politicians to find out. From ultimate Salt Lake outdoor activities to favorite summertime drinks, these subjects seem to know how to spend a summer day relaxing and forgetting about the impending doom of November. After all, they are human, too.
Karen Mayne (D), Utah State Senator, District 5
What is the ultimate Salt Lake City summer activity?
I love to play golf. I love to play golf poorly. But I like it. Anywhere, with anyone—I don't keep score, so if they don't, I'm good.
What's your favorite summer memory?
Spending time in Sun Valley with my family. We used to go there regularly.
The best part of summer is: walking outside without having to wear jacket—I usually forget my jacket some places, so it saves a lot of wear and tear on me.
Jim Dabakis (D), Utah State Senator, District 2
What is the ultimate Salt Lake City Summer activity?
A Speedo walk along the beach at the Great Salt Lake with a can of Raid.
What's your favorite summer memory?
I remember sitting back in Derks Field, [now Smith's Ballpark,] and looking up in the mountains and enjoying the game and thinking that this is about as good a thing as someone could do. I used to do it when I was growing up at Red Sox games with my grandfather, my dad and myself. We could all sit there and watch the game and understand each other.
What is your favorite summer drink?
A beer at Brewvies while watching Deadpool.
Jackie Biskupski (D), Salt Lake City Mayor
What is the ultimate Salt Lake City summer activity?
Definitely getting out on my mountain bike. Finding time for it will be a bit of a challenge now, but I'll do my best to get out on the trails this summer. I'm also looking forward to bike riding with Archie, my 6-year-old son. He got his first two-wheeler last Christmas. We've been taking it easy while he gets a little more confidence on his bike, riding in school parking lots and around our neighborhood. I think next summer he'll be ready for some longer rides.
What's your favorite summer memory?
I grew up in Hastings, Minnesota—a town of about 24,000, and 30 miles southeast of the Twin Cities. Summers were warm and short. So when we were kids, we would sneak into huge cornfields around town and throw parties. We could hide in the cornstalks—by late July they were tall enough to get away with it. It's just what we did. Great memories, those cornfield parties.
Ben McAdams (D), Salt Lake County Mayor
What is the ultimate Salt Lake City summer activity?
The ultimate summer activity for me and for my family is the Farmers Market and all the food booths at the summer street fairs. We love to sample the fresh produce and the unique menu offerings.
What's your favorite summer memory?
My favorite summer memory is getting into the garden with my kids. We grow carrots, tomatoes, squash, but have failed with watermelon.
What was your best and worst summer job?
I worked several summers as a young teenager on a pumpkin farm. We worked in the heat of the summer days hoeing and weeding long rows of pumpkin seedlings. It was hard work, but I loved the job. Once I turned 16 and could get a non-farm job, I rolled burritos at Taco Time. Smelling like day-old Mexi-fries wasn't great, but working in air conditioning and employee discounts on soft tacos were worth it.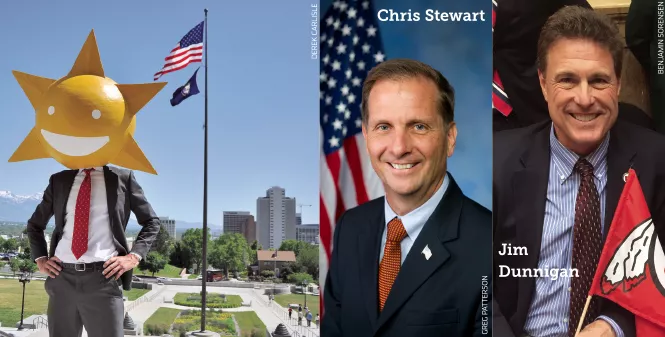 Chris Stewart (R), United States Congressman, Utah's Second Congressional District
What is the ultimate Salt Lake City summer activity?
Rock climbing the north face of Mt. Olympus. It's a great day-hike and has a perfect view of the valley. It's the best part about living on the Wasatch Front.
What is your favorite summer memory?
I have the best memories growing up on a farm. After we were finished hauling hay for the day, we would be hot and tired. We'd ride our motorcycles down to the flume, a place where the canal water would cross 50 feet above the road through a metal tube. We would float through the flume, which would cool us down and was always fun. A great adventure for a kid.
Where were you during the summer of '69?
I turned 9 that summer, so I mostly just hung out with my family on the farm. My mom wouldn't let me go to Woodstock. She said I was too young. But there was some great music that summer, and I was always listening to the radio.
Jim Dunnigan (R), Majority Leader, State of Utah House of Representatives
What is the ultimate Salt Lake City summer activity?
My summer activity is the Taylorsville Days Festival. It's the annual celebration of our city's founding. It includes a lot of great free entertainment—a parade, a 5K, a car show, 30 different food booths and the best firework show in the valley.
What is your favorite summer memory?
When I was a kid, it was going on a road trip with my parents. They had a station wagon. They'd pack us five kids up and we'd go on an adventure.
What is your favorite summer vacation spot?
Christmas Meadows in the High Uintas.
A SONG OF RICE & FIRE
Ditch the BBQ and enjoy summer defined in wood smoke and paella.

Story and Photos By stephen dark
Paella, for the uninitiated, is an ancient dish from Valencia, Spain, which is cooked in a wide-based pan and is famous for its versatility, with ingredients, along with rice, that can focus only on seafood, meat or simply vegetables, or mixtures of all of the above.
Paella lore demands that you wait for the guests to arrive before you add rice to your carefully crafted dish. The guests can wait for the rice, but the rice can't wait for the guests, goes the philosophy. Throw in the rice on time for the scheduled meal, only for your guests to arrive late, and that means a ruined dish. Paella is nothing if not temperamental. There's one element of making a paella that is oddly personal for me, which, for reasons I've never understood, I've always preferred to do alone. And that is making the sign of the cross with the rice.
I learned about incorporating this curious superstition during my first and only visit to Spain. As a lapsed Protestant, I felt no particular religious drive to initially distribute the rice in this fashion. But the more time I've spent making paellas over the last few years, the more I've come to appreciate the oddly spiritual pleasure to be found in sharing this dish of dishes with family and friends.
Part of that spiritual quality, I would wager, comes from the utensil I use to cook it in.
While paella can be cooked all year round, for me it will always be a summer dish. I love to cook it over wood, and the only way I can do that is with a disco de arado. It's essentially two earth tiller blades with a rim and three legs welded to one blade, a handle to the other, which I brought with me from Argentina over a decade ago.
Paella and the disco are the perfect union. The flavor of the earth it moved for years in South America mixed with smoke and all the meals I've cooked on its dark, oval surface lends the disco, and the meals I prepare on it, a sense of reverence I'd be hard-pressed to find with, say, a frying pan.
Paella is eminently adaptable and whether you buy a paella pan at World Market ($16.99) to use on a stove top, or have someone fashion your own outdoor paella dish, it's a dish that defines the idea of gathering with family and friends. Indeed, in Spain, I believe, you gather around the finished meal and work away at it with a spoon. It's the one plate I make where I always see guests returning to help themselves to more.
Paella is essentially a dry-rice dish, but it's also incredibly versatile, and while purists would undoubtedly quibble with some of my approaches to this dish—you don't use onions, for example, because they make the rice moist—I've learned that the pleasure of paella is defining it within your own taste parameters.
Key to flavor absorption is the quality of the rice, which should be short or medium grain, and preferably Spanish. I've found Bomba and Calasparra in Utah, both at World Market and, more recently, Smiths, which has kindly imported a variety of Spanish delicacies to embolden with a little more authenticity my paella journey.
I have found one of the most flavorful paellas is a paella mixta, which requires both fish and meat. Whatever ingredients you want to cook with, as long as you have a well-flavored stock, the paella will deliver.
The paella masters typically use twigs to cook with, but chopping up logs into kindling provides the heat I need, as long as I pay attention to the fire and keep it well fed, but not overbearing.
I light the fire, throw in some oil and when it sizzles, brown pieces of chicken thighs and small squares of pork ribs. Once cooked, I removed those to a plate, and work on the sofrito, the aromatic vegetable paste that deepens the flavor of the rice.
I throw in a little more oil, stir-fry the onions, garlic, carrots and red pepper, and after the vegetables are tender and to the point of sticking, I add a glass of white wine and scrape off the burned bits with a wooden spoon. Finally, I throw in some tomatoes, breaking them up and stirring, until I got a consistency of paste, before returning the chicken and meat to the dish.
After letting the fire die down a little, I add the rice in a vertical, then horizontal gesture, pausing a moment to drink in the curious nature of what I've just done. I add two pinches of saffron—crucial for color and flavor—and then stir the rice around until it's both well-coated and evenly distributed, all the time maintaining a low fire.
Now comes the stock, followed by some kindling to feed the fire until the paella bubbles. Don't touch the dish. If there's one cardinal rule, it's this: You can't stir the paella after you've added the stock.
After 10 minutes or so, as the rice continues to absorb the stock, it's time to add whatever fish you have: some shrimp perhaps, mussels, clams or calamari.
Once all the stock has been absorbed, test the rice to make sure it's al punto (cooked, separate grains). Always keep some stock handy in case you need more.
If the rice is done, put some paper towels over the dish to let it breathe, wait five minutes, then call your guests. The mark of a truly successful paella is the socarrat—a deliciously crusty base that forms at the bottom of the pan, which some guests enjoy scraping off.
For a dish that's so laden with folklore and rituals, I'd nevertheless argue that the joy of paella is both its versatility and its individuality. Practice a few times before inviting people over to get a feel for the interplay between heat, pan and ingredients. Its pleasure is both its simplicity and the depth of history and taste that your guests will remember long after the fire has turned to ash.
COCKTAIL CAUCUS
The local buzz on summer's favorite sips.
By Darby Doyle
Gather 'round, ye members of the Cocktail Party! Our base is strong and our spirits mighty. In this caucus of classic cocktails, here are our picks for a very boozy primary in which all the choices are pretty delicious. Whether you stir 'em up at home or enjoy them at our favorite watering holes around town, this is one contest where we all come out winners.
Whiskey:
Bourbon or rye? Sure, there are plenty of cocktails made with other international whiskies, but in this good ol' American contest of booze purists, U.S.-made bourbon and rye are the clear front-runners, regardless of region. Try them in either of these classic front-runners:
The Manhattan:
New York City may now bleed blue, but back in the day, this whiskey-based winner was solidly the preferred sipper of The Gilded Age's Robber Barons. J. P. Morgan famously quaffed a Manhattan every day after stock trading closed. The 2:1:2 ratio of whiskey, sweet vermouth and double dashes of bitters stirred over cracked ice keeps the "class" in classic.
Sazerac:
This Big Easy staple embraces all that's equally bold, boozy and ballsy about back-room political deals of centuries past. Arguably one of America's first cocktails, this heady combo of whiskey and absinthe reminds us that while taverns are no longer America's polling places, we sure wish more political arguments could be settled over a frosty glass.
Vodka vs. Gin:
Don't wait for Super Tuesday to get the skinny.
Vodka and Diet Soda:
Clearly, calorie count means more than flavor or quality quaffing for this delegation. We understand the appeal, but quite frankly for the same number of Fitbit steps we'd prefer to ask for a really great martini to sip nice and slow. Local favorites for gin or vodka martinis? Try the always-solid sipper at Copper Onion, or the powerful and pretty potion stirred up at Takashi's minimalist bar.
Negroni:
During the week of June 6-12, bartenders all over the damned globe pull out all the stops to create original variations of this classic 1:1:1 ratio of Campari, gin and sweet vermouth. At least $1 of every Negroni sold goes toward a charity of the bar's choice (this year, the Beehive State's Bartender's Guild suggests supporting the Utah Rivers Council). The sky's the limit on spin for this gorgeous bevvy, so check out NegroniWeek.com to search for locations near you and all over the world. BRUNCH BATTLE: patio day-drinks FTW!
Bloody Mary:
It's hard to beat this incumbent with a strong and diverse voting base. What a flip-flopper with the garnishes, though, right? Sometimes a minimalist celery stick, some places have everything in the garden and a whole fried chicken, too. We're partial to Lucky 13's spicy bloody with smoky bacon for patio sipping before catching a Bees baseball game. It's America's pastime, dontcha know?
Mimosa:
Light and refreshing, a minimalist mimosa hits all the mid-morning feels with a 1:1 ratio of citrus juice and bubbly. Go Green Party (get it?) on Zest's sunny patio starting at 10 a.m. with their gorgeous Green Juice Mimosa. Or, at equally cheery Provisions in Millcreek, we love seeing this classic contender alongside its photogenic Italian-American running mate, the Aperol Spritz. TEQUILA: If your preferred method of "enjoying" tequila is the body shot, you're either a Trump supporter "because he's funny" or an under-21 college coed in Cabo over spring break. Either way? There's a good chance you bellow "Hell Yeaaaahhh" while throwing fake gang signs after every drink and engage in staggering public urination. We're hoping the party votes you out, but understand the train-wreck entertainment value. For the first few minutes, anyway.
First step to enjoying some great tequila or mescal without the "Ta kill ya" hangover? Go to a place that treats good ingredients with the respect they deserve, like Taqueria 27 or Frida Bistro. These folks make superb versions of Classic Margaritas and curate a good selection of aged reposados and añejos for sipping, and give us even more reasons to believe that stupid wall between us and Mexico is a shitty idea for a million cultural, economic and especially culinary reasons. RUM: Long a source of economic and political contention, much of early republic America's trade relations and growth as a naval power depended on the rum trade, long before whiskey was produced on these shores. Whether fresh off the still or aged in barrels, rum was the original grog of the masses.
Daiquiri:
A traditionalist's beverage, the daiquiri is pro-Cuba all the way. This classic concoction—when made the right way with only rum, sugar, lime juice and, for that Cubano flair, a titch of Maraschino liqueur—hits all the nostalgia buttons without the fear and loathing overtones of the Cold War. Big-arse cigar and straw hat optional.
Dark 'n' Stormy:
Sure, it's a highball, but you've probably got the mixin's for a classic DnS right in your cupboard; perfect for when the state liquor stores are closed on polling day: To a glass filled with cracked ice, add a few glugs of dark rum, fill the glass to the top with a spicy ginger beer and garnish with a lime wedge. Bonus: a couple dashes of lime bitters. WANT IT ALL? The clear third-party dark horse comes from The Ruin in Sugar House, if only for the cleverness of the name, alone. Check out the booze-forward and complex "Champagne Finance Reform" on The Ruin's spring drinks menu. This potent combo hits good stuff: bourbon, rum, lemon, agave, orange bitters and a generous floater of bubbles.
OH, THE DRAMA!
Leave the histrionics to the professionals.

by Scott Renshaw
SALT LAKE VALLEY
con-tem-POE-rar-y
Meat & Potato Theatre Co.
Rose Wagner Center Studio Theatre
Through June 12
MeatAndPotato.org
Big River
Hale Centre Theatre (West Valley)
Through July 23
HCT.org
Newsies
Broadway Across America-Utah
Capitol Theatre
Through June 12 & Aug. 25-27
Broadway-at-the-Eccles.com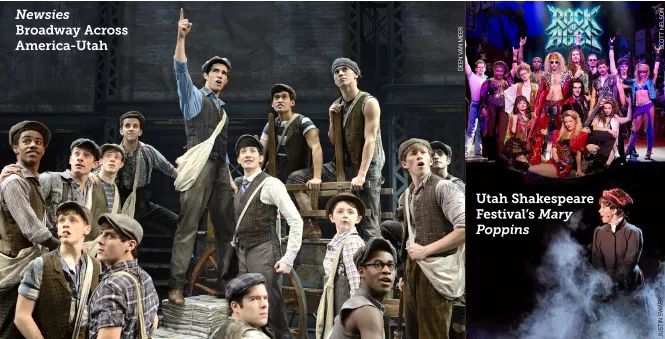 The Most Lamentable Roman Tragedy of Titus Andronicus
Pinnacle Acting Co.
Westminster College Dumke Auditorium
June 9–25
PinnacleActingCompany.org
Perfect Pitch
Desert Star Theatre
June 9–Aug. 20
DesertStar.biz
Page to Stage Festival
Wasatch Theatre Co.
Rose Wagner Center Studio Theatre
June 16–18
ArtTix.ArtSaltLake.org
The Pirates of Penzance
The Off Broadway Theatre
June 17–July 23
TheOBT.org
Saturday's Voyeur 2016
Salt Lake Acting Co.
June 22–Aug. 28
SaltLakeActingCompany.og
Once Upon a Mattress
Empress Theatre (Magna)
June 24–July 16
EmpressTheatre.com
Motown: The Musical
Broadway Across America-Utah
June 28–July 3
Broadway-at-the-Eccles.com
Li'l Abner
Empress Theatre (Magna)
July 29–Aug. 20
EmpressTheatre.com
Transmorfers
The Off Broadway Theatre
Aug. 5–Sept. 10
TheOBT.org
Ghostblasters
Desert Star Theatre
Aug. 28–Nov. 5
DesertStar.biz
UTAH COUNTY
Peter Pan
Hale Center Theater (Orem)
June 16–Aug. 6
HaleTheater.org
See How They Run
Hale Center Theater (Orem)
Aug. 12–Sept. 24
HaleTheater.org
NORTHERN UTAH
Rock of Ages
Ziegfeld Theater (Ogden)
Through June 25
TheZiegfeldTheater.com
Arsenic and Old Lace
Lyric Repertory Co. (Logan)
June 9–Aug. 5
LyricRep.org
Baskerville: A Sherlock Holmes Mystery
Lyric Repertory Co. (Logan)
June 16–Aug. 6
LyricRep.org
Singin' in the Rain
Lyric Repertory Co. (Logan)
June 23–Aug. 6
LyricRep.org
Peter Pan
Utah Festival Opera & Musical Theatre (Logan)
June 24–Aug. 4
UtahFestival.org
You Can't Take It With You
Lyric Repertory Co. (Logan)
June 30–Aug. 4
LyricRep.org
Puccini's Trilogy
Utah Festival Opera & Musical Theatre (Logan)
July 6–Aug. 5
UtahFestival.org
Porgy and Bess
Utah Festival Opera & Musical Theatre (Logan)
July 7–Aug. 6
UtahFestival.org
Showboat
Utah Festival Opera & Musical Theatre (Logan)
July 8–Aug. 5
UtahFestival.org
The Music Man
Ziegfeld Theater (Ogden)
July 9–Aug. 13
TheZiegfeldTheater.com
Ragtime
Utah Festival Opera & Musical Theatre (Logan)
July 9–Aug. 6
UtahFestival.org
It's a Two-Bit Town
Good Company Theatre (Ogden)
July 15–24
GoodCoTheatre.com
Pirated
Good Company Theatre (Ogden)
Aug. 12–22
GoodCoTheatre.com
La Cage aux Folles
Ziegfeld Theater (Ogden)
Aug. 19–Sept. 3
TheZiegfeldTheater.com
PARK CITY
Noises Off!
Egyptian Theatre
June 9–12
EgyptianTheatreCompany.org
Rock of Ages
Egyptian Theatre
July 1–24
EgyptianTheatreCompany.org
Brighton Beach Memoirs
Egyptian Theatre
Aug. 17–21
EgyptianTheatreCompany.org
London Suite
Egyptian Theatre
Aug. 18–20
EgyptianTheatreCompany.org
SOUTHERN UTAH
Peter Pan
Tuacahn Amphitheatre (Ivins)
Through Oct. 14
Tuacahn.org
Tarzan
Tuacahn Amphitheatre (Ivins)
Through Oct. 12
Tuacahn.org
Much Ado About Nothing
Utah Shakespeare Festival
(Cedar City)
June 27–Sept. 8
Bard.org
Henry V
Utah Shakespeare Festival
June 28–Sept. 10
Bard.org
The Three Musketeers
Utah Shakespeare Festival
June 29–Sept. 9
Bard.org
The Cocoanuts
Utah Shakespeare Festival
July 1–Oct. 15
Bard.org
Mary Poppins
Utah Shakespeare Festival
July 2–Sept. 3
Bard.org
The Hunchback of Notre Dame
Tuacahn Amphitheatre (Ivins)
July 29–Oct. 15
Tuacahn.org
Julius Caesar
Utah Shakespeare Festival
July 29–Oct. 22
Bard.org
Murder for Two
Utah Shakespeare Festival
Aug. 4–Oct. 22
Bard.org
SUMMER CONCERT GUIDE
Your guide to gorging on music this summer.

By Randy Harward
Usana Amphitheatre
5150 S. 6055 West
Usana-Amp.com
June 9: Slipknot, Marilyn Manson, Of Mice & Men
June 14: Steely Dan, Steve Winwood
June 24: Jason Aldean, Thomas Rhett, A Thousand Horses, Dee Jay Silver
June 25: Boston
July 9: Bret Michaels of Poison, Ratt, Warrant, Dokken, Lita Ford
July 10: G-Eazy, Logic, YG, Yo Gotti
July 12: Pitbull, Prince Royce, Farruko
July 16: The Piano Guys
July 20: Rob Zombie, Korn and In This Moment
July 21: Keith Urban, Brett Eldredge, Maren Moris
July 26: Weezer, Panic! At the Disco, Andrew McMahon in the Wilderness
July 29: Florida Georgia Line, Cole Swindell, The Cadillac Three, Kane Brown
Aug. 20: Josh Groban, Sarah McLachlan, Foy Vance
Aug. 21: Journey, Doobie Brothers, Dave Mason
Aug. 26: 5 Seconds of Summer
Aug. 29: The Rock Hall Three for All: Heart, Joan Jett and the Blackhearts, Cheap Trick
Sept. 2: Dixie Chicks, Smooth Hound Smith
Red Butte Garden
300 Wakara Way
RedButteGarden.org
June 16: The Monkees
June 20: Edward Sharpe and the Magnetic Zeros (sold out)
June 29: Ben Harper & The Innocent Criminals (sold out)
July 6: Tears for Fears (sold out)
July 8: case / lang / veirs
July 13: Last Summer on Earth Tour: Barenaked Ladies, OMD, Howard Jones (sold out)
July 14: JJ Grey & Mofro, Josh Ritter and honeyhoney
July 19: Boz Scaggs
July 26: The Avett Brothers (sold out)
July 28: Willie Nelson & Family (sold out)
July 31: Gary Clark, Jr.
Aug. 5: "Weird Al" Yankovic (sold out)
Aug. 7: Wheels of Soul 2016 Summer Tour: Tedeschi Trucks Band, Los Lobos, North Mississippi Allstars
Aug. 8: Culture Club
Aug. 9: Michael Franti & Spearhead (sold out)
Aug. 11: Pablo Villegas performs Aranjuez with the Utah Symphony
Aug. 14: Lake Street Drive, Gregory Alan Isakov
Aug. 15: Ryan Adams
Aug. 17: Pat Benatar & Neil Giraldo, Melissa Etheridge (sold out)
Aug. 18: Grace Potter, Con Brio (sold out)
Aug. 24: Jackson Browne (sold out)
Aug. 30: Wilco (sold out)
Maverik Center
3200 South Decker Lake Drive
MaverikCenter.com
July 21: James Taylor
Aug. 23: 98 Degrees, O-Town, Ryan Cabrera, Dream
The Depot
400 W. South Temple
DepotSLC.com
June 12: Stephen Ragga Marley
June 14: Caravan Palace, Beachmen
June 16: Blue October, Danny Malone (sold out)
June 18: Jim Norton
June 21: Mac Sabbath
June 26: The Growlers
June 29-30: 311, DJ Jarvicious (sold out)
July 1: Joe Russo's Almost Dead
July 11: Alice in Chains
July 15: Olivia Holt
July 16: Buckethead
July 27: The Claypool Lennon Delirium
Aug. 3: Miike Snow, Lewis Del Mar
Aug. 6: Zoso
Aug. 13: Eli Young Band
Aug. 16: Zakk Wylde—Book of Shadows II
Aug. 20: Ghostface Killah & Raekwon
Sept. 2: Fortunate Youth
Sandy Amphitheater
1245 E. 9400 South
SandyArts.com/Sandy-Amphitheater
June 17: The Commodores
June 20: Phillip Phillips, Matt Nathanson, Eric Hutchinson
July 1: The Music of ABBA (Arrival from Sweden)
July 14: Toad the Wet Sprocket
Aug. 19: Collin Raye
Aug. 27: Lost '80s Live: A Flock of Seagulls, Wang Chung, Nu Shooz, Farrington and Mann (Original When in Rome UK), Naked Eyes, Cutting Crew, Animotion
The Complex
536 W. 100 South
TheComplexSLC.com
July 10 (The Grand): Modern Baseball, Joyce Manor, Thin Lips
July 10 (Rockwell): A$AP Ferg, Tony Lanez, EMRSN, DJ Juggy
June 12: Authority Zero
June 14: Lecrae, Switchfoot
June 15: The Smokers Club Tour (Cam'ron, The Underachievers, G Herbo, Smoke DZA, Nyck Caution, Mobsquad Nard, G-Jet, Liam Tracy
June 17: Snow Tha Product
June 19: Tiger Army, The Bell Furies, The Pine Hill Haints
June 22: Andy Black
June 25 (The Grand): Too High to Riot Tour: BAS, The Hics, Ron Gilmore, Cozz, Earthgang
June 25 (Rockwell): Hopsin, Burnell Washburn, MindBody&Beats, SEM
June 30: Slightly Stoopid, SOJA, Zion I, The Grouch + Eligh
July 1: Xavier Rudd, Dustin Thomas
July 8: Cage the Elephant
July 9: DeJ Loaf, Bonaphied, Lee Haze, Bezzel
July 14: Howard Jones
July 15: VanLadyLove, Festive People, more TBA
July 18: Jon Bellion
July 20: One Foot in the Grave 2016: Carcass, Ghoul, Crowbar, Night Demon
July 23: letlive., Seahaven, Silver Snakes, Night Verses
July 26: Belly
July 28: Like A Storm, Reloaded
July 29: The Oh Hellos
July 30: The Psychedelic Furs, The Church
Aug. 5: Summerland 2016: Sugar Ray, Everclear, Lit, Sponge
Aug. 6: The Summer Slaughter Tour: Cannibal Corpse, Nile, After the Burial, Suffocation, Carnifex, Revocation, Krisiun, Slaughter to Prevail, Ingested, more TBA
Aug. 10: Marianas Trench
Aug. 15: Trampled by Turtles, Lord Huron
Aug. 16: Flume, Classixx, HWLS
Aug. 17: DigiTour: Summer, Baby Ariel, Weston Koury, more TBA
Aug. 19 (Rockwell): Rebelution, The Green + J Boog, Stick Figure, Through the Roots, DJ Mackie
Aug. 19 (The Grand): Periphery, skiTh, Chon, Toothgrinder
Aug. 31: Bayside, The Menzingers, Sorority Noise
Vivint Smart Home Arena
301 W. South Temple
VivintArena.com
July 16: Twenty-One Pilots, Chef'Special
Aug. 11: Demi Lovato, Nick Jonas, Mike Posner
Aug. 31: Coldplay, Alessia Cara
In the Venue
219 S. 600 West
InTheVenueSLC.com
June 11: Russ, TUT, Matt Burton, MindBody&Beats, Pete $un
June 11: Jacob Whitesides & Shane Harper
June 16: Zack Heckendorf
July 8: Otherwise, Sons of Texas
July 20: Eagles of Death Metal
July 28: The Acacia Strain, Oceano, Knocked Loose, Culture Killer, To the Wind
July 30: Aaron Watson, Six Feet in the Pine
The Great Saltair
12408 West Saltair Drive
TheSaltair.com
June 28: Modest Mouse, Brand New
July 7: Taste of Chaos: Dashboard Confessional, Taking Back Sunday, Saosin, The Early November
July 30: Shawn Mendes
Aug. 12: DAS Energi Festival
Aug. 20: Deftones, Code Orange
Snowbasin Blues, Brews & BBQ (Snowbasin Resort)
3925 Snowbasin Road, Huntsville
Snowbasin.com/the-mountain/entertainment/blues-brews-bbq/
June 12: Karl Denson's Tiny Universe, The Weekenders, Tony Holiday and the Velvetones
June 19: MarchFourth!, Caliope Musicals, Star and Micey
June 26: Band of Heathens, The Black Lillies, The Johnny Utahs
July 3: Ethan Tucker, Kris Lager Band, The Sextones
July 10: Blitzen Trapper, Laney Jones and the Spirits, Satsang
July 17: Sister Sparrow and the Dirty Birds, Todo Mundo, Tony Holiday and the Velvetones
July 24: The Shook Twins, Wood and Wire, Gleewood
July 31: Andy Frasco and the UN, Groovement, Pinetop Inferno
August 7: James McMurtry, John Craigie, The Johnny Utahs
August 14: Amy Helm and the Handsome Strangers, Paul Thorn, Tom Bennett
August 21: Hot Buttered Rum, The Outer Vibe, Me Like Bees
August 28: Jelly Bread, The Maw Band, Nate Robinson
Sept. 4: Lukas Nelson and POTR, Coyote Union, Penrose, Michelle Moonshine, The Battlefield
Twilight Concert Series (Pioneer Park)
350 S. 300 West
TwilightConcerts.com
July 21: Chet Faker, Kaytranada, LOCAL
July 28: Big Grams, Anderson Paak & the Free Nationals, LOCAL
Aug. 4: Diplo, TBD, Sneeky Long
Aug. 11: Jenny Lewis, Shannon & the Clams, The Aces
Aug. 18: Pusha T. Digable Planets, Grits Green
Aug. 25: Grimes, Jagwar Ma, LOCAL
Sep. 1: Fitz & the Tantrums, Trombone Shorty & Orleans Avenue, The National Parks
Deer Valley Resort Snow Park Amphitheater
2250 S. Deer Valley Drive, Park City
DeerValley.com
DeerValleyMusicFestival.org
July 3: Squirrel Nut Zippers
July 8: Rock On! Hits from the '70s & '80s with the Utah Symphony
July 9: The B-52s with the Utah Symphony
July 14: Emmylou Harris
July 15: Under the Streetlamp with the Utah Symphony
July 16: Matthew Morrison with the Utah Symphony
July 21: Chris Botti, Lucia Micarelli
July 28: Bèla Fleck, Abigail Washburn
July 30: Steep Canyon Rangers with the Utah Symphony
Aug. 13: Brandi Carlile
Aug. 19: Steve Miller Band
Ogden Twilight Concert Series (Ogden Amphitheater)
343 E. 25th St.
OgdenTwilight.com
June 9: Crystal Castles, James Supercave, RKDN
June 16: Wild Belle, On and On, VanLadyLove
June 23: Neon Indian, Lake, Coral Bones
June 30: Peter, Bjorn & John, Jim Adkins of Jimmy Eat World, The National Parks
Ed Kenley Amphitheater
403 N. Wasatch Dr., Layton
DavisArts.org
June 11: GENTRI
June 23-24: The Beach Boys
July 13: Chicago
July 21: Marc Cohn
Aug. 20: Collin Raye
Snowbird Event Center
9600 Little Cottonwood Canyon Road
Snowbird.com
June 18-19: Snowbird Brewfest: Polyrhythmics, Cory Mon, Hectic Hobo
June 25: Band of Heathens
July 2: Head for the Hills, Scott Rogers
July 9: The Sheepdogs, Nate Robinson
July 16: Buckwheat Zydeco, Dan Weldon
July 23: Sister Sparrow and the Dirty Birds, Andrew Cole
July 30: The Deslondes, Judd Warrick
FESTIVALS
Utah Arts Festival (Library Square and Washington Square)
200 E. 400 South
UAF.org
June 23: Young Dubliners
June 24: Beats Antique
June 25: Elvin Bishop's Big Fun
June 26: Steep Canyon Rangers
Crucialfest 6 (multiple venues)
Crucialfest.com
June 15-18: Russian Circles, Valient Thorr, Form of Rocket, The New Transit Direction, Ether, Subrosa
Utah Blues Festival (Gallivan Center)
239 S. Main
UtahBluesFest.org
June 18: Bernard Allison, Ronnie Baker Brooks, Tony Holiday & the Velvetones, The Sister Wives, Jordan Young
FUNNING FOR OFFICE
Political movies to amuse, inspire or otherwise distract from the election year.

By Scott Renshaw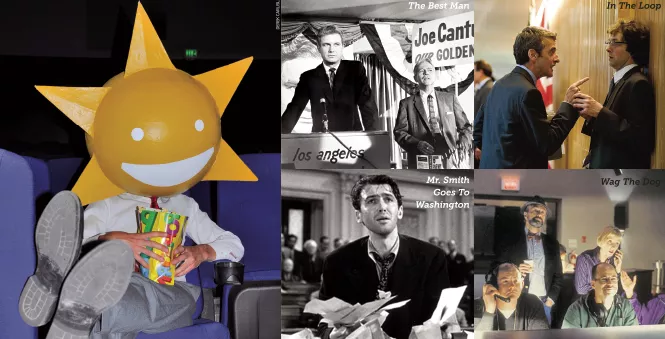 Some day, believe it or not, the 2016 presidential campaign will end. There will actually be an election day, and for a few blessed months, we'll return to a world where we aren't reminded of the 24-hour circus that is American politics.
But for now, while that circus is still sending in the clowns, perhaps the best you can do is find ways to laugh at it, or cling to the faint hope that something good and decent can emerge from those who wish to lead us. As a tonic against all the toxic, here's a film festival of movies that have managed to extract laughs—though often bitter ones—from the craziness of our political life, and even a few with enough optimism to believe not every politician or aspiring politician is a walking horror-show.
Gabriel Over the White House (1933)
Based on an anonymously published Depression-era novel, this has to rank among the most bizarre political films ever made. Walter Huston plays Judson Hammond, a just-elected conservative whose let-them-eat-cake platform regarding America's unemployed and homeless takes a 180-degree turn after he awakens from a coma with policy inspiration that may be heavenly. What follows is essentially an apologia for benevolent dictatorship, as Hammond proceeds to declare martial law and subtly threaten foreign countries in order to get what he thinks is right. While the script takes some appropriate shots at party-over-people politics, it never suggests that Hammond is anything but heroic in his principled shredding of the Constitution. If nothing else, Gabriel encourages skepticism of uncompromising leaders who claim to be on a mission from God.
Mr. Smith Goes to Washington (1939)
It's been lumped in with the rest of director Frank Capra's films as hopelessly corny, but like most of Capra's movies, it's spikier than advertised. James Stewart plays Jefferson Smith, the idealistic young scoutmaster appointed to a vacant Senate seat by his state's corrupt political machine, under the assumption that he'll be a patsy for their plans. Smith surprises them with his refusal to bend, of course, including an epic filibuster that builds to the film's climax. But the heart of the story is Smith's impact on those like his seen-it-all secretary (Jean Arthur) who start to believe that corruption may not be an inevitability. The most inspiring thing about Mr. Smith isn't that one person can stand against the system, but that one person's stand has the power to inspire so many more.
The Best Man (1964)
Gore Vidal adapted his own 1960 stage play in this portrait of the contested convention of an unnamed American political party, where the two front-runners for the presidential nomination are flawed, conflicted Secretary of State William Russell (Henry Fonda) and cutthroat Communist-hunter Sen. Joe Cantwell (Cliff Robertson). Vidal peppers the dialogue with stingers that still feel relevant 50 years later, like the appeal of a wealthy candidate to voters because "they figure you've got so much money of your own, you won't go stealing theirs," or the need by candidates to "pour God over everything, like ketchup." But as densely as director Franklin Schaffner textures this story with details of glad-handing and would-be king-makers, this is essentially a morality play, with terrific central performances by Fonda, Robertson, Lee Tracy (as a folksy but ruthlessly savvy ex-president) and even comedian Shelley Berman in a study of what it might look like if someone valued his soul over winning an election.
Being There (1979)
The political component is just one part of Jerzy Kosinski's broader swipe at American life in the mass-media age, but it's still indelible more than 30 years later. Peter Sellers' performance as simple-minded, raised-on-television gardener Chance—who stumbles into the world of Washington, D.C. politicians and power brokers—was one for the ages, finding a heart in deadpan blankness. And as he obliviously rises to find himself on the cusp of being handed the reins of power, it's hard to shake the contemporary relevance in both a woman who reluctantly admires Chance's oratory ("Keeping it at a third-grade level, that's what [the people] understand") and the incredulous response of the African-American housekeeper who raised him ("All you got to be is white in America").
The American President (1995)
Writer Aaron Sorkin's warm-up for The West Wing—including a role for Martin Sheen and dialogue-dense walk-and-talk scenes—was this romantic dramedy starring Michael Douglas as a widowed president whose re-election prospects run into trouble when his relationship with a lobbyist (Annette Bening) turns his "character" into an issue. Sorkin packs the narrative to the rotunda with policy details and trademark sermonizing, including a final speech that turns Douglas into an absurdly idealized version of progressive Chief Executive-ship. That makes it pretty impressive that the film works so well simply as a romance, built on the charm of two ultra-competent people finding themselves in a scenario that makes everyone involved uncomfortable. It may be sheer fantasy as politics, but if rom-coms don't exist to be fantasy, what are they for?
Wag the Dog (1997)
Brutally funny and scathingly cynical, this ultra-loose adaptation of Larry Beinhart's novel posited a premise that hardly even seems improbable now: What if the staff of an American president, faced with a potentially crippling election-year scandal, manufactured a war as a distraction for the American people? The details are hilariously unsettling—including faked footage of war crimes, and a "We Are the World"-style inspirational anthem—in a concept based on how easy it is for master manipulators of the media to twist public perception. But the unexpected soul comes from Dustin Hoffman's phenomenal performance as the Hollywood producer whose unshakable "This is nothing" confidence in the face of every setback collides with his ego, and a lack of understanding that the show-biz in politics depends on those who can never take credit for it.
In the Loop (2010)
Armando Ianucci's acidic perspective on the behind-the-scenes chaos in politics made the transition from The Thick of It toward Veep in one of the funniest scripts of the last decade. A low-level British minister's on-air goof sets off a ripple effect of spin-controlling, ass-covering and turf-warring, much of it orchestrated by the Prime Minister's foul-mouthed tornado of a communications director, Malcolm Tucker (the magnificent Peter Capaldi). What follows is a symphony of instantly iconic one-liners (changing meeting minutes to be "a more complete record of what should have been said") and a look at how many of the world's most crucial decisions might be based on in-fighting and dick-swinging.
MIGHTY SOULS
A locally sourced playlist for the end of the world.
By Alex Springer
There's a melancholy vibe that settles in on a Sunday afternoon. You feel like you want to go all out and enjoy the rest of your freedom with a bang, but the responsibility of reality is weighing too heavily on your shoulders to do anything that you might regret in the morning. Kicking off summer 2016 in light of the upcoming presidential election feels like we're entering the Sunday afternoon before the world comes crashing to an end. Since, by all accounts, we're looking at the end of civilization as we know it come November, let's forget about responsibility this summer. Let's put the top down on the convertible, drink too much and wake up half-naked in a stranger's water bed. To help aid in this process, I've enlisted the strength of Utah's mightiest rock bands to craft a playlist that will go well with all manner of summer debauchery.
"Band of Mighty Souls" by Folk Hogan:
Five minutes of banjo-shredding, mythological imagery and epic poetry is enough to get one psyched up for any grand summer adventure. Unfolding like a pub song crafted by a group of whiskey-fueled fantasy geeks, "Band of Mighty Souls" is perfect for rallying your pals together for a week-long right-wing-hating bender.
"Ghost Boyfriend" by Baby Ghosts:
What's summer without a little bit of paranormal, punk-pop heartbreak? On "Ghost Boyfriend," the group's harmonious shouting crafts a sincere look at the woes of falling in love as a disembodied spirit. It could also embody the agony of trying to pick between two presidential candidates who are both worthy of a hard left swipe. #TinderJoke
"Touching & Moving" by Foster Body:
Foster Body's chaotic, Devo-esque song "Touching & Moving" is perfect for getting weird on the dance floor. Not so much the dancefloor at a club, but more like the dancefloor in your garage that you made out of flattened cardboard boxes and leftover Christmas tree tinsel. Excellent, weird punk rock that will help you to forget how badly democracy has failed us.
"Blooming" by JAWWZZ!!:
I know, I know. At this point, JAWWZZ!! has officially retired, and the band formerly known as JAWWZZ!! is now known as Sculpture Club, but they were called JAWWZZ!! when they wrote this song so get off my back! Anyway, there's something about "Blooming" that reminds me of early Joy Division, and it's perfect for those summer days when you want to stick your head into your headphones and pump some garage goth straight into your earholes while staring into the abyss that has become the American dream.
"The Funeral" by Sammy Brue:
At the ripe age of 15, Sammy Brue has already been recognized by Rolling Stone as a young Bob Dylan. His wistful, delicately heartbreaking song "The Funeral" should be set aside for that one day during the summer when the slow burn of an impending tragedy finally comes to collect. His lyrical insight and musical talent make me retroactively embarrassed at my 15-year-old self, whose biggest achievement was beating Final Fantasy VII for the first time. It's a real shame that the world will end right before Brue can get a driver's license.
"Samundar" by L'Anarchiste:
My favorite thing about summer is driving fast on the freeway late at night with the windows down, and "Samundar" by L'Anarchiste is the perfect song for such an activity. Its slowly constructed musical arrangement makes each verse feel like a sunrise, and its lyrics rise and fall like the words of a traveling mystic. In an interview with NPR, lead vocalist Rob LeCheminant said, "Samundar was this dark, kind of mysterious place." It's the place where we find ourselves somewhere between midnight and 5 a.m., lost in the clutches of a summer night, driving with the windows down.
"Dungeon Master" by Visigoth:
When having the best, most irresponsible summer of your life starts to get regulated and legislated by the angry, fist-shaking grandparents that make up our state Senate, it's time to retreat to the basement for some Fifth Edition Dungeons & Dragons. Local metal gods Visigoth composed this lengthy ode to their many adventures through a world that has no electoral college. Excellent, riff-heavy metal to get any campaign started on the right greave.
"Crimson Sky" by The New Electric Sound:
Any of the songs featured on these Provo-based surf-rockers would be a home run on a summer playlist. I picked this one for many reasons—it's got a solid, driving bass drum that sounds like a heartbeat on the verge of doing something magnificent, and Ben Zabriskie's bounty of wild west guitar hooks conjures images of urban cowboys driving their Camaros into the sunset, searching for their destiny.
"Summer Nights" by Kaskade:
This is the song that surges forth from the darkness to remind us that, no matter who gets elected president, dance parties in the middle of July will still be fun. The infectious beats that Kaskade throws down can summon even the most awkward of dancers to the middle of the club. It's unbridled musical optimism, which is exactly what we need after hearing yet another inflammatory story about the psychos on Team Trump.
"Wonderwild" by Hive Riot:
Now that we're back to feeling good about the summer, let's close the list off with this synth-pop gem from Hive Riot. Mindy Gledhill's wispy vocals remind us that, at the end of the day, summer is about living in the moment and having no regrets. Well, some regrets might not be too bad.
Dust off the tank top collection and bust out the heavy artillery SPF, baby ... summer is here! OK, we're technically jumping the gun here as the first official day of summer isn't till June 20, but can you blame us? No other season has the effect good ol' summer has. Think about it, when was the last time you exclaimed, 'Fuck yeah, autumn!'