ou probably wouldn't know it based on the recent weather pattern, but summer is here, baby! Well ... almost here. Its first official day isn't till June 20, but can you blame us for jumping the gun?
Summertime in SLC is glorious—a time when heavy parkas get traded in for tank tops, snow boots for hiking ones and red, frostbitten faces are replaced by red, sunburned, blistered ones. In this guide we celebrate all these 93 days, 15 hours and 38 minutes have to offer—from the best music festivals and outdoor arts bashes to roller coasters, and duh, beer. All the while, we take detours to check in with our rowdiest of home teams, throw all #SummerBod expectations out the window and fill our bellies with some delectable (and cheap) cuisine, get buzzed with a list of our favorite sunny cocktails and get really buzzed as we delve into the world of beekeeping.
And what's summer without some rolled paper tubes filled with black powder going boom in the sky? Inversion be damned! We won't see you for another five months or so, anyway. We jest, of course. Before getting your firework fix, clear your lungs at some of the region's best hikes, and when you're done, rinse off at any of our fine watering holes.
So bust out the Coppertone and get ready for one sizzling ride. Here, turn around, you missed a spot.
—Enrique Limón
---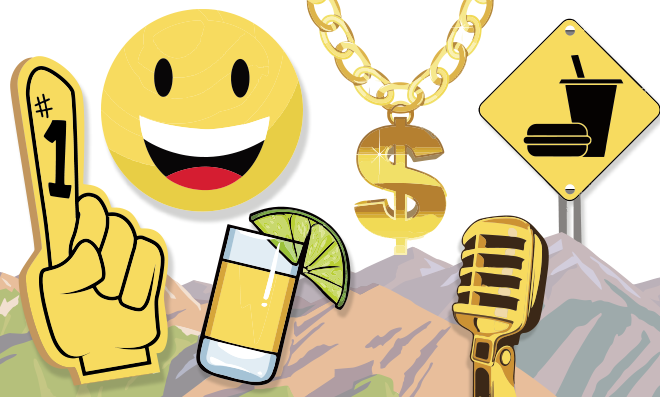 EXPECTATIONS VS. REALITIES
A Newbie Visitor's Take on SLC.
By Justin Criado
Salt Lake City is Utah's capital and most populated city; this much I knew before my initial visit. From the Wasatch Mountains behind the city's skyline to Temple Square downtown, SLC is a mixed bag to most outsiders like myself. The first thought that crossed my mind before heading into town was "Mormons. Mormons everywhere." But coming from Pittsburgh, an old-school Catholic town, what was the Mormon faith all about? Paint me ignorant, but I didn't expect too much as I rolled through to watch some live music. Here's what I found during my weekend trip.
1 Expectation: Salt Lake City isn't a sports town. I know, I know, they have pro sports teams, but I can't imagine SLC being on the same level as, say, Pittsburgh or Chicago.
Reality: While SLC might not be a blue-blood sports town like Philadelphia or Boston, the Beehive State features a rabid fan base, especially when it comes to the Utah Jazz of the NBA. After moving from New Orleans in 1979, the Jazz' golden years were the 1990s when Hall of Famers Karl Malone and John Stockton led the franchise to back-to-back NBA Finals appearances. Even though the Jazz fell to Michael Jordan's Chicago Bulls both years, SLC became a basketball city. The Jazz were battling the Los Angeles Clippers during my stay and I saw as many Gordon Hayward jerseys as I did Ute gear. While the University of Utah is the city's football (helps that the school is in town), Brigham Young University (in Provo) makes allegiances a little bit of a mixed bag, but groups are fiercely loyal. For the puckheads, West Valley City is home to the Utah Grizzlies of the ECHL.
---
2 Expectation: Everyone in SLC will be super nice. I don't have much experience with the Mormon faith, but I assumed they were friendly people, and while not all SLC peeps are Mormon (around half are, while the state average is 62 percent), good vibes are often contagious.
Reality: When my AirBNB host, David, sent me a list of recommendations in the downtown neighborhood I was staying in, I knew SLC folk were going to be OK in my book. The West, in general, is more considerate and open with strangers than their Eastern counterparts. There isn't any pretension or judgment from the hometown crowd when you roll into a spot unknown. I learned that at the Coheed and Cambrian concert and at The Rest afterward. Everyone I chatted with was quick to give a local recommendation.
---
3 Expectation: There will be more churches than bars in SLC. With plans to lower the legal blood alcohol limit to .05 (the lowest in the nation), Utah doesn't seem like a place where parties are prevalent.
Reality: So there actually might be more churches than bars (unofficial numbers were not immediately available), but if you want to indulge in some suds, SLC hosts several microbreweries, including Red Rock Brewing Co. and Uinta Brewing Co. (more info on those here). For the self-loathing and generally awkward bar flies (like me), there are always dives like Cheers To You and the Twilite Lounge. If you want to hang out with a little green fairy while staring at animals well preserved in their state of death, The Rest serves absinthe. Hallucinations vary.
---
4 Expectation: Following up on that last note, if the state is hell-bent on cutting into consumption and the church spires look down upon the pub, nightlife is almost non-existent, right?
Reality: Well, not exactly. There are areas where you can walk into a crowded bar and not feel guilty for being the only person there, like downtown or Capitol Hill. The only bummer is that bars, and seemingly the entire state, close up by 1 a.m. Walking back to my spot, I felt like the only living soul in a deserted city.
---
5 Expectation: Everyone's old. Unlike Charlotte or Nashville where young professionals go to start a life, Salt Lake is more retirement territory like Phoenix or South Florida.
Reality: Obviously not everyone is old, but silly me for not putting the college-town aspect into perspective. With Utah and BYU in the immediate and nearby vicinity, you're bound to find undergrads hopping around town on any given weekend. There's a scene for everyone, but you might have to look a little harder than Nashville's Honky Tonk Highway.
---
6 Expectation: I was in town for A Coheed and Cambria concert, but I didn't think SLC would have a healthy rock/metal scene. There are always the die-hards, but I couldn't imagine a huge contingent of metalheads and punks like you'd see in Denver or Philly.
Reality: OK, so SLC isn't NYC, but it is a typical Western tour stop, along with Denver and Albuquerque. SLC metal has some impressive players, too, like Chelsea Grin, Cult Leader and Gaza. As I like to say, there's always an underground; sometimes you just have to search a little deeper. The Coheed show was packed (I don't think it was a sellout, but damn near). The crowd was active, too, singing along with every ballad and banger. I'd honestly say it was the best concert I've been to (act and all) since I saw Slayer live and in the flesh for the first time in 2012.
---
7 Expectation: Natural beauty wasn't on the top of my list when I thought about the city. I tend to focus more on Moab or Zion or the other popular national parks if I'm looking for outdoorsy activities in Utah. I was curious to see what SLC had to offer.
Reality: Pardon my stupidity, but everywhere (it seems) out here in the Western part of the nation is naturally beautiful. It's like an alien planet with all the red rock pushed up against clear, blue skies. The Wasatch Mountains provide an alluring backdrop to the SLC skyline. Oh, yeah—there's also a big lake (the Great Salt Lake) there, which has some views.
---
8 Expectation: Is SLC a foodie city akin to Asheville or Minneapolis? No way.
Reality: Wrong. SLC was named one of the Top 5 Best New Food Cities in 2014 by Wine Enthusiast. With places like Feldman's Deli, Hires Big H and Spitz, there's something for everyone's palate. For a real SLC food experience, the Red Iguana is the place.
---
9 Expectation: SLC doesn't leave a lasting impression on visitors. There are some cities that are more popular than others for travelers and leave you itching to return after your visit. For me, those places are Portland, Seattle and Indy.
Reality: Doesn't every place you visit leave some sort of impression, whether it be good or bad? OK, let's not get too philosophical with it: SLC, like the rest of Utah, is a place worth visiting over and over again. It's the right mixture of urbanization and natural, outdoor appeal. If you want to hang out with the cool kids downtown or go for hike by yourself, SLC has you covered.
---
Summer Festivals 2017
By Scott Renshaw

---
First Summer Jobs
Local leaders reflect on their beginings
By Lance Gunmundsen
---
Fútbol Fandom
After several disappointing seasons, now might just be the moment to discover Real Salt Lake.
By Stephen Dark
---
Let's Get Soaking Wet
Cool your jets at these watering holes.
By David Miller

---
Take a Hike ...
And bring the pooch
By David Miller
---
Beehive State of Mind
Looking for a new hobby? Beekeeping is all the buzz.
By Dylan Woolf Harris
---
Summer Foodie Staycation
Take a trip around the world with these 8 plates.
By Alex Springer
---
Thrilling in the Name of ...
My Emotional Roller coaster with literal roller coasters.
By Alex Springer
---
Summer TV 2017
Everything you need to see in June, July and August.
By Bill Frost
---
Do-It-Yourself Utah Brewery Tour
Think there's no good beer in Utah?? Think again.
By Kayla LeFevre
---
Suds of the Season
New local IPA is here to quench your summer thirst.
By Mike Riedel
---
Sips for Summa-time
Step away from the Lime-A-Rita.
By Darby Doyle
---
Baby You're a Firework
Here's where to spend your July fourth holiday.
By Scott Renshaw
---
Musical Listicle
Your annual manual for hot shows this season.
By Randy Harward