ou probably wouldn't know it based on the recent weather pattern, but summer is here, baby! Well ... almost here. Its first official day isn't till June 20, but can you blame us for jumping the gun?
Summertime in SLC is glorious—a time when heavy parkas get traded in for tank tops, snow boots for hiking ones and red, frostbitten faces are replaced by red, sunburned, blistered ones. In this guide we celebrate all these 93 days, 15 hours and 38 minutes have to offer—from the best music festivals and outdoor arts bashes to roller coasters, and duh, beer. All the while, we take detours to check in with our rowdiest of home teams, throw all #SummerBod expectations out the window and fill our bellies with some delectable (and cheap) cuisine, get buzzed with a list of our favorite sunny cocktails and get really buzzed as we delve into the world of beekeeping.
And what's summer without some rolled paper tubes filled with black powder going boom in the sky? Inversion be damned! We won't see you for another five months or so, anyway. We jest, of course. Before getting your firework fix, clear your lungs at some of the region's best hikes, and when you're done, rinse off at any of our fine watering holes.
So bust out the Coppertone and get ready for one sizzling ride. Here, turn around, you missed a spot.
—Enrique Limón
---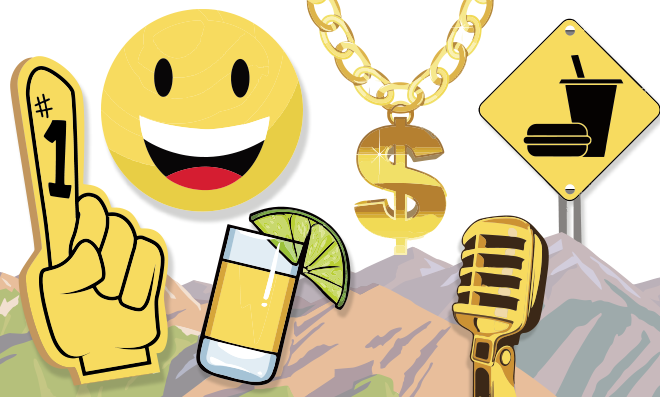 EXPECTATIONS VS. REALITIES
A Newbie Visitor's Take on SLC.
By Justin Criado
Salt Lake City is Utah's capital and most populated city; this much I knew before my initial visit. From the Wasatch Mountains behind the city's skyline to Temple Square downtown, SLC is a mixed bag to most outsiders like myself. The first thought that crossed my mind before heading into town was "Mormons. Mormons everywhere." But coming from Pittsburgh, an old-school Catholic town, what was the Mormon faith all about? Paint me ignorant, but I didn't expect too much as I rolled through to watch some live music. Here's what I found during my weekend trip.
1 Expectation: Salt Lake City isn't a sports town. I know, I know, they have pro sports teams, but I can't imagine SLC being on the same level as, say, Pittsburgh or Chicago.
Reality: While SLC might not be a blue-blood sports town like Philadelphia or Boston, the Beehive State features a rabid fan base, especially when it comes to the Utah Jazz of the NBA. After moving from New Orleans in 1979, the Jazz' golden years were the 1990s when Hall of Famers Karl Malone and John Stockton led the franchise to back-to-back NBA Finals appearances. Even though the Jazz fell to Michael Jordan's Chicago Bulls both years, SLC became a basketball city. The Jazz were battling the Los Angeles Clippers during my stay and I saw as many Gordon Hayward jerseys as I did Ute gear. While the University of Utah is the city's football (helps that the school is in town), Brigham Young University (in Provo) makes allegiances a little bit of a mixed bag, but groups are fiercely loyal. For the puckheads, West Valley City is home to the Utah Grizzlies of the ECHL.
---
2 Expectation: Everyone in SLC will be super nice. I don't have much experience with the Mormon faith, but I assumed they were friendly people, and while not all SLC peeps are Mormon (around half are, while the state average is 62 percent), good vibes are often contagious.
Reality: When my AirBNB host, David, sent me a list of recommendations in the downtown neighborhood I was staying in, I knew SLC folk were going to be OK in my book. The West, in general, is more considerate and open with strangers than their Eastern counterparts. There isn't any pretension or judgment from the hometown crowd when you roll into a spot unknown. I learned that at the Coheed and Cambrian concert and at The Rest afterward. Everyone I chatted with was quick to give a local recommendation.
---
3 Expectation: There will be more churches than bars in SLC. With plans to lower the legal blood alcohol limit to .05 (the lowest in the nation), Utah doesn't seem like a place where parties are prevalent.
Reality: So there actually might be more churches than bars (unofficial numbers were not immediately available), but if you want to indulge in some suds, SLC hosts several microbreweries, including Red Rock Brewing Co. and Uinta Brewing Co. (more info on those here). For the self-loathing and generally awkward bar flies (like me), there are always dives like Cheers To You and the Twilite Lounge. If you want to hang out with a little green fairy while staring at animals well preserved in their state of death, The Rest serves absinthe. Hallucinations vary.
---
4 Expectation: Following up on that last note, if the state is hell-bent on cutting into consumption and the church spires look down upon the pub, nightlife is almost non-existent, right?
Reality: Well, not exactly. There are areas where you can walk into a crowded bar and not feel guilty for being the only person there, like downtown or Capitol Hill. The only bummer is that bars, and seemingly the entire state, close up by 1 a.m. Walking back to my spot, I felt like the only living soul in a deserted city.
---
5 Expectation: Everyone's old. Unlike Charlotte or Nashville where young professionals go to start a life, Salt Lake is more retirement territory like Phoenix or South Florida.
Reality: Obviously not everyone is old, but silly me for not putting the college-town aspect into perspective. With Utah and BYU in the immediate and nearby vicinity, you're bound to find undergrads hopping around town on any given weekend. There's a scene for everyone, but you might have to look a little harder than Nashville's Honky Tonk Highway.
---
6 Expectation: I was in town for A Coheed and Cambria concert, but I didn't think SLC would have a healthy rock/metal scene. There are always the die-hards, but I couldn't imagine a huge contingent of metalheads and punks like you'd see in Denver or Philly.
Reality: OK, so SLC isn't NYC, but it is a typical Western tour stop, along with Denver and Albuquerque. SLC metal has some impressive players, too, like Chelsea Grin, Cult Leader and Gaza. As I like to say, there's always an underground; sometimes you just have to search a little deeper. The Coheed show was packed (I don't think it was a sellout, but damn near). The crowd was active, too, singing along with every ballad and banger. I'd honestly say it was the best concert I've been to (act and all) since I saw Slayer live and in the flesh for the first time in 2012.
---
7 Expectation: Natural beauty wasn't on the top of my list when I thought about the city. I tend to focus more on Moab or Zion or the other popular national parks if I'm looking for outdoorsy activities in Utah. I was curious to see what SLC had to offer.
Reality: Pardon my stupidity, but everywhere (it seems) out here in the Western part of the nation is naturally beautiful. It's like an alien planet with all the red rock pushed up against clear, blue skies. The Wasatch Mountains provide an alluring backdrop to the SLC skyline. Oh, yeah—there's also a big lake (the Great Salt Lake) there, which has some views.
---
8 Expectation: Is SLC a foodie city akin to Asheville or Minneapolis? No way.
Reality: Wrong. SLC was named one of the Top 5 Best New Food Cities in 2014 by Wine Enthusiast. With places like Feldman's Deli, Hires Big H and Spitz, there's something for everyone's palate. For a real SLC food experience, the Red Iguana is the place.
---
9 Expectation: SLC doesn't leave a lasting impression on visitors. There are some cities that are more popular than others for travelers and leave you itching to return after your visit. For me, those places are Portland, Seattle and Indy.
Reality: Doesn't every place you visit leave some sort of impression, whether it be good or bad? OK, let's not get too philosophical with it: SLC, like the rest of Utah, is a place worth visiting over and over again. It's the right mixture of urbanization and natural, outdoor appeal. If you want to hang out with the cool kids downtown or go for hike by yourself, SLC has you covered.
---
Summer Festivals 2017
By Scott Renshaw

---
First Summer Jobs
Local leaders reflect on their beginings
By Lance Gunmundsen
---
Fútbol Fandom
After several disappointing seasons, now might just be the moment to discover Real Salt Lake.
By Stephen Dark
---
Let's Get Soaking Wet
Cool your jets at these watering holes.
By David Miller

---
Take a Hike ...
And bring the pooch
By David Miller
---
Beehive State of Mind
Looking for a new hobby? Beekeeping is all the buzz.
By Dylan Woolf Harris
---
Summer Foodie Staycation
Take a trip around the world with these 8 plates.
By Alex Springer
---
Thrilling in the Name of ...
My Emotional Roller coaster with literal roller coasters.
By Alex Springer
---
Summer TV 2017
Everything you need to see in June, July and August.
By Bill Frost
---
Do-It-Yourself Utah Brewery Tour
Think there's no good beer in Utah?? Think again.
By Kayla LeFevre
---
Suds of the Season
New local IPA is here to quench your summer thirst.
By Mike Riedel
---
Sips for Summa-time
Step away from the Lime-A-Rita.
By Darby Doyle
---
Baby You're a Firework
Here's where to spend your July fourth holiday.
By Scott Renshaw
---
Musical Listicle
Your annual manual for hot shows this season.
By Randy Harward

Summer Festivals 2017
By Scott Renshaw
Once Utah finally shakes off its snowy winter blanket, locals realize the pleasures of warm weather are all-too-fleeting. So when you're seeking entertainment, it only makes sense to look for it in concentrated doses at our summer festivals. Here's a look at a full-to-bursting calendar of events for a wide range of interests—from artsy gatherings and cultural-heritage celebrations to showcases for lovers of performing arts and food.
ARTS FESTIVALS
May 25-27, Moab Arts Fest: Start the summer off right with a trek to southern Utah on Memorial Day weekend, and a free-admission jubilee of pottery, glass, jewelry, fine art and more, with plenty of activities for kids and adult refreshments for the grown-ups. moabartsfestival.org
June 22-25, Utah Arts Festival: For four days, downtown Salt Lake City turns into a multi-venue theme park of visual arts booths, music headliners, dance performances, short films, food and general amazement at the range of the state's artists and artisans. uaf.org
Aug. 4-6, Park City Kimball Arts Festival: Head to the quaint charms of Park City's Main Street for a mountaintop celebration of more than 220 artists, local musicians and delicious eats. kimballartcenter.org
Also on tap: June 10-11, Ogden Arts Festival; June 16-17, Chalk Art Festival; July 8, Millcreek Arts Festival; Aug. 11-13, Craft Lake City; Sept. 16-17, Urban Arts Festival
---
ETHNIC, HISTORICAL & CULTURAL FESTIVALS
June 2-4, Utah Pride Festival: Party with the state's LGBTQ community over several days of events, from a Youth Pride Dance and interfaith service through festival-grounds happenings including movies, vendors and music headliners, plus the grand parade on Sunday morning. utahpridecenter.org/festival
June 10, Utah Asian Festival: For the 40th annual event, cultures from China, Japan, Korea, Thailand, Indonesia, the Philippines and many more locales gather at Sandy's South Towne Expo Center for a huge showcase of art, crafts, food and fun. Come ready for the Asian Pop Dance and cosplay parade. utahasianfestival.com
July 22-24, Pioneer Days: My, how 170 years can fly by. Utahns of Mormon ancestry—and even those who aren't—enjoy the Days of '47 with rodeos, a family festival, a Mormon Tabernacle Choir concert and the big annual parade from South Temple and State Street to Liberty Park. daysof47.com
July 24, Native American Celebration in the Park Powwow & Festival: As an alternative to the Days of '47, Utah's Native American community celebrates those who were here first with arts-and-crafts booths, children's activities, tribal dances and fireworks. nacippowwow.wixsite.com
July 29, Pacific Islander Heritage Month Kick-Off: Utah's thriving Samoan, Tongan, Fijian and Native Hawai'ian communities begin a month-long celebration of their cultures with an event that traditionally includes food vendors, live entertainment and a youth rugby clinic at Sorensen Unity Center. facebook.com/utphim
Sept. 8-10, Salt Lake Greek Festival: It's all Greek to us at the popular downtown roundup of delectable food offerings, traditional dancing and fun for the whole family. saltlakegreekfestival.com
More festivals: June 17, Juneteenth; June 22-24, Taylorsville Dayzz; July 28-29, Peruvian Festival; Aug. 12, Pagan Pride Festival; Sept. 1-2, Midway Swiss Days; Sept. 16-17, Festa Italiana
---
PERFORMING ARTS FESTIVALS
June 23-Aug. 9, Utah Festival Opera & Musical Theater: Epic operas and favorites of the Broadway stage are once again on tap on Logan's picturesque Main Street. The season kicks off with Seussical, and also features The Hunchback of Notre Dame, Madama Butterfly, The Music Man, The Pirates of Penzance and Rex. utahfestival.org
June 30-Oct. 21, Utah Shakespeare Festival: The award-winning theater showcase in Southern Utah presents its 56th season of stage classics from the 1500s to the present. Shakespeare's Romeo and Juliet, A Midsummer Night's Dream and As You Like It share the spotlight with Guys & Dolls, Treasure Island, William Shakespeare's Long Lost First Play (abridged) and a stage adaptation of the Oscar-winning film Shakespeare in Love. bard.org
July 28-Aug. 6, Great Salt Lake Fringe Festival: The third annual showcase of experimental theater, dance, music and art gives local residents a chance to see work with an edge that might not be expected on Utah stages. greatsaltlakefringe.org
---
POP CULTURE CONVENTIONS
July 7-8, Salt Lake Gaming Con: Whether your preferred jam is video games, role-playing or tabletop games, you'll find panels and tournaments to keep you entertained and vendors to introduce you to the next big thing. saltlakegamingcon.com
June 29-July 1, Nerdtacular The intimate Snowbird setting makes this event—celebrating its 10th anniversary a bit under-the-radar, but it's a great chance to enjoy nerdy movies and other geek-out fun with several hundred of your closest soon-to-be-friends. nerdtacular.com
Aug. 4-5, ToshoCON: The Salt Lake County Library's annual teen anime convention includes teen-led panels, vendor marketplace, viewing room, cosplay contests and more. viridiancenter.org
Sept. 21-23, Salt Lake Comic Con: It's another weekend of costumes, celebrities, vendors and fascinating pop-culture conversations at one of downtown's biggest annual events. Val Kilmer and Guardians of the Galaxy co-star Michael Rooker are among the headliners already announced, with many more to come. slcomiccon.com
---
FOOD & DRINK FESTIVALS
Aug. 12-Oct. 15, Snowbird Oktoberfest: snowbird.com/events/oktoberfest
Aug. 19, City Weekly's Utah Beer Festival: We're happy once again to invite everyone to the Utah State Fairpark for a jubilee of sampling the best that the state's talented brewers have to offer. Listen to some music and discover ways to combine grain, hops and water for flavors you never imagined were possible. facebook.com/utahbeerfestival
Sept. 6-9, Brigham City Peach Days: The fruits of summer inspire this peachy-keen, four-day gathering with a carnival, parade, live entertainment and, of course, plenty of delicious food. peachdays.org
SUMMERTIME ... AND THE LIVIN' IS NOT-SO-EASY
Local leaders—including a busboy-turned-billionaire—reflect on their first summer jobs.
By Lance Gunmundsen
Like their first kiss or first car, people remember their first summer job. It's a rite of passage into responsibility—and the dawn of eventual adulthood.
Nearly seven decades have passed, but Utah philanthropist Jon M. Huntsman Sr. vividly recalls being on the pushing end of a lawnmower on the grounds of Whittier Elementary School in Pocatello.
He was just out of sixth grade. "My brother and I both were janitors at the school. We worked six days a week and each got $25 a month—which seemed a great deal of money back then," recalls the billionaire businessman.
"It took two of us to push the lawnmower," he says, smiling. The school grounds were "a whole city block, with a lot of grass."
While in junior high in California, young Huntsman worked after school in a seafood restaurant as a dishwasher and busboy. After his shift, he'd report to a meat market where he mopped floors and cleaned out meat stands until 9 p.m., when he'd tackle a pile of homework.
In ninth grade, he landed a job at J.C. Penney in Palo Alto, eventually rising from shipping clerk to manager of the shoe department at $1.50 an hour. He was 17. "Mr. [James Cash] Penney, himself, came through the store and said I'd have a 'great career' with the company," Huntsman recalls.
The Huntsman family was constantly struggling, he says, "and I took care of all our medical and automobile costs."
While in college, the man who went on to build massive chemical plants worldwide apprenticed as a plumber each summer. During the school year, "I waited tables, delivered flowers or did whatever I could."
Looking back on his busboy-to-billionaire odyssey, Huntsman believes that "without working hard and long, you can never get ahead in life. I never again wanted to live under the conditions my family lived under ... I wanted to make something of myself so my children and grandchildren wouldn't have to work the long hours I did."
His boyhood jobs also taught him "ethics and honesty."
One afternoon, he watched a fellow J.C. Penney employee "take some clothing out the back door to his car." Huntsman told the store manager. "They fired the guy, and gave me his job," he says, "and that's how I went from the boys' to the men's sections."
Here are the summer-job experiences of other Utah movers and shakers: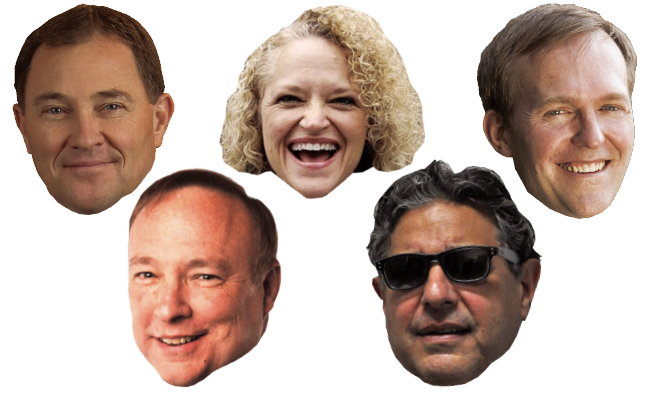 Gov. Gary M. Herbert
First Jobs: Picking raspberries in the family garden and selling them, collecting pop bottles for spending money and delivering The Salt Lake Tribune.
Lessons: "The thrift I learned as a boy instilled within me the fiscal conservative values I still hold—and the need we have, as elected officials, to spend taxpayer funds wisely."
SLC Mayor Jackie Biskupski
Job: As a 12-year-old, she "de-tasseled" corn (pulled the tassel from the husks) on a farm in Hastings, Minn. Pay was $2.50 an hour.
Lesson: "To go to work for my dad at the first possible moment." He ran a small business cleaning up structures which had been damaged by fire.
SL County Mayor Ben McAdams
First Job: Weeding pumpkin patches in the summer at Pack Farms in Davis County, then helping harvest them in the fall. He was in junior high.
Lessons: "The importance of hard work and the value of money."
State Sen. Jim Dabakis
Job: "Picking blueberries at my LDS bishop's farm, working alongside him and his 12 kids. I was an inner-city boy and the farm was about 25 miles from home. I was 12 or 13. It was the first time I'd been away from home and I was terribly homesick. I made $1.60 an hour—with a bonus for picking extra blueberries. I never made the bonus—but came home every night with blue teeth. They'd send us out in a big truck every morning at 4. Long days."
Lesson: "I learned how cool it would have been to have a huge family ... and how unfit I was for real work."
City Weekly publisher John Saltas,
Job: Building giant chicken coops—home to about 100,000 chickens—in Riverton, Utah. He was 17. Pay was "a couple of bucks an hour."
Lessons: "We worked really hard. Everything was hand-built from floor to rooftop, basically using a hammer for eight hours a day. The guys who owned it—the Olson Brothers from Preston, Idaho—worked just as hard as anyone. And that rubbed off, because you didn't want to be outdone by 'old' guys. In the end, I learned that chickens can lay enormous eggs ... same as people."
ARE YOU READY FOR SOME FÚTBOL?
After several disappointing seasons, now might just be the moment to discover Real Salt Lake.
By Stephen Dark
At the final whistle on May 18, in the heart of downtown Sandy, the relief was palpable, if tinged with caution.
Utah's 11-year-old Major League Soccer team, Real Salt Lake ended a four-game losing streak under new coach Mike Petke with a 2-1 win over the New York City FC.
For the Real enthusiast, there's irony to be found in Petke's team defeating the club that fired Jason Kreis. Kreis, after all, was the Real coach who built a culture and vision that the team itself is the star—not individual players. Kreis took them to win their only MLS cup in 2009.
Petke, who replaced Jeff Cassar after Real's poor start to 2017, is cut from similar cloth as Kreis. They both wear their hearts upon their sleeves, they both say what they mean, and they're both snappy dressers (although Petke's passion for sweaters and cardigans might take some getting used to).
Real is a team in transition. Whether the NYC FC win is but a blip in a struggle to find form or an early sign that Petke has some ideas on where to drive the Claret-and-Cobalt, it's too early to say. But with some of Real's more fair-weather season ticket holders having leftover frustration with Cassar's coaching, now is the time for you soccer novices to venture out to Sandy and sing the lyrics of "Believe."
To get you started on that journey to the RioT, here are a few answers to questions a soccer novice might have.
Wasn't this a Dave Checketts' cast-off?
While the one-time general manager of the Jazz did, indeed, start Real—back in those days, the games were at Rice Eccles stadium—his vision for a home base (let's not get into the weeds on that fight) and a team Utah could be proud of saw his star-player-turned-coaching-prodigy Kreis build a team in his own image: hard-fighting, dedicated scrappers. Most of what was called "the core" are still around—the dreadlocked midfielder Kyle Beckerman, whose peace-and-granola appearance belies his unflinching tough-man heart, and the gravity-defying goalkeeper Nick Rimando, to name but two.
How do you pronounce the name?
Re-ál. Checkett borrowed the Spanish word for royal, as in Real Madrid. That took awhile for fans to get used to. That said, this is one sport where you're just as likely to hear Spanish accents from all over South America in the surrounding seats as you are white bread American-English.
Isn't there a missionary connection somewhere?
RSL has a strong Mormon fan base made up of young men and women who got hooked on the sport when they were proselytising abroad for the LDS Church.
Why is the stadium called the RioT?
It's a fan invention. The stadium is called the Rio Tinto stadium, but who wants to use a corporate sponsor's title? So it's Rio + T from Tinto.
I heard parking is a challenge.
When you drop a soccer stadium in the middle of downtown Sandy, you're going to have some congestion. Trax is one good bet—there are three Trax stops within a 15-minute walk of the stadium, and UTA keeps you up to date on Twitter. My favorite place to park is Crown Burger on State Street, half a block down from the 9400 South intersection. Buy one of their excellent burgers and put your receipt in the windshield, and you're good to go. Otherwise it's a case of searching the multiple $10 lot offerings or getting there early for the free spaces at the bottom of 9400 South. For you Salt Lakers who want to drink on the way to the game and back, several bars downtown run shuttles—a damn good idea.
Are tailgaters welcome?
On a southside lot off 9000 South, hardcore fans—such as LaBarra (the folks with the big drums and fake smoke) and Salt City United— grill, kick balls around and suck on suds. There are plenty of kids and there's always a welcoming, friendly atmosphere. Other clubs you're likely to run into include the Rogue Cavaliers Brigade, Section 26 and the Loyalists.
I've seen folks standing at U.K. Games. Are you on your feet for 90 minutes?
Only Section 35 permits standing, although that can create a headache for nearby stands. Around the rest of the stadium, you can sit with beer purchased inside the RioT, or Diet Coke, and chomp on a burrito from the chile verde stand on the north side of the stadium, or the crazy-popular churros.
What shouldn't I bring?
Real has a clear bag policy, meaning you can bring only plastic or PVC bags that the folks manning the stadium entrances can see through. Don't bring horns, vuvuzelas (look 'em up), umbrellas, firearms or camera lenses longer than 2 inches.
What's it mean to be a RSL fan?
Check out the lyrics of the song "Believe," and you're halfway there to understanding. Rancid drummer and Orem resident Branden Steineckert penned "the battle hymn," and for the losing-weary fan to hear the lyrics belted out by a sold-out home stadium is all but guaranteed to leave you misty-eyed. RSL's marketing director Trey Fitzgerald recalls the 2013 championship final against homeside Kansas City in painfully icy conditions. The game ended in a penalty shootout, and though Real lost, what always comes back to Fitzgerald is "the sliver of fans singing 'Believe' during the shootout," he says. "It still sends shivers down my spine."
Amen, brother.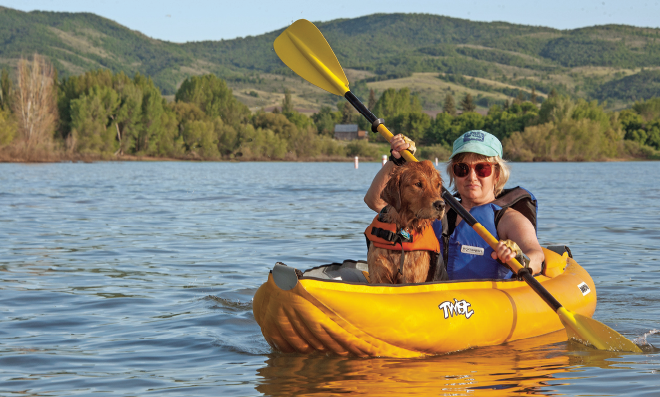 LET'S GET SOAKING WET
Cool your jets at these watering holes.
By David Miller
As summer arrives and the heat becomes more unbearable, Utah residents suit up and take to the pools in search of relief. But they're crowded, chlorinated and often too artificial for the tastes of some Utahns. More natural settings can be found at reservoirs, rivers and hot springs. Here are a few of my favorite summer swimming spots near Salt Lake City.
Burraston Pond
Home of the popular rope swings, Burraston Pond is a 40-minute drive south of Provo on I-15 near Mona in Juab County. While the pond is mostly used for fishing, it's also a local favorite for swimming. Several rope swings attached to the trees lining the pond make it a popular destination for younger crowds. And local teenagers can often be seen performing aerial maneuvers into the water. The pond is accessible to the public year-round, 24 hours a day.
Pineview Reservoir
Looking for sandy beaches and bright blue water? You don't need to look as far as you might think. A half-hour east of Ogden, Pineview offers beautiful views from its beach-lined waters. The sapphire reservoir makes for a fun day in the sun for the whole family and is popular for swimming and watersports. Anderson Cove Campground, on the reservoir's southern shore, provides the most extensive beach and boat ramp. If you're looking for a quieter day on the water, head north to Middle Inlet to avoid the boats at Anderson Cove. The water temperature ranges from 50 to 70 degrees. While the Marinas are open to the public all day, camping at the reservoir is restricted to Anderson Cove, which closes its gates at 10 p.m.
Causey Reservoir
Forty minutes east of Ogden, Causey Reservoir is a true gem of a swimming hole. Mostly used by fishermen, Causey does not allow motor craft, so a quiet nature outing is guaranteed. But quiet does not mean boring. Cliff diving is popular at Skull Crack Canyon on the reservoir's south end. With deep water and steep cliffs, it's considered a relatively safe spot, but cliff diving is never risk-free, and it's always best to practice caution. The cliffs are accessible from Skull Crack Trailhead, and are open to the public at all times.
Provo River
Starting below the Deer Creek Reservoir Dam and ending at Vivian Park, this stretch of the Provo River is a popular tubing destination. The put-in is roughly 4 miles up Provo Canyon and is only a 20-minute drive from Provo. The water temperature hovers around 50 degrees, so tubing is usually limited to the warmest summer months. Tube rentals are available, but if you plan to bring your own, don't forget a life jacket; Utah law requires personal flotation devices. This is a heavily enforced rule with a hefty fine. While the river might look calm, the stretch is recommended for strong swimmers only.
Fifth Water Hot Springs
While most of us are roasting in the valley, those Utahns who venture into the mountains might have already found respite in a cool Alpine breeze. In fact, some might even feel the need to warm up—not cool off. Near Spanish Fork, Fifth Water is not the most easily accessible location on this list, but what it lacks in accessibility is compensated by its beauty. The trailhead is located in Diamond Fork Canyon, about half an hour from Spanish Fork. At about 5 miles long, the trail sees heavy-to-moderate traffic, so you probably won't have the place to yourself. The multiple pools of varying temperature can accommodate a fairly large number of people.
Cataract Gorge
Located in the Heart of the Uinta-Wasatch-Cache National Forest, this section of Little Deer Creek is remote. The Gorge can be accessed from Emerald Lake Highway by turning onto Murdock Basin Road and following it to the road to Cataract Gorge (Forest Service Road 027). Once there, follow the creek up the canyon. With a lake, a stream and waterfalls, the hike alone is worth the trip. But what makes Cataract Gorge truly amazing is one of the best swimming holes in the state. The water is brisk, but not cold, and can be easily enjoyed on a hot day. There is also climbing in the canyon, so don't forget your gear.
Saratoga Hot Springs
Located on the western shore of Utah Lake, these are some of the best hot springs in Utah. Evenly heated year-round and lacking the strong sulphuric smell found at many other hot springs, this gem is located less than a quarter-mile from the main road. This proximity threatened the springs at one time, but since the land was turned over to Utah County, its condition has been improving. While trash is still an issue, local volunteers generally have cleaned up the springs. When I was last there in late March, it was the cleanest I've ever seen it. The springs are open to the public all year, but the parking-lot gate is closed and locked at night. Anyone still parked there will be ticketed.
Take A Hike ... and bring the pooch
By David Miller
Salt Lake City is blessed with the Wasatch Front. The beauty of Big and Little Cottonwood canyons is equal to that found anywhere in the country. The canyons' proximity is truly unique for a metropolitan area. They are also watersheds—so dogs are strictly prohibited. But fear not! There are still plenty of pooch-friendly trails around Salt Lake City. Here are some of the most scenic and accessible.
Blood's Lake Trail
While you can't go into either of the Cottonwoods with your furry companion, you sure can get close. Blood's Lake is located on the East side of Guardsman Pass, a stone's throw from the end of Big Cottonwood. At just over a mile long, this is a perfect trail for a quick outing. The lake at the end of the trail makes for quite the view, and your dog will enjoy the cold water on a hot summer's day.
Mount Olympus Trail
At 9,000 feet, Mount Olympus' prominent north face can be clearly seen from all of Salt Lake Valley. The sharp ridge that extends to the base has a trail that runs all the way to the summit. Gaining more than 4,000 feet in less than 5 miles, it's no breeze. But if you and your pup can brave the terrain, you'll be rewarded by some jaw-dropping views.
Session Canyon Trail
Mueller Park offers a wide variety of trails, almost all of which are canine-friendly. Session Canyon is a lesser-known (and therefore less trafficked) trail in the park. Following a small creek, the trail is almost entirely shaded, and the dense trees and bubbling creek make for a cool and peaceful hike. The trail is a little over 5 miles and has some areas with poor footing, so make sure you're fully equipped with proper footwear and anything you or your dog might need on a longer outing.
Dry Creek Trail
Located in Alpine, this trail offers some spectacular views, as well as an incredible waterfall. At 10.5 miles long, it's a bit of a trek, but Horsetail Falls, along with many picturesque viewpoints, make it worth the effort. The trail is rocky, but stable, and rises at a gradual pace. The falls cascade down a sheer cliff and are some of the most magnificent in the area.
Desolation Canyon Trail
One of the more popular trails on this list, Desolation Canyon is a favorite among dog owners. The 4-mile out-and-back trail climbs to an overlook of Salt Lake Valley. With plenty of shade and amazing views, it's easy to see why it's a local favorite. The overlook is one of the best in the Wasatch, and on a clear day, you can see all the way to the Great Salt Lake.
Neffs Canyon Trail
Just South of Millcreek Canyon, Neffs is smaller and less trafficked. Practically in Salt Lake City, the canyon is about as accessible as they come. A great shady trail, with a gradual elevation gain, Neffs can be as easy or as hard as you make it. Take it small—or go big and hike the 6 miles to the top of the trail where you will find a beautiful Alpine meadow with a great view of surrounding peaks.
BEEHIVE STATE OF MIND
Looking for a new hobby? Beekeeping is all the buzz.
By Dylan Woolf Harris
Denise Hunsaker harbors no grudge against the 12 irritated bees that attacked her legs several weeks ago. The hive was getting crowded, after all—a condition that agitates the best of us. And she was wearing black pants, which she suspects triggered the bees' instincts that a predator was near.
A slew of stings later, she was inside looking out the window to determine if things had calmed enough to go back outside.
"That was a really unusual situation," she says. "I've never had 12 bee stings in the eight years I've been doing this. I just pissed them off."
That experience didn't change her opinion about keeping bees, her favorite pastime. What started years ago as a quest for some homebrewed mead, morphed into a hobby that's perfect to pick up when the weather turns warm, and the hives produce fresh honey.
"It's fascinating, it's addictive, it's fun," says Hunsaker, who fills in as the Wasatch Beekeepers Association public-relations officer. Backyard beekeeping is an activity for most anyone, she adds.
But don't delay. By mid-June, it's nearly too late for a hive to grow and flourish.
Beekeeping gives hobbyists a front-row view of nature's systematic honey machines, where each moving part is an animal that faithfully performs its small duty for the benefit of the whole. Each bee has an instinctive role. Drones, for example, mate with the queen. The queen's job is to lay a minimum of 1,000 eggs per day.
About 1,800 people registered their hives with the state in 2016. Utah law mandates that beekeepers do so. But, as Utah Department of Agriculture Insect Program Manager Chris Watson puts it, "We're not the bee police."
It costs $10 to license 20 or fewer hives, $25 for up to 100 hives and, for commercial bee operations with more than 100 hives, licensing runs $50.
One of the biggest responsibilities for a beekeeper is protecting the hive from pests and disease.
The benefit of licensing with the state is that keepers can request free inspections for parasites such as the dreaded varroa mites, which can decimate a colony. The small scarlet arachnid latches itself onto a bee's back and sucks its blood through festering sores that leave it vulnerable to disease and infection.
Fortunately for beekeepers, hives can be treated if the mites are detected early enough.
"We're here to promote the idea of honeybee health and give information on mitigation for disease outbreaks and provide notifications," Watson says.
The department also will trap fierce Africanized honey bees. "We don't allow for aggressive stock," Watson says. If someone's hive is brimming with vicious bees, it can be "re-queened" and salvaged.
Large bee operations often rent out insects to California almond farmers. They ship out their hives on flatbed trucks. Once the crops are pollinated, boxes of bees return—sometimes more than the number that was shipped out, says Roger Stephenson, secretary of the Utah Beekeepers Association.
The association is the state's largest beekeeping group, comprised of large operations, mid-sized "sideliners" and small hobbyists.
Beekeepers who tend to smaller hives usually don't do it for any compensation. There's no money in having bees in the backyard, Hunsaker says, though the honey they produce makes for a good gift.
In its lifetime, a bee produces one-twelfth of a teaspoon of honey, and its flavor and texture varies with the seasons, depending on what food is available. "Spring is a really light, syrupy honey. Summer is the golden color, a little bit thicker. Fall is very dark, very rich, almost molasses-like," Hunsaker says.
Stephenson says hobbyists should remember to leave enough honey during the late fall and winter months so the bees can make it through the season when they don't forage. They can be fed syrup, too.
Good beekeepers make good neighbors. The insects will help pollinate plants as they skip from flower to flower. But there's a chance a resident could get uneasy. Hunsaker recommends beekeeping etiquette by taking a contact card "and possibly some honey" to your neighbors and let them know bees will be buzzing around pollinating their plants and asking that they don't try to kill them. They can call the beekeeper if bees start to swarm.
The "newbee" looking to cultivate a hive should first consider planting wildflowers in the yard, which will offer bees a close source of nectar. Research what plants bees prefer. Then, you'll want to set up a hive box. But don't expect a "skep hive"—the upturned woven baskets that also happen to be the state's ubiquitous logo. Those, as well as any other hive that doesn't allow for the frames to be inspected, aren't legal. Several stores in the valley sell hive boxes.
Next, you'll need bees, and vitally, a queen bee. Stephenson says there are various places to buy bees to start your hive—a seller in St. George and another in Richfield, for example. IFA Country Stores keep some in stock, he says. Or you can order them directly from queen breeders.
If that sounds daunting, your best bet might be to join a group like the Utah Beekeepers Association, which has all the answers and suggestions.
Hunsaker showed City Weekly her backyard apiary consisting of five box hives with metal roofs held down with a heavy rock. She estimates the largest hive to house about 70,000 bees. The hives sit on raised platforms with ventilation on the bottoms. A jar of sugar water mixed with a nutritional supplement is near the front landing ways, a sliver opening where the bees fly in and out. When the roof and inner cover is removed, the hive is revealed. It's divided into slots of vertical frames. After prying apart the frames—stuck together with a sappy substance called propolis—each can be removed to reveal the honeycombs.
Suiting up in a protective jacket with a round mesh veil, Hunsaker pointed out the honeycombs as bees flurried about. Her jeans, on this day, were unmistakably blue.
SUMMER FOODIE STAYCATION
Take a trip around the world with these 8 plates.
By Alex Springer
Visitors often come to the state with negative stereotypes about our culinary scene—an unintended byproduct of our archaic liquor laws, no doubt. What many people don't get about Utah is that we have a vibrant, multicultural refugee and immigrant community that fuels a lively and varied food scene. Here are a few choice places to start your world tour.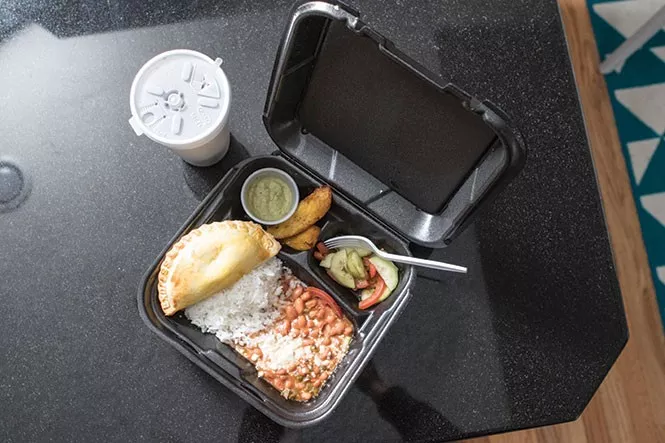 The Empanada Meal at Empanada Express
A couple of years into its run, Midvale's Empanada Express is helping this underrated food make a name for itself. The humble empanada is celebrated here, with a menu that features recipes from all over Central and South America. Place your bets on the empanada meal, which lets you pick two—the Argentine Beef and the Venezuelan are my favorites—served alongside some traditional Latin American sides like plantains and cucumber-tomato salad. 7178 Union Park Ave., Midvale, 801-569-2331, empanadaexpress.com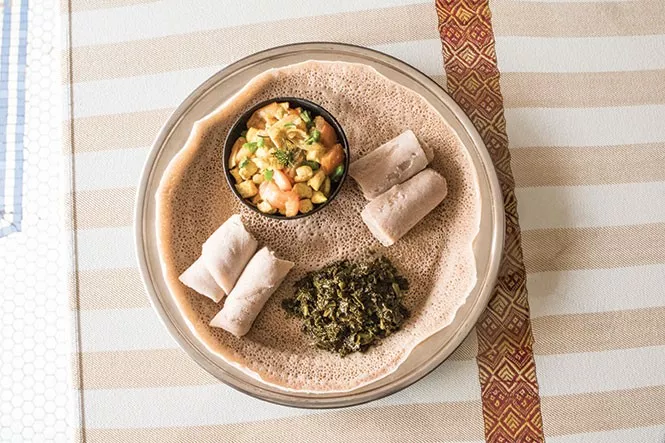 Yedoro Tibs at Blue Nile
One of the most fun things about Blue Nile is that you're encouraged to eat with your fingers. Given it's an authentic Ethiopian eatery, entrées here come in an envelope of injera, a slightly spongy sourdough bread that serves as a food-delivery system. Yedoro tibs is a great dish to start with—it's a savory mixture of chicken, peppers and cabbage that melds well with the injera's slightly sour flavor. 755 S. State, Salt Lake City, 801-364-4042, bluenileslc.com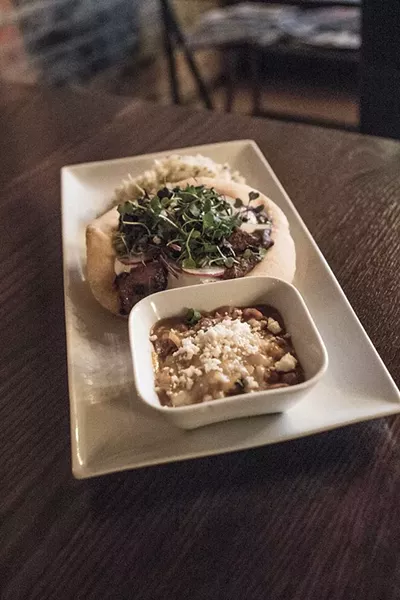 Navajo Tacos at Black Sheep Café
While Navajo tacos have been inextricably linked to the deep-fried debauchery that you might find at the state fair, Black Sheep Café has elevated the simple dish to its rightful place in the culinary kingdom. It all starts with Black Sheep's housemade fry bread—a recipe that has been in the owner's family for generations. The tacos come in two variations—green chile pork and red chile beef—both of which are packed with smoky, spicy Southwestern flavor. Multiple locations, blacksheepcafe.com
Ceviche Fusión at Del Mar al Lago
Good ceviche depends on how long ago its contents were still swimming, so I was a bit skeptical that a Peruvian cebichería could make it work in a landlocked state like Utah. After diving into the refreshingly flavorful ceviche fusión at Del Mar al Lago, I soon realized that I was experiencing something special. All of the seafood on the menu is top-notch fresh, and the fusión brings three different cultural perspectives—Latin American, Indian and Chinese—to their briskly prepared ceviche. It's a world tour within a world tour. 310 Bugatti Ave., Salt Lake City, 801-467-2890, facebook.com/delmar.al.lago
Borscht and Vareniki at The Galley Grill
It takes a special kind of food to sustain a population that experiences some of the most unforgiving winters in the world. Eastern European food might not be the most glamorous cuisine, but it has the uncommon ability to help you weather all storms—be they literal or figurative. While the reasons behind The Galley Grill's nautical theme remain elusive, it's whipping up some of the most authentic vareniki—small, potato-filled dumplings—and borscht this side of St. Petersburg. 1295 E. Miller Ave., Holladay, 801-466-9224, facebook.com/russiangalleyslc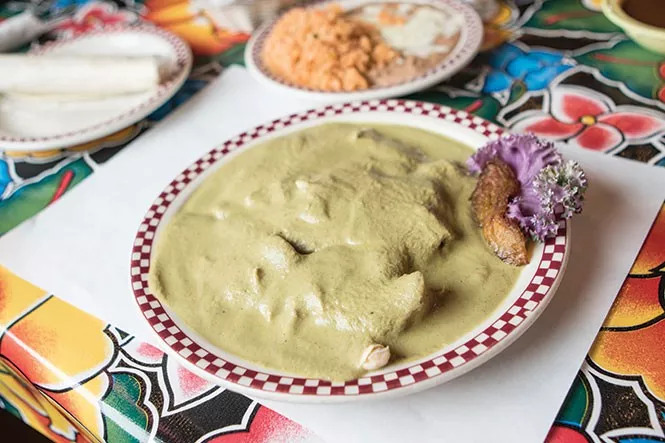 Mole at Red Iguana
Choosing a favorite mole at Red Iguana is an exercise in futility. Each one is a master class in traditional Mexican cooking, and picking among them is the kind of thing that can cause friendships to fracture and marriages to dissolve. My suggestion is to avoid the risk of finding the mole that defines you as a person—just point at the menu and order. No matter what you get (negro, amarillo, poblano, coloradito), your life will be better for it. Multiple locations, rediguana.com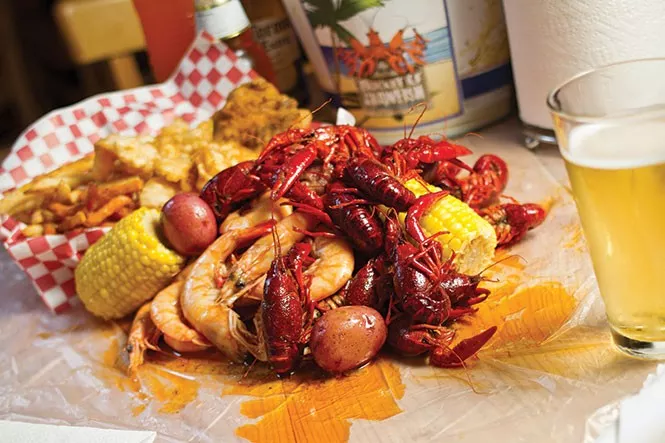 The namesake at Bucket O' Crawfish
If getting messy during dinner isn't your thing, you'll want to avoid West Valley City's famous Bucket O' Crawfish. At some point in our lives, we all need to stare dumbfounded as a literal bucket of crawfish, shrimp and crab legs makes its way to our table. Bucket O' Crawfish doesn't skimp on the flavor, either. They've perfected several spice blends that land somewhere between the Deep South and the Far East. Room for dessert? We suggest you strongly consider the Happy Ending (the house chocolate and white chocolate cake, $4.50). 1980 W. 3500 South, West Valley City, bucketocrawfish.com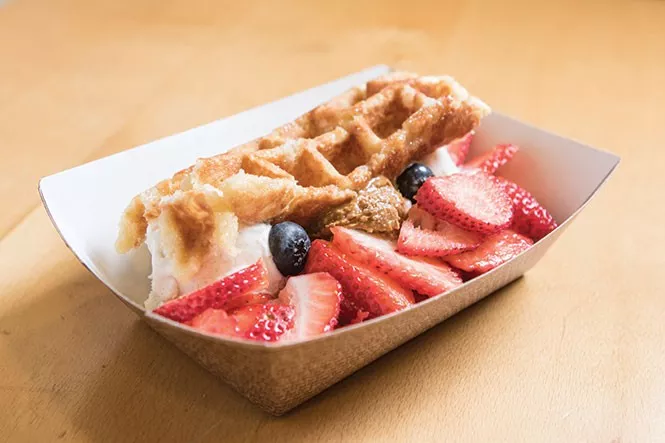 Liège Waffles at Bruges Waffles and Frites
When you try the golden brown slabs of pure joy at Bruges Waffles and Frites, you'll be quick to scoff whenever you see the words "Belgian waffle" on a menu anywhere else—outside of Belgium, that is. Bruges specializes in Liège waffles, in which the dough is prepared with pearl sugar and vanilla before being pressed in a waffle iron. The smell of this cooking process alone is worth the price of one of these sweet, buttery gems. Want to go out? The Pig on a Cloud—replete with bacon, crème fraîche and a caramel drizzle—is sure to do the trick. Multiple locations, brugeswaffles.com
THRILLING IN THE NAME OF ...
My Emotional Roller coaster with literal roller coasters.
By Alex Springer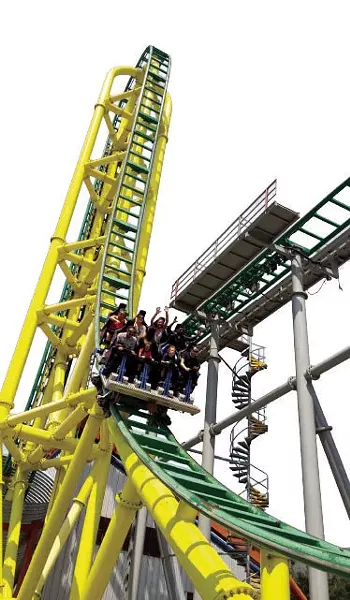 I often wonder how many great accomplishments have been achieved by people who simply didn't want to look like a pansy in front of everyone else. I've thought about this a lot when I consider how many of my own fears I confronted and eventually bested because I didn't want to appear weak or incompetent in front of someone who I was trying to impress. I found myself in such a predicament at School Lagoon Day back in 1998.
Since just about birth, I was possessed of an overdeveloped fear that pretty much everything that I didn't understand was designed to kill me. I like to tell myself that it was biological—humans are hard-wired to fear the unknown for their own safety, right?—but as I watched many of my childhood friends jump off of homemade bike ramps and sneak into horror movies, I realized that I was scared of anything that didn't exist within the boundaries of my neighborhood.
Roller coasters were one of the worst offenders. More than one Disneyland trip found me freaking out in the middle of the line for Space Mountain because I couldn't handle the fact that I was about to trust my life to an unfeeling machine governed by a pattern that I didn't understand. I was totally fine with avoiding roller coasters for the rest of my life, when something unexpected happened during that fateful spring in the late '90s.
I was in ninth grade, and our particular school held a Lagoon Day to celebrate the end of junior high. I had spent that particular year successfully socializing with the opposite sex, and the only thing that I really understood about teenage girls was that it was of utmost importance to look cool in front of them. It wasn't until the bus ride to the Farmington theme park when I realized how uncool wimping out on a roller coaster would be at this particular moment in my life. So, I swallowed my panic and quickly learned to enjoy the ride. Conquering my fear of roller coasters butressed every interaction I've had with a woman since then—and I'm almost positive I've managed to look cool.
As I'm sure that teenagers the world over have had a similar, socially defining moment with a roller coaster, it seems appropriate to acknowledge the work of S&S Worldwide, a Logan-based company that builds these complex machines for theme parks all over the world. According to Executive Director of Sales Gerald Ryan, building roller coasters is a challenging—but entertaining—line of work. "We are in a very small industry, and competition is very intense," Ryan says in our chat via email. "It requires that we stay ahead of our competition with the next great thing."
When S&S acquired Arrow Dynamics in 2002, they solidified their status in the industry—Arrow Dynamics just so happened to pioneer the design of tubular steel coasters that led them to design and construct a little ride called The Matterhorn in a little park called Disneyland. In addition to working with the almighty Disney, S&S has coasters at Universal Studios, Six Flags and even Dollywood. "We currently have 27 major projects on the books through 2019," Ryan says, "and we have rides go into Southeast Asia, China, Japan, Central America, Europe and the Middle East."
As roller coasters move into the future, S&S designers and engineers are on the lookout for new ways to freak people out. "Virtual reality and ride interactivity are popular right now," Ryan says. Roller coasters such as Six Flags' Galactic Attack, which was unveiled earlier this year, use a Samsung Gear VR visor to project images of an interplanetary dogfight while the roller coaster zips riders along its twists and turns.
While the modern gadgetry available to today's roller coaster designers provides more entertainment options, people will always be attracted to them on a more primal level. "It's about the thrill, the screaming, the speed, the barrel rolls and the unknown," Ryan says.
Though I didn't realize it at the time of my first foray into actually riding them—I was too busy trying to look cool, if you remember—roller coasters satisfy a very visceral need for us humans. We've succeeded at developing a society that is generally safe and devoid of the unknown. But every so often, we need to throw ourselves into that abyss—and roller coasters help us get there.
It's very liberating to trust the engineers with our safety. We know that it's going to take us on a wild ride, but we also know that it will keep us safe—which is precisely why they embody the spirit of summer.
SUMMER TV 2017
Everything you need to see in June, July and August.
By Bill Frost
After a fall-winter-spring blur of Too Many Shows, you're thinking to yourself, "Summer is finally here—I can take a break from TV. Praise the Lord!" Sorry, your god has abandoned you: Here are 30 new and returning series you're going to have to watch this summer, because Peak TV knows no season.
In the unexpected return of Flaked (Season 2 premiere; Friday, June 2, Netflix), Chip (Will Arnett) heads back to Venice to rehab his ruined Local Hero status, if not his booze problem. Matters are even more dire for the gang on Fear the Walking Dead (Season 3 premiere, Sunday, June 4, AMC), as vigilante Build the Zombie Wall border patrollers won't allow them to cross back over from Mexico. It could be worse; they could be struggling comedians in 1970s Hollywood—which is the setting for I'm Dying Up Here (series debut, Sunday, June 4, Showtime).
Tim Heidecker re-ups for more ultra-violent spy action in Decker: Unclassified (Season 2 premiere, Sunday, June 4, Adult Swim), while Latina heroine(?) Teresa (Alice Braga) continues her quest to rule the drug trade in Queen of the South (Season 2 premiere, Thursday, June 8, USA), and the ladies of Litchfield are still doing time in Orange is the New Black (Season 5 premiere, Friday, June 9, Netflix), hackers be damned.
The ragtag crew of ridiculously good-looking intergalactic criminals remain lost in space in Dark Matter (Season 3 premiere, Friday, June 9, Syfy), and TV's coolest demon hunter is back and gunning for souls in Wynonna Earp (Season 2 premiere, Friday, June 9, Syfy). Meanwhile, the end is near for the Clone Club in the final run of Orphan Black (Season 5 premiere, Saturday, June 10, BBC America), and even nearer for frenemies Billie and Gene in the two-weekend burn-off of Idiotsitter (Season 2 premiere, Saturday, June 10, Comedy Central).
An all-star cast chews scenery and buffs cuticles in new Florida nail-salon dramedy Claws (series debut, Sunday, June 11, TNT), and primetime goes grindhouse with Blood Drive (series debut, Wednesday, June 14, Syfy), about a cross-country death race where the cars run on—what else?—blood. The Mist (series debut, Thursday, June 22, Spike) rolls out more subtle Stephen King-y scares, and the Gorgeous Ladies of Wrestling finally get their '80s-spandexed due in the Alison Brie-led docu-comedy GLOW (series debut, Friday, June 23, Netflix).
Fiddy Cent's nightclubs 'n' drugs drama Power (Season 4 premiere, Sunday, June 25, Starz) finds kingpin Ghost (Omari Hardwick) caught in the middle of a, yep, power struggle, while Jesse, Tulip and Cassidy finally hit the road looking for God in Preacher (Season 2 premiere, Sunday, June 25, AMC). Liza (Sutton Foster) deals with the fallout of her bestie Kelsey (Hilary Duff) learning her dark, old secret in Younger (Season 4 premiere, Wednesday, June 28, TV Land), and everybody's favorite ragtag trio of ridiculously good-looking interplanetary bounty hunters gear up to fight the good-ish fight in Killjoys (Season 3 premiere, Friday, June 30, Syfy).
John Singleton's Snowfall (series debut, Wednesday, July 5, FX) dramatizes the crack-cocaine epidemic of '80s Los Angeles, while modernized period piece Will (series debut, Monday, July 10, TNT) juices the legend of a young William Shakespeare as he arrives in the, wait for it, "punk-rock theatre scene of 16th century London."
Game of Thrones ... Yeah, nothing more needs to be said here (Season 7 premiere, Sunday, July 16, HBO). In the final stretch of The Strain (Season 4 premiere, Sunday, July 16, FX), nuclear winter is in full effect, the Strigoli vampires have seized the planet, and our heroes are down for the count—but are they, really? Meanwhile, Ballers (Season 3 premiere, Sunday, July 23, HBO) and Insecure (Season 2 premiere, Sunday, July 23, HBO) are paired-up for the most incongruent HBO hour ever, and Midnight, Texas (series debut, Monday, July 24, NBC) takes Charlaine Harris' supernatural novels for a TV spin.
Would you believe ... Sharknado 5 (movie premiere, Sunday, Aug. 6, Syfy)? Marvel's The Defenders (series debut, Friday, Aug. 18, Netflix) finally brings together Daredevil, Jessica Jones, Luke Cage and Iron Fist for a dysfunctional superhero team-up, while the 21st go-round of South Park (Season 21 premiere, Wednesday, Aug. 23, Comedy Central) attempts to find the funny in Trump's America—if he's still in office at this point. Fortunately, Abbi and Illana drop the long-long-long-awaited comeback of Broad City (Season 4 premiere, Wednesday, Aug. 23, Comedy Central), and the new take on The Tick (series debut, Friday, Aug. 25, Amazon Prime) might reunify the country, after all. Spoon!
PhotoCollectiveStudios | BW Productions | Katie Grant
DO-IT-YOURSELF UTAH BREWERY TOUR
Think there's no good beer in Utah?? Think again.
By Kayla LeFevre
Utah has some interesting alcohol laws. No need to be coy; we all know it. The truth is, most of these peculiar statutes hardly keep the nightly patrons from finding a refill. True, it takes a few extra refills to feel the same effect as out-of-state beers—but refills, nonetheless.
The gist: Utah law prohibits any restaurant, club or lounge from having more than two alcoholic products in front of a customer at one time, no matter the size. So a beer and a shot is within the legal realm as two 24-ounce steins, but four 3-ounce samples are out of the question. (What's that you say? This doesn't make sense? Welcome to Utah.)
But let's pretend for just a minute that these laws were non-existent and you could take a classic hop-on-the-wagon tour of breweries in the Beehive State: Where would it go? What would be served on your four-beer sample tray?
After trying many different brews in various locations as well as in the comfort of my own living room, I'd be happy to let you jump in my figurative van fueled by words and provide the information you'll need to venture on your own.
Bohemian Brewery & Grill
Just like its name, this brewery at 94 Fort Union Blvd., Midvale, is full of European lagers that satisfy the worldly travelers' thirst. Salads, calamari and sandwiches serve as the staple between you and your true quest: the delectable Viennese Amber, Czech Pilsener, Cherny Bock Schwarzbier and Bavarian Weissbier.
Bonneville Brewery
Though a 30-minute drive from downtown, the trip to Bonneville Brewery at 1641 N. Main in Tooele is still worth the effort. Each brew has a distinct citrus taste, whether it's a subtle or dominate flavor. Your samples should include the Pilot Peak pilsner, the Free Roller IPA, the stout and the sweet Peaches and Cream.
Desert Edge Brewery
Desert Edge is located at the eastern side of Trolley Square (602 S. 700 East). Make sure to try out the Happy Valley hefeweizen, the Pub Pils, the Utah Pale Ale and the Latter Day nitro stout.
Epic Brewing Co.
At 825 S. State, Epic crafts beers for a more adventurous palate, experimenting with various flavor combinations. Your samples should include the Classic Series' Spiral Jetty IPA, the Elevated Series' 825 State Stout and finally the Sour Apple Saison and Blue Law Porter from the Exponential Series.
Moab Brewery
Often found on tap in bars throughout the valley or at your local liquor store, this desert-based brewery is located at 686 S. Main in Moab—home to the dry, hop-infused beers that have come to be a favorite of many Red Rock residents. If the opportunity presents itself, be sure to try the Porcupine Pilsner (one of my all-time favorites), the Dead Horse Amber Ale, the Derailleur Ale or the Moab Especial.
Proper Brewing Co.
Located at 857 S. Main, Proper Brewery will open a bottle of high-point beer for you to sample for an extra 50 cents or $1 more than their draft beers. For your flight, make sure to check out the Hopspital IPA, the English Proper golden ale, the partially unfiltered Strawberry Saison and the Lake Effect gose, which wholeheartedly lives up to its name.
Red Rock Brewing Co.
You can wine and dine at 254 S. 200 West in Salt Lake City, or at 1640 Redstone Center Drive at Park City's Kimball Junction. Classic American food stocks the menu, while a perfect blend of on-tap or premium bottled brews fill the drink list to the brim. Their most reputable Eliphino (wait, how do you pronounce that? Pff, hell if I know ...) Double IPA earns a spot on our flight, while the Oatmeal Stout, Honey Wheat and Session uphold their honorable positions.
Roosters Brewing Co.
This Ogden brewery at 253 25th St. features a handful of classic brews. Roosters honey wheat ale, Junction City chocolate stout, O-Town nut brown ale and Irreverent pale ale should stock your two-at-a-time flight.
Squatters Pub Brewery
Along with Wasatch, Squatters (147 W. 300 South) is a member of the Utah Brewers Cooperative. After ordering any of their classic American dishes, make sure to sample their most popular Hop Rising Double IPA, then their Full Suspension Pale Ale, Outer Darkness Russian Imperial Stout and the Red Nitro Ale.
Uinta Brewing Co.
A key ingredient in Utah's brewery mix, Uinta Brewery can be found at 1722 Fremont St. in West Valley. Uinta's motto is "Earth, Wind and Beer." The 801 Pilsner, Cutthroat Pale Ale, Baba Black Lager and Piggyback Session Peach IPA will fill our flight of samples.
Vernal Brewing Co.
Near the Colorado River, Vernal Brewing Co. (55 S. 500 East) is home to an isolated pocket for local consumer-saurus to enjoy. If a full flight were allowed, then the Allosaurus Amber Ale, Little Hole Lager, Directional Smoked Porter and She's a Peach Wheat Ale would be on it.
Wasatch Brewery
When Greg Schirf relocated to Utah from Milwaukee (the beer capital of the U.S.) in the 1980s, he was quick to notice the lack of breweries. Thanks to his efforts, brewpubs have since been allowed in our lawful land. Located at 250 Main in Park City, and with a brewpub in Salt Lake City at 2110 S. Highland Drive, Wasatch Brewery is home to some of Utah's most popular brews, like Polygamy Porter and Devastator Double Bock Lager. Our flight would contain samples from Ghostrider White IPA, Polygamy Nitro Porter, Last One In Lager and (one of my personal favorites) the Apricot Hefeweizen.
Zion Canyon Brewing Co.
If you're traveling down to southern Utah, check out not only the beauty of Zion National Park, but also its brewery at 2400 Zion-Mount Carmel Highway in Springdale. Sample the Burnt Mountain Brown, the Red Alter Irish red ale, the Ascender Hefeweizen and the Paradox Session IPA.
New kids on the block Fisher Brewing Co. and RoHa Brewing Project, I'm eyeing you for a follow-up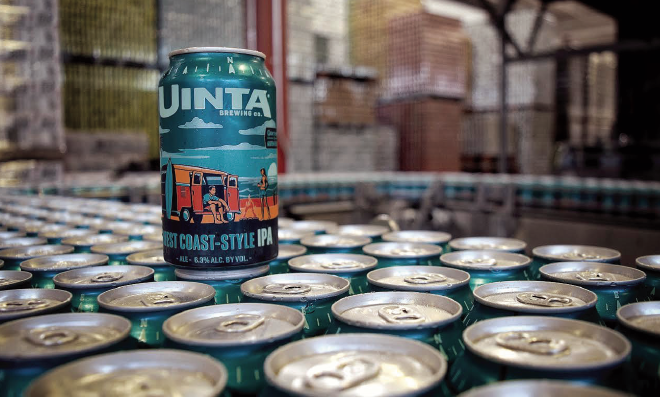 SUDS OF THE SEASON
New local IPA is here to quench your summer thirst.
By Mike Riedel
Back in the late 18th century, British beer makers faced the difficult task of creating sturdy ales that could survive the long journeys throughout the British Empire. To do this, breweries jacked up the alcohol content and increased the amount of hops. These two things acted as preservatives, adding months to the life of the beer, which became widely known as India pale ale.
Fast forward 200 years: A man by the name of Fritz Maytag invested in a failing San Francisco brewery called Anchor and began making "Old World" beers instead of the all-too-common German lagers. One of the beers he brought to the market was an aggressively hopped pale ale he called Liberty Ale. It featured new varieties of American-grown hops. And though it didn't bear the name India pale ale, it was as close as anyone in North America had seen of this style in decades. What made these hops desirable and different was their bitterness profile. Most hops from Europe and the U.K. were floral, herbal and grassy tasting. This new American varietal was more on the piney side of bitterness, which gave the ales a unique flavor. Through decades of crossbreeding, these hops continued to evolve until strains with uncanny citrus-peel-like bitterness emerged.
The beer world would never be the same. In the early 2000s, southern California breweries could see the writing on the wall; they knew these new hops would be the future of their industry and began making aggressively hopped IPAs unlike anything the world had ever tasted. Nicknamed the West Coast IPA, it was a game-changer for modern brewing. Our own Uinta Brewing Co. has made a few beers, such as Hop Nosh, that drew inspiration from these beers. But last week, Uinta released an IPA that pays homage to that special style. It's simply called West Coast-Style IPA.
Poured from a 12-ounce can, the slightly hazy beer is colored light amber with a gold tinge. On top rests a fairly dense and fluffy two fingers of white head—though it shrinks to a small cap. The aroma is big with tangerine zest, grapefruit, peach, passion fruit, papaya, melon and lemon. Notes of sweet toasted cereal lie beneath. The taste begins with tangerine, grapefruit, peach, pineapple and mango. Light-toasted bread comes next. The sweetness from the malt creates ghostly melon and berry notes, that transition into white pepper and pine. Toward the end an herbal and grassy earthiness rounds out the flavors, leaving a dry and slightly puckering finish.
There's a complex balance of citrus/fruity/tropical hops and moderate pale malt flavors, with ample malt/bitterness for balance. The alcohol is well hidden—which could be trouble if you're not paying attention. Carbonation is moderate and creates a light-medium body, with a very smooth but crisp resinous snap on the tongue. Overall, this is an awesome representation of a West Coast Style IPA. It's refreshing to get a new IPA from a local brewery that's not trying to be trendy. Instead, it's actually going backward to make a technically sound beer that reminds us why we fell in love with this style in the first place. These IPAs are designed to be consumed at their freshest, so don't waste any time on seeking this one out. It's currently available ice-cold at Uinta's bottle shop and it is currently popping up at the better beer bars around the Wasatch Front and Wasatch Back.
Cheers!
Sips for Summa-time Refreshment
Step away from the Lime-A-Rita.
By Darby Doyle
Whether day-drinking, porch-sippin' at twilight or lazing around camp after a long hike, the key to summertime refreshments is to keep it simple. Here are easy-peasy spins on classic cocktails—you know, for that time when all you've got on hand is a half-full bottle of gin (or vodka, or bourbon ...). Bartender Daniel Flavin at Lake Effect recently reminded me that the simpler the cocktail, the more the ingredients will shine through. "My biggest tip for home bartenders," he says, "is to use fresh ice and fresh-squeezed juice."
IF YOU LOVE BOURBON
Try the Kentucky classic Brown Derby. In this case, shaken and strained into a coupe, but equally delicious poured over crushed ice for long-haul sipping, julep style.
What you'll need:
2 ounces Sugar House Distillery Bourbon
1 ounce grapefruit juice
1 teaspoon lemon juice
1 teaspoon honey dissolved into
1 teaspoon warm water
Shake all ingredients with ice, strain into a coupe. Garnish with a grapefruit twist and dust off the searsucker.
IF RUM IS MORE YOUR THING
Tart, sweet and refreshing, a Daiquiri's my go-to treat to beat summer heat.
What you'll need:
2 ounces Distillery 36 Brigham Rum
1 ounce fresh lime juice
½ ounce simple syrup (or a few drops agave syrup)
Shake all ingredients with ice, strain into a coupe. Garnish with a lime wedge and let the world spin away.

ARE YOU A GIN MAN??
Named after the French WWI artillery gun of the same moniker the French 75 packs a wallop. Usually served in a tall Champagne glass, this cocktail is equally satisfying poured over cracked ice in a tall Collins glass—bendy straw optional.
What you'll need:
1 ½ ounces Beehive Gin
¾ ounce lemon juice
½ ounce simple syrup
2-3 ounces dry Champagne
Shake gin, lemon juice and simple syrup with ice, strain into a Champagne flute or ice-filled Collins glass. Top almost to the rim with Champagne. Garnish with a fancy-schmancy long lemon twist.
IF TEQUILA IS YOUR JAM
Right now: Throw out that nasty bottle of premade high-fructose corn syrup Margarita mixer that's been shoved to the back of the cupboard. Trust me, you'll never buy that shit again once you've made this cocktail using fresh lime juice and agave syrup, as the deity of your choice no doubt intended. Your decision to salt or not to salt.
What you'll need:
2 ounces tequila blanco (either Vida or New World Distillery Agave Spirit rock)
¾ ounce Cointreau
1 ounce lime juice
¼ ounce agave nectar
Rim half of a double rocks glass or margarita coupe with lime juice and kosher salt. Shake all ingredients with ice, then strain over fresh ice into the rimmed glass. Garnish with a generous lime quarter wedge and get ready to party.

FOR VODKA AFICIONADOS
Moscow Mules are everywhere for a reason. They're crisp, refreshing, sweet and go down oooooh-so-easy. Keep it local using any one of several Utah vodkas: Beehive Organic, Five Wives, Sugar House Distillery, Salt City Vodka, Kid Curry Vodka or for a big-ass splurge, High West 7000.
What you'll need:
2 ounces vodka
½ ounce lime juice, plus the lime half shell
2-3 ounces Garwood's Ginger Beer
Short shake the vodka, lime shell and lime juice with a few ice cubes to combine. Strain into a highball glass filled with cracked ice or that copper mule mug you got for Christmas. Top with ginger
beer. Garnish with a lime wedge and a sprig of mint. Serve with a straw, kick your feet up and pat yourself in the back—you're a grown-up now.
BABY YOU'RE A FIREWORK
Here's where to spend your July fourth holiday.
By Scott Renshaw
On the one hand, it would be easy to grumble that the Fourth of July falls on a Tuesday this year, making it more inconvenient to turn it into part of a long weekend. On the other hand, it means a nice patriotic break in the middle of your week—because there's a place to have fun and celebrate no matter where you are along the Wasatch Front. Here are just some of the most popular official Independence Day festivities (though some information was incomplete at press time):
America's Freedom Festival: The state's largest Fourth of July festivities kick off with the four-day Freedom Days festival on Provo's Center Street June 30-July 4. The centerpiece Stadium of Fire show finds country stars Little Big Town and comedian Brian Regan headlining LaVell Edwards Stadium on Saturday, July 1, at 8 p.m. before the fireworks display. On Independence Day proper, the Grand Parade rolls down University Avenue beginning at 9 a.m. (freedomfestival.org)
Sandy City Fourth of July: The South Towne Promenade (10000 S. Centennial Parkway) again hosts its annual community fair, afternoon parade, main-stage musical entertainment and 10 p.m. Sky Concert. Free admission. (sandy.utah.gov)
Salt Lake City Independence Day Celebration: SLC's west side again hosts the city's official bash, with a 10 p.m. fireworks display near the north end of Jordan Park (1060 S. 900 West). (slcgov.com)
Magna Small Town Big Fourth: If you're way out west, enjoy a full day of activities on Magna's Main Street, from the early morning 5K fun run through the noon parade and into afternoon activities at Copper Park, including games, inflatables, entertainment and a 10 p.m. fireworks show. (magnautah.org)
Park City: If a sizzling day faces you, consider a mountain getaway for your patriotic fun. The annual parade begins at the top of Main Street at 11 a.m., and festivities continue at City Park from noon-4 p.m. Then head to Park City Mountain Resort for a free concert at 7 p.m., followed by fireworks at dusk. (visitparkcity.com)
Riverton City Town Days: If you feel like getting your parade-watching early, head to Redwood Road in Riverton for the July 3 parade, beginning 6:30 p.m. from 13400 South to 12800 South and ending at Riverton City Park for a free evening movie. On July Fourth, return to the park for a chuck wagon breakfast, games, entertainment and 10 p.m. (fireworks. rivertoncity.com)
Sugar House Park: Salt Lake City's most popular annual fireworks show takes over the lovely venue (1300 E. 2100 South) for community fair and music in the afternoon and fireworks at dusk. (sugarhousepark.org)
Smith's Ballpark: The Salt Lake Bees get the celebration started a bit early, with post-game fireworks after they play the Las Vegas '51s on July 3 (6:35 p.m.; $11-$27), before they head out on a road trip. (slbees.com)
Thanksgiving Point: Lehi gets lively at the Electric Park, with gates opening at 4 p.m. for concessions, games and vendors. Live music kicks off at 7 p.m., with the fireworks display scheduled for 10 p.m. (thanksgivingpoint.com)
West Jordan Stampede: The annual PRCA rodeo comes to the West Jordan Arena (8035 S. 2200 West) July 1, 3 and 4 as appetizer for Independence Day activities. At Veterans Memorial Park next door on the Fourth, enjoy a carnival, 10:30 a.m. parade, band concert, free movie in the park (Sing) and 10 p.m. fireworks finale. (westernstampede.com)
And there you have it. Here's to a memorable, wet, dusty, sparkly and booze-filled summer!

The Complex
536 W. 100 South
thecomplexslc.com
June 8: Milky Chance
June 8: Chon, Tera Melos, Covet, Little Tybee
June 10: Morbid Angel, Suffocation, Withered, Revocation
June 10: Trapfest: Bro Safari, 4B, Bonnie x Clyde
June 12: Tigers Jaw, Saint Seneca, Smidley
June 16: XXXTentacion, Ski Mask the Slump God, Craig Xen
June 21: The Good Vibes Summer Tour 2017: Rebelution, Nahko and Medicine for the People, Collie Buddz, Hirie, DJ Mackle
June 22: H2O, Fail to Follow
June 23: Coin, Arizona
June 30: Grimboyz: Swiss & Drobie, N.O.S.R.A.C. and The Don Smoke, Aquacodeine & Ovadose, more
July 7: Phora
July 8: Tiger Army, The Delta Bombers, The Limit Club
July 12: DJ Shadow
July 13: All Time Low, SWMRS, Waterparks, The Wrecks
July 21: Descendents, The Bronx
July 22: UB40, Matisyahu, Raging Fyah
July 25 :Glass Animals
Aug. 7: Taking Back Sunday, Every Time I Die, All Get Out
Aug. 11: Blackberry Smoke, The Cadillac Three
Aug. 18: Lamb of God, Behemoth
Aug. 26: MNE—mystery show
Aug. 26: Blaze, The ROC, AMB
Aug. 30: Decapitated, Thy Art Is Murder, Fallujah, Ghost Bath
Sep. 2: Lil Yachty
Sep. 8: X—40th Anniversary Tour
Deer Valley Resort
2250 Deer Valley Drive S. (Park City)
DeerValleyMusicFestival.org
July 1: Patriotic Celebration with Lisa Vroman
July 7: Ella at 100: Patti Austin sings Ella Fitzgerald with the Utah Symphony
July 8: The Beach Boys with the Utah Symphony
July 15: Leslie Odom, Jr. with the Utah Symphony
July 20: The Music of Prince with the Utah Symphony feat. Marshall Charloff
July 21: Diana Krall
July 29: Ben Folds with the Utah Symphony
Aug. 5: Classical Mystery Tour with the Utah Symphony—A Tribute to the Beatles
The Depot
400 W. South Temple
depotslc.com
June 21: Poptone: Daniel Ash, Kevin Haskins, Diva—playing the music of Bauhaus, Tones on Tail, Love and Rockets
July 22: Social Distortion, Jade Jackson
Aug. 12: Sylvan Esso
Sep. 6: Spoon, White Reaper
Eccles Theatre
131 S. Main
live-at-the-eccles.com
June 18: Ryan Adams
Egyptian Theater
328 S. Main (Park City)
egyptiantheatrecompany.com
June 8-10: Kingston Trio
June 22-24: Marc Cohn
July 27-29: Mary Wilson of the Supremes
Aug. 9-12: John Mayall
Aug. 24-26: Joan Osborne Sings the Songs of Bob Dylan
Sep. 1-3: The Grass Roots
In the Venue
219 S. 600 West
inthevenueslc.com
June 7: Miss May I, Upon A Burning Body, Kublai Khan, Currents
June 8: Lewis Del Mar, Blaenavon
June 10: AJR
June 17: Street Motivation Magazine Tour: Birdy, Reime Schemes, Lo'Key Tha Yg, On the Rise Radio with Leland Shogun White
June 28: Jelly Roll & Doobie, K.A.O.T.I.C., Nevaeh, more TBA
June 30: Da$h & Croosh, Matt Burton, MindBody&Beats
July 22: BOOM TOWN: The Return of BL3ND
July 29: Gypps, guests TBA
Aug. 19: The Rocket Summer
Ed Kenley Amphitheater
403 N. Wasatch Drive (Layton)
davisarts.org
June 12: The Songs & Stories of Neil Diamond, Starring Jack Wright
June 17: David Archuleta
June 22: Peter Cetera
June 26: Ann Wilson of Heart
July 8: Ambrosia
July 11: Kathy Mattea
July 25: Chris Isaak
July 29: Nathan Pacheco
Aug. 5: Stephen Bishop
Aug. 12: The Stray Cat: Lee Rocker
Aug. 19: Idina Menzel
Aug. 26: The Drifters
Aug. 28: Steep Canyon Rangers
Sep. 2: Yes, featuring Jon Anderson, Trevor Rabin, Rick Wakeman
Sep. 4: Toto, Pat Benatar & Neil Giraldo
Kingsbury Hall
1395 E. President's Circle
kingsburyhall.utah.edu
June 13: Alice Cooper
June 19: Nick Cave
Maverik Center
3200 S. Decker Lake Drive
maverikcenter.com
June 9: New Kids on the Block, Paula Abdul
July 6: Brit Floyd—Immersion World Tour
Aug. 11: Banda MS
Ogden Twilight Concert Series
(Ogden Amphitheater)
343 E. 25th Street
OgdenTwilight.com
June 8: OK Go, Dan Deacon, Mojave Nomads
June 15: Louis the Child, Troyboi, DJ Jpan
June 22: The Shins, Pure Bathing Culture, Local Spotlight TBA
June 29: Miike Snow, Klangstof, New Shack
Red Butte Garden
300 Wakara Way
redbuttegarden.org
June 18: Dispatch, Guster, Jake Shimabukuro
June 20: Jason Mraz & His Superband
June 28: Santana
July 6: Kenny Wayne Shepherd Band
July 13: Amos Lee
July 14: North Mississippi Allstars & Anders Osborne Present: N.M.O./Lukas Nelson & Promise Of The Real
July 20: Mary Chapin Carpenter, Sarah Jarosz
July 21: Lyle Lovett & His Large Band
July 23: Retro Futura: Howard Jones, The English Beat, Men Without Hats
July 25: Portugal. The Man
Aug. 1: Wheels of Soul 2017 Summer Tour: Tedeschi Trucks Band, The Wood Brothers, Hot Tuna
Aug. 2: John Williams' Film Music, featuring the Utah Symphony Orchestra
Aug. 4: Drive-By Truckers, Asleep at the Wheel
Aug. 10: Gregory Alan Isakov, Blind Pilot
Aug. 13: The Head & the Heart, Matt Hopper & The Roman Candles
Aug. 15: The Decemberists, Olivia Chaney
Aug. 16: The Chick Corea Elektric Band, Béla Fleck & the Flecktones
Aug. 17: Trombone Shorty & Orleans Avenue, St. Paul & the Broken Bones
Aug. 20: Herbie Hancock
Aug. 21: Lake Street Drive
Aug. 31: ZZ Top
Sep. 6: John Butler Trio, Nattali Rize
Sep. 8: Jason Isbell and the 400 Unit, Frank Turner & the Sleeping Souls
Sep. 12: Haim
Sep. 13: Sheryl Crow
Sep. 14: Gov't Mule
The Great Saltair
thesaltair.com
June 27: Russ
July 7: Logic, Big Lenbo
July 28: X96 Toyota BASH Concert Series featuring AFI & Circa Survive
Aug. 12: Rancid, Dropkick Murphys
Aug. 18-19: DAS Energi Festival
Aug. 22: Die Antwoord
Sandy Amphitheater
sandyarts.com/sandy-amphitheater
June 3: Ryan Shupe & the Rubberband
June 10: Brian Setzer
June 12: Collective Soul
June 15: Michael Martin Murphey
June 16: Little River Band
June 27: Ann Wilson of Heart
July 1: Air Supply
July 7: Arrival, The Music of ABBA
July 8: Jason Lyle Black, The Backwards Piano Man
July 11-12: Donny & Marie
July 18: Dashboard Confessional, The All-American Rejects
July 21: The Band Perry
Aug. 15: Purple Reign
Aug. 16: High Valley
Aug. 18: The Rock Pack—The Music of Journey (Steve Augeri), Foreigner (Lou Gramm) & Asia (John Payne)
Aug. 25: The Drifters
Snowbasin Blues, Brews & BBQ
(Snowbasin Resort)
snowbasin.com/the-mountain/entertainment/blues-brews-bbq/
June 11: Big Sam's Funky Nation, Satsang, The Sextones
June 18: The Fleshtones, Penrose, The Weekenders
June 25: TBA, Dirty Revival, Pinetop Inferno
July 2: Jelly Bread, Too Slim, Folk Hogan
July 9: Driftwood, Useful Jenkins, The Johnny Utahs
July 16: Main Squeeze, King Cardinal, Gleewood
July 23: Andy Frasco, Kris Lager Band, Groovement, Tony Holiday, Folk Hogan
July 30: The Motet, Dead Winter Carpenters, Pixie and the Partygrass Boys, Jamie McClean Band
Aug. 6: Old 97's, Jeff Crosby and the Refugees, Slings and Arrows
Aug. 13: Turnpike Troubadours, Dirty River Boys, The Battlefield
Aug. 20: Robert Randolph and the Family Band, Troubadour 77, KLB, Old Shoe
Aug. 27: Larry and His Flask, Me Like Bees, Canyon Kids
Sep. 3: Los Lobos/ TBA, The Whiskey Gentry, Troubadour 77, Michelle Moonshine Trio, Tom Bennett
Sep. 10: Johnny Utahs, Jordan Mathew Young
Sep. 17: The Weekenders, Penrose
Sep. 24: Tony Holiday and the Velvetones, Underground Cash
Twilight Concert Series
(Pioneer Park)
twilightconcerts.com
July 20: Little Dragon, Xenia Rubinos, Angel Magic
July 27: Kurt Vile & The Violators, Whitney, local act TBA
Aug. 3: Kamasi Washington, Antibalas, local act TBA
Aug. 10: Solange, Kaytranada, local act TBA
Aug. 17: Cat Power, special guest TBA, local act TBA
Aug. 24: Andrew Bird, TBA
Aug. 31: The Roots, Charles Bradley & His Extraordinaires, local act TBA
Usana Amphitheatre
usana-amp.com
June 7: Dead and Company
June 16: Korn, Stone Sour, Yelawolf, Islander
June 19: Def Leppard, Poison, Tesla
June 27: REO Speedwagon, Styx, Don Felder
June 30: I Love the '90s: The Party Continues Tour—Naughty By Nature, Blackstreet, Mark McGrath, All-4-One, Coolio, Color Me Badd, SNAP!
July 1: Rise Against, Deftones, Thrice, Frank Iero and the Patience
July 6: Train, O.A.R., Natasha Bedingfield
July 7: Iron Maiden, Ghost
Aug. 2: Steve Miller Band, Peter Frampton
Aug. 7: Green Day, Catfish and the Bottlemen
Aug. 9: Incubus, Jimmy Eat World, Judah and the Lion
Aug. 11: Avenged Sevenfold, A Day to Remember, Special Guests TBD
Aug. 12: 311, Blue October, New Politics, more TBA
Aug. 13: Willie Nelson & Family, Kacey Musgraves
Aug. 23: Depeche Mode, Warpaint
Aug. 26: Foreigner, Cheap Trick, Jason Bonham's Led Zeppelin Experience
Aug. 30: Lady Antebellum, Kelsea Ballerini, Brett Young
Sep. 1: The Australian Pink Floyd Show: The Best Side of the Moon
Sep. 6: One Republic, Fitz and the Tantrums, James Arthur
Snowbird's Ninth Annual Brewfest
snowbird.com
June 10: The Nate Robinson Trio, The Fabulous Flynstones, Joshy Soul
June 11: The Weekenders, Sin City Soul, Hectic Hobo,
Utah Blues Festival (Gallivan Center)
utahbluesfest.org
June 17
Kenny Neal, Rod Piazza & the Mighty Flyers, Samantha Fish, Harry Lee & the Back Alley Blues Band, Annika Chambers, Better Off with the Blues
Utah Arts Festival (Library Square)
uaf.org
June 22-25
Shooter Jennings & Waymore's Outlaws, Dexter Allen, RJD2, Insatiable, more
Bonanza Campout (River's Edge—Heber)
bonanzacampout.com
June 23-25
Nick Murphy (Chet Faker), The Moth & the Flame, Ms. Lauryn Hill, NAS, The Airborne Toxic Event, Odesza, Method Man & Redman
Vans Warped Tour
(Utah State Fairpark)
vanswarpedtour.com
June 24
Valient Thorr, Hawthorne Heights, Municipal Waste, The Adolescents, The Dickies, CKY, Alestorm, GWAR, Memphis May Fire
Stadium of Fire
(LaVell Edwards Stadium)
freedomfestival.org
July 1
Little Big Town, Hunter Hayes
Country Fan Fest
(Country Fan Fest Grounds—Tooele)
countryfanfest.com
July 27-30
Thomas Rhett, Old Dominion, Billy Currington, Dan & Shay, Royal Bliss, Blackhawk
Crucialfest 6
(multiple venues)
crucialfest.com
Aug. 31—Sep. 3
Red Fang, Built to Spill, The Growlers, Pinback, Aesop Rock, Earthless, Why?, Baroness