Page 12 of 15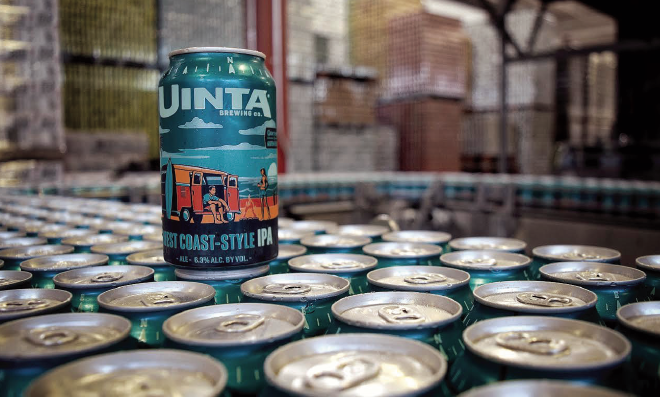 SUDS OF THE SEASON
New local IPA is here to quench your summer thirst.
By Mike Riedel
Back in the late 18th century, British beer makers faced the difficult task of creating sturdy ales that could survive the long journeys throughout the British Empire. To do this, breweries jacked up the alcohol content and increased the amount of hops. These two things acted as preservatives, adding months to the life of the beer, which became widely known as India pale ale.
Fast forward 200 years: A man by the name of Fritz Maytag invested in a failing San Francisco brewery called Anchor and began making "Old World" beers instead of the all-too-common German lagers. One of the beers he brought to the market was an aggressively hopped pale ale he called Liberty Ale. It featured new varieties of American-grown hops. And though it didn't bear the name India pale ale, it was as close as anyone in North America had seen of this style in decades. What made these hops desirable and different was their bitterness profile. Most hops from Europe and the U.K. were floral, herbal and grassy tasting. This new American varietal was more on the piney side of bitterness, which gave the ales a unique flavor. Through decades of crossbreeding, these hops continued to evolve until strains with uncanny citrus-peel-like bitterness emerged.
The beer world would never be the same. In the early 2000s, southern California breweries could see the writing on the wall; they knew these new hops would be the future of their industry and began making aggressively hopped IPAs unlike anything the world had ever tasted. Nicknamed the West Coast IPA, it was a game-changer for modern brewing. Our own Uinta Brewing Co. has made a few beers, such as Hop Nosh, that drew inspiration from these beers. But last week, Uinta released an IPA that pays homage to that special style. It's simply called West Coast-Style IPA.
Poured from a 12-ounce can, the slightly hazy beer is colored light amber with a gold tinge. On top rests a fairly dense and fluffy two fingers of white head—though it shrinks to a small cap. The aroma is big with tangerine zest, grapefruit, peach, passion fruit, papaya, melon and lemon. Notes of sweet toasted cereal lie beneath. The taste begins with tangerine, grapefruit, peach, pineapple and mango. Light-toasted bread comes next. The sweetness from the malt creates ghostly melon and berry notes, that transition into white pepper and pine. Toward the end an herbal and grassy earthiness rounds out the flavors, leaving a dry and slightly puckering finish.
There's a complex balance of citrus/fruity/tropical hops and moderate pale malt flavors, with ample malt/bitterness for balance. The alcohol is well hidden—which could be trouble if you're not paying attention. Carbonation is moderate and creates a light-medium body, with a very smooth but crisp resinous snap on the tongue. Overall, this is an awesome representation of a West Coast Style IPA. It's refreshing to get a new IPA from a local brewery that's not trying to be trendy. Instead, it's actually going backward to make a technically sound beer that reminds us why we fell in love with this style in the first place. These IPAs are designed to be consumed at their freshest, so don't waste any time on seeking this one out. It's currently available ice-cold at Uinta's bottle shop and it is currently popping up at the better beer bars around the Wasatch Front and Wasatch Back.
Cheers!