Page 3 of 15
SUMMERTIME ... AND THE LIVIN' IS NOT-SO-EASY
Local leaders—including a busboy-turned-billionaire—reflect on their first summer jobs.
By Lance Gunmundsen
Like their first kiss or first car, people remember their first summer job. It's a rite of passage into responsibility—and the dawn of eventual adulthood.
Nearly seven decades have passed, but Utah philanthropist Jon M. Huntsman Sr. vividly recalls being on the pushing end of a lawnmower on the grounds of Whittier Elementary School in Pocatello.
He was just out of sixth grade. "My brother and I both were janitors at the school. We worked six days a week and each got $25 a month—which seemed a great deal of money back then," recalls the billionaire businessman.
"It took two of us to push the lawnmower," he says, smiling. The school grounds were "a whole city block, with a lot of grass."
While in junior high in California, young Huntsman worked after school in a seafood restaurant as a dishwasher and busboy. After his shift, he'd report to a meat market where he mopped floors and cleaned out meat stands until 9 p.m., when he'd tackle a pile of homework.
In ninth grade, he landed a job at J.C. Penney in Palo Alto, eventually rising from shipping clerk to manager of the shoe department at $1.50 an hour. He was 17. "Mr. [James Cash] Penney, himself, came through the store and said I'd have a 'great career' with the company," Huntsman recalls.
The Huntsman family was constantly struggling, he says, "and I took care of all our medical and automobile costs."
While in college, the man who went on to build massive chemical plants worldwide apprenticed as a plumber each summer. During the school year, "I waited tables, delivered flowers or did whatever I could."
Looking back on his busboy-to-billionaire odyssey, Huntsman believes that "without working hard and long, you can never get ahead in life. I never again wanted to live under the conditions my family lived under ... I wanted to make something of myself so my children and grandchildren wouldn't have to work the long hours I did."
His boyhood jobs also taught him "ethics and honesty."
One afternoon, he watched a fellow J.C. Penney employee "take some clothing out the back door to his car." Huntsman told the store manager. "They fired the guy, and gave me his job," he says, "and that's how I went from the boys' to the men's sections."
Here are the summer-job experiences of other Utah movers and shakers: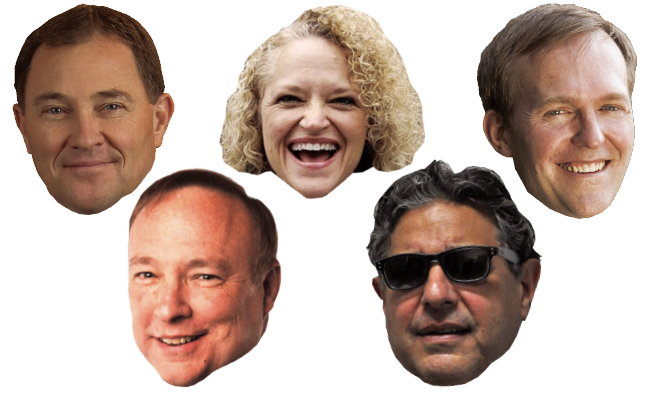 Gov. Gary M. Herbert
First Jobs: Picking raspberries in the family garden and selling them, collecting pop bottles for spending money and delivering The Salt Lake Tribune.
Lessons: "The thrift I learned as a boy instilled within me the fiscal conservative values I still hold—and the need we have, as elected officials, to spend taxpayer funds wisely."
SLC Mayor Jackie Biskupski
Job: As a 12-year-old, she "de-tasseled" corn (pulled the tassel from the husks) on a farm in Hastings, Minn. Pay was $2.50 an hour.
Lesson: "To go to work for my dad at the first possible moment." He ran a small business cleaning up structures which had been damaged by fire.
SL County Mayor Ben McAdams
First Job: Weeding pumpkin patches in the summer at Pack Farms in Davis County, then helping harvest them in the fall. He was in junior high.
Lessons: "The importance of hard work and the value of money."
State Sen. Jim Dabakis
Job: "Picking blueberries at my LDS bishop's farm, working alongside him and his 12 kids. I was an inner-city boy and the farm was about 25 miles from home. I was 12 or 13. It was the first time I'd been away from home and I was terribly homesick. I made $1.60 an hour—with a bonus for picking extra blueberries. I never made the bonus—but came home every night with blue teeth. They'd send us out in a big truck every morning at 4. Long days."
Lesson: "I learned how cool it would have been to have a huge family ... and how unfit I was for real work."
City Weekly publisher John Saltas,
Job: Building giant chicken coops—home to about 100,000 chickens—in Riverton, Utah. He was 17. Pay was "a couple of bucks an hour."
Lessons: "We worked really hard. Everything was hand-built from floor to rooftop, basically using a hammer for eight hours a day. The guys who owned it—the Olson Brothers from Preston, Idaho—worked just as hard as anyone. And that rubbed off, because you didn't want to be outdone by 'old' guys. In the end, I learned that chickens can lay enormous eggs ... same as people."