Page 5 of 15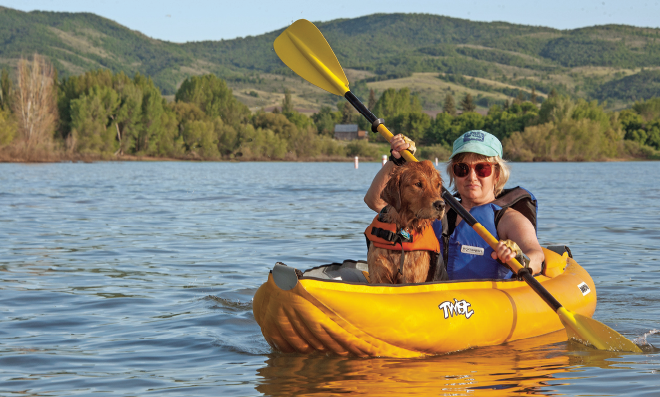 LET'S GET SOAKING WET
Cool your jets at these watering holes.
By David Miller
As summer arrives and the heat becomes more unbearable, Utah residents suit up and take to the pools in search of relief. But they're crowded, chlorinated and often too artificial for the tastes of some Utahns. More natural settings can be found at reservoirs, rivers and hot springs. Here are a few of my favorite summer swimming spots near Salt Lake City.
Burraston Pond
Home of the popular rope swings, Burraston Pond is a 40-minute drive south of Provo on I-15 near Mona in Juab County. While the pond is mostly used for fishing, it's also a local favorite for swimming. Several rope swings attached to the trees lining the pond make it a popular destination for younger crowds. And local teenagers can often be seen performing aerial maneuvers into the water. The pond is accessible to the public year-round, 24 hours a day.
Pineview Reservoir
Looking for sandy beaches and bright blue water? You don't need to look as far as you might think. A half-hour east of Ogden, Pineview offers beautiful views from its beach-lined waters. The sapphire reservoir makes for a fun day in the sun for the whole family and is popular for swimming and watersports. Anderson Cove Campground, on the reservoir's southern shore, provides the most extensive beach and boat ramp. If you're looking for a quieter day on the water, head north to Middle Inlet to avoid the boats at Anderson Cove. The water temperature ranges from 50 to 70 degrees. While the Marinas are open to the public all day, camping at the reservoir is restricted to Anderson Cove, which closes its gates at 10 p.m.
Causey Reservoir
Forty minutes east of Ogden, Causey Reservoir is a true gem of a swimming hole. Mostly used by fishermen, Causey does not allow motor craft, so a quiet nature outing is guaranteed. But quiet does not mean boring. Cliff diving is popular at Skull Crack Canyon on the reservoir's south end. With deep water and steep cliffs, it's considered a relatively safe spot, but cliff diving is never risk-free, and it's always best to practice caution. The cliffs are accessible from Skull Crack Trailhead, and are open to the public at all times.
Provo River
Starting below the Deer Creek Reservoir Dam and ending at Vivian Park, this stretch of the Provo River is a popular tubing destination. The put-in is roughly 4 miles up Provo Canyon and is only a 20-minute drive from Provo. The water temperature hovers around 50 degrees, so tubing is usually limited to the warmest summer months. Tube rentals are available, but if you plan to bring your own, don't forget a life jacket; Utah law requires personal flotation devices. This is a heavily enforced rule with a hefty fine. While the river might look calm, the stretch is recommended for strong swimmers only.
Fifth Water Hot Springs
While most of us are roasting in the valley, those Utahns who venture into the mountains might have already found respite in a cool Alpine breeze. In fact, some might even feel the need to warm up—not cool off. Near Spanish Fork, Fifth Water is not the most easily accessible location on this list, but what it lacks in accessibility is compensated by its beauty. The trailhead is located in Diamond Fork Canyon, about half an hour from Spanish Fork. At about 5 miles long, the trail sees heavy-to-moderate traffic, so you probably won't have the place to yourself. The multiple pools of varying temperature can accommodate a fairly large number of people.
Cataract Gorge
Located in the Heart of the Uinta-Wasatch-Cache National Forest, this section of Little Deer Creek is remote. The Gorge can be accessed from Emerald Lake Highway by turning onto Murdock Basin Road and following it to the road to Cataract Gorge (Forest Service Road 027). Once there, follow the creek up the canyon. With a lake, a stream and waterfalls, the hike alone is worth the trip. But what makes Cataract Gorge truly amazing is one of the best swimming holes in the state. The water is brisk, but not cold, and can be easily enjoyed on a hot day. There is also climbing in the canyon, so don't forget your gear.
Saratoga Hot Springs
Located on the western shore of Utah Lake, these are some of the best hot springs in Utah. Evenly heated year-round and lacking the strong sulphuric smell found at many other hot springs, this gem is located less than a quarter-mile from the main road. This proximity threatened the springs at one time, but since the land was turned over to Utah County, its condition has been improving. While trash is still an issue, local volunteers generally have cleaned up the springs. When I was last there in late March, it was the cleanest I've ever seen it. The springs are open to the public all year, but the parking-lot gate is closed and locked at night. Anyone still parked there will be ticketed.