Page 7 of 16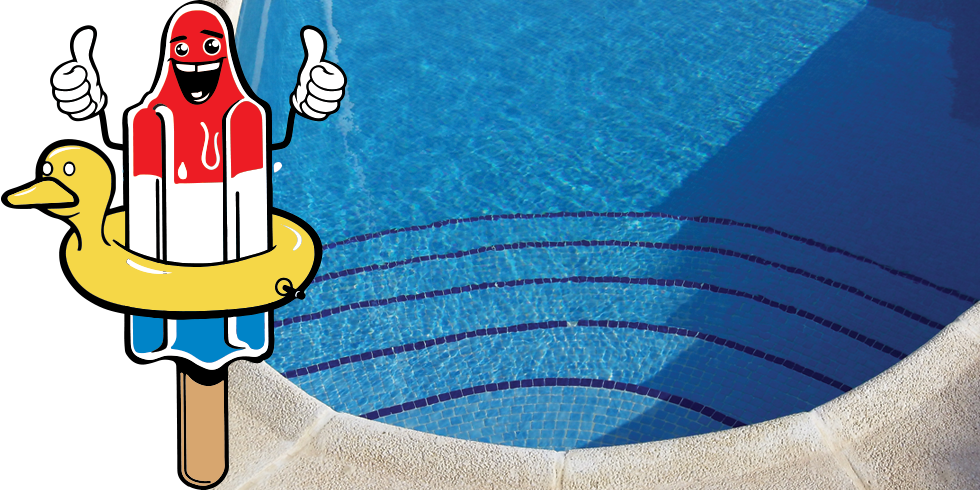 Where Swimmers Dare
Trying, failing and succeeding to pool-crash along the Wasatch Front.
By Jordan Floyd
As summer begins to take its hot hold on the valley, Salt Lakers, undoubtedly, will rush to the nearest swim spot to cool off. In anticipation of the swim season, I attempted to visit and or swim in some of Utah's most distinct bodies of water—those that are man-made, sort-of natural or located in a temperature-controlled room. Perhaps for the sole love of a challenge, I sought to steal a swim from locales that require authorization. To be clear, City Weekly does not condone trespassing or any other illegal activity, as fun and summery as it might be. From my foolish mishaps, I'm sure most readers will see that a reservation at a hotel is the best way to get into a hotel pool. It is my hope, however, that some might be inspired by my beautiful journey and will let it swim, so to speak, in their imaginations where it will stay.
Warm up: Brighton's Lake Mary
Given the conceit of this piece, it is imperative to note here that I neither swam nor had the intention to swim in Lake Mary, and neither should you. Certainly, Lake Mary is a gorgeous place to spend a summer day, but because the lake is an important component of the valley's watershed it is not the place for sweaty, dirty and potentially all-around unsanitary bodies to swim. Any claim to hygiene-shaming ends at the mouth of another's faucet. Still, I had to rev up the motor somewhere.
Engulfed by mountain peaks and lying at the top of slopes that hold feet of snow late into the summer months, Lake Mary is a fair challenge to reach on a day in, say, July or August. On an early day in May, however, the path to Lake Mary was completely impassable given my woeful choice of footwear: slip-on Vans. Had I thought to find and bring snowshoes or cross-country skis, I might have traversed the path to the lake and enjoyed a rare warm-yet-wintry time on the lake's mostly granite shore. Instead, I endured only a couple hundred feet of hiking, the space of which was enough for me to sink knee-deep into the snowpack three times, before throwing a few snowballs at nearby trees and turning back.
While the sad attempted trip to Lake Mary marks the beginning of a motif of failure in this piece, the fact that the potential for an enjoyable afternoon by the water was thwarted by masses of snow should not go unnoticed. Utah did what Utah does best, and I did what many Utahns have learned to do when a hell of a lot of snow ruins plans: nod toward defeat and venture to find a hot tub.
First Stop: A Hot Tub (Any Hot Tub) at Solitude Resort
After the initial letdown at Brighton, I recalled sitting in a condo's hot tub at Solitude with my friend a few years back and how good it felt after a day of snowboarding. Surely, I figured, a soak in that same hot tub would feel excellent after trudging part-way up and down a snowy mountain. I only had two problems: I couldn't remember where the hot tub was, and if I found it, I had no way of getting in. I had to do what few swimmers (or hot-tubbers, in this case) dare.
The plan seemed easy: park in the "complimentary parking" area, wander through the condos as if I was the owner or related to the owner of one of the said condos, locate the tub, have someone let me in or find a way otherwise, enjoy and escape unscathed. I did not anticipate, however, the number of workers wandering around the condo area, all of whom, seemingly, had decided to go on their lunch break at the same time, giving them ample time to stare, interrogatively, at me while chomping on their sandwiches. After making a lap around the complex and finding a fenced-in pool sans hot-tub, I noticed a man staring at me while I stood at the pool's fence. We seemed to mime each other for a time, he holding his sandwich, and me holding a notebook and camera, each, it occured to me then, screaming: "I'm a shithead kid with a journalism degree doing a story about getting into swimming pools."
I averted the man's gaze, snapped a few quick pics of the mountain tops, tried to appear as if I was pondering the complexities of the universe and scribbled something incoherent in my notebook. I continued wandering but felt anxious and paralyzed, especially when I eventually found the hot tub. The man was no longer in sight and the hot tub's fence was a quick dash through a stretch of rocks and mountain brush between condo buildings—this is what I had come for. Still, I felt watched. I felt as if the emergence of the sound of a machine whirring in the distance was a decoy. I felt that the two or three handshakes I exchanged with John Saltas some years ago were not enough reason for him to bail me out of jail should the man with the sandwich catch me in the hot tub and call the police. The sun, at its apex, beat down on my neck. I turned from the hot tub, flushed with stress. I knew I had failed, dammit, but at least I had warmed up.
Second Stop: The Allstar Motel Pool
Brimming with the kind of desperation that only persistent failure can breed, I drove straight to Salt Lake's Allstar Travel Motel. Anyone who has dared wait for a table at the original Red Iguana has likely seen the neighboring motel's pool area, dubbed the "Kiddies Fairy Land," and its trademark pool decorations: an oversized lawn gnome and a floppy, red-and-white-polka-dotted mushroom. The sight is a little creepy and kind of worrisome, but inexplicably alluring.
When I arrived, the motel parking lot was packed. I figured of all the individuals coming in and out of cars and motel rooms, someone had to be at the pool, which meant I could potentially blend into the crowd. When I neared the pool gate, I was dismayed to see that nobody was there and that the pool, in fact, was empty. I pushed on the pool's gate anyway and I froze when I heard a voice call from behind.
"Excuse me," the voice said, "this is private property—the pool is not open to the public."
I turned toward the voice and saw a woman approaching me rather tiredly. Reacting quickly, I said toward the woman, "But I'm not the public," paused and then said it again when the woman was a few feet away. We stared at each other, both wondering what the hell my remark meant and why I would repeat it. I tried to make up for my reactionary blunder by requesting, kindly, that I at least be able to take a photo next the pool. She told me that I couldn't, that the owner of the motel was not fond of people taking pictures of the pool or with it because the photos inevitably painted the motel in "a bad light."
I left promptly and apologized to the woman who, I guessed, likely felt trapped in some Groundhog Day spin-off, where she is the main character restlessly warding off obnoxious photographers (or quasi-journos) looking to "getting a picture with the pool—just one." Formally, I'd like to apologize to the woman I interacted with here, and to the owner, I want to say my photo would have been better than any of the others—that it might put a good light on the motel—but I was doubtful then and doubtful now that that would be true.
So I failed again, but at least I was spared the chance to fail anyone beyond myself.
Third Stop: West Valley City's Grins and Fins Waterpark
The Grins and Fins waterpark, which can be identified easily by the red slide looping out of the hotel building in which it resides, was my day-of-swim's culminating destination. Although I was disheartened by the time I arrived at the dual Holiday Inn Express and Staybridge Suites just off the Interstate 215, I felt that something good had to happen.
When I arrived at the hotel, I went straight for the lobby. That the pool door would be the first thing I saw when I entered the hotel came as a surprise. Beyond its entrance I saw a series of shallow, square pools, a playground-looking contraption that had no water spraying out of the holes where I imagined water should spray, and the stairs to the pool's crown jewel: the red slide. As I walked through the entrance, my thought to go straight to the pool door was halted by the complete absence of people in the pool and the woman seated behind the hotel's front desk that, I figured, was strategically placed directly across from the pool door. I quickly ducked into one of the hotel's hallways to make a plan.
Given the fact that the pool's slide had a set of stairs that traveled up another story, I guessed there must be a second-story entrance. After taking the hotel elevator up a floor and wandering around the hallways, I found just what I believed would be there. A door identical to the one I had seen on the first floor stood ajar in front of me, a sign marked "Grins and Fins Water Park" pressed to the wall beside it. With little hesitation, I stepped through the door.
The room was dark and smelled like old coffee and something that could all at once be identified as hot dogs, sweat and some heinous version of loaded nachos. Still, the place had a charm all its own. Dim, neon letters and numbers glowed from their places on arcade games. Empty desks were joined by empty chairs below large windows that looked over the indoor water park. Friends, I had made it to the party room.
I noticed a door that lead to stairs down to the water park, but found it was blocked by the same boxy arcade games I saw when I first surveyed the space. So close, but so desperately far, I thought. Resigned to a final defeat, I walked over to the window and looked down at the water park. The mouth of the red slide was dry, the water below it still and impaled by rectangles of bright sunlight. A reflection of the slide's red underside lay fixed at the center of another rectangular part of the pool. The sun, the slide, its image like a strange mirage was there just beyond the window, floating, it looked like, atop the water. What my editor suggested would be my Sistine Chapel had morphed into my Ecce Homo.
Fourth Stop: The Little America Hotel
After a day packed with disappointment and with deadline looming, I thought I was done. Every lake, pool and hot-tub in or around the valley, it seemed, was built to ward off would-be swim thieves, but at the darkest moment in my journey, there came a dawn—my shining editor. Like an empathetic father after a disappointing ball game in which I struck out with the bases loaded to lose the game, or missed the game-winning three-pointer, he called me, gave me a verbal pat on the back and told me to try again the next day. And so I did. The following morning, I got back up to the plate—I pulled up from deep in the corner with mere seconds left, and I scored, baby, I scored.
The plan was to try and get into a pool at a downtown location. As I wandered around, iced-mocha in hand, I saw a man pass me who piqued my interest. Double-fisting venti-somethings and dressed in khaki shorts similar to the pair I was wearing, he walked toward the Little America. As if he were my own shining Star in the East, instinctively, I followed him up the street and into the heart of the Little America Hotel.
The man lead me to a throughway that divides the Little America hotel complex down the middle. He veered to the left, presumably, to deliver the chilled drink to whomever was on the waiting end. I nodded toward him graciously as he left—for it was him that delivered me.
I walked ahead and saw an enclosure, marked by a white metal fence and rose bushes in full bloom. Tan umbrellas rose above the bushes, and as I neared, I began to make out pool chairs, each adorned by a folded, white complimentary towel. It was my plan to act, at the gate, as if I had forgotten my hotel key card and attempt to solicit the help of a sympathetic pool-goer or hotel worker. I readied my key card-less wallet and located an elderly couple reading at a table near the pool, but as I approached the white gate I could not believe what I saw. The only thing securing it was a small latch that would open with the gentle, upward pull of my elated finger.
I walked through the gate and was met by the sight of a beatific, turquoise body of chlorinated water; the towel-holding chairs flirting with me like lounging oysters flaunting their pearls. I made it and as any champion, king or triumphant swim thief would, I undressed, placed my things on a pool chair and dove right into the pool's deep end—khaki shorts and all—and for a brief second all was good with the world.
My journey having reached its end, I reflected on the past couple day's misadventures and thought, surprisingly, not about the bodies of water, but the people I encountered. What I had engaged in was a dance, not a solo mission, and it was one I shared with a man readying a resort for summer, a pair of women standing guard at two of Salt Lake's quirkiest pools and a khaki-wearing revelation whose unsuspecting guidance I must express gratitude for here. For life and pools, it seemed then, it was never about the destination, but the journey and all those who helped (or hindered) me along the way.
Wish You Were Here
On the hunt for the ultimate SLC souvenir.
By Dash Anderson, Rachelle Fernandez, Jordan Floyd and Nic Renshaw
The disposable key chain, the sad snow-globe, the ever-elusive non-moose-related knick-knack. Few things scream vacation success quite like the cheesy souvenir. With that in mind, we unleashed four of our dedicated editorial interns to scope out and purchase a cheese-tastic SLC memento across a number of local retailers. As varied as their personalities, the items they secured inspired revelry, indigestion and existential dread.
Flask ($9.99)
Found at Market on Main, 268 Main, 801-363-0280
One day after work, I went to find a snack at a small Afghani market called Market on Main Street. My venture for some chips quickly became an afterthought once I spotted a small but mighty section of Salt Lake City souvenirs. As I perused, I was fascinated by the unique key chains and mini spoons with Utah designs, among other fun items. My eyes were finally drawn to a flask engraved with the message "Eat, Drink, & Be Merry—tomorrow you may be in Utah," which spoke to my newly minted 21-year-old self. I immediately picked it up, and proceeded to check out, snackless. Despite its message, my flask is now filled with merriment—even in Utah. (DA)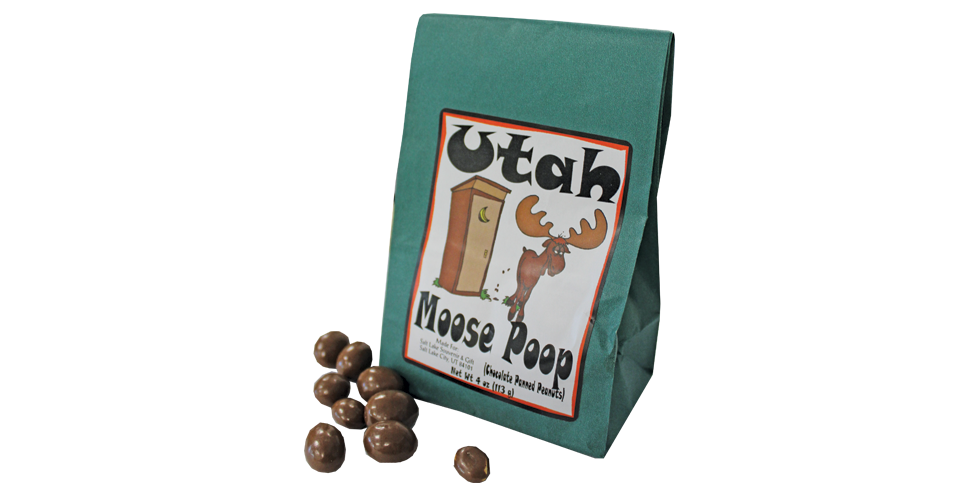 Authentic Utah Moose Poop ($5.99)
Found at Salt Lake City Souvenir & Gift, 24 W. 100 South, 801-456-1229, saltlakesouvenirandgift.com
OK, let's talk biology. Pooping is arguably one of the best things to do, well, ever. Clearly this was on my mind when I ventured into the downtown bastion of all things SLC souvenirs known as Salt Lake City Souvenir & Gift. Upon my return to the newsroom, I discovered, the gift isn't real moose poop, but actually delicious chocolate-panned peanuts. Still, this #fakepoop spoke to me in ways that basic "SL,UT" key chains could only dream of. The decision wasn't easy; it was between this or some hand-carved healing crystals. I'm glad I followed my heart (and my intestinal tract) on this one. (RF)
Moose shot glass ($6.59)
Found at Simply Salt Lake, 90 S. West Temple, 801-534-4906
In keeping with the theme, the Salt Palace Convention Center has been one of Salt Lake City's most iconic landmarks since 1995, and no iconic landmark would be complete without a gift shop. Located inside the center itself, Simply Salt Lake offers a wide variety of Utah-themed apparel, snacks and other trinkets and doodads. A surprising number of these feature moose, including this novelty shot glass with a very tiny, very drunk moose at the bottom. Apart from the amusing incongruity of buying a shot glass in such a notoriously dry state, I liked the idea that using it requires literally drowning the little guy in alcohol. (NR)
Existential-Dread wall art ($2.70; originally $26.99)
Found at Deseret Book, 45 W. South Temple, 801-328-8191, deseretbook.com
While I was tempted to purchase plastic missionary figurines (sold in pairs, of course) or a book about the history of those who explored and settled the "Americas" (no, Lehi was not given a chapter), at 90 percent off, there was no way I could pass on this gloomy wall decoration. With the easy confidence only a promise of a personalized planet can instill, it assures whoever might look at it that "when someone you love becomes a memory, that memory becomes a treasure." Really, I did a church service here, buying an item as downright depressing and existential-dread inducing as this—one that reminds you that everyone you know and love will, at one point or another, become a flawed and fleeting memory via a multi-font inspirational quote set on top of the sepia image of a bare willow tree surrounded by snow. You're welcome, future shoppers. (JF)