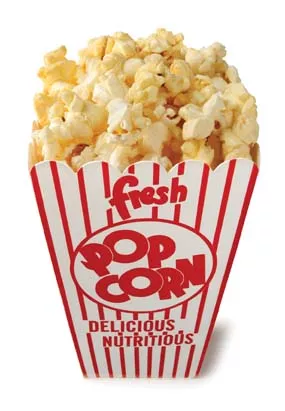 Twenty-five years ago, when I was a teenager working in a California multiplex, the industry's mantra was, "Movies for show; concessions for dough." We all knew that the theater didn't make its money off of the cost of the movie ticket itself—but off of the assumption that each patron would purchase at least that much again in snacks. That "No Outside Food or Drinks" sign was prominently displayed because popcorn was the stuff with which our daily bread was buttered (and salted).n
It's no different in 2008, where a summer blockbuster's $8 ticket price might only net the theater between $1.50 and $3 per admission. Those pricey concessions treats are the dividing line between profit and loss—so you'd think that theaters would all be racing to make sure their hot, fluffy kernels were worth your cold, hard cash.
But, as it turns out, a popcorn connoisseur can find plenty of variance across the Salt Lake Valley's movie theaters. I visited several locations—in the interest of fairness, only one location per theater chain was selected—and rated them for freshness, saltiness, toppings and value in a thoroughly unscientific visitation pattern. But you'd like to think that if you're paying the same price, you should expect the same quality on a Monday afternoon as on a Saturday night. Here's the lowdown on what you'd get with your summer popcorn movie:
n n n
n

Westates Holladay Center 6:
Value

; Freshness
;
Topping
; Saltiness


n

Century 16 Union Heights:
Value
; Freshness

;
Topping

; Saltiness

n

Broadway Centre Cinemas:
Value



; Freshness

;
Topping
; Saltiness

n

Carmike 12:
Value
; Freshness

;
Topping


; Saltiness

n

Megaplex 12 Gateway:
Value
; Freshness


;
Topping
; Saltiness

n

Cinemark Sugar House:
Value
; Freshness
;
Topping
; Saltiness

n

nCentury 16 Union Heights (7800 S. 1300 East, Midvale): One of the valley's newer theaters, it's also one of the better combinations of quality and value. The small size costs $4.75—around the median of the local price scale—and their corn was crisp and fresh-tasting, with real butter available as a topping. The primary downside: It was considerably oversalted, which makes good business sense if you're trying to up-sell a large fountain drink but can overwhelm that delicious real-butter flavor.
Carmike 12 (1600 W. Fox Park Dr., West Jordan): This out-of-the-way theater is easily the valley's best bargain for first-run ticket prices—and when you look at their concessions prices, it's easy to see how they can afford it. Their small popcorn costs a steep $5.10, and the theater offers the soy-based artificial butter-flavor topping rather than real butter. The overall freshness and salt level were good, however, and the theater does offer a variety of Kernel Season's sprinkled flavor toppings, including caramel, white cheddar and Cajun spice.
Megaplex 12 Gateway (165 S. Rio Grande): Want a popcorn? You'll be obliged to shell out $5.50 for the smallest size (though it's not an apples-to-apples comparison, since the Gateway's "small" is about the size of most theaters' "medium"). Real butter is available, and you'll need it to add flavor to popcorn that is actually undersalted when plain. And, whether or not it's a function of having the containers pre-filled for easy serving, the corn was a bit chewy and stale-tasting—not exactly worth chowing down in the massive quantities offered.
Cinemark Sugar House (2227 S. Highland Drive): Does a bargain-price theater mean different quality at the concession stand? In at least this case, it does. The $4.75 cost for the small popcorn was reasonable, but not much else was worth recommending. The theater offers only artificial topping, and their corn was unpleasantly chewy, almost like salted Styrofoam packing peanuts.
Broadway Centre Cinemas (111 E. 300 South): Downtown's premier art-house venue delivers quality movies, but what about what's behind the candy counter? Their fresh, crisp corn comes at a crazy value, with a small setting you back an almost unheard-of $2.50. But the topping is the artificial stuff, and the theater may make back the low-ball popcorn cost on the beverages needed to wash down the extra-salty kernels.
Westates Holladay Center 6 (1945 E. Murray-Holladay): It's a small, almost neighborhood theater without the now-popular stadium seating, but if you must snack with your show, here's the place to go. The small-size popcorn is a very good (relative) value at only $3.75, served warm, fresh, crisp and at a perfectly moderate salt level even on a midweek afternoon. A lack of real butter is the only minus, but the presence of several Kernel Season's flavors—personally, I'm growing addicted to the barbecue and sour cream & onion varieties—helps make up for it.