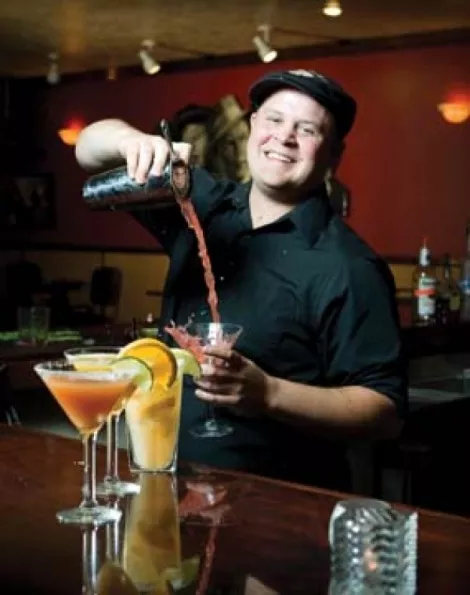 Getting bartenders to part with a favorite drink recipe is akin to begging parents to keep their cryptosporidium-pooping babies in their backyard wading pools instead of at county pools: not likely to happen. Nevertheless, City Weekly's summer interns Dan Fletcher, Jennie Nicholls and Esther Pomeroy, were told not to return to the office without drink recipes in hand, which they did, and brownie points were duly earned. Can't say the same for baby mamas and papas. Oh, by the way, get your shakers out!
Ben Wolff, Tavernacle, 201 E. 300 South, 519-8900
Raspberry Mind Eraser
1 ounce Vodka Citron
1/2 ounce Chambord
Top with club soda
n n n
n

Miles Broadhead, Zanzibar
679 S. 200 West, 746-0590
"Old as Moses," says Miles Broadhead of his mentor at Seattle's Five Points Bar. "He was an old-world bartender. He taught me how to make drinks the right way." That was seven years ago now. Broadhead, a 22-year-old coast guardsman, had stepped behind the bar to make a little extra cash on his leave time.

A job at Hotel Monaco brought him to Salt Lake City and a chance stop by the Zanzibar—tagging along on a brother's ill-planned date—would introduce him to an old-world establishment that instantly welcomed his old world talents. He was offered a job the same day.

"The deepest, most soulful people in Salt Lake come to this bar," says Broadhead, "You make someone a good drink and it makes them happy. I love that."
—Dan Fletcher

The Miles High
1 ounce vodka
1 ounce Amaretto
1/2 ounce pineapple juice
1/2 ounce cranberry juice
Muddle with fresh lime

n
Dustin Smith, The Red Door, 57 W. 200 South, 363-6030
Specialty Mojito
1 ounce Bacardi rum
1/2 ounce coconut rum
1/2 ounce soda water
Shake with sugar
Beth Wright, Piper Down, 1492 S. State, 468-1492
Guinness Float
(served between 2-5 on Saturdays).
½ pint Guinness
2 scoops ice cream
Your choice—shot of Bailey's Irish Cream Whiskey, Kaluha, or Jameson Whiskey
n n n
n

Dave Catlin, Huka Bar & Grill
151 E. 6100 South, 281-4852
Catlin began his bartending endeavors at the Huka Bar & Grill in Murray about six months ago. The Huka Bar itself is relatively a new bar, open for two and half years. Catlin loves the active atmosphere and meeting cool people while mixing behind the bar. The bar was already featuring the popular American Pie (recipe below) on its menu when Catlin started working there. When Catlin isn't working, he likes to relax drinking his personal favorite, Bartender in a Cup: Malibu rum, Triple Sec, orange juice and grenadine.
—Jennie Nicholls

American Pie
1 ounce Stoli Vanil (Vanilla) vodka
1/2 ounce Sour Apple Pucker
1/2 ounce Goldschläger
1 small can apple juice
Cocktail rimmed in apple sugar with an apple slice

n
Jorge Vayas, Keys on Main, 242 S. Main, 363-3638
Jorge Special
1 ounce rum or tequila
½ ounce Grand Marnier
Equal parts passion fruit juice and orange juice
3 drops green Tabasco
Garnish w/ jalapeño slice
Bentley Shewman, Orange, 533 S. 500 West, 433-3399
Marga-Tini
1 1/2 ounce homemade sweet and sour (syrup and lime)
1 ounce Cuervo Gold
1/2 ounce Triple Sec
Served with salted rim
Butterfly, Circle Lounge, 328 S. State, 531-5400
Malibu Sake-Tini
1 ounce Malibu Rum
1 ounce Sake
1/2 ounce pineapple juice
Splash of cranberry juice
Shaken and served in a martini glass with a cherry
n n n
n

Shawn Frehener, Port O'Call
78 W. 400 South, 521-0589
Frehener was hired by Port O'Call on his 21st birthday and has stuck around for 14 years. "It's a great, fun environment," he says. His personal favorite drinks are whiskey on the rocks and yellow beer, but Frehener says that Port O' Call's lime rickey is "crazy delicious" and refreshing for summer. Technically, a lime rickey is any mixed cocktail that includes lime juice as a key component, but in an ironic salute to Utah, Port O'Call's twist on the drink was inspired by local burger joint Arctic Circle's nonalcoholic version called the Lime Ricky (7Up with a shot of grape syrup and a slice of lime).
—Esther Pomeroy

Lime Rickey
In a tall glass combine over ice:
1 ½ ounce Three Olives grape vodka
Juice of 1 whole lime
½ ounce Chambord
Soda and 7Up
Chip in the blender and garnish with lime wedge.

n