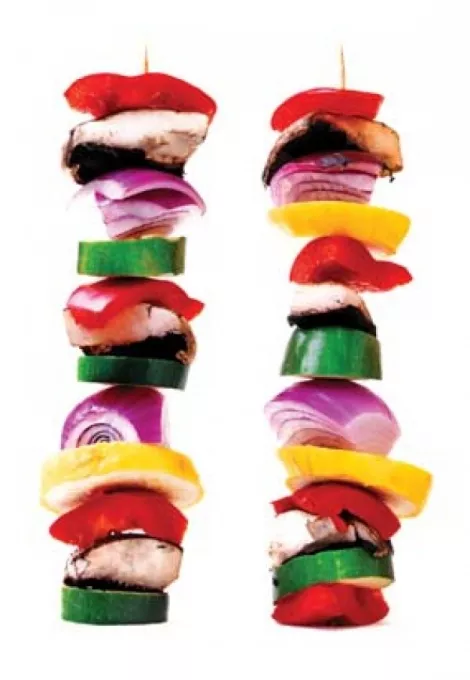 We've all got the backyard barbecue stereotype firmly in our minds: Dad's out back stoking the flames with a can of beer in one hand and charcoal lighter fluid in the other. Naturally, he's preparing the grill for meat: hot dogs, burgers and steaks—the bigger the better. But wait! This is an Eisenhower-era vision, complete with the nuclear-bomb bunker next to the Weber grill. Surely, here in 2008 Bushville, we can do better. With all we've learned over the years about fat and cholesterol, shouldn't we be cooking something healthy on that grill? Well, fear not; abandoning meat at the backyard BBQ doesn't mean you have to abandon flavor. Spend a little time learning to cook vegetables and fruits on the grill, and you'll open up an entirely new world of barbecuing possibilities.
Maybe you think like I used to: Veggies are bland; meat is flavorful. Well, yes and no. The truth is that fruits and vegetables are particularly well-suited to outdoor grilling in a way that meat, poultry, fish and seafood aren't. That's because fruits and veggies are typically teeming with natural sugars which, when cooked directly on the grill, tend to create a delicious caramelized crust. Now, scallions might not be your idea of an especially inviting side dish. But try this out: Simply toss a bunch of raw scallions in a bit of canola or olive oil and throw them onto a hot grill. In minutes you'll have beautifully charred green onions that are actually sweet, thanks to the process of caramelization. That is, if you don't let the scallions fall through the grate and onto the fire.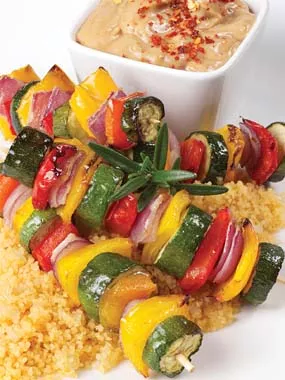 If you plan to do a lot of nonmeat grilling, invest in an inexpensive vegetable grill rack (also called a grill grid or vegetable basket). I can't tell you how many dozens of asparagus I'd lost to the fire before buying one of these. Basically, it's a metal grid with sides and handles. It's punched full of small holes to let the heat in, but small enough to keep bite-size vegetables from falling into the fire. This is a very useful tool since bite-size vegetables cook faster than large slabs, and they retain their texture and flavor while allowing the cook to get the food directly from the grill to the table quickly. So, for example, you could easily dice up heirloom tomatoes from the garden, toss them with olive oil and a bit of fresh rosemary or basil, then cook the tomatoes directly on your grill rack giving them a nice, charred flavor and appearance before simply tossing them with pre-cooked pasta. Simple!

Another beneficial aspect of cooking vegetables, fruits and suchlike versus meat on the grill is that they require less fat. Meat, chicken and fish tend to stick to a hot grill unless bathed in a fair amount of oil or other fat. Vegetables and fruits, for the most part, don't. When I grill asparagus spears, for example, I toss a bunch of asparagus (about 1 pound) in no more than a tablespoon of olive oil before grilling, and the result is fantastic. If I were grilling a T-bone it would take much more fat to keep the steak from sticking.

Gas versus charcoal: Here's another benefit of not cooking meat on the grill. Meat, chicken and such (especially large pieces) usually benefit from slow, indirect grilling, which imparts a certain amount of smokiness on a charcoal grill that you can't get with a gas grill. But because most vegetables cook so fast, a gas grill which takes mere minutes to warm up works just great. You don't have to muss and fuss with charcoal, fire starters and 45 minutes of warm-up time since most veggies will be cooked directly on the grill in minutes.

Kabobs are synonymous with barbecuing and here's a terrific vegetarian version: After gently squeezing the excess water from a block of extra-firm tofu, cut the block into large cubes. Mix together equal portions (a couple tablespoons each) of soy sauce and sesame oil and brush this sesame-soy glaze onto the tofu cubes. Skewer them with chunks of bell pepper, tomato, onion, zucchini, pineapple or whatever you desire and cook over a medium-hot fire until a slight crust forms on the tofu. Serve with your favorite dipping sauce and an icy Mojito alongside.