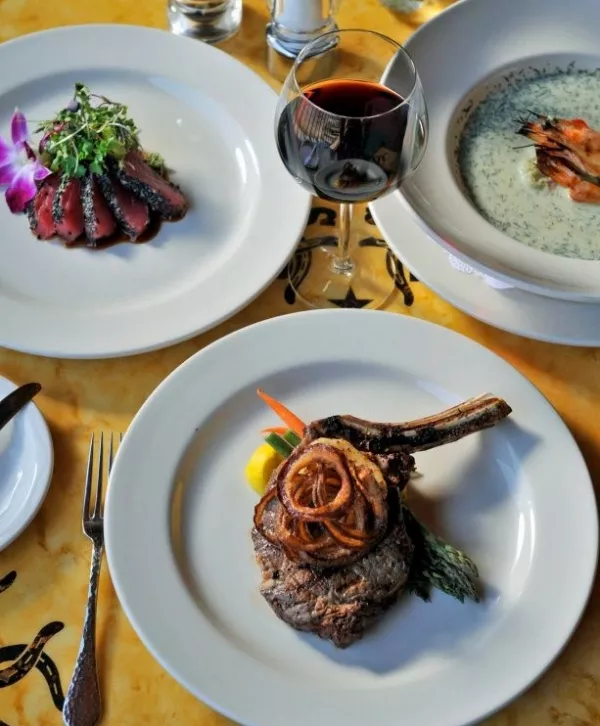 Dining at Sorrel River Ranch
Summer along the Wasatch Front can be pretty spectacular. However, if you're looking for a marvelous getaway not too far from home, it's all too easy to forget that Moab—surrounded by world-class natural wonders—is less than four hours away by car.
Base camp for a recent Moab getaway was Sorrel River Ranch Resort & Spa (Mile 17, Highway 128, 435-259-4642, SorrelRiver.com), although "camp" might not be the quite right word for this luxurious, yet rustic, resort. Sorrel River Ranch (SRR) is perched right next to the Colorado River, surrounded by lush landscaping, an actual working ranch, an onsite greenhouse and gardens, breathtaking views of red-cliff rock formations and, mostly, clear blue skies with billions of stars to see at night. Staying at SRR definitely doesn't suck.
One of the reasons it doesn't suck is the attention that is paid to cuisine at SRR. Too often—especially in southern Utah—resort and restaurant food is an afterthought, typically accompanied by sub-par seasonal service. Not so at SRR, where fine dining is taken seriously. After checking in with the friendly staff at the main lodge—and the staff at SRR is über-friendly—it was time for lunch.
SRR's main dining venue is the River Deck, which offers all-day cocktails and dining perched on a deck overlooking the Colorado River. There's normally a nice breeze to cool down even the hottest days, and it's a beautiful place, with stunning views, to dine al fresco.
Upon first perusing the River Deck menu, I was a little surprised at how many of Utah's artisan foods were represented. After all, it's not like there's a Caputo's or Liberty Heights Fresh handy down there. But, in addition to Moab and Castle Creek products—such as Castle Valley Creamery chèvre and fresh produce from Sorrel River Farm—I also spotted names on the menu like Beehive, Slide Ridge, Creminelli and others.
I recommend getting lunch or dinner started with the River Deck charcuterie selection: Creminelli cured meats, pickled garden veggies from Sorrel River Farms, Pommery mustard and house-cured olives. There's also a sensational salad on the menu, the Sorrel River Farm super greens salad. As mentioned, SRR has its own greenhouse and garden/farm, headed up by the super nice and knowledgeable Jason Matz. Even this early in the spring-summer season, the garden and greenhouse were brimming with gorgeous produce. In the peak of summer, the farm will supply some 80 percent of the foodstuffs used in the SRR restaurants. Talk about farm to table! Anyway, that super salad is made with SRR Farm arugula, foraged dandelion, heirloom beets, candied Utah walnuts, minted Castle Valley chèvre and Slide Ridge honey-wine vinegar—it's a stupendous salad.
A grilled-cheese sandwich made with Beehive Cheese TeaHive cheddar, sharp white cheddar and provolone on Nana's Love Bakery sourdough bread set me up nicely for a two-hour horseback tour of the trails and rock formations surrounding Sorrel River Ranch. Head wrangler Emily Hutton introduced me to my steed, Peaches, and before I could say "giddy-up," she, co-wrangler Dani Diermeier, myself and friends were on our way, discovering not just the natural beauty in and around SRR, but also getting lots of natural-history lessons about flora, fauna, geology and more.
After a breakfast of Carmelo's rib-sticking huevos rancheros the next day in the Professor Valley Dining Room—named for the nearby Professor Valley, the site of many movie shooting locations—I was fortified for a tour of Arches National Park, led by one of SRR's excellent adventure guides, Ed Oak. Hiking and taking in the spectacular scenery of sites like Balanced Rock, Courthouse Towers, Fiery Furnace, Sand Dune Arch, Garden of Eden, Delicate Arch and more, a guy works up quite an appetite. Thankfully, Ed introduced us to an aptly named eclectic eatery on Moab's main drag: EklectiCafe (352 N. Main, 435-259-6896).
Operated by Brooklyn transplant Julie Fox and her incredibly friendly staff, EklectiCafe delivers unique and memorable meals. The menu really is eclectic—as is the décor—running the gamut from banana-walnut pancakes and peach-raspberry cheesecake (to die for) to the best Reuben sandwich in town, housemade potstickers, and even tofu and basmati rice with satay sauce, plus many vegetarian, gluten-free and vegan options. While dining, you're surrounded by a mix of lush vegetation and flowers, a flowing outdoor fountain, antiques, jewelry and collectibles.
Although we were already stuffed with mint cupcakes and killer cheesecake from EklectiCafe, Ed had put a bug in our ears about Milt's Stop N' Eat (356 Mill Creek Drive, 435-259-7424, Facebook.com/MiltsStopandEat), an old-fashioned walk-up hamburger stand. And I hope to someday return for a burger. For now, I'll just say this: I've never had a better milkshake than the banana shake from Milt's.
Day 3 included a wonderful hike of Fisher Towers, led by SRR guide Andrew Joseph, who also plays guitar during the River Deck's happy hour. A soothing massage followed at the SRR spa, and then it was time again for dinner. SRR hosts monthly wine dinners with a focus on garden-fresh ingredients. The one I attended was sensational, beginning with an hors d'oeuvre of English pea mousse over pea pearls, topped with candied lemon, garnished with pea shoots, tomatillo blossom and mint, all from the Sorrel River Farm and served right in the greenhouse.
From there, it got even better. A large "amuse bouche" consisted of a plate solely featuring garden-fresh goodies: chilled Romanesco cauliflower, watermelon radish, spinach (Jason Matz grows the largest leaves I've ever seen) and black summer truffle garnished with chive blossom, and dressed with Banyuls vinegar, sea salt and Spanish olive oil.
Many more courses were to come, such as sous vide elk loin in basil oil and sage, paired with wines selected by Utah's Young's Market, all followed by s'mores under the stars at the SRR fire pit. I never wanted to leave.
Twitter: @Critic1