Is it hot in here or is it just the natural hot springs under the Great Keep? In any case, send a raven, summer has come! Well, technically, not till June 21, but we figured we'd serve up an insiders' take and give you an all-knowing three-eyed raven's bird's-eye view to all things fun-in-the-sun. (Yes, we thought long and hard about these GoT references.)
What's your idea of a perfect summer day? Perhaps checking out an arts festival or outdoor concert? You'll find inspiration here. How about setting up camp, hitting the trails and sipping on a frosty local ale? Aye, that's in here, too. Spoiler alert: You'll also find a local authors spotlight, a rundown of the best places to ride your e-dragon, er ... scooter, and nary a mention of twincest. Be still, my stoneheart!
While the hit HBO series might be ending, talk of multiple spin-offs is stronger than anti-Daenerys backlash, so why not daydream that some scenes could be shot right here in our own backyard? "My show is about castles and medieval cities, and there aren't many castles in New Mexico, sad to say," the grand maester himself, George R.R. Martin, told me in Santa Fe back in 2013. Well, George, a white castle towers over this capital city's skyline, so, keep your options open.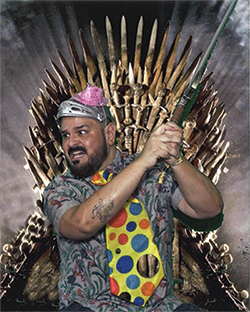 But, hold the door, there's more! Think: a long-distance running primer for jesters, a comprehensive farmers market directory and a lion's share of al fresco dining options.
We're not sure if songs will be written about this special issue or not, but in the end, we hope it inspires you to get out, explore and bask under the scorching sun of the Seven Kingdoms (Or, you know, the 29 counties).
—Enrique Stormborn of House Limón, the First of His Name, the Ruler of Newsroom Staffers and First Freelancers, the Keeper of the Red Pen, the Lord of 248 S. Main St., the Unsunburnt, the Breaker of Run-On Sentences.
---
GoT in the SLC
Squint hard enough, and these destinations could easily double for Thrones locations.
Salt Lake City haunts are more of a natural fit for wholesome productions like High School Musical and the forthcoming The Other Side of Heaven 2, but beneath its gleaming surface, a fair amount of Flea Bottom-approved grit can be found across our gilded town. Sure, some locations below are peppered with Old Nan's breed of creative license, but there's no denying the Greyjoys would feel right at home on the shores of the Great Salt Lake; Park City gets as cold as North of the Wall; and if there's one eatery in the known world that could cater a feast in Winterfell's Great Hall, it would be Chuck-A-Rama. So why in the seven hells not?
Salt Lake Temple
Dominating the capital city's skyline, it's the seat of the King of the Andals and the First Missionaries. With its impenetrable walls (unless you're lucky enough to be a recommend-carrying member), the monolithic LDS temple could easily be cast as SLC's version of the Red Keep. Bonus points: Rumor has it its cellars are home to the great Jell-O molds of Relief Society presidents past.
Ogden Walnut Tree
Just off Park Boulevard grows an imposing English walnut tree, thought to be the oldest in the state. It's not a far stretch to think of the urban deciduous specimen as the Beehive's equivalent of a sacred Weirwood. And an even shorter stretch to imagine that against it, Orrin Hatch was awarded immortality at the hands of the elfin Children of the Ward.
Gilgal Sculpture Garden
Tucked away near the corner of 700 East and 500 South, the diminutive public park is chock-full of lore and whimsy. With its central statue of founder and visionary Thomas Battersby Child Jr., as well as a sphinx topped with Joseph Smith's head, it could easily serve as the local version of the Crypts of Winterfell. For the love of everything holy, the Night King should deffo keep away.
Bonneville Salt Flats
Think of it as Utah's version of Vaes Dothrak. Known for playing host to numerous land speed records, hordes of motorsports enthusiasts descend upon the 30,000-acre salt pan each year, and hoot and holler at metal steeds racing at otherworldly speeds. Yes, the barren expanse is considerably whiter than the Great Grass Sea, but then again, everything is whiter in Utah.
—Enrique Limón
---
FAIRS
AUTHORS
CAMPING
BUCKET LIST
RUNNING
SCOOTING
LOCAL EATS
SWEETS
PATIOS
FARMERS MARKETS
MUSIC FESTIVALS
BREWERIES

---