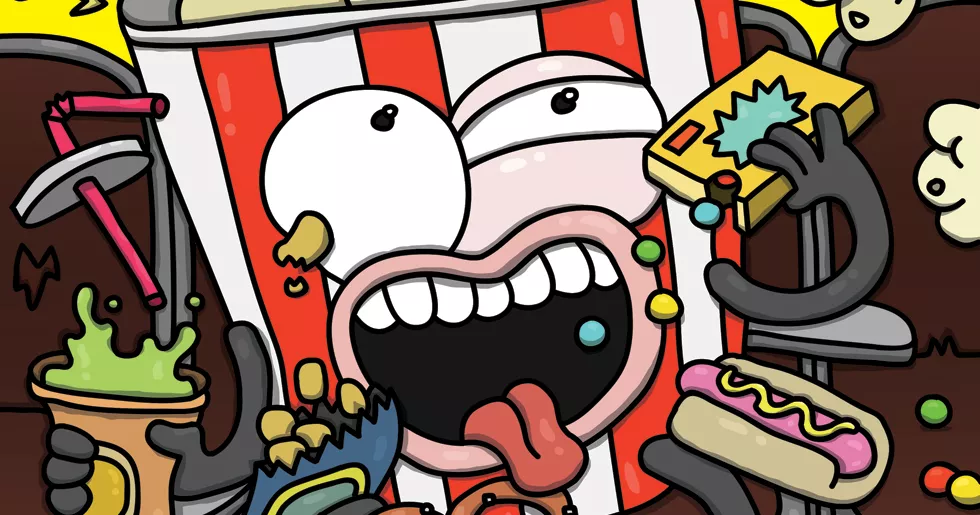 There's an old Vulcan proverb. "Only Nixon could go to China." By extrapolation, only Marvel could destroy the summer blockbuster as we know it.
No longer content to wait until the traditional summer movie season to put out their shit-blows-up-and-grosses-tons-o'-dough spectaculars, Marvel released Black Panther in February. And it was the biggest February opener ever.
Then Marvel went ahead and put out the biggest opener ever in April with Avengers: Infinity War. That's right. This year Marvel has gone the goddamn distance. (And in between, Steven Spielberg rolled out that masturbatory dung heap Ready Player One.)
My point: NOTHING IS SACRED. NOTHING IS TRUE. ALL IS PERMITTED. Maybe it's just me, but I miss the days when you could see crummy revisionist westerns in April (Bad Girls), and dopey erotic thrillers in the dead of winter (Final Analysis; J. Lo's The Boy Next Door). These movies are so wretched, you were almost guaranteed an empty theater—and therefore a limited amount of derision from your family and friends. Bad movies come and go so quickly now you actually have to work to find them—or watch them three months later on Hulu.
"But wait," you say. "The Boy Next Door was actually pretty successful, wasn't it?"
The Boy Next Door is the ninth-most-successful erotic thriller of all time, according to Box Office Mojo. Sliver is eighth. So just what is success, really? (Though TBND has one of those so-bad-it's-good vibes that I'd happily shout about it from the rooftops.)
But back to the gripe at hand. The days of queuing up for hours in the hot sun to see Jaws during opening weekend are long gone, but there's something unsatisfying about buying tickets online weeks in advance and something even less satisfying about watching big-ass movies at home. (One benefit: pausing for bathroom breaks.)
And now that Marvel has exploded another aspect of filmgoing—just when movies are supposed to be released, damn it—I've determined the summer movie no longer exists. After all, if a giant purple bodybuilder with a chin that looks like it was smashed with a pastry blender can snuff out half the universe's populace in April (the aforementioned Avengers: Infinity War), and a bunch of olds can start a book club in May (the imaginatively titled Book Club), then the world has gone topsy-turvy, people. It used to be the olds only popped up after September. Now they're here before Memorial Day.
(Aside: I sat through the end credits of the Melissa McCarthy vehicle Life of the Party waiting for a post-credits sequence. THAT'S WHAT MARVEL HAS DONE TO ME.)
So fasten your seatbelts. It's not necessarily going to be a bumpy night, but I have axes to grind, I swear with aplomb, and I've heard readers can get really bent out of shape about that shit. God, movies suck. (Just kidding! I love my job!)
Oh, and a bunch of these premiered at Sundance. The dates in parentheses refer to the day you can plunk down money and see it in an air-conditioned, stadium-seated multiplex or a nice, homey arthouse theater.
20th Century Fox
Deadpool 2

MOVIES IN WHICH SHIT BLOWS UP AND/OR A LOT OF PEOPLE DIE
Deadpool 2
It only took 18 years for tha studios to figure out Ryan Reynolds' strength was smarm (Two Guys, a Girl and a Pizza Place premiered in 1998, smarm aplenty), and now Marvel is running with it at Mach 2. I'm guessing it's Reynolds' Canadian affability that kept him in tha game until Deadpool. I mean, look at this pre-Deadpool string of flops: The In-Laws, Blade: Trinity, Waiting ..., Smokin' Aces, Just Friends, Green Lantern, and that ain't even the half of it. I guess pretty people really do lead lives of privilege. (May 18)
Solo: A Star Wars Story
I've paid so little attention to Solo: A Star Wars Story I didn't know until this week Ron Howard directed it. Now I plan on paying even less attention. Despite being more of a Star Trek person, I don't harbor ill will about the recent Star Wars universe successes. I do wish all those fanboys butthurt over The Last Jedi being full of strong women would STFU. Maybe Solo will accomplish that. Word to the wise: Han Solo portrayer Alden Ehrenreich is not the same person as MR. Baby Driver Ansel Elgort. (May 25)
Upgrade
This nasty little thriller comes from Leigh Whannell, the guy who wrote the one tolerable Saw movie (Saw ... but also many of the others) and the more-fun-than-they-should-be Insidious series. Here, a man left quadriplegic after a carjacking gets a chip implanted in his spine that helps him regain control of his limbs so that he may take revenge on his assailants. This movie is nasty as hell—and a lot of fun. (June 1)
Jurassic World: Fallen Kingdom
All these years later and I've managed to get through my professional life having seen only the original Jurassic Park. That was during the 20th anniversary re-release and someone paid me to watch it. Unless someone pays me to watch this, I won't be witness to Chris Pratt doing his bro-dance with the dinosaurs. Just ugh. Why did I even include this in the summer preview? Oh, for the hate mail. (June 22)
Ant-Man and the Wasp
Call me crazy, but I dig that this sequel to the surprisingly fun Ant-Man seems to be taking a "How do I live with these powers?" approach to Ant-Man's life. Sure, it's been done before (see: Superman), but Paul Rudd can do a lot with a little, and Evangeline Lilly is The Wasp. Plus: Laurence Fishburne! I'm putting this on the "go see!" list. (July 6)
Skyscraper
Cross-reference this with THE ROCK IS GETTING LAZY. Seriously, when I saw the poster for this movie, which features Dwayne Johnson hanging from a burning building, I thought it was for Rampage. Then I remembered Rampage has been out for a month. So Skyscraper here should really have a subtitle: "When The Rock decided he could coast on his considerable charm." Building inspector Rock is framed for a crime he didn't commit and has to prove his innocence. (I just realized how redundant "he didn't commit" is but, inspired by The Rock's laziness, I'm editing nothing.) (July 13)
Mile 22
The last time Marky Mark and director Peter Berg teamed up we got Patriots Day. You know, that celebration of Boston-area law enforcement in which said law enforcement stands on the sidelines while hero cop Tommy Saunders (Mark Mark) singlehandedly finds the Tsarnaev brothers after the Boston Marathon bombing. All of Berg and Marky's previous pairings suck, so don't expect this one to be different. I don't know what Mile 22 is about and I don't care. But I swear I'll keep an open mind at the critics' screening. (Aug. 3)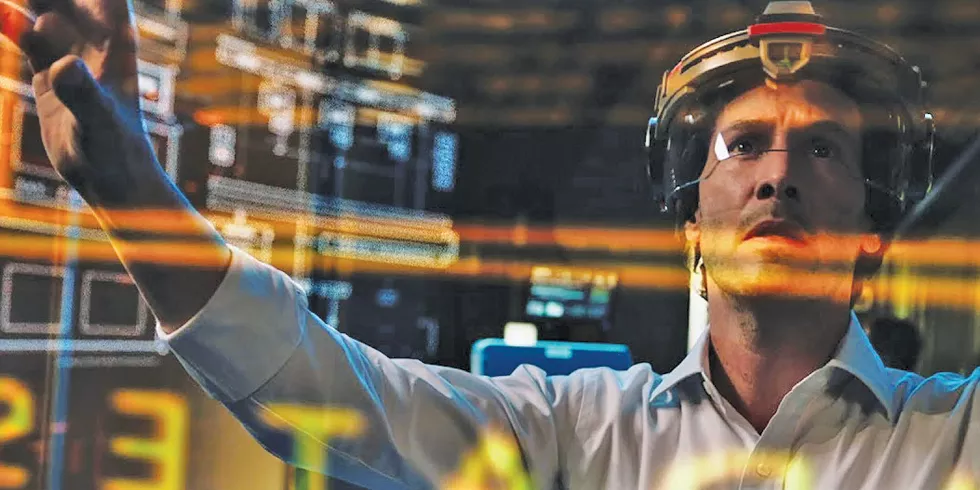 Entertainment Studios
Replicas

MOVIES IN WHICH SHIT DOESN'T BLOW UP BUT PEOPLE DIE
Hereditary
When I first heard about Hereditary I was reminded of The Twilight Zone episode "Long Distance Call" in which a little boy can speak to his dead grandmother through a toy phone. Naturally, she tries to kill him (out of love!). Then I saw the Hereditary trailer and its creepy family makes the long distance grandma seem as threatening as eiderdown. Hereditary really does seem like it might be scarier than The Exorcist, and that's saying something. (June 8)
The Meg
I've never been a big fan of shark movies or Jason Statham movies, but then I saw Statham in Homefront and thought, "Yeah, OK." Odd movie to decide ya like a guy, but my newfound appreciation for the former champion diver is in full swing, and if anyone can bash a shark to death (other than a dolphin), it's Statham. Just kidding! This giant shark movie looks really dumb. (Aug. 10)
Replicas
Scientist Keanu Reeves (!!) clones his dead wife and children. Think of it as Pet Sematary sans Pets and with science instead of an ol' Native American burial ground. But watch the trailer and you might be as convinced as I am of this movie's potential to scare the crap out of you. (BTW, I can't wait for Bill & Ted 3.) (Aug. 17)
Kin
Aliens, ray guns, and unpaid debts. Seems like a novel take on the ol' ne'er-do-well family member who brings everyone into the fight of his/her life. Unfortunately, the leads are Zoë Kravitz, who has been in precisely one good movie (Mad Max: Fury Road), and Dennis Quaid, who has never been good in a movie. I don't have high hopes. Oh, and James Franco is the bad guy. Yeesh. (Aug. 31)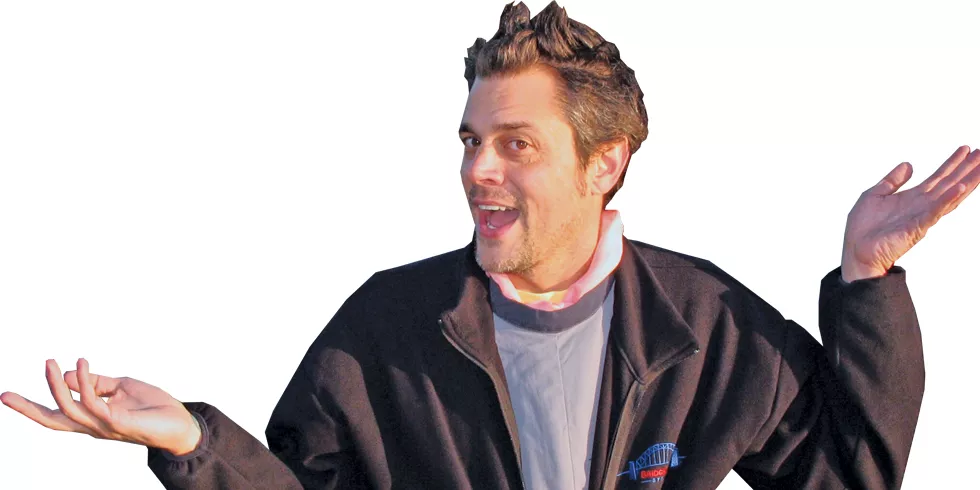 Paramount Pictures
Action Point

MOVIES THAT ARE SUPPOSED TO BE FUNNY BUT PROBABLY AREN'T
Action Point
Johnny Knoxville stars in a scripted movie about a guy who runs an amusement park without rules or safety measures in order to save it from closing. Apparently the stunts are real (this is a Knoxville movie, after all). It looks funny-ish, but it also resembles 80s-era save-our-business/park/ball field movies, and it's probably a 40-minute idea padded out to 90. Plus, Johnny Knoxville is really starting to look like Vince Vaughn, which is just strange. (June 1)
Tag
Jeremy Renner, Ed Helms and Jon Hamm are lifelong friends engaged in a lifelong game of tag. Yes, it sounds stupid. Really stupid. But the trailer is funny ... until it dips into the midlife crisis explanation for the game. How about we just play tag without all the feels, sit back, and watch these guys punch each other in the dick. OK? OK. (June 15)
The Spy Who Dumped Me
Uninspired James Bond parody that opens the trailer aside (note: cross-reference this movie with the UNINSPIRED MOVIES AND OR/SEQUELS SPUN OFF FROM UNINSPIRED MOVIES category), there are some larfs watching likeable Mila Kunis and even more likeable Kate McKinnon making yuks as they deal with the fallout from Kunis' relationship with a CIA operative (Justin Theroux). I'm willing to wager it's funnier than anything Martin Short made in his heyday. (I just picked Martin Short's name from a hat, but his movie track record is crap, after all.) (Aug. 3)
The Happytime Murders
Described as a "neo-noir puppet comedy"—I swear I'm not making that up—this movie directed by Brian Henson (Jim's son) stars Melissa McCarthy as a detective hunting a serial killer. Yes, in this scenario, puppets coexist with humans. That was always the Muppets' bag (the coexisting, not the killing), so I guess it's not such an out-there idea. This movie has been in development since roughly forever, for what it's worth, but that's usually a bad sign. (Aug. 17)
Screen Gems
Slender Man

MOVIES THAT ARE SUPPOSED TO BE CREEPY BUT PROBABLY AREN'T
Slender Man
So it has come to this: Movies based on memes. I guess that wouldn't piss me off so much—there is a short-lived Sh*t My Dad Says TV show, speaking of memes—if it didn't look like the cinematographer had ripped off all of Sam Raimi's outdoor shots from The Evil Dead. (Plus, the Slender Man himself resembles the creature in that recent silly Blair Witch sequel.) One character says, "He gets in your head. Like a virus." BECAUSE MEMES ARE VIRAL, GET IT? Barf. I'm totes gonna see it. (Aug. 24)

FAMILY MOVIES THAT ARE PROBABLY CLOYING AND STUPID
Show Dogs
Will Arnett is a detective and Ludacris is Max, his talking canine partner. Give the producers credit for having Arnett be the live action guy; he's usually relegated to V.O. work in crap like this. I don't mean crap. I mean it's probably a wonderful family-friendly joyride. Wait, the dog says, "I'm good at taking a bite outta crime" in the trailer? Good God, that's awful. At least your kids are probably too young to know which canine crime fighter that line steals from/pays homage to. Of course, my kid is almost old enough for movies like this. Pray for me. (May 18)
Dog Days
More dogs, more butt-sniffing jokes. But the cast in this flick—Eva Longoria, Nina Dobrev, Vanessa Hudgens, Thomas Lennon, Adam Pally, Ryan Hansen, Tone Bell, Ron Cephas Jones and Finn Wolfhard (the best part of It) is top notch. Underappreciated comic actor Ken Marino (The State, Burning Love) directs, and the trailer made me smile. Maybe this won't be so bad. For reals. (Aug. 10)

MOVIES ABOUT PEOPLE WHO BROOD
On Chesil Beach
Oh, it's so hard to be upper class! And it's a tribulation to fall in love with a poor! Here's an idea: Stop adapting Ian McEwan stories. If I've learned one thing from movies of his books, it's that the books are significantly better. (See also: Enduring Love, Atonement, The Comfort of Strangers, First Love Last Rites) However, as a bona fide Saoirse Ronan fan, I will sit through this film and try to enjoy it. (May 18)

MOVIES ABOUT WRITERS WHO ARE LESS COMPELLING THAN THE BOOKS THEY WRITE
Mary Shelley
The story of Mary Shelley while writing Frankenstein has been fictionalized before (Gothic, which you can skip), but this take has a decidedly feminist bent, which is as timely as ever. Unfortunately, Mary Shelley is getting truly rotten reviews, which is a bummer, as Elle Fanning (who plays Mary) has been doing some good work of late (see also: The Neon Demon, The Beguiled). FWIW, this movie is rated PG-13 for sexuality and thematic elements including drug abuse, so don't forget your pearls so they're available for clutching! (May 25)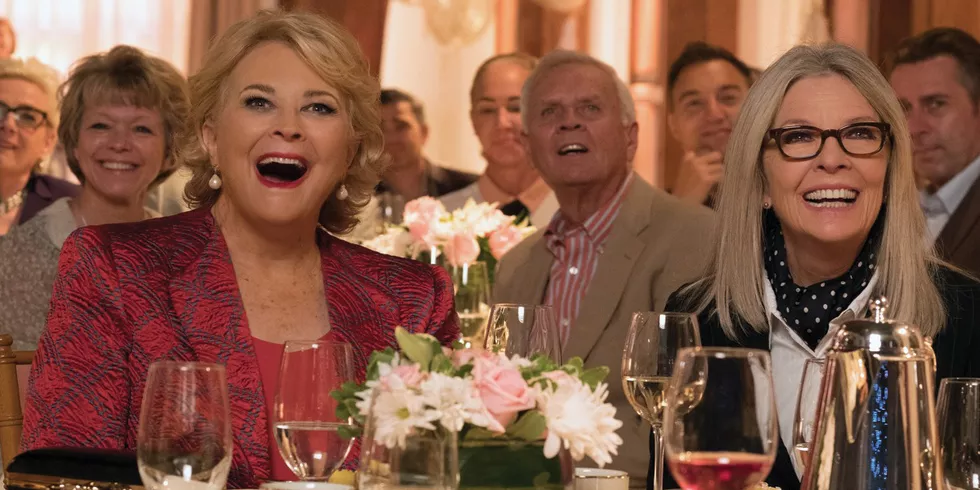 Paramount Pictures
Book Club

MOVIES FOR OLDS
Book Club
There's a title each year your grandmother can't wait to see. In 2017 it was Victoria & Abdul. This year it's Book Club, starring Jane Fonda, Mary Steenburgen (she's old now? That makes me old, too), Diane Keaton and Worst-Mainstream-Actress-Ever Candice Bergen (male counterpart not appearing in this film: Dennis Quaid). Anyway, the ladies read Fifty Shades of Grey and decide to jump-start their sex lives. One of them chooses Craig T. Nelson, who I'm pretty sure is the anti-Viagra, but what do I know? I'm only in my early 40s. Don't go to a matinee showing unless you want to come out smelling like Polident and hard candy. (May 18)
Boundaries
No, it's not Kodachrome! It's Boundaries! Standing in for Ed Harris: Christopher Plummer. Standing in for Jason Sudeikis: Vera Farmiga. Road trips are taken, weed is smoked, lessons are learned. Farmiga and Plummer are great actors, and Bobby Canavale is in this, too. Maybe it'll be fun. (June 22)
STX Films
Adrift

MOVIES ABOUT PEOPLE AND/OR CHILDREN IN PERIL
Adrift
Shailene Woodley leaves behind her Y.A. roots and swims into an adult movie about a couple that decides to sail around the world ... and into a Category 5 hurricane! Just when you thought it was safe to go back in the water, don't ever go back in the fucking water. I'm a sucker for romances and people trapped at sea, so I'm down. I'll be renting Dead Calm and All is Lost while I wait. (June 1)
Searching
Two of my favorite actors ever, John Cho and—Will & Grace notwithstanding—Debra Messing, star in this super tense flick about a father's search for his missing 15-year-old daughter. The deeper he searches, the more he realizes she was leading a secret life online. Parents, take a Xanax before you watch. (Aug. 3)
The Orchard
American Animals

MOVIES ABOUT PEOPLE WHO DO DUMB SHIT BECAUSE THEY'RE DUMB
American Animals
"Can I just say how dumb this entire thing is?" one character asks. Four bored—and dumb—20-somethings decide to steal the most valuable book in the United States. What could possibly go wrong? Everything, I guess, because this is one of those true-story movies, so they must have been real-life caught. These dolts counted among their favorite films Reservoir Dogs, so I guess they forgot everyone in that heist movie ends up dead. Creepy Barry Keoghan from the Klling of a Sacred Deer is one of the amateur thieves. (June 1)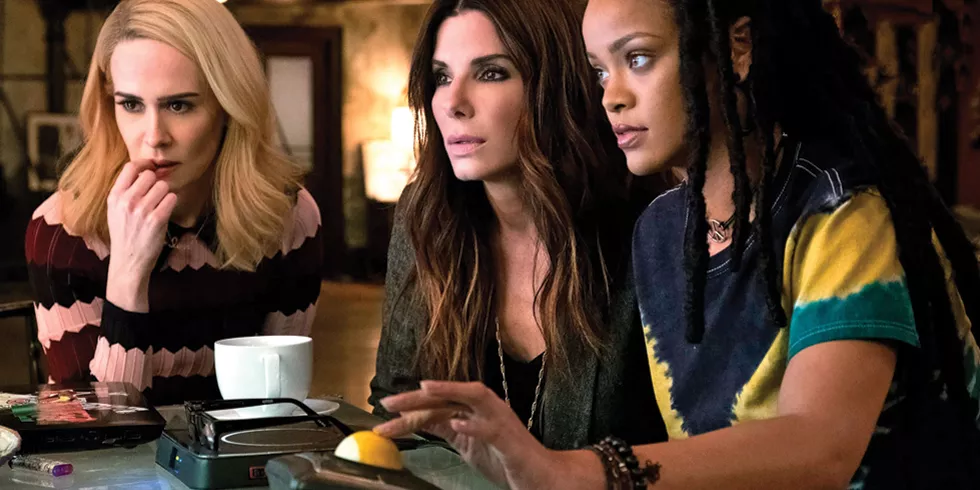 Warner Bros. Pictures
Ocean's 8

UNINSPIRED MOVIES AND/OR SEQUELS SPUN OFF FROM UNINSPIRED MOVIES
Ocean's 8
I don't know whether anyone remembers this, but Ocean's 11, the Frank Sinatra original, is bad. Like, really bad. People remember it fondly because the entire Rat Pack is in it. So then it spawned a crummy remake and two better-but-still-crummy sequels. And now we have Ocean's 8, a movie no one asked for in a franchise no one cared was dead. At least the women—that's right, women!—in this one are played by people we love, including Sandra Bullock, Cate Blanchett, Sarah Paulson and Rihanna. Their heist: Break into the Met in NYC. Good luck, ladies. (June 8)
The Hustle
In keeping with the Ocean's tradition, The Hustle is a remake of a bad movie. That's right! The appeal of Dirty Rotten Scoundrels, itself a remake of Bedtime Story (with Marlon Brando), has always been lost on me, but it has one funny sequence, and it includes the line, "Don't take the cork off the fork." Maybe The Hustle has a snowball's chance in hell of being watchable; it stars Rebel Wilson so it probably won't be boring. It will, however, almost certainly feature what's vogue in comedy right now, which is saying out loud over and over precisely what's happening to you. (June 29)
The First Purge
Ah, The Purge franchise. A series based on a decent idea—a totalitarian regime is voted into office and lets its citizens commit any crime during a 12-hour period one night a year—that did fuck-all with it. The first movie is limp and predictable with bad guys who aren't scary. The second doesn't know what it's trying to do and I skipped the third. The First Purge is a prequel to the first film, and if you've been playing along at home you know prequels are rarely a good idea. But Marisa Tomei is in this one, which piques my curiosity. But not that much. (July 4, ya dig!)
The Equalizer 2
In the overlong but not-bad original ("original" is relative because it's based on a TV series from the '80s), Denzel Washington was a retired killing machine who became an unretired killing machine. This time around, the baddies smite his old boss/friend Melissa Leo. I'm guessing blood will be shed, and a lot of it. Director Antoine Fuqua returns, too. Hopefully it's shorter than the 132-minute first film, tho. (July 20)
Mamma Mia: Here We Go Again!
What could be worse than ABBA getting back together? How about a sequel to that shit movie Mamma Mia! based on ABBA songs, in which Pierce Brosnan sings. I DIDN'T LIKE ABBA IN 1980 AND I DON'T LIKE THEM NOW. Hopefully that pier the cast is standing on in the poster collapses and they all drown before they can make a third. (July 20)
Mission: Impossible-Fallout
The only fallout from this series is that it's making Americans dumber. I don't know about you, but I got bored with this series after the silent Langley break-in because all the action scenes thereafter are the same: Ethan Hunt (Tom Cruise) climbs a mountain, shows biceps; Ethan Hunt scales a wall, show biceps; Ethan Hunt jumps from something impossibly high, somehow still shows biceps. I get it, Tom. You're cut. But have you ever noticed how many of these movies begin with Hunt making a huge mistake? Great spy work, pal. No wonder your bosses are always trying to kill you. (July 27)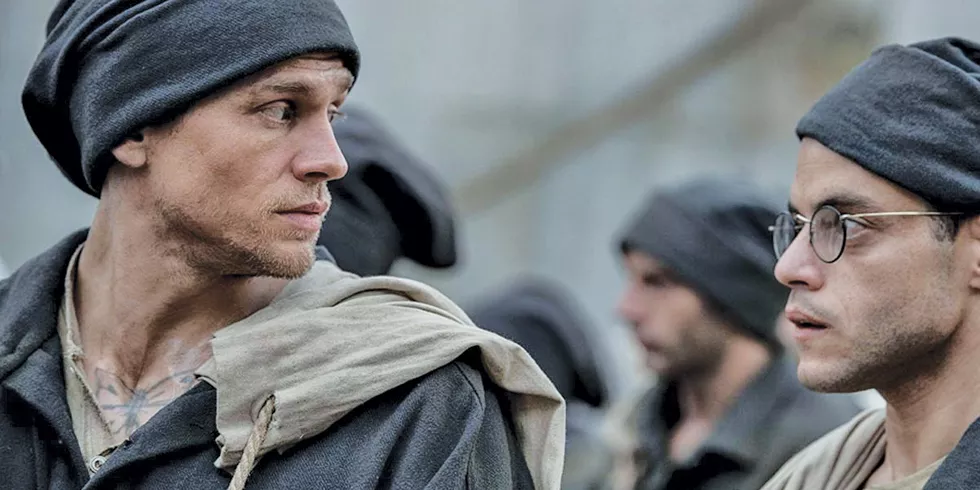 Bleecker Street
Papillon

UNINSPIRED REMAKES OF CLASSICS AND/OR CULT CLASSICS
Superfly
I can't imagine anyone could remake Superfly in the vein of the original, but hey, why not give it a shot? The teaser trailer reveals next to nothing, except that there's a lot shootin' and drivin'. I hope this doesn't fall into the way-too-serious remake camp that killed Total Recall and Robocop. As always, Michael K. Williams looks like the best thing in this movie. (June 15)
Papillon
You know, it's been so long since I saw the original Papillon with Steve McQueen and Dustin Hoffman that I don't remember whether it's any good. Of course, I still keep my money in my ass, so it must have left a mark on me. Maybe this remake can do the same? (Aug. 24)

DOCUMENTARIES ABOUT REAL PEOPLE THAT ARE ACTUALLY COMPELLING!
Won't You Be My Neighbor?
No jokes or complaining here. I'll see any documentary about Fred Rogers, a man who believed every child deserves love. I believe that, too. Once you hit 18, though, go fuck yourself. (June 22)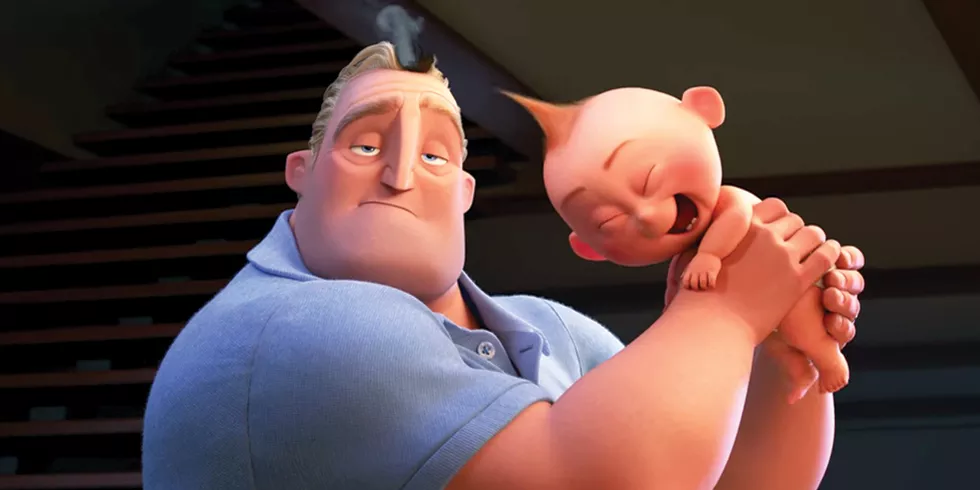 Disney/Pixar
The Incredibles 2

ANIMATED MOVIES I DON'T CARE ABOUT BUT YOU MIGHT
The Incredibles 2
Pixar either hits with sequels (Toy Story 2 and Toy Story 3) or it misses so completely you can't believe it's the same studio (the Cars franchise, Monsters University). Granted, Cars isn't good. The sequels were crash grabs. But The Incredibles was incredible and writer/director Brad Bird returns. (June 15)
Hotel Transylvania 3: Summer Vacation
Hotel Transylvania: Barf. Hotel Transylvania 2: Double barf. Hotel Transylvania 3? Triple barf! (Cross-reference this with UNINSPIRED MOVIES AND OR/SEQUELS SPUN OFF FROM UNINSPIRED MOVIES.) (July 13)

IT-REMINDS-ME-OF-JOHN-WICK
Hotel Artemis
For all the things that look cool about it—Sterling K. Brown in a leading role, Dave Bautista and Sofia Boutella in supporting roles, things blowing up (cross-reference this flick with MOVIES IN WHICH SHIT BLOWS UP AND/OR A LOT OF PEOPLE DIE)—there are things that look decidedly unappealing. To wit: Jodie Foster's accent and Charlie Day, whom I find unwelcome in anything. Writer/Director Drew Pearce has a Mission: Impossible under his belt, so that's worth two demerits, but Brown takes one of them away. (June 8)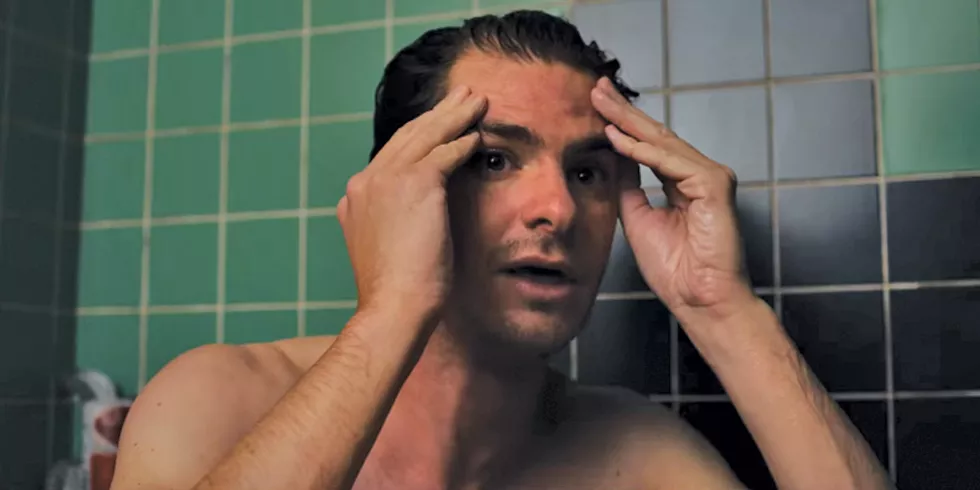 A24
Under the Silver Lake

MOVIES I DON'T HAVE THE CAPACITY TO UNDERSTAND AND/OR JUDGE PRE-RELEASE
Under the Silver Lake
Andrew Garfield and Elvis Presley's granddaughter star in writer/director David Robert Mitchell's follow-up to the super creepy It Follows. Under the Silver Lake looks more like an acid trip than a movie, and Garfield seems up to the wacky task. Loses points for its prominent use of the Violent Femmes, but I'm still queuing up. (June 22)
Sorry to Bother You
Lakeith Stanfield is telemarketer Cassius Green, who, acting on a tip from co-worker Danny Glover, uses a "white voice" to pitch products to prospective clients. And boom, he's a raging success. Exactly what goes on besides that in Sorry to Bother You is difficult to discern from the trailer, but it seems promising. The always-wonderful Tessa Thompson co-stars. (July 6)
Don't Worry, He Won't Get Far on Foot
Joaquin Phoenix reteams with his To Die For director Gus Van Sant in this biopic of John Callahan, an artist and alt-weekly cartoonist left a quadriplegic after a car crash when he was 21. This movie looks like the kind of thing that will be either great or terrible with no in-between (like a lot of Van Sant's movies), but it gets bonus points for making Jonah Hill look kinda hot. (July 13)
Blindspotting
The trailer for Blindspotting does a number on you: It looks like a wacky comedy about semi-professional movers, and then it turns deadly serious when a cop shoots an unarmed black man in the back right in front of main character Collin (star Daveed Diggs). It's timely and looks compelling. Diggs wrote the screenplay with co-star Rafael Casal. (July 20)
BlacKkKlansman
As I write this, Spike Lee's latest is showing at the Cannes Film Festival. And if the title doesn't give it away for you, here's the gist: A black police detective infiltrates a Colorado chapter of the Ku Klux Klan and eventually becomes its leader. This is a true story, by the way. (Aug. 10)

SEQUELS TO MOVIES THAT WERE ONLY SO-SO
Sicario: Day of the Soldado
After the opening explosion—which you saw coming, right?—Sicario was kind of a drag, though Benicio Del Toro did some of his best menacing in it. Good thing he returns for the sequel. So does screenwriter Taylor Sheridan. OG lead Emily Blunt does not return, however. (June 29)

MOVIES ABOUT ADULT AND/OR EARLY 20s AND/OR TEEN AND/OR PRE-TEEN ANGST
Eighth Grade
Did eighth grade suck for you? It sucked for me. My family moved from Indiana (yucky) mid-first semester to Wisconsin (yuckier) and I had one friend after the cool new kid smell wore off me. Apparently writer-director Bo Burnham had similar feelings (if not similar experiences), because word is this movie captures perfectly how middle school can suck. Elsie Fisher's performance in the lead is getting major huzzahs. (July 13)
Hot Summer Nights
Timothée Chalamet, the Oscar-nominated kid from Call Me By Your Name, plays a young guy who goes to Cape Cod (yay!) for the summer and starts selling weed (cannabis, dope, herb, tea [but not herb tea], ganja, mary jane, Acapulco gold, wacky tobacky, doobies, Panama red, spliffs). He falls in love with Maika Monroe (from It Follows!). I wrote all those synonyms for marijuana because this movie interests me less than synonyms for marijuana. Bonus points if the similarly titled Van Hagar-era Van Halen tune shows up on the soundtrack. (July 27)
Christopher Robin
Never mind that Christopher Robin ditched Pooh at the end of The House on Pooh Corner and that the adult Christopher Robin resented his father A.A. Milne for appropriating his name and childhood; the Disney folks own Pooh and there's money to make! (Maybe the fluff that Pooh's stuffed with needs an infusion of cash.) I don't think good or bad products in the form of film and television can ruin anyone's childhood retroactively, but this just seems ... soulless. (Aug. 3)

MOVIES ABOUT CRUELTY TO CHILDREN
How to Talk to Girls at Parties
Elle Fanning is an alien trying to experience what it's like to be human and some English people you've never heard of (and Nicole Kidman) are punks, presumably in the late '70s/early '80s. I have no idea what it's about but the trailer looks absurd, and not it a good way. It'll probably be a huge cult hit. (May 18)
The Miseducation of Cameron Post
The story of an orphaned teen discovering she's gay and then being sent to a conversion camp sounds like the opposite of a good time at the movies. But considering LGBTQ folks still live in fear that someone might shoot them or beat them or throw them in a basement or not let them serve in the U.S. armed forces because of who they are, The Miseducation of Cameron Post seems pretty relevant. (Aug. 3)

Y.A. MOVIES THAT PROBABLY AIN'T SHIT
The Darkest Minds
Take X-Men, make them teens, add a plague, stir and voila! In just moments you have The Darkest Minds! Eh. (Aug. 3)

MOVIES THAT ARE STILL TRYING TO MAKE JOEL KINNAMAN A STAR
Three Seconds
Another year, another crime/mafia movie starring Joel Kinnaman. You loved him in The Killing, but apparently in nothing else (based on his track record). If you want to see a good Kinnaman crime movie, try Snabba Cash/Easy Money. (Aug. 17)

MOVIES I'LL NEVER HAVE INTEREST IN
Gotti
No more mobster/gangster movies, please please pleeeeeeeease. After Goodfellas it's been all downhill. That includes The Departed. And I know John Travolta was supposed to be great in The People vs. O.J. Simpson, but I'm waiting for his second career death knell to begin. (June 15)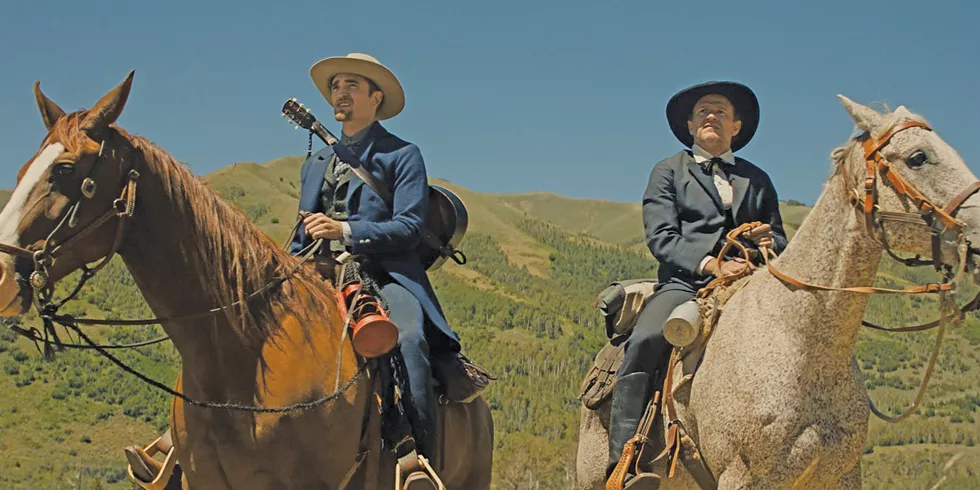 Magnolia Pictures
Damsel

MOVIES SHOT IN UTAH
Damsel
Those zany Zellner brothers pony up a wacky western, starring Robert Pattinson and Mia Wasikowska, neither of whom is known for wackiness. However, most of Pattinson's post-Twilight output has been solid and Wasikowska scored some yuks in Jim Jarmusch's Only Lovers Left Alive. This is probably worth seeing. (June 22)

NICK HORNBY ADAPTATION THAT WON'T BE AS GOOD AS THE BOOK, ASSUMING THE BOOK WAS GOOD IN THE FIRST PLACE
Juliet, Naked
You make one good Nick Hornby movie (High Fidelity) and then we have to suffer through three terrible Nick Hornby movies (About a Boy, Fever Pitch, A Long Way Down). Which will this be? With a cast including Rose Byrne, Ethan Hawke and Chris O'Dowd, it could be good. With subject matter that will undoubtedly focus on at least one man in a state of arrested development, it could be crap. (Aug. 17)
Well, that's everything I can squeeze into the word count, gang. If they invite me back in 2019, I promise I'll be cheerier. I'll just double up on the Wellbutrin. See you at the multiplex!