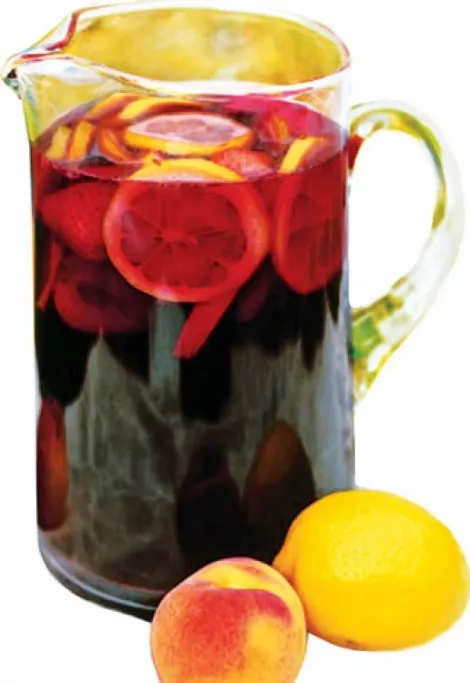 What is the best all-around beverage for festive summer get-togethers, barbecues, al fresco dining, picnics and such? We all have our personal favorites—beer, margaritas, gin and tonics, and so on. But when you take into account the food, heat, moods and varying individual tastes that make up summer celebrations, don't overlook the ultimate summer sipper: sangria.
Sangria is the quintessential quaffer for this time of year, an ingenious mixture of robust red wine, orange juice, orange liqueur, sugar, fresh fruit and club soda—all iced down for ultimate refreshment, flavor, versatility and festiveness. To best appreciate the beauty of sangria, consider this classic recipe, as taken from Penelope Casas's book, The Foods & Wines of Spain:
• 1 bottle (750 ml) of dry, full-bodied red wine
• 2 tablespoons orange juice
• 2 tablespoons orange liqueur such as Gran Torres, Grand Marnier or Cointreau
• 1 tablespoon sugar
• Orange and lemon slices
• Apple and/or peach wedges
• 1 cup club soda or sparkling water
• ice cubes
Mix all the ingredients except the club soda and ice cubes together in a large pitcher. Cover and refrigerate for several hours or overnight. Before serving, add the club soda and ice cubes. Serve very cold in balloon-shaped wineglasses or Spanish earthenware mugs.
The reason I love this classic recipe so much is the author leads into it by describing the beach-side restaurants of Spain, "… where one goes in bathing suit straight from a dip in the Mediterranean to eat paella and sip sangria." Is that summer or what? And, it should be mentioned that, just like Spanish culinary hallmarks gazpacho and paella, sangria must be made from scratch, allowing the fresh ingredients to mingle to achieve simple sangria brilliance.
Recipes for sangria, understandably, vary. A shot of brandy might replace liqueur, pineapple and mangos used for more exotic appeal, white wine as the base instead of red wine, etc. At its essence, though, sangria is made of a few basic ingredients: wine, fruit, sweetener (sugar, honey, simple syrup or fruit juice), spirits/liqueur, carbonation and ice. When you approach it this way, it is very easy to see how you can put your own spin on sangria at any or every turn.
When choosing wines for sangria, select red or white wines you would generally want to drink in warm weather, wines that are light, dry, and preferably with little oak influence. Keep the bottle price in the $10-or-lower range, too, since the subtle nuances in more expensive wines will be nullified by the other players in this brew.
Sangria is summer. With overt fruitiness, subtle power and refreshing qualities, it's versatile enough to enhance many flavors of the season—sweet corn, tomatoes, basil, grilled meats and fish, barbecue sauce and so on. Its ice-cold effervescence and festive taste beat the heat and fit the season like Sinatra's "The Summer Wind." And, experience has taught me that, for the eclectic patio crowd, sangria pleases wine drinkers, beer drinkers, non-wine drinkers, non-beer drinkers and soda-pop drinkers alike.
Another attraction of sangria is the ability to get some of the mixology done ahead of time. Along with your food prep, you can mix up a batch of sangria the day before—just don't add the club soda/sparkling water or ice yet. When serving time rolls around, add those last two ingredients to finish the sangria, pour yourself a glass, fire up the grill and wait for thirsty friends to arrive. Salud.
Gus Magann is a partner at Vine Lore, Inc. a Utah wine and spirits brokerage.