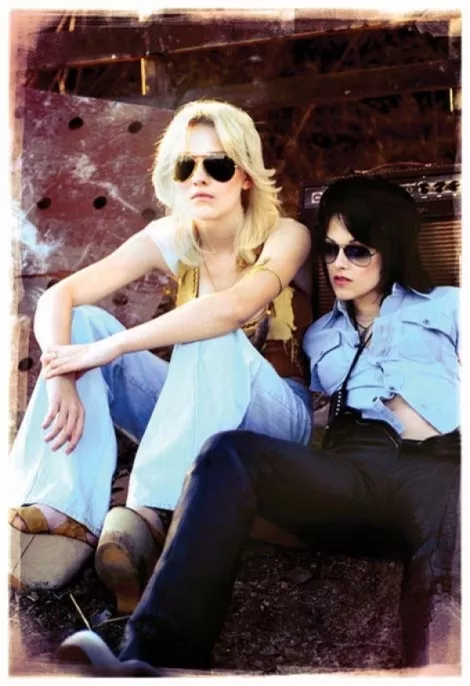 Sundance Film Festival
The Runaways
Scott Weinberg, a Philadelphia-based writer for Cinematical.com, found himself stranded in Phoenix on Thursday, Jan. 21, when a huge Pacific storm shut down the airport. He and a few other Sundance-bound souls rented a car, drove through the maelstrom and arrived in Park City somewhere around five in the morning on Friday. Then the blizzard continued for three more days. How much do you have to love movies to trudge through a week like this one?
As the films in the U.S. Dramatic Competition category—the centerpiece for potential discoveries—started to roll, it was easy to wonder if it were all worth it. One by one, the films inspired reactions ranging from disinterest to violent retching. The would-be comedy Douchebag followed a pair of estranged brothers on a road trip, and would have had to acquire at least another quarter-of-an-ass even to be half-assed. Welcome to the Rileys, with Kristen Stewart as a teen hooker who helps heal a grieving Midwestern couple, was as emotionally obvious as that summary suggests. Eric Mendelsohn's triptych of suburban Long Island tales, 3 Backyards, wasn't a favorite of many, though this writer found its short-story rhythms and elusive psychology fascinating. Only Winter's Bone (still unseen by City Weekly staff at press time) inspired universally rapturous response among critics; the rest of the competition slate seemed to be competing mostly for "Least Annoying."
Thank heaven for the documentaries, which again provided the brilliance so often missing from the fiction features. The festival's most jaw-droppingly surprising entry thus far has been Catfish, which is hard to describe without spoiling those surprises. Ariel Schulman and Henry Joost capture the story that begins when Ariel's brother Yaniv, a New York City photographer, strikes up an online friendship with 8-year-old Michigan girl Abby Pierce. Then Yaniv "meets" other members of Abby's family, including Abby's 19-year-old half-sister Megan, the cyber-relationships becoming tangled in a way that turns Catfish into something that's part detective story, and part piercing exploration of what gets people to turn to the virtual world for their relationships.
The complexities of the online world also anchored Life 2.0, about the virtual realm Second Life. In its profile of four individuals whose real lives are in some way changed by their Second Lives, it makes no obvious effort at portraying the activity "good" or "bad." It simply is, with all the messiness and contradictions of … well, life.
The U.S. Documentary Competition also offered several entries that dealt with hot-button topics in a way that transcended simple hot-button pushing. Tim Hetherington and Sebastian Junger's Restrepo followed an Army platoon on a 15-month deployment to the most dangerous part of Afghanistan; it's a brutally insightful study of men under fire who often seem more like boys. Fighting in Afghanistan is also the story behind The Tillman Story, in which director Amir Bar-Lev re-humanizes pro football player-turned-Army Ranger Pat Tillman after the debacle of his friendly-fire death being covered up to make him a recruiting tool. And there was an impressive fair-mindedness to 12th & Delaware, which looked inside two businesses—one an abortion clinic, the other a Catholic Church-owned Crisis Pregnancy Center—at the same Fort Pierce, Fla. Intersection.
Still, it's hard to get many people to pay attention to the documentaries when high-profile "buzz" premieres suck so much of the air from this already-thin-air mountain town. The hottest ticket was the biopic The Runaways, which cast Kristen Stewart as Joan Jett and Dakota Fanning as Cherie Currie in the story of the seminal all-teen-girl punk band; it brought tremendous energy to its concert footage, but not nearly as much to the dramatized conflicts. Crowds also rolled out for Ben Affleck and Tommy Lee Jones in The Company Men, which explored corporate downsizing with a curious combination of self-righteousness and the suggestion that being pink-slipped was actually a growing experience. And the high-concept thriller Buried—with Ryan Reynolds as an American civilian contractor in Iraq held hostage in a coffin beneath the earth—was effective until it started piling on the political allegory.
It was fortunate that a couple of the lower-profile comedy premieres—Nicole Holofcener's charming ensemble Please Give, and Cyrus, with John C. Reilly as a guy whose new girlfriend (Marisa Tomei) has a far too attached son (Jonah Hill)— provided some spark. You need a few laughs to keep you hiking through thigh-high snowdrifts, waiting for a movie to love.

Ongoing coverage of the Sundance Film Festival