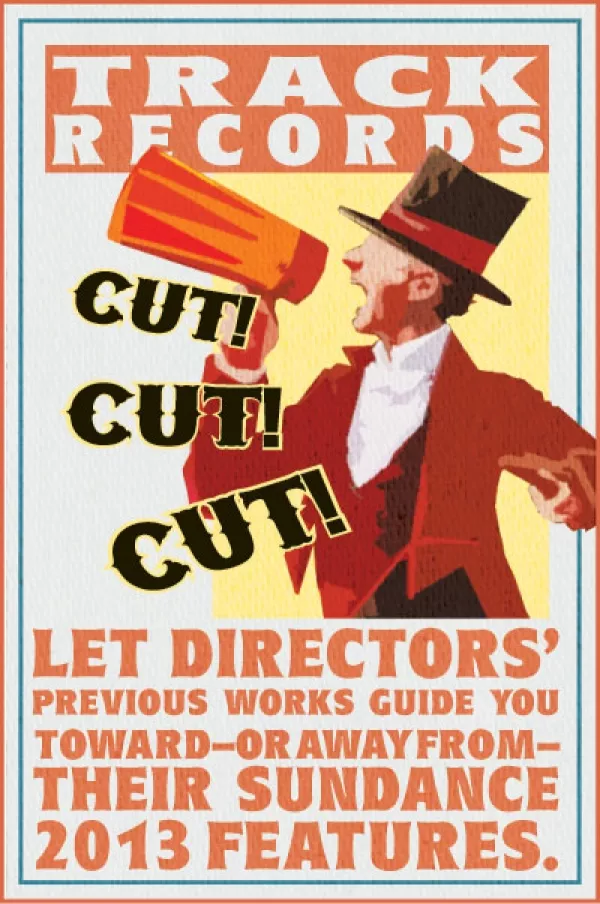 You might not think you've seen too many movies by directors in the 2013 Sundance Film Festival lineup—but chances are good that you actually have. Here's a look at some of the filmmakers whose work you may have seen, just as an entry point into what you might expect.
Big Sur (Premieres)


Director: Michael Polish
Track Record: Polish's films have appeared at Sundance in years past (Twin Falls Idaho, Northfork), as well as on multiplex screens (The Astronaut Farmer).
What You Might Expect: An oddball sensibility often addressing outcasts with a deliberate (read: sloooow) pace.
Breathe In (Premieres)

Director: Drake Doremus
Track Record: Sundance showed two of Doremus' previous features, Douchebag (2010) and Like Crazy (2011).
What You Might Expect: Intense character study of friends and lovers trying to negotiate their tangled love-hate feelings for one another.
Citizen Koch (U.S. Documentary)

Directors: Tia Lessin & Carl Deal
Track Record: Lessin and Deal co-directed the 2008 Sundance documentary Trouble the Water about survivors in post-Katrina Louisiana, and have been longtime producers for Michael Moore.
What You Might Expect: Well-constructed, character-based documentary filmmaking, with a pretty direct political point.
The East (Premieres)


Director: Zal Batmanglij
Track Record: Batmanglij collaborated with screenwriter/actress Brit Marling on the 2011 Sundance feature (theatrically released in 2012) Sound of My Voice.
What You Might Expect: Psychologically dense character piece with a touch of the fantastical; like Sound of My Voice, this one looks to be about understanding cult-like mentality.
The Look of Love (Premieres)

Director: Michael Winterbottom
Track Record: A 20-year filmmaking career ranging from thrillers to documentary to drama, including several previous collaborations with actor Steve Coogan (24 Hour Party People, Tristram Shandy: A Cock & Bull Story, The Trip).
What You Might Expect: An experienced hand wise enough to let Coogan's performance carry the film.
The Rambler (Midnight)

Director: Calvin Reeder
Track Record: Reeder's previous feature, the dark drama The Oregonian, showed at Sundance in 2011, where the reception was … less than rapturous. As in "lots of walk-outs."
What You Might Expect: Attempts at a David Lynch-ian mix of surreal humor and genuine terror, with a lot of experimental use of both sound and editing.
Stoker (Premieres)

Director: Chan-wook Park
Track Record: Several tales of at-times-graphic horror, whether supernatural (Thirst) or based squarely in the brutal real world (Oldboy, Lady Vengeance).
What You Might Expect: Park's first English-language feature may have a cast of stars like Nicole Kidman and Mia Wasikowska, but it's hard to believe his dark-edged sensibility won't emerge somewhere.
Touchy Feely (U.S. Dramatic)

Director: Lynn Shelton
Track Record: The hilarious Humpday was one of the best films in the 2009 Sundance U.S. Dramatic Competition; Your Sister's Sister was featured at Sundance in 2012.
What You Might Expect: Perceptive relationship comedy with a decidedly "adult" approach that stays genuine and avoids cutesy indie-film pitfalls.
Upstream Color (U.S. Dramatic)

Director: Shane Carruth
Track Record: Only one previous film, but it's a doozy: His 2004 time-travel suspense-drama Primer was an amazing discovery at that year's Sundance.
What You Might Expect: Something steeped in a respect for hard science, yet genuinely mind-bending in the way it deals with how people respond to radical shifts in their sense of reality.
We Steal Secrets: The Story of WikiLeaks (Documentary Premieres)

Director: Alex Gibney
Track Record: More than a decade of intriguing documentaries, ranging from politically charged Sundance films like Taxi to the Dark Side and Casino Jack & the United States of Money to the ESPN Chicago Cubs/Steve Bartman profile Catching Hell.
What You Might Expect: Terrific sense of editing rhythm that turns "talking heads" into characters and can make complex issues understandable for lay-viewers.
Also in Sundance Film Festival 2013 Guide:
Finding your Level: How to find your kind of films

By the Book: What to expect from films based on source material
Music Makers: Who's playing Sundance this year