You've seen Sundance film-festival guides before—the ones that tell you where to go, what to see, how to get from Point A to Point B, etc. And they could be useful—assuming that Sundance is a "one-size-fits-all" event.
But it's not. There are many ways to Sundance, especially for locals. City Weekly's contributors want their decades of combined festival experience to help potential attendees customize their experience. Interested in heading to Park City just to star-watch? We can hook you up. Are you the true movie buff who wants to see as many movies in Park City as possible? Problem solved. Would you prefer to avoid the mountain altogether and stick to the Salt Lake City screenings? We're here for you.
Sundance Survival Guide
The Movie Buff Manual
The People Watching Manual
Park City in 1 Day Manual
Sundance in SLC Manual
The Movie Buff Manual
Knowing when and how to get Sundance tickets is only half the battle.

By Jeremy Matthews

If Sundance is a film festival, then it's probably a good idea to see some films. It's possible for the ambitious to see five, six or even seven films a day, so long as burnout isn't an issue. The following tips will help you see as many as you can stomach. While these guidelines are handy, prepare for the full spectrum of experiences, from bitter disappointments to pleasant surprises.
Fast ways to get your Sundance tickets
The junkie searching for a five-film day is at a distinct wait-list disadvantage compared to those willing to camp out at a theater 12 hours before a movie starts, so actual tickets are the best bet. Most screenings may be officially sold-out, but each morning at 8 a.m.., Sundance releases extra tickets for that day, as well as for the next morning's earliest timeslots. It's a bit of a chore to wake up early— some sleep at the box office, others show up an hour early—but once tickets are in hand, you can head to theaters without the waitlister's endless apprehension. Go to the Park City Box Office at Gateway Mall (136 Heber Ave.) or the Salt Lake City Box Office at Trolley Square (552 S. 700 East). Given that out-of-towners are lodged up the mountain, Salt Lakers may find shorter lines if they hit Trolley Square. More info on Sundance tickets.

If your show is sold out and no kindly passerby offers you a free ticket, then your last resort is the fabled—and unpredictable—wait list. If you happen to be near a theater where a film is about to start, you could stroll over to the box office and see if there's room. It happens (to non-buzz movies). On the other hand, you could waste three hours of your day, only to be turned away from a full theater.
Two hours before a screening starts, box-office workers hand out numbers marking your place in line. You must then return earlier than 30 minutes before the screening to line back up, in order; if you return late, they'll send you to the back of the line. Cash is required, so have $15 ready, exact change if possible. While no-show ticket-holders are helpful, success really depends on the number of pass-holder attendees.
You'll be better off trying for a documentary at the Library rather than the small Holiday Village, where Express Pass holders can fill a theater. And though the Eccles seats nearly eight times as many people as the Holiday Village, if a big star is premiering a film, don't count on empty seats. Early morning and late-night films are typically easier to get into, but there are more Express Passes dedicated specifically to those time frames, so if you're waitlisting a must-see midnight movie, you may still be out of luck.
Get around: Park City transportation
If a publication wants to lose the faith of readers, it need only offer definitive transportation times between Sundance theaters. You might narrowly miss your bus, only to be picked up by another three minutes later. Or you could stand in a puddle of slush for half an hour without a single bus passing.
Be realistic when planning your schedule. If you have less than an hour between screenings and the theaters aren't next door, you're taking a risk. Even if you have a ticket, remember that you must arrive 15 minutes before showtime to ensure admission. Consider inevitable delays at the movie you´re currently seeing—10 minutes for the traditional late start and introduction, 15 minutes if you want to stay for the Q&A.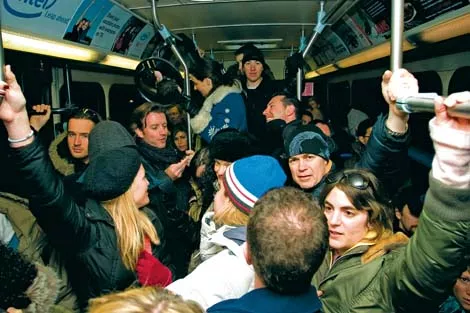 Bus it
Park City's free buses can be useful, but keep in mind that they're designed to service skiing tourists, and often make detours into resort areas. When you hop on the bus and ask the driver if he's going to the Library, also ask how directly he's going.
Don´t even think about driving

Driving is out. You may find a legal parking space, but you'll more likely end up speeding from lot to lot, watching the start-time of your movie tick by. Park in one of the sanctioned Sundance lots in the morning and leave the car there until nightfall. Sundance shuttles may feel like an eternity when you ride them, but at least they drop you off at the theater.
Know your map
Study the route map early, so if two buses are about to leave when you arrive at a stop, you'll know which one to hop on. Don't be afraid to ask the volunteer at the stop if the bus for a certain route departed recently, or if one is expected soon. Avoid shuttle routes that go to the out-of-the-way Redstone Theater or the traffic death-trap known as Main Street en route to your destination. Traffic gridlock around some Park City venues is not uncommon—which means even your shuttle bus might get stuck. Traffic is at its worst in the late afternoon and early evening, so allow extra time.
Do´s and don´ts of eating fast and on the cheap
As if it isn't enough to worry about whether you can sprint or shuttle yourself to the next theater before your screening starts, your body operates under the wacky notion that it needs nourishment. Add Park City's collection of expensive sit-down restaurants with hour-long lines, and trouble is afoot. Luckily, there are some speedy eating options.
Prospector Square/Eccles/Racquet Club: There are a couple major catches to buying food at the Eccles Theatre concessions. First, the price gouging is so obscene that you don't care if proceeds benefit a high school program. Second, you can't bring your food or drink into the auditorium, and the Sundance staff won't let you into the lobby until they're ready to let people in the theater, giving you little time to eat. You'd do better to cross Kearns Boulevard and enjoy the Prospector Square area, which has more quick-food options than any other part of town.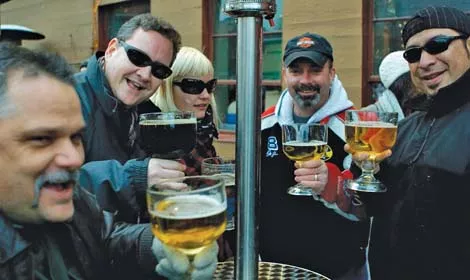 If you walk to the strip mall at 1890 Bonanza Drive, at the intersection of Bonanza and Prospector, you'll find an oasis of fast-dining options. The popular
El Chubasco
serves up efficient, tasty Mexican food. If you can't guess
Souperman's
specialty then you probably suck at spelling, or at least don't grasp puns.
Nick-N-Willy's Pizza
is a take-and-bake franchise, but they also make personal pizzas to order. It takes about 10 minutes, so it isn't the speediest pizza in town, but it's guaranteed fresh. And
Einstein Bros Bagels
is always handy for coffee and a snack. Beyond bagels, it has sandwiches, salads and soup. Across Prospector,
Taco Maker/ Jake's Over the Top
(1640 Bonanza Drive) offers Mexican and American fast-food, plus milkshakes if the weather's too warm for you. If you prefer your fast food with weight-losing spokespeople, there's a small
Subway
(1650 Bonanza Drive) nestled beside the nearby condo complex. The Lot G shuttle stop is the closest option for all these restaurants.
Holiday Village, Yarrow and before you shuttle to the Temple: Don't underestimate the power of a grocery store. Fresh Market (1800 Park Ave.)—formerly Albertsons—is a wondrous thing during the film festival. Remember fruit? You can get some here, along with pastries, sandwiches, salads, donuts, snack foods and a variety of beverages.
Between the Holiday Village and Fresh Market, you'll find Sushi Maru (1776 Park Ave.). It's a sitdown place and a tad pricey, but it doesn't take too long to get your order rolled. The sushi here is well-regarded, and the interior much more charming than you'd expect from the strip-mall facade. (Sundance veterans, take note: Atlantis Pizza, next door to Maru, has closed.) If flamebroiled beef served fast is your preference, there's always a Burger King farther down the parking lot (1720 Park Ave.).
Library and Main Street: Park City's charming Main Street is loaded with restaurants, but, unfortunately, they're swarming with stars, big shots and gawkers. Even grabbing a coffee and croissant at Java Cow (402 Main). can turn into a half-hour ordeal when the crowds are heavy. The fastest place I've found is Red Banjo Pizza (322 Main St.), which offers relatively quick pizza by the slice to go. It doesn't take too long to sit down for a pizza, sandwich, salad or pasta dish, either.
You may find faster food en route from the library to Main Street on Park Avenue. Davanza's (690 Park Ave.) serves pizza by the slice, burgers and fries, sandwiches and subs and tacos.
Sundance Survival Guide
The Movie Buff Manual
The People Watching Manual
Park City in 1 Day Manual
Sundance in SLC Manual