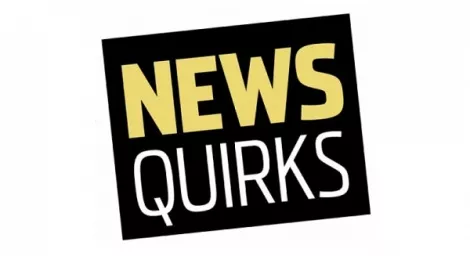 Curses, Foiled Again
After three men stole a coin collection worth several thousand dollars from a home in Corbett, Ore., they redeemed the coins in a Coinstar coin-counting machine for about $450, according to Multnomah County sheriff's deputies. The machine rejected about 500 silver quarters, which the suspects cashed in at a bank for face value. "The obvious answer," victim Dan Johnson Sr. said, is "that the crooks were idiots." Deputies identified one of the suspects as Johnson's son, Dan Johnson Jr. (Portland's KPTV-TV)
• After Tina Cafarelli, 36, used a stolen welfare benefits card to buy $64 worth of soda at a supermarket in Lynn, Mass., police Officer Craig Fountain, watching her on loss-prevention video, said she immediately inserted the 216 cans into the store's digital can-return machine without first emptying them, expecting a $10.80 deposit refund. Instead, according to manager Kevin Wilson, the full cans caused "well over $250" damage to the machine. (Lynn's The Daily Item)
Supply-Side Economics
The Environmental Protection Agency is penalizing the companies that supply motor fuel about $6.8 million for failing to comply with the 2007 Energy Independence and Security Act, which requires them to blend 6.6 million gallons of cellulosic biofuel into their gasoline and diesel. The companies were unable to meet the requirement because the specified additive is unavailable commercially. (The New York Times).
• Hoping to generate new interest in the Powerball lottery game, officials announced starting jackpots would double from $20 million to $40 million. Officials added that the price of Powerball tickets would double from $1 to $2. (Chattanooga, Tenn.'s WRCB-TV)
• As part of the Obama administration's "Campaign to Cut Waste," the U.S. Mint all but halted production of $1 coins bearing the likeness of dead presidents, even though the Presidential $1 Coin Act of 2005 requires the Mint to issue four new coins a year through 2016. A few coins will still be minted for collectors, but the cutback will save $50 million a year in production and storage costs, according to officials, who said lack of demand led to nearly 40 percent of coins already minted being returned to the Federal Reserve. "The call for Chester A. Arthur coins is not there," Vice President Joseph R. Biden said. (The Washington Post)
When Guns Are Outlawed
Fred Parker, 41, walked into a gambling parlor in Sharon, Pa., began touching the walls and gambling machines, then announced he has MRSA, a serious staph infection that resists antibiotics. Police said Parker threatened to infect the cashier unless he gave Parker money. When the cashier refused, Parker left empty-handed but was arrested a short time later. "It's our first case of robbery by threat of infectious disease," police Chief Mike Menster noted. (Sharon's The Herald)
Reasonable Explanation
Police investigating reports of a man handcuffed inside a car outside a drugstore in Uniontown, Pa., found Stephen M. Carr, 28, "wearing makeup, female eyeglasses, a female shirt, female pants, stockings and high heels" A chain around his neck was secured with a lock and led behind the driver's seat, where it was attached to Carr's ankles with handcuffs. Officers said Carr told them "he came to Walgreens to get his wife a drink, and being dressed like a woman is hard to just walk into the store. So he chained up/restrained himself to build himself up to going into the store dressed like a woman to get his wife a drink." (Pittsburgh Tribune-Review)
Claim Game
A federal judge in New York City ordered the maker of Fresh Step cat litter to stop showing a television commercial that makes "insufficiently reliable" claims about the product's ability to handle smells. Judge Jed S. Rakoff called the comparison tests depicted in the ads insufficiently true to the real-life habits of cats. (The New York Times)
• The Atlanta-based fast-food chain Chick-fil-A demanded that Vermont folk artist Bo Muller-Moore, 38, stop using the slogan "eat more kale" on bumper stickers and T-shirts to promote local agriculture because it comes too close to the company's slogan, "eat mor chikin." A letter from a Chick-fil-A lawyer said Muller-Moore's message "is likely to cause confusion of the public and dilutes the distinctiveness of Chick-fil-A's intellectual property and diminishes its value." Muller-Moore's lawyer, Daniel Richardson disagreed, observing, "I don't think anyone will step forward and say they bought an 'eat more kale' shirt thinking it was a Chick-fil-A product." (Associated Press)
Problem Solved
Hoping to discourage commuters from riding on top of trains, Indonesian authorities began suspending rows of grapefruit-sized concrete balls to rake over the roofs of trains as they pull out of stations or go through rail crossings. Hosing down scofflaws with red paint, threatening them with dogs and asking religious leaders for help have failed to discourage roof riders, who risk danger—dozens are killed or injured each year—to escape overcrowded railway cars, avoid paying for a ticket or experience the thrill. "We've tried just about everything, even putting rolls of barbed wire on the roof, but nothing seems to work," Mateta Rizahulhaq, an official of the state-owned railway company PT Kereta Api, said. "Maybe this will do it." As for concerns that the balls could seriously hurt or even kill the roof riders, he insisted that wasn't his problem, noting, "They don't have to sit on top." (Associated Press)
911 Follies
Police arrested Joan Mayo in St. Cloud, Fla., after she called 911 six times but wouldn't say why. She screamed obscenities at dispatchers and berated them, declaring the nature of her emergency was "none of your business. Just send me a sergeant." When responding officers warned her not to abuse the emergency number, she told them she had no regard for the 911 system and would call whenever she wanted to. Neighbor Lillian Morales explained, "She just wanted cigarettes." (Orlando's WFTV-TV)
• Police arrested John R. Pacella, 38, in Willowbrook, Ill., after they said he called 911and announced he "wanted to see an officer because he wanted to fight with them." (Chicago Tribune)
Cheap Dates
Police arrested Khadijah Baseer after they said she opened customers' car doors at a McDonald's drive-through in Burbank, Calif., and offered to have sex in exchange for chicken McNuggets. (The Burbank Leader)
• Robert Edward De Shields received a 10-year prison sentence and must register as a sex offender after he was convicted of sexually assaulting an 8-month-old chihuahua at a home in Sacramento, Calif. (Los Angeles Times)
Compiled from the press reports by Roland Sweet. Authentication on demand.