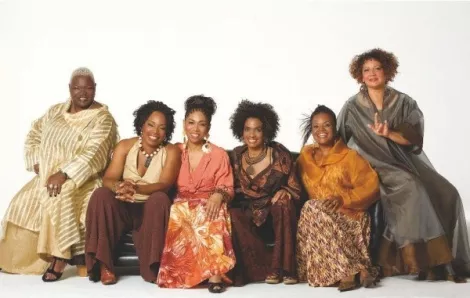 Thursday 2.26 SWEET HONEY IN THE ROCK
Since forming in the early '70s,
Sweet Honey in the Rock
has evolved into not simply a female a cappella ensemble but a veritable institution proudly associated with the civil-rights movement and oral tradition, passing down to future generations powerful songs and ancestral pride. The group, whose membership has collectively included 30-plus members, is currently touring with featured vocalists Ysaye Maria Barnwell, Nitanju Bolade Casel, Aisha Kahlil, Carol Maillard, Louise Robinson and Shirley Childress Saxton. Sweet Honey's Salt Lake City appearance follows a trip to the Grammys for their Best Children's Album nomination and coincides with an assignment to compose new material for Alvin Ailey American Dance Theater's 50th anniversary. Even those who've witnessed the group live won't want to miss tonight's performance since the artists "don't really sing the same way twice."
Kingsbury Hall, 1375 E. Presidents Circle, University of Utah, 7:30 p.m. All-ages. Tickets: 581-7100



Friday 2.27

MC HAMMER, VANILLA ICE
In a hard-hitting 1991 interview, former talk show host Arsenio "Whoop Whoop Whoop" Hall engaged rapper Vanilla Ice in a tense dialogue about race relations in the hip-hop world. After defending his decision to bring out "homie" Flava Flav, Ice refuted his alleged beef with MC Hammer: "I have nothing bad to say about him. As far as I'm concerned, we're still good friends," adding that "there's enough to go around for everybody." Eighteen years later, Ice is walking the talk and teaming up with Hammer who is also apparently "in it to win it." Think that's weird? Hold onto your hat because this special concert/ old-school dance party is a one-time event! That's right. The Hammer Pants & Ice Tour starts and ends in Utah. I know! So bizarre. Utah-bred, Los Angeles-based electro-rockers Love You Long Time will open the festivities with a neon bang.
McKay Events Center, 800 W. University Parkway, Orem, 8 p.m. All-ages. Tickets: SmithsTix.com
JESSICA LEA MAYFIELD
In Steely Dan's "Hey 19," the singer laments that his love interest is so young, she's never heard of Aretha Franklin. Thirty years later, female teenagers like Adele are proving that they're not just familiar with the queen of soul—they're gunning for her title. Like the recent Grammy Award-winning British singer, Jessica Lea Mayfield released her debut album With Blasphemy, So Heartfelt at the age of 19, winning widespread critical acclaim and establishing herself as an artist to watch for decades to come. Both Adele and Mayfield are wise beyond their years and penned much of their respective albums on the heels of painful breakups, but where Adele's 19 is sweeping and orchestral, With Blasphemy is dark, stark and understated. Producer Dan Auerbach (The Black Keys) contributed guitar, keys and drums to the slightly gothic-sounding folk, blues and country record—returning the favor Mayfield paid by singing on the Keys' Attack & Release. Mayfield performs tonight with the Annuals to whom Band of Annuals owe their revised name. Kilby Court, 741 S. 330 West, 7:30 p.m. All-ages
Saturday 2.28
TWO DOLLAR BASH
Two Dollar Bash are expert overseas storytellers whose Scottish and French lineage folds its way ever so slightly into their North American folk, acoustic rock and blues songs—tunes suitable for campfire sing-along or having shots of whiskey at the neighborhood bar. Tonight, the neighborhood is a little slice of State Street where Irish music often rules. Two Dollar Bash swings through town in support of their third full-length release, Lost River, which features the quartet's three and four part harmonies in peak condition. Those drawn to a good yarn will especially appreciate the band's lyrics, which strike all the right high and low emotional chords. Piper Down, 1492 S. State, 10 p.m.

Tuesday 3.3
MURDER BY DEATH
Murder by Death are not, as their name otherwise suggests, a hardcore/grindcore/post-core or any other "core" branch off the metal family tree. They probably get that all the time, but that's what happens when you adopt such a grisly moniker. Hopefully those who stumble upon the Bloomington, Ind., band stay long enough to fall in love with their Americana sound—one that offers the kind of dark, gothic underbelly metal fans might appreciate. Adam Turla's seething baritone and Sarah Balliet's nimble cello fuel tie together Red of Tooth & Claw (Vagrant Records) with passion and grit—it's truly killer. Bar Deluxe, 666 S. State, 10 p.m.

Coming Up
Jaguares (The Depot, March 5); Crown City Rockers (Urban Lounge, March 6); The Game (Great Saltair, March 6); DJ Crooked (Harry O's, March 7); Young Dubliners (The Depot, March 7); Donavon Frankenreiter (The Depot, March 9); Laura Gibson, Blind Pilot (Urban Lounge, March 9); Iration (Burt's Tiki Lounge, March 10); And You Will Know Us By the Trail of Dead (Urban Lounge, March 10)