Women getting conned out of their money by men may be an age-old story, but today's cyber-dating and night-club jungle create only more cover for modern scalawags, as women search for soul mates in a realm where it's commonplace to embellish and lie outright.
Not long after she ran for Salt Lake City Council in 2009, Jennifer Johnson, a marketing professional and divorced mother of two sons, found herself scrambling to recover $16,000 from a man she met and dated through Match.com. She felt forced to sell her Avenues home and still hopes to recover her losses by protesting her ex-boyfriend's bankruptcy, filed after their relationship ended.
Laura Lee (not her real name) met Dale Clark Lloyd in a bar. "I met him through a friend, then kept running into him and finally decided to go out with him." She describes him as a show-stopper—an attractive, charismatic man who claimed to have been affiliated with the NBA and college football. He said his credit rating was 800, and he dropped names such as Warren Buffet. From the outside, his life looked opulent. But he left her in a financial hole so deep it took three years to climb out.
Kathy Reavis met Nicholas E. Ashton on dating site PlentyOfFish.com. "He had a sexy British accent, a great sense of humor and seemed honest and trustworthy. We wrote for a month and our phone calls were really good. I was three-fourths in love with him before we met in person." She later considered herself lucky to have lost only a cool thousand bucks to him.
Liz Hale, a clinical psychologist and marriage and family therapist, says that dating isn't for the faint of heart. "It's a risky business that can be worth the risk. There are good and bad people everywhere, and anyone can be anything on a 'meeting site' such as Match.com," she says. "We all have high hopes and fantasies of wanting someone to be more than they are. Our fantasies can blind us a bit. Often there will be yellow or red flags, but [people] hang on to this dream or fantasy so that we don't see the discrepancies."

Truth or Consequences
In October 2009, Jennifer Johnson read the profile of "Mr. X" on Match.com, thinking it was among the best she'd seen. He later e-mailed a résumé to Johnson. Between online conversations, his Match.com profile and his résumé, Mr. X claimed to operate a business listed on the Inc magazine annual list of 500 fastest-growing companies, have a Ph.D. in environmental science and have written five books, as well as a New Yorker article. He described himself as a world-class rock and ice climber who led Himalayan tours. "He presented himself as someone who earned $150,000 a year, an international traveler who would invite a woman along on trips. I fell in love with the writing, worldview, accomplishments, quirkiness and passion," Johnson recalls. She also saw "traces of an older Hugh Jackman" in Mr. X's profile photo.
A mutual acquaintance said Mr. X has a way of initially being charismatic before almost inevitably "offending the high-flying stars."
Johnson herself might be described as a high-flying star. In 2001, she was featured on The History Channel and NPR's national news for her pioneering efforts with a virtual marketing business, Johnson & Company. The same year, she was also recognized by the Salt Lake Chamber of Commerce for "best small business." A kitchen she co-designed won General Electric's international kitchen competition in 2007. As a Salt Lake City Council candidate in 2009, "I appeared to be enough of a threat that [Salt Lake City] Mayor Ralph Becker himself knocked on doors against me to sway supporters toward his chosen candidate, Stan Penfold." Today, she wonders if her campaign "may have created what I consider to be the worst situation of my life—my involvement with [Mr. X]. He said he was mesmerized by my campaign and spent hours reading [about] it."
Johnson did catch him in a lie early on, but let it slide. He claimed to have appeared on the TV quiz show Truth or Consequences. "I told his mother I would love to see that," says Johnson. She recalls his mother's sour look as she said, 'That's not true. That's a lie.' I figured that maybe he had a case of some hyperbole."
On a dinner date at The Tin Angel Café, Johnson remembers, Mr. X's credit card didn't work. It happened again on Valentine's Day at Al Forno's, she says. She paid for both meals. At a dinner with friends during the Sundance Film Festival, near the time to pay, "he left the table and started looking around the restaurant. He returned to ask, 'Did they pay?' " Johnson told him she'd paid their half of the bill.
In December 2009, Mr. X confided that he had a lot of debt. He said he intended to pay it all back. "To be honest, I felt I really shouldn't not care about someone just because he was not in a good economic situation," says Johnson, who helped try to organize his finances. Shortly thereafter, he had a business opportunity in Colombia. "It would be a way for him to make money and for me to make money working with him. He needed money to get there." Johnson paid for his plane ticket and some hotel expenses. She worked for him for a month. Then he told her he didn't turn in his report on time. The outsourcing company he contracted with was concerned. Johnson loaned him money—then more money—with the understanding that he would soon repay her. She funded business expenses, paid personal bills and advanced him cash.
Johnson says Mr. X promised to pay with one source, then another. "Payment never came," she says. "There were creative excuses where he blamed the company, saying he had the wrong routing number." Johnson finally called the company herself. "I wasn't totally suspicious of him. I tried to help, thinking he was not being aggressive enough." She pauses. "They told me they already paid him a month earlier."
Johnson didn't want to believe he had lied to her. "Then he told me the money had been confiscated by Zions Bank. It was a sick confirmation of what I already knew to be true. By then, he owed me $16,000. I needed to do anything I could to get the money back," she says. She'd missed two mortgage and car payments and needed to pay business expenses and insurance payments. She sold her Avenues home. "He'd invited me and my children to go live with him. I thought that if it might help me get my money back, I would do that."
In June 2010, Johnson moved to Mr. X's upscale Summit Park home. One week later, the relationship blew up. Johnson claims that after cooking a spaghetti dinner, she washed and put away the dishes. As she walked downstairs to play a game with her son, she says he grabbed her arm and told her, "We are not going to live like this," referring to a messy kitchen.
Looking back at the kitchen she'd just cleaned, Johnson picked up a drink cup. She said, "There is a reason why you are alone." She said his response was: "There is a reason why you are fat."
Johnson said she splashed her son's grape soda on him and that he punched her in the face. "He tried to punch me again but missed, and I pinned him to the ground. He tried to bite my wrist. I grabbed a beer bottle and—like in a movie—I was tempted to crack it against his head. He was saying, 'go ahead, go ahead.' " She felt he "drew and baited" the argument. Both called police.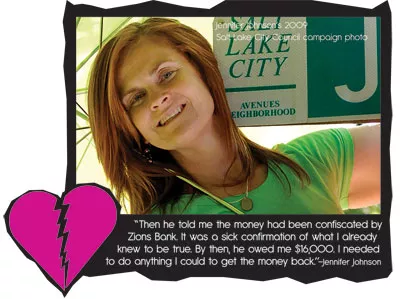 In a June 22, 2010, Summit County Sheriff incident report, Mr. X says Johnson actually did strike him with the beer bottle on the side of the head, describing the hit as "a graze off his head that left no marks." The investigating officer wrote that he found no signs of injury to either party.
"It was horrible," Johnson says. "They said there was not enough evidence on either side and told us to leave his house that night." She and her two sons left without all of their belongings. "Our bicycles were still there and some of our clothing." Johnson and her children lived at the Little America hotel for a month until she found her next house. Then she and Mr. X "experimentally began seeing each other again." He offered to re-roof her house as partial repayment. "He started work on the project, but then quit right away," she recalls. He also challenged her on "minor aspects of the reality that he still owed me the money."
Johnson said they both agreed a third party, Roger Anderson—a gardener who worked for Johnson—could mediate for them to discuss the money he owed her. "I met with [Mr. X]," Anderson recalls. "He admitted that he owed Jennifer money for the trip to South America and for some labor. I could never get a figure from him. I think that by the time we met for the mediation meeting, he had already filed for bankruptcy."
Johnson, representing herself, filed a complaint in Mr. X's bankruptcy seeking not to have his debt to her discharged. "By delaying and wanting to work things out with him, I lost my rights to take him to small claims court," Johnson says.
In December 2010, Mr. X's debts were discharged by the bankruptcy court, but Johnson's complaint challenging the dischargability of his debt to her is still pending.
Today, Johnson feels guilt over losing money that she feels belonged to her children. "When he put me and my family in jeopardy, he crossed the line. He said he would never do anything to hurt me or my family, but that is exactly what he did."
Mr. X would not return numerous calls from City Weekly to respond to this story. His attorney sent an e-mail to City Weekly, saying, "[Mr. X] is not a public figure. The dispute between Ms. Johnson and [Mr. X] is a matter between two private figures and is not a legitimate public concern. [Mr. X] believes that the validity of Ms. Johnson's claims should be decided by a court of law and not by the media."
Keith Woodwell, director of the Utah Division of Securities, considers stories like Johnson's a classic case of investment fraud, which occurs when a person invests money in someone else's business with the expectation of generating a return. "In such 'affinity fraud' cases, a great opportunity is pitched to someone, usually someone the con man knows. In a handful of cases, a romantic relationship is struck up." Woodwell adds, "You are far more likely to be swindled by someone you know and trust than by a stranger calling to pitch to you."
Woodwell says such frauds are very common in Utah, with about 4,000 victims and $1.4 billion in losses currently being investigated or prosecuted. "Using the people that already trust you through a social group—friends and family or a religious congregation—is a way of marketing your scam," he says.

"I'll Pay You Back, Babe"
Despite having met at a bar where a friend had introduced them, Laura Lee believed she had met a squared-away businessman. As she began dating Dale Clark Lloyd in May 2007, she thought he owned a nice house in Draper and two paid-off cars. When they dined at Ruth's Chris Steak House, he paid in cash. Their restaurant meals were often accompanied by a $200 bottle of wine. After six months, he begged her to move into his home.
Today, Lee feels that his deception arose from his wanting to live a high-end lifestyle that he was no longer able to have because of other extenuating circumstances that also involved deception.
In Lee's opinion, he played on the fact that she had a psychology degree to craft stories that would invoke her empathy. He talked about how his parents abused him to induce her compassion. She isn't sure whether he had a job. "I dropped him off at work a couple of times, but usually, he dropped me off and took my car. Within six months, he put 20,000 miles on my car. Where it was driven, I don't know."
Laura Lee was debt-free when she met him. In criminal complaints and civil lawsuits that Lee later filed against Lloyd, she says that he convinced her to sell her paid-off car and give him the money for a REIT, a real-estate investment trust related to a development company he owned in Texas that built shopping malls. He claimed her $10,000 investment would be worth $60,000 in two years. "When he put the money into his investment account, he put it under his name rather than mine, because he supposedly had more clout in the investment world." She also says he convinced her to buy another car with a $70,000 price tag, telling her she could sell it in a year and get back the money she was saving for law school. "He said that debt gets you up in the morning."
Like Johnson, Lee found herself paying for expensive dinners. "If I said I didn't want to pay for that, that we should stay home and save money, he would say, 'I'll pay you back, Babe.' " She claims she loaned him $2,000 to retrieve an unspecified item from a pawnshop. Today, she feels he targeted her because they met in a bar, and he didn't think she would investigate his background.
But Lee's feelings that things weren't right grew stronger as their relationship grew more tumultuous. Multiple court documents filed against Lloyd in both civil and criminal actions indicate he never provided her a prospectus on the investment. She says she asked him three times for a prospectus on an investment. "He would say, 'I didn't pick it up today' or 'It's a two-year investment, you knew that going in,' " she recalls. "Eventually, I stopped asking, because I knew intuitively that my money was gone." She recalls him saying when they met that he was clean after previously using drugs. As their relationship began to unravel, she heard him say he was using again. She moved into his home in November 2007 and moved out in January 2008. "He kicked me out after my significant savings were almost gone."
Lee says he claimed to be 43. Researching his background, she discovered he was actually 48 and had been married three times before, rather than once as he claimed. She found that he was four months behind in his mortgage payments. Court documents confirm that she had moved into a home scheduled for foreclosure.
Because he'd written a contract for the investment, Lee sued him civilly for breach of contract and obtained a judgment against him, then turned him in to the Utah Division of Securities. Their investigations showed that he had a prior bankruptcy in 2005.
Despite numerous attempts to locate Lloyd, he could not be contacted for this story. City Weekly was able to contact one of Lloyd's attorneys. He offered to pass along a request to be interviewed for this story. Lloyd did not contact the paper.
Both court documents and Woodwell confirm that the man Lee lived with, Dale Lloyd, pleaded guilty to a second-degree felony of communications fraud in December 2010. He received a plea in abeyance and is required to pay Lee $10,000 in restitution, in $300 monthly increments, to the Utah Attorney General's Office. As of press time, Lloyd was current with his payments.
"It took me three years to climb out of the hole I was in. I borrowed $20,000 from my parents," she says. "Today, I don't ever tell anybody how much money I have—even if I just have $5 in my purse."

A Broke Bloke
After meeting Nick Ashton on PlentyOfFish.com in January 2008, Kathy Reavis was immediately sucked in by his British accent. Online, he showed her a U.K. glass-coverings firm that his brother owned, saying he took care of the U.S. market. Ashton stood her up on the first date, but then called to apologize profusely, saying he'd been in a car accident. "We dated for a year. He was intelligent, witty and charming. He was always standing me up, but always had reasons." She broke up with him over the "standing up" issue, then reconsidered. "This guy is a successful, busy businessman. Do I want my pride to stand in the way of a relationship I care about?" she asked herself.
Reavis says that Ashton claimed to be recovering financially following a divorce. "He said he was trying to get everything settled so that we could be together permanently," Reavis says.
Reavis says she first loaned Ashton money in March 2008 when he said he forgot his wallet. "The first time it was $60 for gas so he could get to work. Later, he said he was an identity-theft victim whose debit card was compromised." The story made sense to Reavis because her ex-husband had experienced identity theft.
Reavis says that Ashton claimed to have money coming in from the U.K. and that the government had frozen his funds. "He said he had no access to his account and needed to leave on a 10-day business trip to Philadelphia," says Reavis. She wrote him a $960 check, considering the original $60 as part of the loan. "He portrayed himself as a successful businessman who was a little financially tight at the moment, between his divorce and the government freezing his funds," says Reavis.
They often went out to dinner together—Reavis became fed up with paying for it. She says Ashton always gave the same two reasons why they never went to his place. "He lived in Provo and said he didn't want to make me do the long drive. He said he was embarrassed where he was living right now, because of the divorce. He said it was more convenient for him to come to my place. I kept telling myself that if we weren't living together by a certain date, it would be over—but I kept pushing the date back in my mind. He was totally charming. With his voice, it was not only the accent—it was so soothing, the perfect tenor." Reavis today wonders why she chose Nick, who told her, "You amuse me."
In June 2011, Reavis sued Ashton in small claims court and was awarded a default judgment in the sum of $1,020. He was ordered to pay $100 per month and has made partial, but not all, the required monthly payments. In the hearing, Ashton accused Reavis of stalking him after she established a blog about her experiences and other people began to contact her. Her efforts led to the discovery of a network of individuals and businesses in several states who say Ashton has scammed them. An Idaho couple received a $46,256 judgment against him in February 2011, which, according to Idaho attorney Lyle Fuller—who represented the couple—stemmed from activities that included trespass, fraud, breach of contract and unjust enrichment.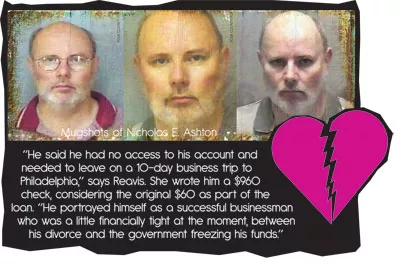 At least two women in Florida claimed to have stories similar to Reavis'. For the first year of their relationship, Linda Knapp says Nick Ashton made her feel like the most important woman in the world. They met on AOL.com, not on an official dating site. "He must have run some kind of scan that showed that I was single. I lived at Burnt Store Marina in Punta Gorda, Fla. I think he thought I had money," she recalls. "He talked to me for quite a while before I met him." She says Ashton's phone calls portrayed a personal life filled with excitement and importance that all sounded true to her. "He acted like he worked with the government and was involved with terrorism. He gave me a beautiful CD about 9/11 and said it was a demo for a play he planned to produce. I asked myself how I ever landed such a pro."
As their relationship continued, "It was all about intrigue. He would ask all about my day and make me feel loved. We had good sex," Knapp recalls. Somehow, he seemed to know about the $25,000 savings her brother-in-law was holding for her. "He said something about a business he had—a business related to spying—and asked to borrow $20,000." Knapp says she would have loaned Ashton the entire amount, but her brother-in-law advised her to loan him just $2,000.
Knapp saw him once after the initial loan where he gave her a $2,000 check. It bounced. "I realized I got burned," she says. She hired an attorney, sued Ashton in Florida and says she won a judgment. Her attorney still has Ashton's bad check.

Facebook Secrets
Floridian Janis Korkos found Nick Ashton's worldly sophistication to be very appealing when she met him on AOL.com several years ago. "The only reason he didn't take money from me was because I didn't have any," she says today. Their relationship ended after her online discovery that he was married. They didn't speak again after she forwarded him a copy of his marriage license. "I couldn't believe that I was lied to, but I'm lucky I escaped."
Public records confirm that Nick Ashton was married and is now divorced from his wife who lives in Florida. He is required to pay child support for his only daughter, according to Jack Peterson, an assistant county attorney from Lee County, Fla. Ashton's Florida driver's license is suspended indefinitely because of non-payment of child support.
Reavis decided to call it quits after Ashton stood her up on her birthday. She dated others and "really did want to try to break it up." Weeks passed and she remembers that Ashton phoned to apologize, saying he had been through a bad depression. They agreed to meet to discuss "Bedhogs," a joint business they were considering. After Christmas 2008, she said he started making comments about how "I need to start paying you back what I owe you, but I'm broke," Reavis recalls.
Her father was killed in a car accident at the end of January 2009. "Nick came over, and we talked and hugged. He took me out to eat and was very gentle and understanding with me." Although Ashton said he would try to attend the funeral, there was no answer when Reavis called him that night. "I was puzzled, wondering if he was hurt or if something happened to him." The next day, a friend called to tell her that Ashton tweeted that he saw a great play at Utah State University the previous night. "He was at a show the night of my dad's funeral," Reavis recalls bitterly.
A week later, Reavis took a chance and looked for his profile on Facebook.com and instead found Ashton's then-wife in Utah. "Reading what she wrote tore me apart. On some nights when she was waiting for her husband to come home, he was with me." Reavis consulted with a doctor to make sure she hadn't contracted an STD.
In an angry interview with City Weekly that he punctuated with frequent F-bombs, Ashton denied that he owed anyone money or that he was ever in a romantic relationship with Reavis. He claimed that Reavis was stalking him and said that his attorneys would "eat her for lunch." He said that he is angry and vexed that someone is attacking him and feeding City Weekly "bullshit information."
Psychologist Hale says, "If something sounds too good to be true, it probably is, so proceed with great caution." She recommends taking at least a year—or, hopefully, two—to get to know someone by viewing them in a variety of scenarios that will cause a person to prove himself. "See them in a multitude of situations—in sickness and health, with family and friends. Go to a fundraiser, or babysit. In time, you will see the real thing." She advises letting someone prove him- or herself.
Knapp considers her relationship with Ashton to be a learning experience. "I learned that men lie and some people use you in life." Still single, she says she is much more careful now and doesn't meet men online. "I'm just relieved he wasn't a murderer."