Page 3 of 3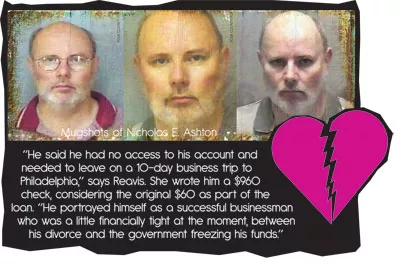 At least two women in Florida claimed to have stories similar to Reavis'. For the first year of their relationship, Linda Knapp says Nick Ashton made her feel like the most important woman in the world. They met on AOL.com, not on an official dating site. "He must have run some kind of scan that showed that I was single. I lived at Burnt Store Marina in Punta Gorda, Fla. I think he thought I had money," she recalls. "He talked to me for quite a while before I met him." She says Ashton's phone calls portrayed a personal life filled with excitement and importance that all sounded true to her. "He acted like he worked with the government and was involved with terrorism. He gave me a beautiful CD about 9/11 and said it was a demo for a play he planned to produce. I asked myself how I ever landed such a pro."
As their relationship continued, "It was all about intrigue. He would ask all about my day and make me feel loved. We had good sex," Knapp recalls. Somehow, he seemed to know about the $25,000 savings her brother-in-law was holding for her. "He said something about a business he had—a business related to spying—and asked to borrow $20,000." Knapp says she would have loaned Ashton the entire amount, but her brother-in-law advised her to loan him just $2,000.
Knapp saw him once after the initial loan where he gave her a $2,000 check. It bounced. "I realized I got burned," she says. She hired an attorney, sued Ashton in Florida and says she won a judgment. Her attorney still has Ashton's bad check.

Facebook Secrets
Floridian Janis Korkos found Nick Ashton's worldly sophistication to be very appealing when she met him on AOL.com several years ago. "The only reason he didn't take money from me was because I didn't have any," she says today. Their relationship ended after her online discovery that he was married. They didn't speak again after she forwarded him a copy of his marriage license. "I couldn't believe that I was lied to, but I'm lucky I escaped."
Public records confirm that Nick Ashton was married and is now divorced from his wife who lives in Florida. He is required to pay child support for his only daughter, according to Jack Peterson, an assistant county attorney from Lee County, Fla. Ashton's Florida driver's license is suspended indefinitely because of non-payment of child support.
Reavis decided to call it quits after Ashton stood her up on her birthday. She dated others and "really did want to try to break it up." Weeks passed and she remembers that Ashton phoned to apologize, saying he had been through a bad depression. They agreed to meet to discuss "Bedhogs," a joint business they were considering. After Christmas 2008, she said he started making comments about how "I need to start paying you back what I owe you, but I'm broke," Reavis recalls.
Her father was killed in a car accident at the end of January 2009. "Nick came over, and we talked and hugged. He took me out to eat and was very gentle and understanding with me." Although Ashton said he would try to attend the funeral, there was no answer when Reavis called him that night. "I was puzzled, wondering if he was hurt or if something happened to him." The next day, a friend called to tell her that Ashton tweeted that he saw a great play at Utah State University the previous night. "He was at a show the night of my dad's funeral," Reavis recalls bitterly.
A week later, Reavis took a chance and looked for his profile on Facebook.com and instead found Ashton's then-wife in Utah. "Reading what she wrote tore me apart. On some nights when she was waiting for her husband to come home, he was with me." Reavis consulted with a doctor to make sure she hadn't contracted an STD.
In an angry interview with City Weekly that he punctuated with frequent F-bombs, Ashton denied that he owed anyone money or that he was ever in a romantic relationship with Reavis. He claimed that Reavis was stalking him and said that his attorneys would "eat her for lunch." He said that he is angry and vexed that someone is attacking him and feeding City Weekly "bullshit information."
Psychologist Hale says, "If something sounds too good to be true, it probably is, so proceed with great caution." She recommends taking at least a year—or, hopefully, two—to get to know someone by viewing them in a variety of scenarios that will cause a person to prove himself. "See them in a multitude of situations—in sickness and health, with family and friends. Go to a fundraiser, or babysit. In time, you will see the real thing." She advises letting someone prove him- or herself.
Knapp considers her relationship with Ashton to be a learning experience. "I learned that men lie and some people use you in life." Still single, she says she is much more careful now and doesn't meet men online. "I'm just relieved he wasn't a murderer."