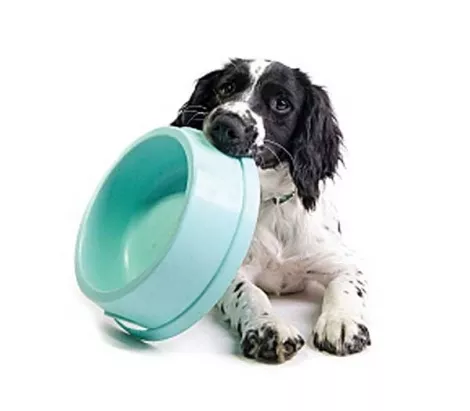 Most positive trainers believe that the way to be a true leader in your home is to have control of all the "stuff." Going out for a walk, playing frisbee, riding in the car, coming in from outside...everything your dog wants to do, she needs your help. That's why we recommend using real-life rewards for training. For instance, asking for a simple "sit" before you put on the leash, or a "wait" before you open the door.
Feeding time is one of the high points of the day for your dog. Not only does she enjoy eating, but she needs food for survival. You can't just give it away. When you leave food, even kibble, out all day you are free feeding. The dog decides wether she is hungry and helps herself to a bowl of food. It is no longer coming from you.
Try this. Ask your dog for a sit before you put down the food bowl. Then have her wait until you say "okay." After she is finished eating, or even if she walks away without eating, you can pick up the bowl if there is any food left in it. You can add it to the rest of her food for the next feeding with the same rules..."sit" "wait" then "ok!"
You get the biggest bang for your buck when you clearly feed your dog her meals and maintain authority as the benevelent leader who provides for all your dog's needs and enjoyment. ...Yumm!