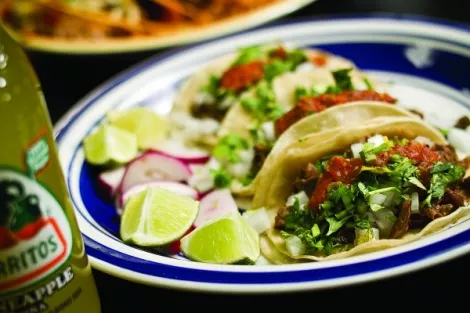 City Weekly readers are my best source for scouting out good food. Tips from you have led me to many of my best meals and to eateries I might not have otherwise known. Such is the case this week, as City Weekly readers pointed me in the direction of three Mexican restaurants that feature street-style tacos. And, when it comes to tacos: If you build them, I will come.

I certainly would have never found Tacos Guanajuato (1700 S. 900 West, Salt Lake City, 801-972-1936, TacosGuanajuato.com) on my own. It's a small restaurant with a few tables in the back of the Phillips 66. Since it's just a few blocks from Desert Dog Daycare, now that I've found Tacos Guanajuato, I make a point of stopping there whenever we kennel our Lab, Beau. I mainly go for the 99 cent tacos, but there are other good things on the menu, too.

Taco options include beef head, beef tongue, tripe, grilled beef (asada)—no part of the cow goes unused here—chicken and spicy pork (al pastor). My favorite is the tender, juicy grilled beef asada. Tacos come in either hard shells or soft corn tortillas and, as is traditional in Mexico, each soft, street-style taco is made with two overlapping corn tortillas. There's a condiment bar that includes various salsas, cilantro, onions, sliced radish, shredded cabbage, jalapeños and such with which to customize your taco. And, if you want to go whole south-of-the-border hog, there's even genuine bottled Coca Cola and Jarritos imported from Mexico, along with other soft drinks.

On weekends, they cook up batches of menudo and pozole at Tacos Guanajuato and also offer something I rarely see in Mexican eateries here: sincronizada ($5.49). A sincronizada is a Mexican sandwich typically topped with crumbled Oaxacan cheese, which differs from a torta sandwich (which they also serve) in that it's made with tortillas rather than bread or rolls. It's similar in that sense to a quesadilla, and varieties include the same filling choices as the tacos. If you're looking for a place to fill up for breakfast, you can do so both at the pump and at Tacos Guanajuato, where you can get scrambled eggs with delicious machaca, chorizo, asada, frijoles and more. And this place certainly won't break your budget: Most complete breakfasts are a mere $2.99. For kids, there are also 99 cent hot dogs.

In contrast, prices at the new Hapa Taqueria (275 S. 200 West, Salt Lake City, 801-355-9890)—which is located in the space formerly occupied by Acme Burger Company—are unjustifiably dear. Hapa is a hip, cool place to relax with a margarita, cold Mexican beer or mojito. However, I simply can't understand how they justify charging $2.50-$4.00 for a single taco. The tacos here each come on a very tiny corn tortilla (the size typically used in Mexico for botanas—snacks), and there is only one taco per order. For $2.75, I got about a tablespoon of very tasty, but puny-portioned, shredded and roasted pork (carnitas). I literally ate the thing in two bites. It's highway robbery, in my opinion, that there aren't at least two tacos per order. We had a tough time even finding the fish on my wife's fish taco ($3)—made with inexpensive tilapia—much less tasting it.

An order of guacamole ($6) was just awful—sort of brownish-gray in color, with a weird burnt flavor. And, even if it had been spectacular—six bucks for a small serving of guacamole? It came with approximately eight fried tortilla chips. Returning to try some house specials for dinner didn't improve matters very much. Since I liked the carnitas meat so much, I ordered the torta ahogada ($11). This is a reasonably authentic recreation of the "drowned" sandwiches found in Guadalajara. They're called "drowned" because they are served in a spicy chile broth, in this case made from tomatoes and arbol chiles. But, eating a toasted baguette sandwich (not the bolillo used in Mexico) stuffed with shredded pork, black beans and pickled onion in a bowl wasn't a culinary highlight for me. As for the braised chicken (leg meat) enchilada with mole guajillo ($13) … well, it was a mess. The flavor of the mole was actually quite good. However, the enchilada was crunchy—as though it had been deep-fried a la a chimichanga—and the shredded chicken inside was cool, if not cold. Hapa Taqueria might be one of the hippest new joints in town, but you won't find me hanging there.

Instead, I'd point you west to Mariscos Ensenada (4855 S. Redwood Road, Taylorsville, 801-269-4535). This is a simply wonderful restaurant, where most of the patrons are Hispanic and the staff is as friendly and helpful as you'll ever find. It's obvious from the name that the specialty here is seafood, and it has that in spades. You can kick off a meal with ceviche or oysters on the half shell, or perhaps a cold camarones (shrimp) cocktail. And there's cold beer available as well.

The seafood kabob ($13.95)—two skewers of grilled shrimp, fish, scallops, peppers and onion—was far more than I could manage, even as delicious as it was. And simple, fried fish filets with mojo de ajo (garlic and oil sauce) are heaven. But, we're discussing tacos here, and I must say that the fish tacos at Mariscos Ensenada are among the best I've ever tasted, anywhere. Corn tortillas are piled with a generous portion of fried mahi-mahi (where just about everyone else uses cheap tilapia), shredded cabbage and cojita cheese. Simply put, if you find a better fish taco than this, I want to know about it.