When Jesus Silva was arrested in August 2011 after his wife said he assaulted her, Walt Hunter, Silva's friend and mentor, called the one person he trusted to help the undocumented 26 year-old: Sonia Orozco.
Back in 2002, Hunter and Orozco, an ex-gang member turned award-winning gang-prevention counselor, were a team of at-risk youth counselors at the Midvale Boys & Girls Club. They counseled Silva and many other undocumented youths who wanted to leave gang life but had nowhere to turn.
Hunter, now 68, and Orozco met at the Midvale Mining Café to talk about Silva. Orozco told him she could get Silva out of jail. The 50-year-old, then a Jordan School District employee, would work "something out with immigration," Hunter recalls her saying. There were ways of avoiding Silva ever having to go to trial, she continued, mentioning the names of Midvale and West Jordan cops she worked with on gang-related issues.
All Orozco needed was $595. Where, she wanted to know, would the money come from?
On Sept. 5, Hunter took Orozco to a Midvale trailer park to meet with Silva's relatives and friends. Orozco told them if they came up with $595, she would suspend his deportation, get him released in a few days, and secure him a visa and custody of his children. Hunter and the others were ecstatic. "Sonia made it sound like everything would be OK," recalls one witness. "It was like a dream."
By chance, Silva rang from jail. "Don't worry, mi chuyito, we're going to get you out," Orozco told him triumphantly.
"That, to me, sounded like heaven," Silva says during a jail interview.
Yet Silva, an award-winning artist and former gang member turned anti-gang advocate who met Orozco when he was 15, knew that she was not all that she seemed. In 2001, he says, she had gone to a company where his brother worked and persuaded 10 undocumented workers to each give her $1,000, with promises to get them citizenship. "She never helped them out," he says. Even knowing this, Silva loved Orozco. "In my heart I always believed she had our back," he says.
In such a vulnerable population as undocumented Latinos, prone to predators from within the community and without, Orozco, who worked closely with law enforcement across the valley, was a godsend. It was "the way she talks to you, she made you feel welcome, that she was just a person you could trust," Silva says.
Several days later, on Sept. 9, Silva's neighbor, who had given Orozco $100 toward getting Silva out, called Hunter after hearing that Orozco had been arrested. "She stole our money," she told him.
Orozco had been arrested for theft by extortion, allegedly taking $7,300 from the mother of two teenagers in juvenile detention with promises to get them papers. According to the probable-cause statement, she confessed to using her position as a court liaison between Jordan School District and at-risk students to extort cash to buy meth, though she said in one of two jailhouse interviews with City Weekly that "I haven't confessed to a fucking thing."
Hunter was devastated. He and Orozco had bonded in 2002 over what they saw as the abuses the undocumented Hispanic youths in their charge had suffered at the hands of the Midvale Boys & Girls Club administration. Hunter was later fired in 2005 for sticking up for the youths, according to former club members. "Sonia was so anti-gang and so pro these kids, I loved it," Hunter says. "She was the only person in that club who felt about them as I did, and knew them for a much longer period of time." (Read past City Weekly cover stories about the youth and counselors from the club, including Hunter, Orozco and Silva.)

Orozco was well-regarded in the Midvale community—not only by Latinos, but also by outsiders like detectives, judges, social workers and educators, who all relied on her experience and wealth of information and admired her commitment to undocumented Hispanic at-risk youth. Now, while she's held in Salt Lake County Jail under an unusually high $100,000 bail, more victims are coming forward. With her preliminary hearing set for Nov. 1, dismayed colleagues, friends and former students are struggling to come to terms with the depth of her betrayal.
None more so than Jesus Silva. Hunter could not bring himself to tell him of Orozco's betrayal. When Silva learned from a neighbor that the little money his family and friends had gathered to defend him had gone into Orozco's pocket, he couldn't believe it. "It hurt a lot," he says. "It was a bigger disappointment than anything else." He tried to convince himself that Orozco's promise to free him had stalled because of the charge she was now facing. "I kept telling myself that," he says. "I care a lot about her."
In the weeks after Orozco's arrest, Hunter discovered that more than a dozen undocumented youths he knew had been victims of Orozco. The allegations facing "my friend Sonia" leave Hunter deeply conflicted. He switches between remembering the good times when together they helped the youths they loved, and recognizing that many of them were too scared of Orozco to tell him what she did to them. "I don't know why I should care about her," he says. After one alleged victim told him she forgave Orozco and prayed for her every day, Hunter decided to visit his former colleague in jail to learn her side of the story.
"I always felt her passion was equal to mine, and my passion is my life," he says. "How can someone give their love and trust and do these things?"
TIGHTROPE
Some victims say Orozco was working with others, possibly Immigration & Customs Enforcement employees, who, for a payment, helped undocumented people stay in Utah, something Orozco herself claims. "I work with people in INS," she says from jail. "I get people out [of deportation problems]." Charges filed by the District Attorney's Office, however, state Orozco has no position or authority with immigration.
Others say that, rather than a fixer, she was a predator who knew her victims could not complain without fear of arrest. Several victims allege shakedowns that date back years, raising the question of how it was possible that such criminal allegations did not surface before now. "I've been around for many years; everybody knows where I'm at," Orozco says. "Why didn't they say these things before, why now?"
Part of the answer to that question may lie in the fear of deportation that shrouds Utah's undocumented community. "If she's preying on these people, that's sad," Midvale Mayor JoAnn Seghini says. "They're living on the tightrope as it is."
In the face of strident anti-immigrant fervor and laws, Hunter says, the fabric of the community of undocumented youth he embraced, and was embraced by, "is unraveling, and with it their desire to stay here. There will be very little remaining of this wonderful, innocent, hopeful group of children who came here as babies and toddlers. It's not where they were born, but this is their home. They are losing friends and communities to deportation, drugs, suicide and murder." And, it seems, to one of the only people at-risk Latino youth and undocumented families ran to for help, one of their own, a Latina. "She was always there to help us," says one undocumented youth, who requested anonymity. "Any immigrant with law issues, the first name that came to anyone's mind was Sonia, Sonia, Sonia."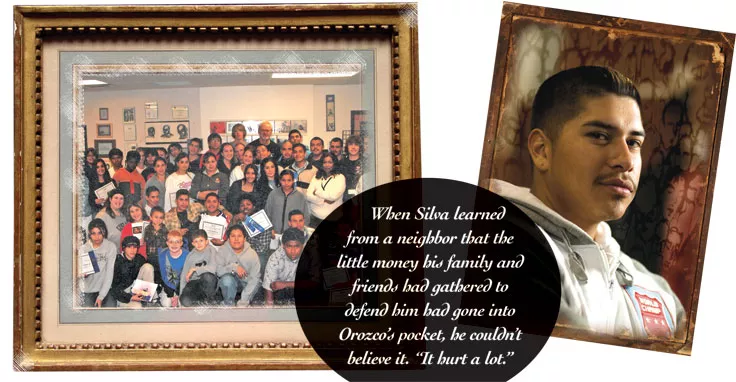 WHO'S GOT MY BACK?
The child of Puerto Rican migrant workers, Orozco told City Weekly in March 2006, she worked the fields for $3 an hour along with her nine siblings, moving from one farm to another. When she was 7, her family settled in Midvale, and she has lived near there since.
Orozco has never forgotten her gangbanging roots, having been jumped into Los Chiques when she was 14. "I still believe in blue," she said in 2010, referring to Los Chiques' colors. "I never wear red." That association ultimately led to her doing 13 months behind bars in her youth over a possession charge, stemming from her holding drugs for another gang member. The gang members she did the time for didn't visit her in prison. "They said they had my back, but where were they?"
According to her second husband, Ron Alire, Orozco advocated for farm labor, then went to Holy Cross Ministries in the mid 1990s, performing "outreach to illegals, single mothers."