Page 2 of 3
After Orozco and Alire divorced in 1997, bankruptcy forms she filed in 2001 and 2002 depict a woman struggling with poverty while living in a West Jordan mobile home. She wrote bad checks to fast-food joints and shoe stores and took out liens on her car. Yet her stepdaughter, Lisette DeJesus, set to be released from Utah state prison next spring after serving seven years for an assault conviction, paints a different picture.
When DeJesus was 17, her father, Jose Benigno DeJesus, who has a lengthy criminal record, moved in with Sonia. The then-pregnant Lisette DeJesus was "running and gunning" with a gang. She says Orozco "pulled me from the south side, took me to Midvale." For a while, the DeJesuses and Orozco and her son Oscar "were family picture-perfect, something I never had," Lisette DeJesus says. "She showed me better, she showed me family."
Orozco, her step-daughter continues, was working with teenage girls, helping young mothers get on their feet, giving them baby diapers and blankets. Jose DeJesus, however, "wrecked our family. He got another girl [friend]." Shortly after the breakup of her family, in 2005, Lisette DeJesus went to prison for aggravated assault.
"Sonia was always trying to help, always trying to be everybody's savior," she says. "She helped [undocumented Latinos] get their papers and now everything is blowing up in her face."
A HARD LOOK AND A SOFT HEART
Hunter, an ex-Broadway and Las Vegas singer, first met Orozco at the Murray Boys & Girls Club in 2001. They both felt the same way about the youth in their care. "In this country, they assume until you are 17 years and 364 days old that you are still a kid," Orozco said last year. "The next day you are an SOB, a threat, you're undocumented."
In 2002, Orozco joined Hunter when she moved to the Midvale club to be a gang-prevention officer. One early summer afternoon, after Midvale Middle School let out, 41 Hispanic kids came over to the club. Staff interpreted it as an imminent gang invasion. Orozco dismissed their concerns. They were just coming to sign up, she said.
"I thought then, 'Wow, she knows what she's talking about,' " recalls Hunter. "I need to listen to her." Orozco, he came to learn, understood the streets. "She had a hard look and a soft heart, a tender spot for these kids." When all the Latino kids from a Midvale high school class went missing one day, it was Orozco who found them at a house, mostly drunk, and read them the riot act before local police issued them citations.
But days after the mostly gang-affiliated kids signed up, Hunter alleges the club's director banished the teens to a nearby park for the summer and refused them access to the club's restrooms or fountains. It was record-breaking heat that summer, Hunter says, and most of the 41 kids who had signed up left in disgust. Bob Dunn, Boys & Girls Club of South Valley executive director, says he has no knowledge of any such mistreatment of Midvale club members that summer. But one former club member recalls the stinging "loss of self-esteem" provoked by that decision as if it were yesterday. The undocumented woman, now 24, says being banned from her club was "humiliating."
Orozco and Hunter took the teens who stayed on field trips. For many, it was the first time they'd left Midvale. They went to a recreational center to exercise, to The Gateway and Park City, played soccer and dodgeball in the park. If it hadn't been for that summer, Hunter says, he and Orozco would not have connected so deeply as they did over the unjust way they say the club treated undocumented gang-affiliated Hispanic kids.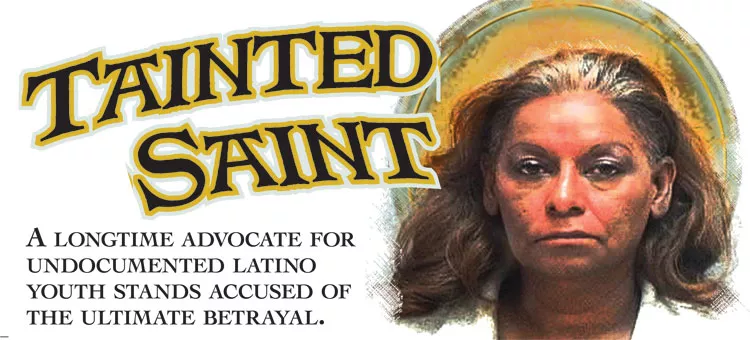 WHAT PRICE A MOTHER'S LOVE?
In June 2004, Orozco moved to Jordan School District, tracking the progress in court and academically of at-risk students in West Jordan middle and high schools and helping them transition out of gangs. A year later, Hunter says, he was fired by the Midvale Boys & Girls Club and has been unable to find work since. While Hunter floundered, Orozco fared better; in 2008, she was named as one of Jordan School District's 10 employees of the year and also received an award from the annual Utah Gang Conference.
Hunter and Orozco talked on the phone occasionally about the kids they had mentored. In emotional conversations, Orozco updated him on kids he knew, those she had seen, how they were doing.
But her ongoing contact with the former club members, he learned later, may have been motivated by predatory instincts as much as caring ones. Two sisters Hunter talked with—both young, undocumented mothers who requested pseudonyms—allege multiple occasions when Orozco used the knowledge she gained from relationships forged at the Midvale club to extort cash from them.
"Jessica" lives in California with her husband and two small children. She was brought to Utah from Mexico when she was 3. As a 13-year-old member of the Midvale Boys & Girls Club, fleeing her mother's depression and heavy drinking, Orozco was always there for her. That's why "it's just crazy for me to believe she could have done what she did to me. She seemed like an angel falling from God." When Jessica was pregnant, her boyfriend went to jail, and again Orozco provided emotional support.
Shortly after the baby was born, in 2008, Jessica worked 10-hour shifts at a Redwood Road burger joint. One night, "some lady, who spoke perfect English," called one of Jessica's relatives. By then, Jessica's mother was in jail awaiting deportation. The woman said she was from "immigration," that they had Jessica's mother, they knew where Jessica and her relatives lived, and they were going to pick them up. A terrified Jessica called the one person she knew would help. Normally, Orozco took days to return a phone call, but that call she answered within several rings.
"What happened, mi hija?" Orozco asked. Jessica told her of the call. Orozco said she had a friend in immigration and would consult him. She hung up, then called back. Her friend wanted $1,500 to help the three of them. While Jessica's relatives refused to pay, Jessica worried what would happen to her baby if immigration picked her up. She took $300 out of her paycheck and got a $200 loan from her manager. After she gave Orozco the money, she didn't hear from her again—or from the woman who'd called claiming to be from immigration. At first, Jessica says she didn't want to "open my eyes, but I basically realized she had screwed me over. What could I do? If I went to the cops, I'd feel like I was giving myself up. I had trusted someone with my life. She knew all the struggles I went through. And she did this to me."
Jessica has a younger sister, "Veronica," who also met Orozco at the Midvale club. "She was always asking us how we felt, how we were. She was like a sister at the start. I loved her like a mom. I still love her." Orozco encouraged her dreams of becoming a singer. "You can do it, babe," Orozco would tell her.
One day, Orozco asked her if she knew people who needed their records cleaned so they could get papers. If Veronica, her boyfriend and his six-person family each gave Orozco $150, a friend of hers would remove any impediments in their paperwork to them getting visas. Veronica says she hated herself as doubt set in after the family had paid Orozco and not heard anything back from her. "Why would she do that, she wouldn't do that to me?" she'd ask herself.
At the news of Orozco's arrest, Jessica was furious, but Veronica took another route. "I love her still," she told a stunned Hunter. "I'm nobody to hate nobody. That's not going to make me feel better, only worse."
Veronica's forgiveness made Hunter want to emulate her, but when he thought of Jessica, alone, with a newborn baby, victimized by a woman she thought of as her own mother, "that made me pissed, that made me hate Sonia."
EVERYBODY'S FAKE
Three days after Orozco collected the money she said she needed to free Jesus Silva, she was arrested for theft by extortion, a second-degree felony, after allegedly admitting on tape to using her position with Jordan School District to convince the mother of two undocumented minors in juvenile detention that "she could prevent her children from being deported." The woman gave Orozco $2,000 for each child to stop deportation, then an additional $1,000 to file paperwork, $1,500 for an evaluation and $800 so Orozco would get the minors U visas. U visas provide witnesses of crimes with legalization in exchange for testimony.
According to the probable-cause statement, Orozco admitted to using part of her alleged victims' money to buy meth. Orozco says she tried meth several times and stopped in March. Ex-husband Alire is surprised to learn that she took methamphetamines. "That's very ugly and dark," he says. "To me, it breaks my heart. Sonia was always a rock, my strength."
Orozco adamantly denies guilt and claims West Jordan-based District Attorney investigator Detective Travis Peterson had his mind made up about her prior to interviewing her about the case and that he also failed to read her her rights. Orozco says the only mistake she made was trying to help a friend of her sister's. Peterson declined to comment.
After she was arrested, her Midvale home was ransacked. "I've lost everything," Orozco says, in tears. "I'm in here and I can't fight back." There's "not such a thing as people having your back. Everybody's fake."