Page 3 of 3
"RIGHT THE WRONG"
In mid-September, in a West Valley trailer park, Hunter attended a birthday party thrown by adults he had mentored at Midvale for three Hispanic children. After the cake had been cut and the presents were given out, Hunter showed Orozco's mug shot to one of his former students.
In shock, the woman held the photo out at arm's length. It was quickly passed around from one disbelieving partier to another, "everybody gravitating towards it," Hunter says. "They all had some dealings with her, knew her, knew of her. It killed the party."
While some had no idea of the allegations facing her, others weren't surprised, even admitting privately to Hunter she had done similar things to them. The look of fear on their faces when he asked for details sent him stumbling out into the night in despair.
On Sept. 27, 2011, Hunter, relatives and friends of Jesus Silva gathered outside the West Jordan 3rd District Court Judge Mark Kouris' courtroom prior to Silva's preliminary hearing on a single aggravated-assault charge and three counts of domestic violence in the presence of child.
Because Silva's wife did not show up to testify, Kouris dismissed the case against Silva, who was later transported to an immigration holding tank in Utah County. Thanks to Orozco, Silva says he has no money to hire an attorney and fight his deportation. "I can almost say she destroyed me in the end," he says.
Deputy District Attorney Jeff Hall says that his office has offered U visas to eligible victims in an effort to persuade other Orozco victims to come forward. Through the U visa, "we try to right the wrong," he says. Such is the suspicion and fear in the undocumented community, however, that even the possibility of legalization doesn't seem worth the risk of exposing themselves to the authorities.
Nevertheless, some new victims have emerged. Detective Peterson filed two new counts of theft by extortion, one a felony, against Orozco on Oct. 14. One involved Orozco offering help to a couple with immigration and child-custody issues. Orozco claimed to work with immigration and that she could secure them documents to become legal. Between March 2006 and August 2011, the alleged victims paid her $2,490 for immigration papers, and a further $3,000 relating to the child-custody issue. Neither of the two people involved received any documents or information from Orozco about their grandchild. "They only heard from Orozco when she would request more money to complete their applications," according to the probable-cause statement.
A second count, a class A misdemeanor, arose from Orozco's promises to Jesus Silva to suspend his deportation, recorded during a jail telephone conversation on Sept. 5, 2011.
But Silva's eligibility for a U visa is in doubt, given what ICE says is his criminal record. An ICE spokesperson cited the "public safety implications" of a 2008 South Salt Lake DUI conviction as to why the feds were holding Silva without bond. A man named Jesus Munoz-Silva, whose listed birth date is the same as Silva's, was convicted of that DUI. This isn't the first time the two Jesus Silvas have been confused in the system, Silva says. A retail theft charge made against Jesus Silva at the time he was arrested for assault was dropped, his supporters say, after it was discovered he'd been confused with Jesus Munoz-Silva. ICE is currently investigating Silva's claim.
Prior to his arrest for assault, Silva is adamant, "I've never been in the system. Honestly, I think they just want to deport people."
For some, like Midvale Mayor JoAnn Seghini, Silva's deportation would result in a significant loss. In a recent letter lauding Silva's accomplishments, she wrote, "he offers a great deal to the youth of America. He is a peer to be emulated."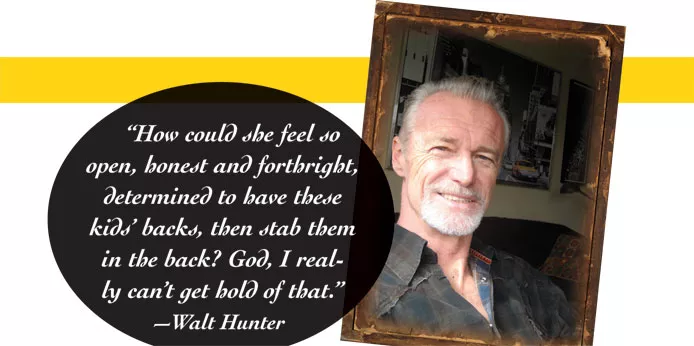 THE MEANING OF TEARS
Hunter still struggles with his feelings about Orozco. "How could she feel so open, honest and forthright, determined to have these kids' backs, then stab them in the back? God, I really can't get hold of that."
One late September morning, Hunter sought answers from Orozco herself. "I think she's an extortionist," he said as he walked the long hallway down to her cell block. "The nail in the coffin is she did it in front of me. She used me as an accomplice. I heard her tell Jesus, 'You won't have to go to prison.' "
When he sat down on the steel stool in front of the Salt Lake County Jail window, he expected to find Orozco stiff-backed, defiant. But instead of defiance, he faced a woman who was "soft and vulnerable," her typically thick, heavy black locks pulled back, her frame small, shrunken.
Throughout the 40-minute conversation, Hunter pursued the truth about Orozco's promises to get Silva released. "You guys heard me wrong," Orozco insisted. The money was for getting Silva out on an immigration bond once he had pleaded not guilty to his felony, she said. "Walter, you know me. I wouldn't do anything to hurt Jesus."
"Well, you didn't explain it that way. Nobody remembers it that way," Hunter said. "We gave you money and nothing happened." Why, he wanted to know, did she need the money so soon?
Orozco's story changed. She gave the money to someone in immigration to suspend Silva's deportation, a man she had named as "Bill," but then claimed wasn't his real name. "He helped me out a lot, I will not give him up."
"You just lied to me," Hunter said.
He brought up Veronica and Jessica's allegations. "How was I going to take money from [Veronica] when she didn't have any?" Orozco asked. She accused Jessica's in-laws of stealing from her, one of them fleeing on a bond she was left to pay. "Why is all this stuff coming up?" she asked, shaking her head.
Hunter told her he had informed Detective Peterson of "what my truth was," regarding the meeting with Silva's support group. She looked at him.
"You were the closest thing I had in the world to these kids," he said. Emotion overtook him. The thought that she "could have done anything to these kids. …" His voice slipped away for a moment. "I desperately want to know, and feel I am still looking at the same woman who meant something to me and these kids."
Her eyes full of tears, she said, "I don't know." She put her face in her hands, then looked up. "Everybody is saying I took, I took, I took."
Hunter told her he didn't know what her tears meant.
"I love these kids," she insisted. "They know it. I would never ever hurt them like they're saying." She raged against cops she had worked with. "Where are they? They've left me like a fucking idiot to rot." Nobody had come to see her. "There's no friends when it comes to this," she said.
The door leading back to her cell slid open behind her.
"The Sonia I always thought I knew, I've got to thank you for that," Hunter said. "What could I do for you?"
She stared at him in silence. "Nothing. Everybody's got it all wrong."
"All right, kid," he said to her, pressing his fist against the window, as he had done to youths they had mentored and loved together, only to see them behind bars. She stood up, leaning on her fists, looking at him, her feet crossed at the ankles, then turned and walked back to her cell. 
Click here to read interviews with two other alleged victims of Sonia Orozco.
"Tainted Saint" is the fourth in a series of City Weekly articles about gang members and at-risk-youth counselors who met at the Midvale Boys & Girls Club between 2001 and 2004.

"Members Only" (March 2006),

"Far From Home" (December 2007)

"Dead End" (November 2010)