Khalid Al Hachami knows that if he goes home to Iraq to see his family, he's going to have trouble getting around.
"I have to be careful, you know," the 39-year-old says. "I cannot go alone by myself outside."
Al Hachami served as a "connection" between the U.S. military and the Iraqi army from 2003 to 2007, translating information from Arabic to English so the two forces could communicate. "We were afraid for our family. It's kind of like you're a traitor, you know, because you're working with a foreign country," he says, but he believes in what he did: "Imagine if there was no interpreter at that time. So who's going to help the Iraqi army?"
It took a few years to apply and be approved for refugee status, but Al Hachami eventually came to the U.S., settling into a new life in Maine for six months before moving to Utah in 2008. A decade into his American Dream, Al Hachami's weekends are now spent fishing at Utah Lake, cooking kebabs or playing soccer with friends and going on trips to Lagoon. "It's like Disney World," he says of the Farmington amusement park.
New hobbies aside, it's still hard living so far from his home in south Baghdad. "I miss my family," Al Hachami says. "I feel, like, kind of lonely."
His job helps him feel less alone. As a lead case manager for Catholic Community Services of Utah (CCS), Al Hachami helps people like him: refugees who recently moved to the United States, leaving behind their countries—and often their families—because they fear for their lives. He assists recently arrived refugees to get benefits and jobs and to understand their new reality in a strange, foreign country. "It's hard for everybody to leave home," Al Hachami says. "I feel like they are a part of my family."
As a member of Utah's surprisingly large international community, Al Hachami also knows and works with a number of individuals and families who've applied for asylum. Although their application processes can sometimes be a bit shorter than people applying from overseas for refugee status, Al Hachami says there's a crucial issue facing those seeking immigration relief from inside U.S. borders: "They have to prove too many things to the government [in order] to be granted asylum."
"A Bitch of a Situation"
"I don't have a safe place. There is no safe place where I can go," a middle-aged Salvadoran woman calmly told Salt Lake City immigration court judge Christopher M. Greer through a translator during a hearing in early May, hoping he'd grant her and her children's asylum applications. "There's no safety in any form," she continued.
The woman's 17-year-old son (City Weekly was asked not to name any members of the family as a condition of observing their hearing because, as one of their attorneys said afterwards, the mother is "terrified to leave her home"), testified that members of the gang M-18 would harass him on his way to school when he lived in El Salvador, demanding he give them money three or four times a week. "One time I didn't have any money on me, and that's when they took my shoes," he said.
The woman's 20-year-old daughter had her first interaction with the gang when she was 13, when a member named Nelson pushed her against a wall and forceably kissed her. The man kept harassing her after the kiss, she told Greer, even when she would travel in groups of friends and family members. "He always wanted to touch me," she testified.
Before leaving El Salvador, the family tried to hide in another relative's home, but a gang member eventually called the house and asked for the mother, shattering their illusion of safety. Wherever we go, they will find us," the daughter told the judge. Their father is still in El Salvador; the gang often asks him where his family is hiding, his daughter testified that morning. M-18 told him the family "left owing us something," in the daughter's words, but he refuses to tell the gang where they are. The father pays the gang an undisclosed amount—he won't tell his family how much, the daughter said, because he doesn't want them to worry—so his family can stay safe almost 3,000 miles away. "He's paying so that they allow him to continue living," the daughter told the judge as she started crying.
Greer ended the hearing by saying he'd issue a written decision within 30 days, requiring the family to wait a few more weeks before they'd know their fate. As of June 5, Greer had not yet issued a ruling on their asylum applications.
Greer is one of three judges currently chipping away at the Salt Lake City immigration court's estimated 2,698 pending cases. That number does not solely represent the number of asylum applications pending in the Utah court, the only of its kind in the state: Judges' duties include presiding over immigrants' initial appearance in court and issuing rulings on their applications for asylum or withholding or cancellation of removal. Judges also hear cases from Montana and Idaho through a video feed, allowing them to issue rulings from their West Valley City benches on the cases of immigrants residing in three states. Ultimately, judges are tasked with answering two questions, as Judge Phillip M. Truman told respondents appearing during a master calendar hearing on May 8: Did the respondent violate U.S. immigration law? If so, is there any legal reasoning that would allow the respondent to stay in the U.S., despite the violation?
"Just because you violated the immigration law doesn't mean you have to go back," Truman told a 29-year-old Peruvian man making an initial appearance in his courtroom.
(This story is solely about asylum cases; a future one will detail applications for cancellation of removal, which, like asylum applications, require attorneys to reach a high legal burden in order for their clients to be allowed to stay in the country.)
In mid-May, City Weekly reported on an asylum seeker who said she'd been accosted in her home country due to her former partner's ties with a drug cartel. Greer said in open court he denied her request because, among other reasons, "general conditions of civil unrest do not provide a basis for relief." Her case is not unusual.
In order to qualify for asylum, according to the U.S. Department of Homeland Security, applicants have to show they're "a refugee who is unable or unwilling" to return to their country of origin because "of persecution or a well-founded fear of persecution on account of race, religion, nationality, membership in a particular social group, or political opinion."
But it's very difficult to argue there's a connection between belonging to a particular social group and being a victim of persecution, immigration attorney Jonathan Z. Paz says. "This is very gray for the judges; it's very gray for the appellate court; it's very gray for the district court, if it gets to that level; it's very gray for our clients and it's gray for us," he explains. "You're trying to find a group of people that isn't defined by the color of their skin, or their gender, or their race, or something that they believe in. You're trying to find a group of people based on something that they do, something that they participate in."
Attorney Adam Crayk says it's difficult to successfully argue asylum cases when respondents are from Central America because their claims of persecution are often based on gang-related activity. "That nexus is really hard to establish, so it's making it literally unattainable in a lot of scenarios," he says.
Jonathan Bachison, an Ogden-based attorney, says the thousands of people fleeing Central American countries are doing so "because of rampant gang violence that is just out of control." The trouble is, he says, "the only form of relief they can apply for is asylum. But most of their cases are losers from the get-go. It doesn't mean they're a loser, but their case will never get approved because they can't show they've been discriminated against for one of these very well-defined grounds," meaning they're unable to show their persecution stems from "things that are fundamental to the individual that the individual cannot change."
Bachison suggests the high burden is necessary because if it were lower, "the United States would have to take in [citizens from] every country in the world because all the Third World countries have social unrest." If laws allowed for general civil unrest to be grounds for the granting of asylum, Bachison says, "everybody could just come and say, 'I'm the victim of a crime, let me in, I should get asylum.' That's essentially what they're all trying to do, but the thing is these cases are not unsympathetic ... I've had a lot of people who've had family members who were just killed."
That high legal burden means the majority of asylum applications are denied. According to the Transactional Records Access Clearinghouse (TRAC), a nonpartisan database maintained at Syracuse University, David C. Anderson, the only Salt Lake City immigration court judge for whom data is available, denied 75 percent of the 212 asylum cases he heard between the 2012 and 2017 fiscal years. In that time frame, judges at the Salt Lake City court denied asylum applications more than 80 percent of the time. Nationwide, judges denied 52.8 percent of asylum applications over the same period.
Paz, who practiced law in California before he started practicing in Utah in January, questions why "judges in certain states grant very little asylum cases," noting that judges in states like California often grant asylum more often than those whose benches are in more conservative-leaning states. "It's not because the people with the good asylum cases are going to California," he says.
Minutes after a judge denied the applications of a client and her 10-year-old son, Paz suggested that part of the reason judges deny asylum so often is because they're wary to create case law by approving an application due to an immigrant belonging to a particular social group, like being a government employee or a business owner. "Once he creates it, maybe other judges are going to latch on, or other people are going to propose those same groups, and they're going to point to him," Paz said in the quiet hall outside the courtroom.
Immigration attorney Marti Jones has another way to describe it: "We're in a bitch of a situation." Jones stresses that a key difference between refugees resettled in the U.S. and people applying for asylum is the former are invariably determined by an international body known as the United Nations High Commissioner for Refugees; stateside, asylees apply for immigration relief on an individual basis, unlike people deemed "refugees" by the UNHCR. Refugees, Jones says, are resettled in the U.S. primarily based on their belonging to a group or being of a certain nationality. The problem, Jones says, is it's "bitchingly difficult," if not "virtually impossible," for immigrants from countries like El Salvador, Honduras, Guatemala or areas off the Mexican coast—countries and regions with high levels of criminal violence perpetrated by gangs or cartels—to prove they are targeted individually, as opposed to being victims of collateral damage as a result of civil unrest.
What really "gets [Jones'] goat," she says, is how "we craft 'good' immigrants and 'bad immigrants,'" and refugees are often put in the first group because they waited in refugee camps before being resettled. As if refugees came to America "the right way"—common phrasing for people opposed to any undocumented immigrants living in the U.S.—while people from Guatemala or El Salvador are nothing more than "illegals."
"Screw that," Jones says. "The people fleeing violence in Mexico and Central America merit just as much the designation as refugees."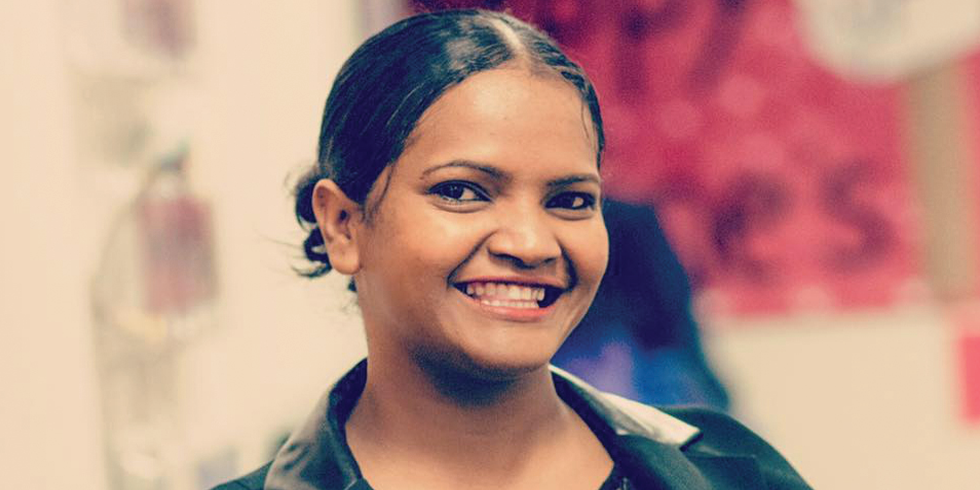 Jason Gunderson
Fatima Dirie
Cyclical Oppression
For a state and city that are both more than 60 percent white, Utah and its capital are more diverse than people think, Moana Uluave-Hafoka and Fatima Dirie say. As the full-time staffers at the Office of Diversity and Human Rights, a division of the Salt Lake City Mayor's Office, Uluave-Hafoka and Dirie partner with local organizations that help refugees and immigrants seeking asylum or some other immigration benefit that will allow them to legally stay in the U.S. "People who are not from Salt Lake City do not realize how many immigrants and refugees do live here, and they also don't understand it's been going on for decades," Uluave-Hafoka says.
Having known each other since high school, Uluave-Hafoka and Dirie grew up in Salt Lake City's Glendale neighborhood, despite that Dirie was born in Somalia. "I would not have met Fatima had we stayed on our sides of the globe," Uluave-Hafoka says.
The demographics of Uluave-Hafoka's neighborhood changed based on the year and what was happening in the world at that time, she says; one year she might have seen an influx of Somali refugees, the next Kosovo Albanians. "We were all having these interactions on a global scale, but it was all in this city," Uluave-Hafoka explains. "If you grew up here, you were experiencing all that was happening in the United States right in this little, tiny Salt Lake City town."
Catholic Community Services of Utah and the International Rescue Committee are the two agencies that help resettle refugees in Utah. Aden Batar, CCS director of migration and refugee services, says 65,000 refugees have been resettled in the state since the late 1970s.
According to numbers provided by Batar, CCS helped resettle 632 refugees in its 2016 fiscal year, almost three-quarters of whom were Burmese, Afghan, Congolese, Iraqi or Somali. In its following fiscal year, CCS helped resettle 412 refugees, a 34 percent decrease from the previous year. This fiscal year, CCS has helped resettle 135 refugees, the majority of whom are from the Congo, Somalia or Eritrea, underscoring immigration attorneys' comments that individuals from Central American countries are more likely to apply for asylum rather than be resettled as a refugee. (CCS did help resettle one refugee from El Salvador this fiscal year, but Batar says they could have applied overseas through the U.S. embassy. "It's not one of those typical places where we get refugees," he says.)
The organization's goal was to help resettle about 400 refugees during this fiscal year, which even then would have been a big decrease from its 2016 numbers. "I don't know if we will have 300," Batar says, noting that it appears the "extreme vetting" favored by the Trump Administration is slowing to a trickle the number of refugees CCS has helped to start new lives in the Beehive State.
The Utah Department of Health's website defines a refugee as, "someone who has been forced to flee their country because of persecution, war, or violence," noting these individuals have "a well-founded fear of persecution for reasons of race, religion, nationality, political opinion or membership in a particular social group." That definition is similar to the one provided by the DHS on its asylum application. Batar says refugees and asylees are "technically the same," except refugees apply overseas while asylees apply after they've already entered the U.S.
Dirie says there is often confusion as a result of all the labels—refugee, immigrant, asylum seeker—assigned to people not born in the U.S. who are trying to make a new life here, but "all the things they're seeking at the end is the same ... finding that opportunity and chasing the American Dream." Not to mention, each group faces similar challenges, like accessing transportation or learning English.
Batar notes that immigrants are often "traveling freely," in pursuit of better opportunities for themselves or their families, while refugees tend to be "forced out" of their home countries, but he concedes that many people coming to the U.S. from Central America are fleeing persecution and other "inhumane conditions."
"An essential question would be, 'what were the forces that pushed you to come here?'" Uluave-Hafoka says. Refugees are often forced to flee their countries because of war, "[but] if we also took a closer look [at] undocumented immigrants, or immigrants in general, they may be attracted to an idea of the American Dream, but there's also social, political and economic forces that are pushing them out of their home and ancestral lands, which they necessarily wouldn't have left unless they had to, [to] gain opportunities in order to survive.
"And then geographically, [refugees and asylum-seekers are] being placed in similar areas because of the socioeconomic opportunities within the United States," she says. "It wasn't by divine design that Fatima and I ended up in the same neighborhood. These are neighborhoods that are historically and traditionally disenfranchised, and have lower standards of living, therefore we were put in the same place, so then [immigrants and refugees] start to experience the same level of oppression in different types of ways because you're geographically housed in the same area."
In addition to refugee resettlement, CCS also works with immigrants who are applying for asylum. Batar says he's seeing a lot of what attorneys practicing in Salt Lake City's immigration court have described: "We have been seeing a lot of cases being denied. That's what we're hearing across the board," he says of asylum cases.
Uluave-Hafoka calls the asylum application process a "last resort. Nobody really goes through that. They would rather go and come back," since sometimes leaving the U.S. and returning can be cheaper than paying thousands of dollars for a legal battle that can take years to be decided. "It's a difficult process to go through," she says.
"[It's a] very, very, very lengthy process," Batar says of applying for asylum and appealing a denial, which immigration attorney Crayk says happens "every time, pretty much."
According to TRAC, respondents in Salt Lake City's immigration court wait an average of 508 days between when the feds issue them a notice to appear in court and when a judge issues a ruling on their case. Then comes the appellate process, which Crayk estimates can take between 18 and 24 months, though decisions can come sooner.
Aside from the similarities in the definitions of their groups, and the shared challenges they face when trying to assimilate in the U.S., individuals and families resettled as refugees by organizations like CCS and those applying for asylum share a crucial emotion: Fear. "Believe me, nobody came to the U.S. without any reason," Al Hachami says.
Both groups are also asked to do the same thing: wait.
"Some folks have been sitting in refugee camps for more than 20 years, some have been waiting for one year, maybe two," Batar says of those CCS has helped resettle.
Whether waiting on a judge's ruling on an asylum application or to be resettled in the United States as a refugee, prospective asylees' and refugees' lives are on hold as they wait to see when—or if—they'll be granted a fresh start.
Although arduous, Jones suggests that time can sometimes be helpful. "People are terrified to go home. They have no other alternative but to fight for more time," she says, stressing that buying time is not the sole reason her clients apply for asylum. As families like the Salvadoran mother and her children await judges' rulings, maybe things back home will change just enough so their lives won't be in danger should they need to return. Or maybe "home" is now here in Utah, and the time they spend here waiting, hoping to be granted asylum is nothing more than a buffer between when they fled and when they return, strangers in the land in which they were born.
"It's a tangled, tangled, messy web," Jones says.