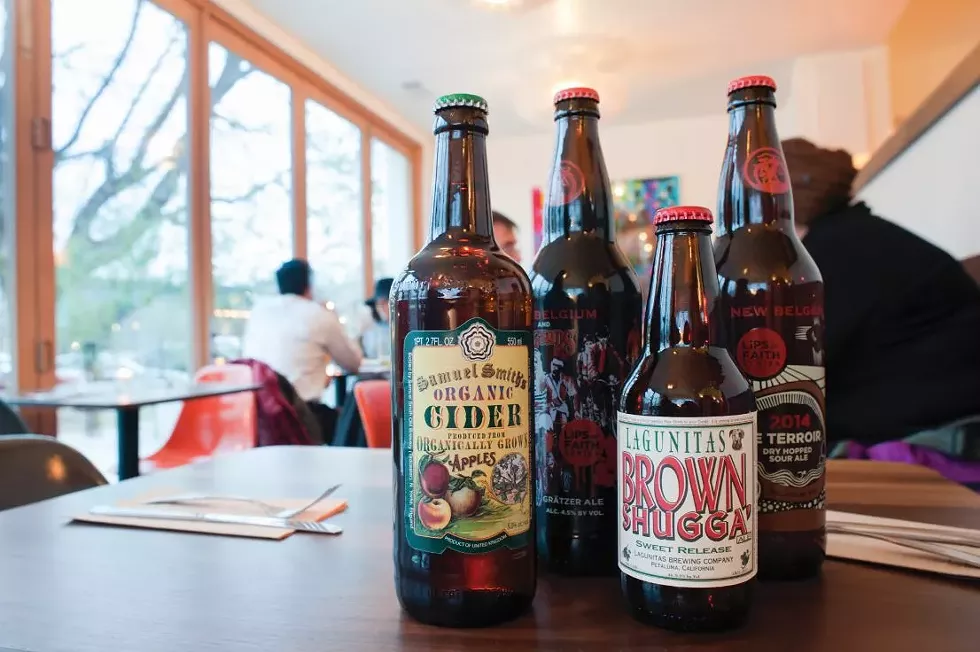 Given the fact that 9th & 9th is one of Salt Lake's trendiest neighborhoods, it's surprising that a place like East Liberty Tap House (850 E. 900 South, 801-441-2845) didn't open decades ago. Perhaps the proper stars (and zoning laws) had to align, but the established hipness of 9th & 9th was definitely missing something without a dedicated pub fitting snugly within the area's trendy aesthetic.
ELTH opened at the tail end of 2014, and since then, it has been a welcome spot for neighborhood visitors and residents alike. It's owned and operated by Scott Evans, whose fingerprints can be found within distinguished SLC restaurants like Hub & Spoke, Finca and Pago, ELTH's neighbor to the north. The space is yet another testament to Evans' unique conceptual eye: It combines elegance with accessibility, the sum total of which is an unexpected sense of calm that hits you the moment you walk in—or stay out, if patio seating is more your thing. Both are cozy options for those in need of some craft brews or locally sourced pub fare.
The small-plates section of the menu has dispensed with popular items like popcorn and chicken wings for the time being, making room for more complex bites like shrimp ceviche ($12) and crispy pork lettuce wraps ($11). As skipping the salad section of a menu is pretty on-brand for me, I dove right into the large-plates. It's a realm dominated by burgers and tacos, which is always a good sign. I opted for the chorizo burger ($15), because combining my most beloved of Mexican sausages with the customization options of a burger gave me the vapors.
The burger arrived on a small cookie sheet, three quarters of which was piled high with hand-cut fries. I appreciate a place that doesn't skimp on the fries as a side, and ELTH does not disappoint. The mammoth portion was nicely complemented with two dipping options—ketchup and a tasty peppercorn aioli. The burger itself was a bit of a mixed bag. Don't get me wrong, these guys know what they're doing, but seeing chorizo before burger on the menu had me expecting a patty that was going to melt in my mouth with a juicy duo of pork and beef. Instead, the burger had a spongy texture, and the heat arrived independent of the flavor, both of which threw me a little. For future reference, I'll stick with the Tap House Burger ($12), which is a solid representation of a hamburger's natural grace.
On the taco side of town, things are a bit more vibrant. ELTH is all about a minimalist approach, and nothing quite reflects that like the chicken tacos ($11): two flour tortillas stuffed with gobs of delectable marinated chicken that pack a sidearm of spice. On top of this flavorful foundation, a housemade pico of cubed jícama and watermelon radish was piled high. The radish on the chorizo burger was a nice change of pace, but it makes these chicken tacos absolutely sing. The dish comes with a generous portion of tortilla chips sprinkled with cotija cheese, and it made me eager to try out the other Mexican-inspired dishes on the menu.
Once diners have satisfied their hunger for burgers and tacos, the dessert menu at is definitely worth a look. The sweltering summer heat had me in the mood for something light and chilled, so I went with the lime parfait ($5). It starts with a lime posset—which Google tells me has its origins in a hot British drink that consists of milk curdled with spiced wine—topped with plump macerated strawberries and an almond brown-butter crumble. It's a gorgeously composed ombré of flavors, starting with tart lime, tempered with the sweet strawberries and capped off by the brown butter crumble. My biggest beef with this dessert was that it comes cruelly packaged in the tiniest mason jar I've ever seen.
Despite a few minor speed bumps, ELTH remains the gastropub that 9th and 9th has needed for a long time, and it's become a classic neighborhood staple. It's got a solid menu, a rotating list of craft beers and an extensive selection of hard ciders, making it the perfect spot for a bite to eat before taking in a flick at the Tower, or a quick lunch amid a day full of shopping.

<!—StartFragment—>
AT A GLANCE
Open: Mon.-Fri., 12 p.m.-12 a.m.;
Sat., 11 a.m.- 12 a.m.; Sun. 11 a.m.-10 p.m.
Best bet: The Tap House Burger
Can't miss: The tart lime parfait