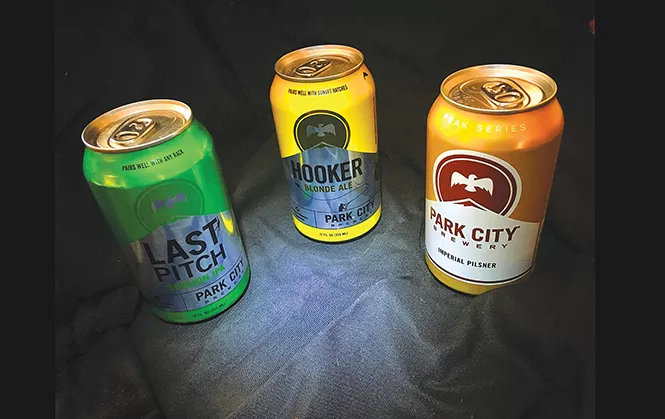 Park City has always been known as the birthplace of Utah's craft-beer movement. That's where it all began, with the creation of Wasatch Brewing in 1986. A few breweries have come and gone over the past three decades, including Park City Brewery, which has stuck around with its 4 percent ABV Session Series and high-point Peak Series. This week, I dive into a few of their offerings. If they're not on your radar, you're missing out.
Hooker Blonde Ale: This pours a pale straw color that has a bit of chill haze. The aroma is faint, but you get notes of baked bread, vague flowers and citrus. Upon first sip, there's some nice biscuit-like flavor that plays off a lemony hint of citrus peel. More of the floral notes begin to emerge mid-palate, giving some balance to the sweet caramel malted grains that make up the base of the beer. The hops seem bit muted, though. As we get into the finish, this beer leaves you with a subtle amount of sweetness that lingers on the tongue.
Overall: This blonde's body is on the light side, which is appropriate for her 4 percent ABV. No promises are made that this beer doesn't deliver on. The sweetness, though common, is welcome in our current climate of bitter ales, which helps it go down quite smooth. All puns were absolutely intended.
Last Pitch IPA: This brew pours a moderately hazy amber hue with a finger and a half of white sudsy head that slowly falls to a sturdy cap. There's not a big aromatic nose present as I get my sniffer on top of the foam, but immediately pine and grapefruit round out the aroma. It does suggest that this brew might not be as sweet as a many session IPAs can be. The taste follows suit: lots of floral aspects with a touch of pine and an appropriate amount of malt for balance. There's no trendy, fruit-salad thing happening here, which is fine by me. This takes me back a few years, when session IPAs were only a Utah thing.
Overall: If you like cascade and mosaic hops, then you'll like this. Considering the 4 percent ABV, and the fact this is a session IPA, it does a damned good job and keeps the typical unbalanced sweetness at bay. It might not blow the hipster's mind, but I'll leave those judgments to you.
Imperial Pilsner: This golden lager looks quite nice with its saffron highlights and subtle haze. Concentrated sweet grains dominate the aroma with pungent fruity notes like grape and corn. Aggressive green and grassy hops round out the nose. All of these elements are reflected in the taste, and nothing tastes quite like an imperial pils. This one is rich, sweet and woody, with a heady mix of green and spicy hop flavors along with some equally peppery alcohol. Mid-palate, I get sweet dough, corn flakes and apple. The hops provide some additional woody tannic bitterness and pine in the finish.
The bottom line: At 7.7 percent ABV, this is a big lager, but not huge by ale standards. Its assertive malt and hop punch can inflict sensory overload if you're thinking this is just another Pilsner. Think of this more as an après-ski or lunch beer, and less a quencher, and you'll get along just fine.
All of these beers are widely available around Utah in grocery and DABC stores. However, the best place is always at the source in Park City. As always, cheers!