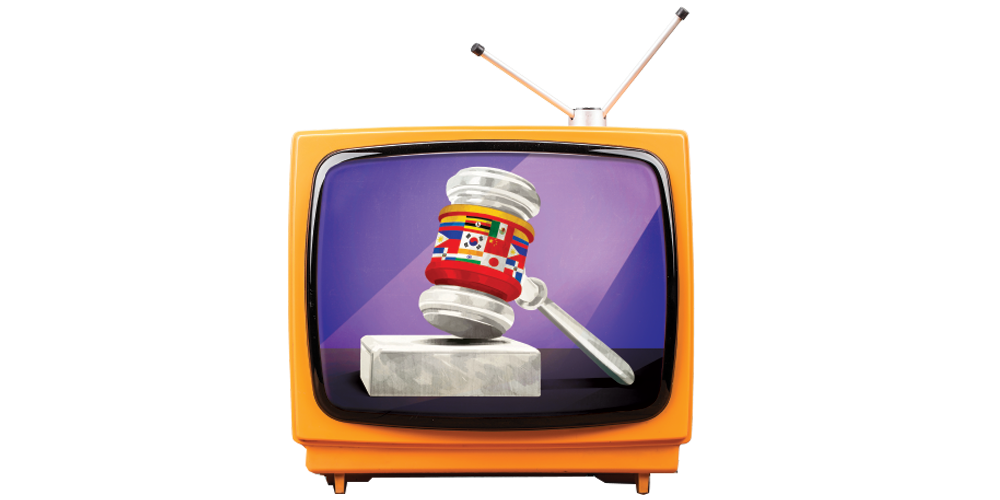 For five months, Antonio Romero Ramirez' days followed the same routine. He'd wake up at 5 a.m., when the guards at the Northwest Detention Center in Tacoma, Wash., turned on the lights. He'd do push-ups and play basketball for an hour or so, then attend a Bible study group organized by fellow detainees. He'd eat lunch around 11:30 a.m., then go to another religious gathering in the afternoon. He'd hang around the phones in the early evening to make sure he'd be able to talk to his wife once she got off work, then he'd find a way to kill a few hours before going to bed so he could wake up the next day and start over.
But Sept. 17 was different. That Monday was the one he'd been waiting for, the day his monotonous, lonely hell would seemingly end—an immigration judge would rule on his case and decide whether he'd be sent back to Mexico, a country he hadn't lived in since 1987, when he'd first emigrated to the U.S. at age 17. Romero's mother, wife and daughter made the 13-hour drive to Tacoma from their home in Idaho so they could sit behind the 48-year old and his lawyer, Luis Cortes, and await the judge's ruling. They'd only seen Romero a handful of times since April, when he had been transferred from jail to the immigrant detention center, a costly consequence for driving drunk and causing an accident the previous month. The same rules applied that morning as all the other times they'd seen him in court—the family members could wave hello, but they couldn't hug or talk with him.
After a lengthy Bible study, Romero took a seat in the Washington courtroom around 8 a.m. Pacific Standard Time. With the guard, his attorney and family all present, Romero looked into a camera and appeared via video in Immigration Judge Christopher Greer's courtroom in Utah.
Doing Their Part
Since July 9, immigrants like Romero who are detained in the Tacoma detention center have been appearing in the Salt Lake City immigration court—technically located in West Valley City—via a video-teleconferencing, or VTC, feed. Such technology is a critical part of the Department of Justice's strategy to cut the immigration court backlog in half by 2020. An Executive Office for Immigration Review fact sheet states that VTC saves immigration judges travel time, helps them to hear more cases and allows them to help out their counterparts stationed in other courts with more sizable backlogs.
Data suggests that Tacoma's immigration court has fewer pending cases than Salt Lake City's. According to Transactional Records Access Clearinghouse, a nonpartisan database maintained at Syracuse University, there are 1,028 pending cases in the Tacoma court, compared to 2,641 here. Smaller caseload notwithstanding, there's a critical distinction between the cases brought before the judges in each court: the immigrants in Tacoma are locked in a detention center as they await a judge's ruling on whether they can stay in the U.S. Before taking over the Tacoma docket, the majority of cases heard by the local court's three judges involved immigrants who were not in detention facilities, since federal immigration authorities have a limited capacity for detention in Utah. As an EOIR spokesperson previously told City Weekly, resolving the cases of people who are detained is EOIR's "highest priority."
Despite VTC's practicality, the added workload might put the Salt Lake City judges at risk of not meeting Attorney General Jeff Sessions' standards. The unexpected Washington hearings required local court officials to postpone between half and two-thirds of the Utah cases so that judges can preside over a Tacoma docket for the rest of 2018. All the judges should hear Utah cases in 2019, but the next few months will likely put them off track to meet their "performance metrics"— Orwellian for "quotas." Between Oct. 1, 2018, and Sept. 30, 2019, each immigration court judge must complete 700 cases in order to be given a "satisfactory" rating on their performance evaluations.
It's not mathematically possible, however, for the Salt Lake City judges to meet this requirement if they were to continue hearing Tacoma cases.
Currently, judges presiding over the Tacoma docket conduct one hearing in the morning and one in the afternoon for four days every week, then have one hearing on Friday mornings. Stretched over the entire year, those judges would complete, at best, nine cases per week, an annual pace of 468, well short of the new requirements. (Those numbers also don't take into account the 10 holidays each federal employee enjoys every year, or the maximum 13 sick days or 26 days of personal leave they're allotted.)
But the best-case scenario is not realistic because delays and postponements are not uncommon. Over four days of VTC hearings last month, at least five cases were pushed to a later date because of technical difficulties, a judge taking leave at the last- minute or because an immigrant posted a bond and was released from detention. It was rare for hearings to begin at their 9 a.m. scheduled time due to missing paperwork or technical glitches.
In order to reach their annual quota, judges would need to complete more than 13 cases per week, assuming they worked all 52 weeks in a year and didn't have any days off.
Internal emails suggest Salt Lake City immigration court judges and personnel are aware that the Tacoma VTC cases will affect their ability to meet the quotas. "As you can imagine, resetting six months' worth of cases for two judges in a three-judge court is having a significant impact on the SLC dockets and our ability to meet the performance measures," reads an email chain obtained by City Weekly that shows correspondences sent between Alec Revelle, the administrator for the Salt Lake City immigration court, and officials in Tacoma.
Asked to come up with a way to keep the Salt Lake City immigration judges, or IJs, on track to meet the metrics, Revelle wrote that the local judges had told him they could complete three cases per day, one more than they were hearing at the time of the emails. He also suggested each judge hear Tacoma cases one less day per week. "This would allow the same number of cases per week to be set for each IJ for the Tacoma docket (actually more) and also allow some time for the two SLC judges to devote time to their SLC docket," Revelle wrote.
He declined to comment on the emails.
Almost a full month later, Daniel Daugherty, assistant chief immigration judge for Denver and Aurora, Colo.; Las Vegas and Salt Lake City, wrote back with a five-word response. "1 and 1 is good," he wrote, meaning that the existing morning and afternoon schedule was adequate. Revelle's suggestion wouldn't be followed.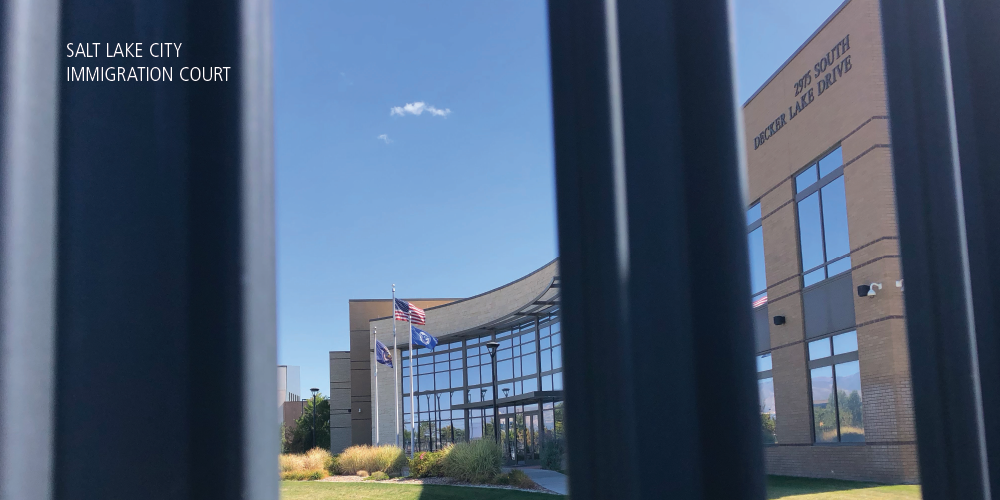 In Limbo
Romero's Sept. 17 trial didn't start on time. Forty-five minutes passed as the counsel for the Department of Homeland Security tracked down a copy of his medical history—an agonizing last-minute delay for someone who's been waiting for five months to hear whether he'd have to leave his family behind. Cortes tried to calm his client's nerves during the delay, making small talk and trying to keep his spirits up as Romero cried softly.
Washington attorneys received orders earlier in September from Judges David Anderson and Phillip Truman stating lawyers must submit all evidence to the Salt Lake City court 14 days before a hearing. "Absent good cause shown, the Court has discretion to not consider exhibits as evidence if they are filed after the deadline," the order reads.
But that doesn't mean that all paperwork is received on time. In another hearing, Judge Greer thanked a Tacoma attorney for not bombarding the court with last-minute evidence. "That makes you one of the few people who have not come in with a stack of papers in your hand," the judge said. "I thank you for that."
"The immigration courts are very antiquated," Cortes explains, because only seven courts are operating a pilot program that allows attorneys to file paperwork electronically. Current policies require Washington attorneys to submit evidence to the Tacoma court first, which then is physically sent to Utah. Also, Tacoma's policy requires lawyers submit evidence 10, not 14, days before a hearing. Different rules are in place for different courts, and hearings are often delayed because of missing evidence.
Once the papers were located, Romero gave testimony about his three convictions between 1998 and 2018 for driving under the influence. Romero told the judge he became unraveled after his father died last year. He'd sit in his car up to three times a week after work and drink a few beers and listen to music. The stress of owning his own business and coping with the loss of his dad was too much at times. "Sometimes, I just want to be alone," he told the judge.
Explaining the most recent DUI, Romero said he drank 12 beers with two friends last March before getting on a turnpike to drive home. He testified that he was swerving and caused an accident, resulting in serious damage to his and the other driver's car.
He cried as he told Greer this last DUI was different than the others. Between jail and the immigration detention center, he'd been locked up for six months. "Look at me. I lost my freedom, I lost my family," Romero pleaded. "I was using the beer trying to make the pain go away."
Cortes submitted documents to the court that detailed Romero's ties to the U.S. and contributions to his community. The evidence paints a picture of a family man and responsible business owner, noting that one of his three U.S.-born children is delaying her graduation from the University of Idaho so her father can attend the ceremony, and his mother and siblings all live here, not in Mexico. The paperwork also details the sacrifices Romero has made to keep his concrete business afloat, how his employees were supported during economic downturns while Romero "took nothing—all as measures to keep his business and his crew going."
Greer acknowledged Romero's positive contributions to his family and employees. But his DUIs were spaced out—1998, 2007 and 2018—and the last one was the most dangerous. Someone could have died. What if he allowed Romero to stay in the U.S. and he drives drunk again in a few years?
Greer called for a short recess. Romero's future would be unclear for a few minutes longer.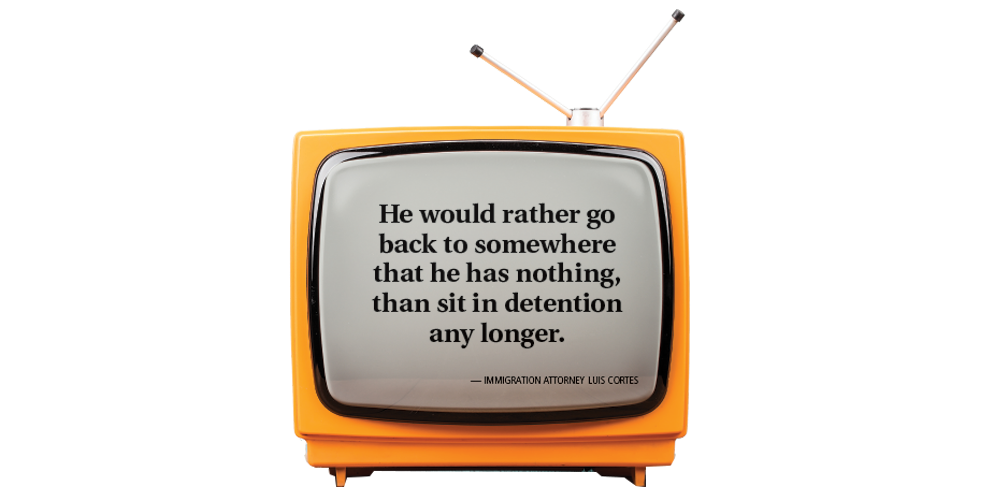 VTConcerns
Utah's judges aren't the first out-of-state arbiters to use VTC technology to help alleviate the load on Tacoma's court. Tim Warden-Hertz, directing attorney of the Northwest Immigrant Rights Project's Tacoma office, says immigration judges from Oregon, Colorado, San Francisco and San Diego have also heard Tacoma cases via VTC. "Cases have generally been able to move more quickly," he says, allowing for detainees to get a day in court—and potentially get a ticket out of detention—faster than if they were waiting to plead their cases in person.
According to a study in Northwestern University Law Review, almost one-third of immigrants attended their immigration court hearings via video in 2015. VTC usage has risen along with the number of detained immigrants awaiting their day in court. In a recent story, Mother Jones reported there were 114,000 VTC hearings in 2017, a 185 percent increase over the past decade.
Leonor Perretta, a West Jordan-based immigration attorney and a liaison between EOIR and the American Immigration Lawyers Association, thinks trying cases over VTC can be helpful for some attorneys and their clients. "A lot of times, you get better judges than who you would normally get," she says. She doesn't see VTC as a "huge issue," but it can pose one glaring problem: "The worst limitation is the technology."
A 2017 independent report commissioned by the DOJ found that "faulty VTC equipment, especially issues associated with poor video and sound quality, can disrupt cases to the point that due-process issues may arise." It also noted judges can have difficulty assessing body language, establishing eye contact or analyzing other nonverbal forms of communication.
"It's probably really hard for the judges," Warden-Hertz says of their ability to observe immigrants' subtle cues over a video feed.
Technical delays are common in the Salt Lake City court. In four consecutive days of City Weekly observing VTC cases, connection issues delayed the start time of at least one hearing, and required one judge to reschedule another to a different date, further prolonging the immigrant's detention. Lawyers say delays in speech and translation, blank screens, out of sync audio and video are recurring issues. "You name it, it can happen," Salt Lake City-based immigration attorney Adam Crayk says.
The Northwestern University Law Review study found that immigrants who appeared via video were more likely to be deported than in-person respondents, not because of judicial bias, but because detained immigrants were more likely to give up on their case due to "depressed engagement with the adversarial process."
Crayk can see where that mindset comes from.
"When a client is looking at a video camera and getting no human treatment, that does, in reality, diminish their fighting spirit," he says. "It's dehumanizing."
Attorneys are affected, too. Lawyers who regularly argue in front of immigration court judges develop a rapport over their repeated in-person interactions, immigration attorney Marti Jones says. Presenting cases over video makes it harder to establish that connection. "You'd like to think that judges are impartial, but relationships matter," she says.
Problems and Master Mayhem
In the same email exchange between Salt Lake City and Tacoma immigration court officials, Revelle proposed scheduling two morning pro se Tacoma cases, or those in which immigrants don't have an attorney. For a variety of reasons, these cases are typically decided faster than those where immigrants are represented, Crayk says.
Warden-Hertz estimates that between 80 and 90 percent of the detainees in the Northwest Detention Center lack lawyers—making it harder to win their cases. It's also more difficult for detainees to access an interpreter in the detention center versus when they're in a courtroom. And it is harder to file an application for people who don't speak English.
"Less and less attorneys are willing to do detention work," Cortes notes, because lawyers have less time to prepare for trial than if their clients weren't held in an immigration center. He adds that there are only seven available attorney visitation rooms in the Northwest Detention Center, to meet the needs of about 1,700 detainees. "It's not uncommon I'll go in there and there's a two- or three-hour wait to see a client," he says.
Also a part of Revelle's emails was an assertion that he'd increase the time for master calendar hearings for the lone Salt Lake City judge still hearing Utah cases. Such hearings are often the initial appearances for immigrants served a "Notice to Appear" by Immigrations and Customs Enforcement (ICE). Generally, between 30 and 40 immigrants are scheduled to appear before a judge who will ask them if they need time to find an attorney or wish to file an application for immigration benefits that would allow them to legally remain in the country. If more people are scheduled for a master calendar hearing, that means there are more chances that someone on the docket will not show up. The judge could then order the absent immigrant's removal in absentia, in effect bringing them closer to the 700-case completion quota. The number of such deportation orders has increased in recent years, as 40,579 people were ordered removed in absentia in 2017, an 89 percent increase from 2008.
Crayk is frustrated by the recent "huge numbers" in master calendar hearings involving Utah cases. "We're running 71 through today, and the other day we ran 100 through," he says one afternoon in September. He says larger master calendar hearings overburden the court's staff and require interpreters to translate for several hours straight.
Those hearings have loose schedules, since each person on the docket must appear before the judge, one at a time. Crayk says attorneys show up at the start of the hearing, but there's no telling when their clients' names will be called. That's problematic for lawyers who bill by the hour. "Unscrupulous attorneys can just wait for a case to be called and make 900 bucks just sitting here," he says.
Life Within—and Outside—the Walls
Regardless of the outcome in Greer's courtroom that day, Romero had decided he was done fighting. If the judge adjusted his immigration status, he'd walk out of the detention center with a green card. He'd be eligible to appeal if he lost, but he'd likely have to remain detained—a demoralizing prospect considering the quality of life ahead.
"It's pretty bleak," Cortes says of his client's life within the center's walls. In his telling, the Northwest Detention Center doesn't offer any programs or educational opportunities to detainees, and unlike in prison, people don't know the day they're going to be released. Immigrants are left to their own devices in a space that doesn't provide a lot of opportunities. Interminable periods of boredom set in, punctuated by the demoralizing news that another detainee has lost their case, that they'll be deported and, potentially, separated from their families for the rest of their lives.
Maru Mora-Villalpando talks on the phone with about 25 center detainees a day. An organizer for NWDC Resistance, Mora-Villalpando says her Tacoma-based group doesn't provide legal support, but publicizes detainees' living conditions in an effort to "shut down the detention center and stop detention and deportation in our state."
Her descriptions are grim. She says detainees repeatedly voice the same concerns: antagonistic guards who encourage those locked up to fight each other; potentially contaminated drinking water; exploitative labor practices where detainees are paid $1 a day if at all for cooking, cleaning or doing laundry; discrimination against those who don't speak English; delayed access to medical care; and skin rashes developed from bedding, uniforms and underwear. "When they call us, it's very obvious how desperate they feel," Mora-Villalpando says.
Excessive ennui is also coupled with confusion and anxiety about impending court dates. "A physical day is pretty much sleeping," Mora-Villalpando says. "That's pretty much it."
Cortes says Romero is one of the lucky ones. It only took him a few months to get scheduled onto a docket. "Some people languish in there for a really long time," he says. The attorney has another client who is suffering from schizophrenia and bipolar disorder who has been in detention for five years. Fortunate or not, Cortes says Romero had made up his mind: "He would rather go back to somewhere that he has nothing, than sit in detention any longer."
After weighing the facts for five minutes, Greer re-entered the courtroom to issue his ruling. He started off by listing Romero's mistakes—almost killing someone in an alcohol-induced car crash, the criminal convictions—all facts that Greer could use to justify ordering Romero removed from the U.S. Cortes said later that all this made him worry Greer was going to rule in favor of deportation. Trying to gauge how things might pan out for his client, Cortes tried to read Greer's body language through the video feed. It was a mostly futile exercise. "It was a little fuzzy so I couldn't really tell at the time how he was looking," Cortes says. "I just kind of had to go off his tone."
But then Greer cited Romero's exercise regimen—he'd lost 30 pounds since he was first detained—and newfound religious devotion as positive attributes, and noted he thought Romero understood the significance, and potential consequences, of his DUIs. "It's my hope the path you're on now is a path you can continue," Greer said. The judge granted Romero's petition. He would be released that night. He'd get a green card. And for the first time in nearly half a year, he'd be back home in Idaho with his family.
For an instant, the court's strict rules barring physical contact were ignored. The family shook Romero's hands and patted his shoulders, moments of intimacy they hadn't been allowed in past hearings. Greer watched through the video feed as Romero, his mother, wife and daughter all cried in the Tacoma courtroom.
Cortes got choked up after the ruling, too. He came to the U.S. from Mexico in 1989, when he was just a few months old. He sees himself in his clients, making cases like Romero's somewhat personal. "When families get to stick together," Cortes says, "I think that we're all better off."