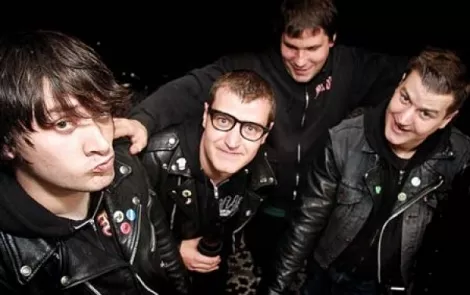 Even a cursory listen makes
Teenage Bottlerocket
's allegiance to the Ramones clear. Tender and occasionally bratty, TBR's nimble pop-punk takes on a plethora of adolescent tribulations, a list that includes falling in love, falling out of love, huffing adhesives for recreational use, acting on impulse and screwing up, and living in self-imposed exile.
It's no coincidence that all of those were standard subjects for a long-gone New York punk band. Every blast of bubblegum-bred attitude is built for maximum efficiency and delivered with the enthusiasm of a hand grenade. The tribute even moves into the physical: in past photographs, the four-piece, based in Laramie, Wyo., has posed against brick walls in jeans and black leather jackets, showing their love for fashion made iconic by the cover of the Ramones' debut. After shouting their affections so loud, any analysis of TBR demands a nod to their stylistic antecedents.
This conclusion isn't a new revelation, especially not to Ray Carlisle, one of Bottlerocket's two guitarists/singers/songwriters. Though well aware of the link, he sees TBR as something much bigger than a band forever prostrating in tribute. He remembers his stint in Homeless Wonders, a band that was "overly complicated for all the wrong reasons," and champions his move to straightforward pop-punk as evidence of his maturity.
"I went through a stage in my life where I thought, 'I can't wait to put together this real complicated guitar solo and show off how awesome I am.' [Now,] it's like, 'Actually, I'll write a song with three chords in it.'" He bristles when asked to nail down his adoration for the aesthetics of pop-punk. "I could tell you some bullshit–'I love the simplicity' and stuff like that—but when you hear a song and it grabs you, is there any way you can pinpoint why you love it? You just love it."
TBR's fascination with Joey, Johnny and the gang aside, Carlisle acknowledges that getting tossed into the pop-punk niche limits the band's audience. "I think that there's an advantage to just being a punk band. Instead, we're a 'pop-punk' bad," he says. "Maybe if we added a couple more chords and made things a little more complicated, we could sell more records. But at the same time, it's a good thing. It's never been about the money. We don't have any restrictions."
Whether those ties to pop-punk are limiting or not, they are undoubtedly the band's doing. And it's when Bottlerocket gets mischievous that they really show off quirks all their own. "Blood Bath at Burger King" from 2005's Total exemplifies this. Ratcheting up their sarcastic, pissed-off volatility, Kody Templeman (Carlisle's counterpart) spins a tale of "taking shit from assholes" at his lousy fast food job just so he can barely make bills; it's a comical tale until you meet its gory, ruined climax and blood is spattered all over the eatery's scenery. "Fatso Goes Nutzoid" from They Came From Their Shadows, TBR's latest, is similarly searing but more sonically visceral—a wild exercise in pop-punk on the verge of collapse.
Even though three-quarters of the band are in their 30s, they have no plans to veer into unfamiliar territory, like taking on politics or writing something pointedly weird. "It's really important for me to be able to listen to our records in the future and love them, which I could say about our four full-lengths now. I thought we were breaking out of our shell on They Came, but all the reviews said the exact same thing as the last three records, which is a good thing. I appreciate that," says Carlisle. "It's not important to us if the song is pop-punk. What's important to us is if the song is good."
TEENAGE BOTTLEROCKET
With Banner Pilot, The Hang Ups, The Mooks
Kilby Court
741 S. Kilby Court (330 West)
Thursday, July 15
6 p.m., $10
KilbyCourt.com