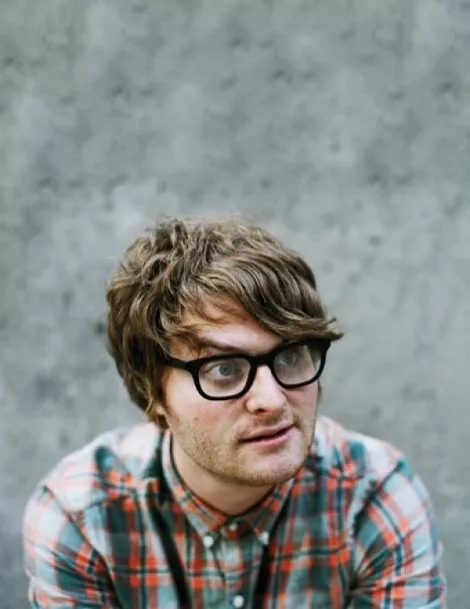 For many bands, the second release is an occasion for the "sophomore slump," but for
Telekinesis
,
12 Desperate Straight Lines
is just another chance to create indie-pop magic.
The fact that the band is composed simply of Seattle musician Michael Benjamin Lerner and whomever is collaborating with him would seem to make for little fear of repeating himself on the follow-up to the band's acclaimed 2009 debut, Telekinesis! Still, he felt anxious and restless when it came to starting work on his second album.
Part of the challenge was the fact he was dealing with the end of the long-term relationship that had fueled the wanderlust of his early songs, as well as a mysterious health condition that rendered him temporarily deaf in one ear. For a change of scenery, Lerner exiled himself to Berlin in the winter, writing songs for eight hours a day in a room in the warehouse district.
"If anything, it got me out of my comfort zone," he says. "Berlin is a really good place to go make music. It's just a super-cool city for anything arts related. So it really felt like the right thing to do."
As industrious as he was there, Lerner emerged a few songs short of enough for an album, so he went to work, as he did on the debut, with producer and Death Cab for Cutie guitarist Chris Walla recording on analog tape, experimenting and, at times, spontaneously dancing and recording drum parts backward.
"[Walla is] a producer in every sense. Genius is an understatement," Lerner says of their relationship. "We try lots of unconventional things, and that's really fun."
Their spontaneity worked again in creating a sound that's sparkling, yet has amazing depth. The addition of bassist Jason Narducy [Verbow, Boston Spaceships, Bob Mould's band] has added a bounce you might associate with those projects.
"Writing with the bass is nutty," Lerner found. "It's so melodic, but when you distort it, it sounds so brawny. I love that about it. It's cool, too, being a drummer, being able to control that drums/bass stuff."
Cody Votolato of Jaguar Love and The Blood Brothers rounded out a lineup that, if anything, sounds fresher than the band on the original release, capable of being both more intense and subtler.
One of the most rocking numbers, "50 Ways," is reminiscent of Paul Simon's "50 Ways to Leave Your Lover," in this case expressing the anger and frustration of breaking up with someone and still seeing them everywhere. You can feel the bitterness right down to the crunching fuzz bass. "Please Ask For Help" was inspired by listening to The Cure's Disintegration on repeat, using what Lerner calls "that dirty bass line" to evoke the "weird lust" he imagines swirling around in a seedy bar on a Saturday night.
Because of its more abrasive arrangements, the album somehow accomplishes the task of feeling more personal than the debut, with its relatively softer tones; even a song like "Fever Chill" is utterly hummable. And the metaphor of "Car Crash" for the attraction you just can't avoid is just too perfect.
Beyond any studio wizardry or musical experimentation, it seems like the songs' success is a case of Lerner allowing his guard down to just emotionally bare it all.
"I think it's a lot darker and less naive than our first record," he says of 12 Desperate Straight Lines. "I kind of had no idea what I was doing when I made that record. This time, I was going through a bunch of personal issues, with relationships and health. It was just a much more personal record, and I think you can hear that."
TELEKENISIS
w/ The Globes, The Awful Truth
Kilby Court
741 S. Kilby Court (330 West)
Wednesday, March 23, 7 p.m.
$8
KilbyCourt.com