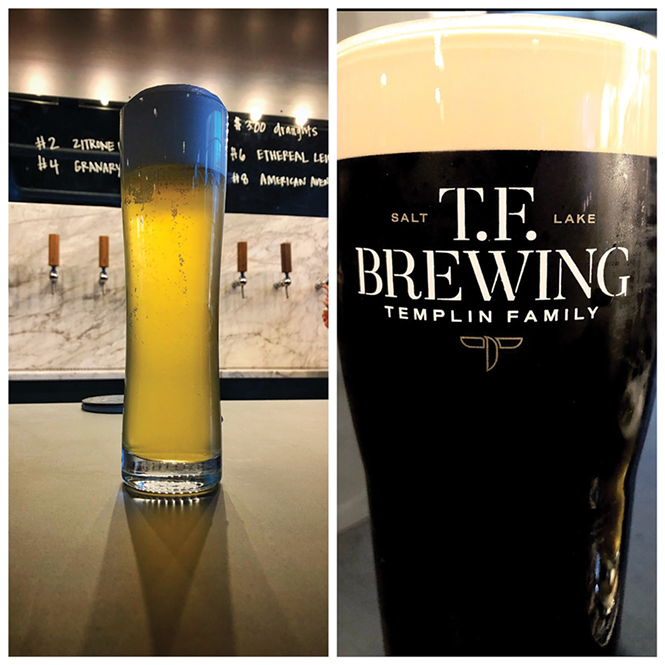 You might have heard that Salt Lake City has a new brewery in downtown's evolving Granary District. The T.F. (Templin Family) Brewery is part of a beer renaissance that's been building momentum over the past couple of years and it's another unique beer experience that looks to add to the local beer scene. Here's a look at some of their initial brews:
Granary Kellerbier: This is an older German style that dates back as far as the Middle Ages. Kellerbiers are unfiltered and unpasteurized beers that undergo a lengthy lagering process. The result is a smooth, naturally cloudy beer that's rich in B vitamins from the yeast. T.F.'s interpretation pours a slightly hazy golden color with a solid two fingers of dense foam. Aromas include lemon, cracker, biscuit, light honey, herbal grasses and some earthy yeast. Taste it and you might find toast, biscuit and light honey to start. As you get in a little deeper, herbal, grassy, light pepper and yeasty notes emerge, propping up the back end of this brew. Once there, a moderate amount of herbal/spicy hops punch out, providing a good dose of bitterness to balance out the sweetness from the grains. Lingering notes of herbs, grass and light pepper can be found in the finish, leaving zero cloying flavors after all is said and done.
Overall: This is a damned nice Kellerbier style, with all-around great robustness and a balance of bready malt and earthy hop flavors. It's very smooth, crisp and clean to drink and makes for an enjoyable offering.
My Son Oat Porter: This beer seems like it was meant to be on a nitro tap. The dark brown hues shimmer just enough to discern that it is, in fact, a deep brown and not black. As you can see from the photo (above right), the head is a flawless two fingers of dense khaki cream. The aroma isn't particularly strong, but you do get some nice notes of dark malt, a lightly roasted coffee scent and just the faintest sugary hint—like a touch of brown sugar or caramel. It's pleasant, if a bit muted.
While I didn't get much chocolate on the nose, you do begin to pick it up on the palate. It's more of a cocoa powder chocolate, but not really bitter, and it blends nicely with the dark, bready flavors and hints at some dark fruitiness. Coffee notes and roasted malt come through stronger mid-sip toward the finish, but again, it seems to exercise a great deal of restraint. You know the flavors are there, but you have to dig for them. Still, it's pleasing with a lingering touch of smoke, and that cocoa flavor settling out toward the end. The mouthfeel is very creamy; it really lays down on the tongue, and shows a nice bit of body for a 4.0-percent porter. While it's not as thick as a milk stout, the nitro really gives this beer some extra heft.
Overall: It's a good, solid porter by a local brewery that I'm going to enjoy supporting. This might be one of the better beers that T.F. chose for its debut, and I hope it's available more often than not. It has all of the hallmarks of a quality American Porter, made all the more enjoyable by an exquisitely creamy body.
These are just two of the beers to debut. As of this writing, there also are two wheat ales (German and American), an American pale ale and an 8.6-percent double IPA. Now it's your turn to check out the new flavors. As always, cheers!