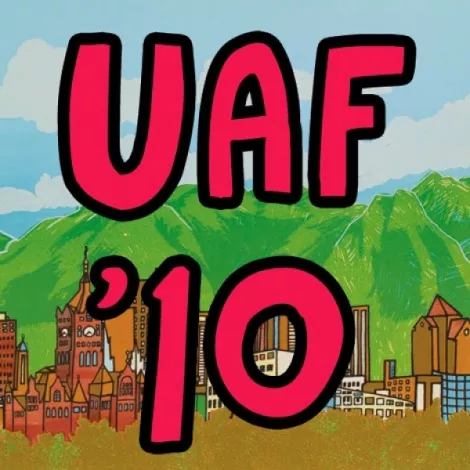 The 2010 Utah Arts Festival takes over downtown Salt Lake City June 24-27 at Library Square (210 E. 400 South). I interviewed Eugenie Hero-Jaffe and Jocelyn Kearl, official tweeters for the festival.
@MartyFoy Hello @UtahArtsFest Nice to see that you're on Twitter. This interview couldn't have been possible otherwise.
@UtahArtsFest It's our first Twitterview!
@MartyFoy So you're on FB & Twitter, you've got an Iphone app & website, what's up with all the web technology for the 4-day fest?
@UtahArtsFest 2,846 fans on FB / 1,839 followers on Twitter. Our fans do a great job making this exponentially effective.
@MartyFoy This year you have a spiffy new Iphone app; what does it do and how do locals get it?
@UtahArtsFest The app lets you browse the festival schedule by day, time, stage, and genre; you can create your own personal schedule.
@UtahArtsFest Locals can get the link at http://www.uaf.org. The app was donated by EyebrowMan Interactive, long time fest volunteer and fan.
@MartyFoy How many performers, artists and special activities will be at this year's festival? What can't be missed?
@UtahArtsFest 140 Performing Artists, 140 Visual Artists (55 new to the Fest), 50 short films from around the world. Biggest Fest ever!
@UtahArtsFest Don't miss opening night w/ Cowboy Junkies/Michelle Shocked; Library Atrium Organ Performance by Richard Elliott...
@UtahArtsFest Mini Music Fests--bluegrass, funk, world/jazz, blues. Plus great local bands Fox Van Cleef, Ghostowne, Muscle Hawk, Tolchock Trio.
@UtahArtsFest Plus special surprise daily, but it's top secret, even for Twitterview so can't reveal more but it will be the talk of the Fest.
@MartyFoy What's new this year and never been seen before at the festival?
@UtahArtsFest Never seen before... Team Poetry Slam on Saturday; 1st ever Dance Commission by Tom Mattingly; 1st ever UAF Youth Rock Ensemble.
@MartyFoy CW's Dining Editor @Critic1 wants to know what's on the menu? Any local restaurants representing?
@UtahArtsFest Epicuriosity (near Earth Garden Stage) features cooking demos by student chefs at Art Institute of SLC creating gourmet tapas.
@UtahArtsFest Also, Element 7 flash-frozen ice cream using liquid nitrogen; Market Street Grill is back this year Lucky 13 BBQ is new vendor.
@MartyFoy What's the Ultra IronPen challenge? Can I tweet to compete?
@UtahArtsFest Writers face off in 24-hr comp (no Tweet to compete; good idea tho); register now at http://bit.ly/bwrI2u. Winners read Sun 6/27.
@MartyFoy Tell me about the Cube?
@UtahArtsFest It's all about the spray paint; Banksy would be proud.
@MartyFoy How is the @UtahArtsFest cutting carbon this year?
@UtahArtsFest In addition to bike valet and recycling, this year the Festival is using carbon offsets thanks to Blue Sky & Rocky Mountain Power.
@MartyFoy Thanks for the TwitterView @UtahArtsFest anything else I need to know about this year's festival?
@UtahArtsFest Start your Fest w/Cake on Sat; get the iPhone app; weather is looking fine this year. Thx @MartyFoy for our first TwitterView!!