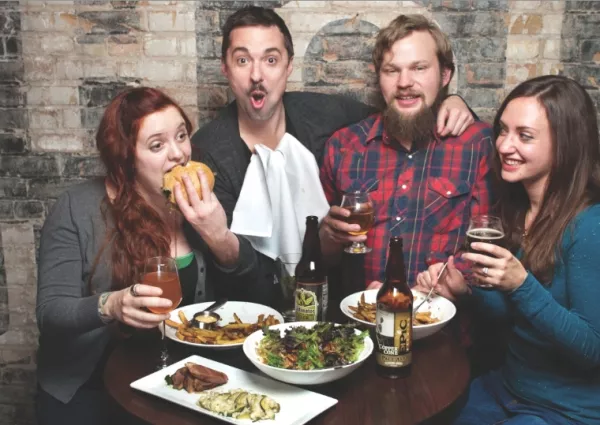 When co-founders David Cole and Peter Erickson launched Epic Brewing Company five years ago, they raised the stakes for Utah's craft beer brewers by focusing on strong beers in large-format bottles. It's not that it hadn't been done before, but the wide range and high quality of the beers brewed by Epic caused everyone to sit up and take notice. Epic even scored medals in its first year of operation at the Great American Beer Festival for Epic 825 State Stout and Brainless on Peaches, and was named third-best new brewery in 2010 by RateBeer.com.

Well, now Epic has moved full-on into the brewpub biz with the opening of The Annex, located in Sugar House. This ain't your daddy's brewpub. In fact, the folks at Epic don't even call The Annex a brewpub, but rather a gastro-pub (a pretentious term I generally loathe).

I was surprised the first time I walked into The Annex. I sort of expected a cozy place—you know, a pub. But The Annex is anything but warm and cozy. The design and decor is quite contemporary, with lots of metal and hard modernist surfaces.

It's sleek, minimal and, frankly, gives off something of a cold vibe. That might change when the place is crowded, but I haven't been there yet when it was.

Along with a large dining room in the front of the restaurant—featuring tables lit with pendant filament lights—there's a counter in the back with seats where you can watch kitchen operations. There's also a bar that feels nothing like a bar, largely due to the necessary Zion curtain. When is a bar not a bar? When you can't see any booze in sight.

So, I'm not too crazy about the look and feel of The Annex, even though a lot of dough was spent on the décor. The food, however, is another story. Cole and Erickson did a smart thing by hiring Robert Angelilli as their chef. Angelilli—who hails originally from Vicenza, Italy—knows food and how to cook it. He's a very intelligent and talented chef.

They did another smart thing with the innovative way they structured the menu. Instead of the standard appetizers, entrees and desserts, The Annex menu creatively arranges the food into increasingly challenging culinary categories that mirror those of Epic's beers: Classic, Elevated and Exponential. In the Classic category, you'll find traditional brewpub fare like fish & chips ($9), beef burgers ($11) and such.
Elevated entrees take you a little further out of the brewpub box with items like Korean double-fried chicken wings ($10) and duck breast on greens with Grana Padano and pomegranate vinaigrette ($10). Finally, in the Exponential section of the menu you'll discover crispy pig ears with spicy garlic dip ($6), beer-battered oysters with chili sauce and pickled vegetables ($9) and even a quinoa burger, with a choice of Dutch or spent-grain bun ($10).

While perusing the menu, it's a good time to indulge in some of Epic's terrific brews, which are available in pints or tasting sizes ($5-$7), or in 22-ounce bottles, with prices ranging from $7 for Cross Fever Amber Ale to $23 for Big Bad Baptist Imperial Stout. There's also a small selection of cocktails available and an even smaller selection of wine: two, to be precise. But it's decent wine: a house red and house white from Washington's Magnificent Wine Company ($7 per glass).

To get things started at The Annex, I'd recommend the gravlax ($8): salmon that is house-cured with Epic Saison and served with creme fraiche and cucumber rounds on crispy Norwegian-style crackers, topped with fresh dill. I also really liked the beer-battered fried oysters, although my dining partner that day was less enthusiastic; oysters aren't for everyone.

I love arancini, and looked forward to sharing some as an appetizer. Arancini are essentially rice tossed with cheese, coated in bread crumbs, formed into balls and deep-fried to look sort of like small oranges; the word arancina in Italian means "small orange." Anyway, I was bummed to find the arancini ($7) at The Annex to be bland. The arancini fillings change "on a whim," and on the night we had them, they were rice, mozzarella and wilted greens with a basic pomodoro sauce. But, they lacked seasoning. The addition of a sharper cheese like Parmigiana or Romano would help. But hey, there's salt & pepper on each table.

Indeed, Angelilli has a light hand in the kitchen when it comes to seasoning, but that's mostly a good thing. I needed to heavily salt my fish and chips, which were excellent: beautiful chunks of true cod, lightly battered and fried and served with the best french fries I've had in Salt Lake City. Each morning, the kitchen staff hand-cuts about 150 pounds of potatoes, leaving the skins on. They are blanched in water, then twice-fried—once at 325 degrees Fahrenheit, and a second time at 350 F. Perfect.

The macaroni and cheese ($8)—made with mozzarella, Parmesan, Grana Padano and strewn with crisp pancetta morsels—is heaven. And, since we've tossed our diet aside, why not try the poutine ($9)? It took me about a day to recover from the massive—and massively heavy—dish of French fries topped with cheese curds, crispy pieces of beef brisket and a luscious mushroom gravy.

Still, I did manage to snarf down a bodacious dessert of Porter gingerbread ($5) with Big Bad Baptist Stout caramel and whipped cream. There should be an additional menu category for The Annex' desserts: Stratospheric.

THE ANNEX BY EPIC BREWING
1048 E. 2100 South
801-742-5490
TheAnnexByEpicBrewing.com