Page 4 of 7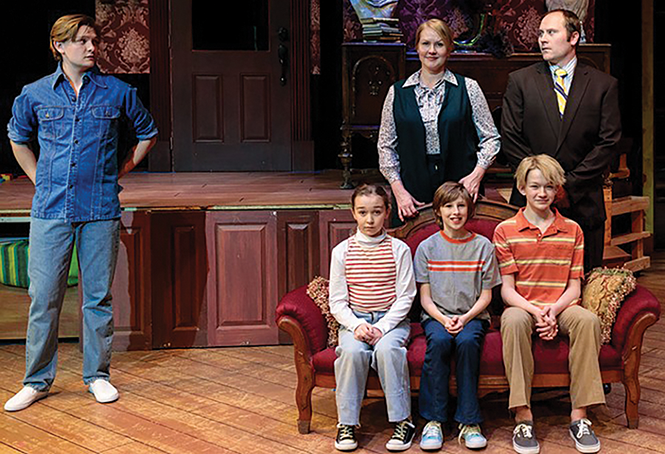 David Daniels
Fun Home
How to Build a Season
Before shows get on stage, there's the work of deciding what those shows will be.
By Scott Renshaw
Every spring, local theater companies begin teasing their audiences with news about the new season that will commence the following fall. Those audiences are left with a few months of anticipation before getting a chance to see any of those shows—but they probably haven't considered the many months of planning and logistical challenges involved in making those season slates possible.
Every company's story behind building a season is slightly different, based on factors including the mission of the company, and the limitations of budget and physical theater space. In every case, however, there's a dedication to finding the best available stories to tell, and navigating the potential challenges of acquiring rights and figuring out how best to keep audiences challenged and buying tickets.

Karen Azenberg, Pioneer Theatre Co.
As a large Equity company with a 932-seat proscenium theater, Pioneer Theatre Co. would seem to have an advantage over many smaller local companies when it comes to putting together a season. Yet there are still very specific challenges faced by artistic director Karen Azenberg as she begins the process of considering shows for a season of seven full productions and one staged concert production.
For Azenberg, the back-schedule for planning seasons might go back a year or two before locking down the titles in late January or early February for the upcoming season, from a short list of 12-14 plays and musicals. Availability of titles is always a consideration—a planned national tour or Broadway revival of a specific show might mean that its rights are not available for regional companies—as well as the goal of balancing the schedule and avoiding titles that might overlap too much. "Some of it is, 'Wait, if I do that Shakespeare play, I might not want to do Something Rotten!," Azenberg says.
While PTC's size gives it certain advantages, Azenberg still has to consider a wide range of logistical factors. At times, that means the technical requirements indicated for a show—everything from the special effects to the number of cast members—can remove it from consideration. "There are strange things like, I really love this musical, but it's only orchestrated for 26 musicians, and we can only fit 16 musicians in our pit," Azenberg says. "Or, we really want to do the show, but we can't have 17 flying rigs."
Even once the specific titles are identified and confirmed, there's the matter of which titles go in what slot during the calendar. During a season, one show generally already has begun rehearsals before the previous show has completed its run on the PTC stage. That means two groups of actors are in town at the same time—and even for a company that has the resources and facilities to cast nationally, there are limitations in what can be done. "We have 20 apartments," Azenberg says; "how many people can we bring into town at one time? Doing two big shows one after the other can be very difficult for us, for our [costume and set design] shops and the logistics of our housing capabilities. ... Our shows don't run back-to-back, but we're running back-to-back."
It's even worth considering how the slotting of a specific production could be impacted by the way other local arts organizations schedule. For many years, PTC planned a big musical production for the holiday season, but Azenberg considered a different approach. "The last couple of years, you may have noticed a rejiggering slightly, doing a musical in February," she says. "With all the holiday offerings in this area, maybe we can do better than normal, because now we can capitalize on a time when there isn't as much musical family entertainment in the community. So some of it is a game."
Bringing in ticket-buyers is indeed an inevitable factor for scheduling a season, and for many years, PTC has specifically offered audience members an opportunity to weigh in with a survey that is included in programs during one production each year. Azenberg says that these surveys rarely offer surprises—"At this point, 90% of the time, I can tell you which shows will do well on the survey," she says—yet they can offer guidance in some grey areas. "They're more helpful in, 'Do more people know this title than I think, or vice-versa," she says. "Or if there's a title that's like, maybe that one can work, but it does really poorly on the survey."
While audience input and the perspectives of a few other select PTC staff members might be part of the process, when push comes to shove, Azenberg is where the buck stops with making the season selections. "That's the top line of my job description—season programming," she says. "It's my responsibility, and if you don't like it, you can come to me. ... If I make the circle too big, I can find somebody who's going to say what I want to hear—or what I don't want to hear—about any title."
Cynthia Fleming, Salt Lake Acting Co.
In finalizing a season in January for the upcoming year, Salt Lake Acting Co. faces some challenges now that it didn't used to, according to managing director Cynthia Fleming. But some of those challenges are self-imposed, and with socially-responsible goals in mind. "It used to be, 'the best plays, period,'" Fleming says. "But now, equity, diversity and inclusion have to be considered: female playwrights, playwrights of color. ... Partnerships are very important to me, so sometimes I'm thinking that this play would be a great partnership with this organization. So there are a lot of new variables."
In creating SLAC's short list, Fleming says she's reading plays all year long for consideration for the next season. Sometimes, she might know that a specific title isn't going to be available for the next season, but that doesn't mean you can't begin the process of lobbying to get the rights down the road, as was the case for the Tony Award-winning musical Fun Home a few years ago. "I first heard the CD, and I was like, I want SLAC to produce it, I love it so much," Fleming recalls. "We started asking for the rights before they were even available. When they did become available, we kept going, 'Hello, hello, we're here.' ... And we got the rights."
Salt Lake Acting Co.'s physical theater space is smaller than that of Pioneer Theatre Co., and inevitably those physical limitations have some impact on choices. Yet Fleming says that she's tried to stay open to the possibility of shows that might have seemed impractical in years past. "Years and years ago, SLAC was turning down some great plays because they had too large of a cast," she says. "When I came, I thought, I don't want to do that. Let's figure out a way. Ten to 12 cast members is about the limit for our space, and last season was a season of large casts. I can be swayed to take the risk to present a play that has a larger cast, or is technically difficult, if it's such a great play."
She also acknowledges that the current political climate might have some impact on decision-making. "I have to say, since Trump has been in office, I've really looked for new contemporary work that leaves us enlightened," she says. "Sometimes, [those plays] can be really dark. Until our culture changes a little bit, I'll try to choose plays that will bring light, and leave aside the darkness."
Once the finalists for a season have been identified, Fleming encourages members of the SLAC staff to read them all, and to provide feedback. Yet one of the things Fleming doesn't worry about is the notion of whether a work will be "commercial" enough to draw an audience—a luxury she attributes to the company's loyal, open-minded subscribers. "A third of them don't even know what the season is" when they re-subscribe, she says. "They're coming for the adventure. I just have to make sure the artistic excellence is enough for them, and that the work is smart. Those are the only considerations I have."
Fran Pruyn, Pygmalion Theater Co.
Thinking about the next season is a year-round proposition, according to Pygmalion Theater Co.'s Fran Pruyn. As part of the National New Play Network, Pygmalion gets solicitations from playwrights all over the country all year. "If I don't have a play in front of me for consideration, I go looking for one," Pruyn says. "There's always something on my dining room table I'm looking at."
Pruyn describes a three-part checklist for consideration that she always has at the forefront of her mind when looking at scripts for a season that generally includes only three full productions: "Does it drive the mission statement [to present work 'through the eyes of women']? Can it fit in the [Rose Wagner Black Box]? And can we afford it? ... We tend not to look for shows that have been done to death, even if they do fit the mission statement. A lot of it is, do we have the passion for this play?"
As a small theater company, Pygmalion also faces the reality that they can be competing for certain plays with other local companies, and that those companies might have an advantage. "Full Equity houses will get first crack," Pruyn says. "Just because it's perfect for us, it might be perfect for them, too."
Also an important consideration for a small company is the matter of selling tickets. Without the buffer of a large season-subscriber base enjoyed by PTC and SLAC, each individual show needs to be able to draw patrons. "There's a reality about the fact that just because the theater community knows a script really well, the general audience doesn't," Pruyn says. "Then sometimes it's just the tone of the show. There are times when you read a script and go, 'Yeah, that show is really, really good, but it's also really, really depressing, and I don't think people want to go to see depressing shows right now. There's so much opportunity for entertainment in so many different places, and disposable income is so limited. You really need to provide something that people want to see."
While programming new plays can present a challenge in marketability, it can also come with unique opportunities—and specific questions beyond the quality of the work. Pruyn notes that when staging new work, often with the involvement of the playwright, it's worth considering the reputation of the writer in terms of being easy or hard to work with, and how receptive they are to suggested changes. "With Sweetheart Come, we spent a whole year workshopping it," Pruyn recalls. "I said [to playwright Melissa Leilani Larsen], 'I love this script, but this set is impossible. Can you workshop this so we can figure out how to make the set work?' She had a tree in the middle of the stage. She was really thinking cinematically."
And while there are more obvious logistical considerations—like the cost of hiring musicians—that factor into programming decisions for a company on a limited budget, it's the things you'd never even consider that might be the difference between a company saying "yes" and saying "no." "One play I looked at, the playwright had salad dropping from the sky," Pruyn says. "I don't want to have to clean up salad."