Page 5 of 7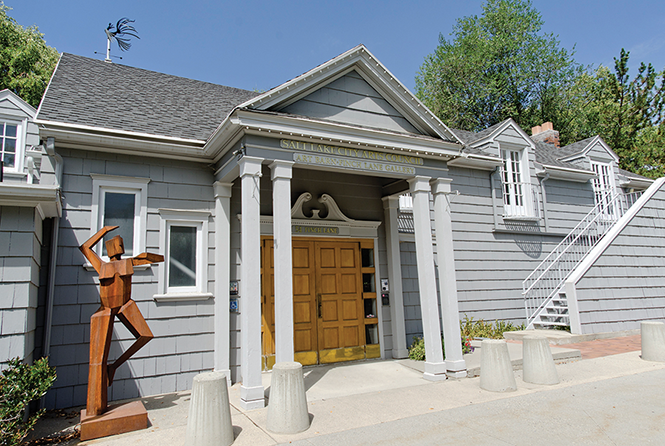 Stephen Keen
Finch Lane Gallery
Stroll Call
A look at just a few of the hubs for SLC's vibrant visual arts scene.
By Kylee Ehmann, Colette A. Finney and Casey Koldewyn
Salt Lake City offers a wide range of places to experience exciting showcases for classic and contemporary work by local, national and international artists. This introduction is only the tip of the Utah artistic iceberg; visit gallerystroll.org, parkcitygalleryassociation.com and ogdencity.com/707/arts for many more places to expand your horizons.

Art Access Gallery
For 35 years, Art Access has been working to create a space where looking at and creating art is, well, accessible to everyone who is interested.
Joy Davidson, gallery coordinator, says diversity and inclusion are at the core of their mission. "We tend to think outside of the box—this helps us to remain nimble and excited about a gallery and exhibit space where we can share provocative art made by a wide variety of artists," Davidson says. "Our gallery, in turn, feeds back into our distinctive programming. It's a synergy that seems to have powered us through the decades and continues to inspire our supporters."
Art Access is Utah's only arts organization that focuses primarily on serving individuals with disabilities, featuring disabled artist's works and reaching out with programming such as the Epilepsy Art Project and the Open Studio for Artists with Disabilities. Other programming, like Resilience: Art by Survivors of Sexual Assault, are designed to elevate other minority communities.
Art Access participates in the monthly SLC Gallery Stroll. Their current main exhibit, Poiesis, showcases artists who create three-dimensional print-based artworks. (KE) 230 S. 500 West, Ste. 125, 801-328-0703, accessart.org
Finch Lane Gallery
In 1933, the Finch Lane Art Gallery was called the Art Barn. Located at 54 Finch Lane, the gallery is managed by the governmental nonprofit Salt Lake City Arts Council to "promote, present, and support artists, arts organizations, and arts activities in order to further the development of the arts community and to benefit the public by expanding awareness, access, and participation."
Across Salt Lake, SLCAC makes possible annual events like the Holiday Craft Market or Living Traditions Festival. Within the Finch Lane Gallery itself, traditional landscaping, abstract sculpture and digital media, from emerging and established artists, all have access to display in its space.
"We really fit this great role ... having a more traditional gallery space, supporting artists with activities in our space but also fostering art that's happening in SLC outside of our gallery," Sarah Hobin, visual arts and community outreach manager for SLCAC, says. Speaking on the art scene in Salt Lake City, specifically the underground art scene Hobin has noticed, she adds, "I think Salt Lake is at this really awesome place for the art just exploding here. It's figuring out how to keep that momentum going forward."
Upcoming calls for entries to the gallery include one for the Holiday Craft Market, closing Oct. 15, the Finch Lane Short-Term Projects closing Oct. 21, and for the Block 70 Vinyl Wrap Murals opening Sept. 27 and closing Nov. 1. (CK) 54 Finch Lane, 801-596-5000, saltlakearts.org
Modern West Fine Art
A downtown destination since 2014, the Modern West Fine Art gallery is a popular stop on Salt Lake City's monthly gallery strolls.
Created by owner Diane Stewart, the contemporary gallery strives to educate and inspire the community through thoughtful events which illuminate bodies of work that are relevant and meaningful for today's audiences. Expanding into a much larger location last spring, this mission is a lot easier to fulfill with a new canvas of 10,000 square feet.
"With our expansion, we have integrated a curated selection of books by arts publisher Taschen and an outdoor sculpture courtyard, along with a co-working creative space upstairs," Stewart says. "And the gallery is focusing on expanding our reach by including local guest artists in curatorial driven shows."
Situated in a growing arts complex, Modern West carefully selects artwork from emerging and established artists. A supportive hub for all creatives and community members, the gallery also offers engaging artist's workshops and lecture series, and provides rental spaces such as the photography studio or areas for private functions.
"The vibrancy of the gallery is really important to me," Stewart says. "Every time a patron or collector comes into the gallery, I want them to see something different." (CAF) 412 S. 700 West, 801-355-3383, modernwestfineart.com
Urban Arts Gallery
Fostering the arts in Salt Lake City since 2013, the award winning Urban Arts Gallery has evolved into an eclectic space showcasing art through a variety of exhibits and events.
"The gallery is uniquely situated to feature a very diverse spread of local artists working in a wide variety of styles," gallery manager Scott Tuckfield says. "We serve as a launching pad for artists on the early stages of their journey, while still offering top-quality work from more mature artists."
Founded by executive director Derek Dyer, the gallery is a venue for the nonprofit Utah Arts Alliance, which broadens exposure for the more than 200 artists who exhibit their work within its walls. With a mission to create a connected community, Urban Arts hosts a free monthly gathering inviting local artists to bring up to two pieces to display that evening. All in attendance vote on their favorites, and the top five works are hung the following month.
"There's really a ton of talent here in Salt Lake City, and the arts scene is getting more and more vibrant," Tuckfield adds. "I believe our gallery offers people a chance to engage with art in a way that's accessible, interesting and fun." (CAF) 116 S. Rio Grande St., 801-230-0820, urbanartsgallery.org
Utah Museum of Contemporary Art
Although the Utah Museum of Contemporary Art has gone through multiple names and locations since its founding in 1931—most recently in 2011, when it rebranded from Salt Lake Art Center to the current name—the mission has always been to showcase contemporary, innovative and avant-garde art.
But the museum doesn't just want people to be able to see the artwork of local and national contemporary artists, they want them to be able to understand it, too. Visitors can participate in a variety of workshops, tours and lectures at every ability and education level to learn to appreciate, comprehend and even create contemporary art.
Their most unique outreach program that brings weird and exciting contemporary art to the masses is the Art Truck. This roaming vehicle brings community-made art and an educator to places throughout Utah for free. This year, the Art Truck features Work: An Audio-Visual Exploration of Effortful Lives, a collective and participatory project generated by the students and families living on the west side of Salt Lake City that analyzes the concept of "work" and represents it through sound and images.
Admission is free, and there is a suggested $5 donation at the door. (KE) 20 S. West Temple, 801-328-4201, utahmoca.org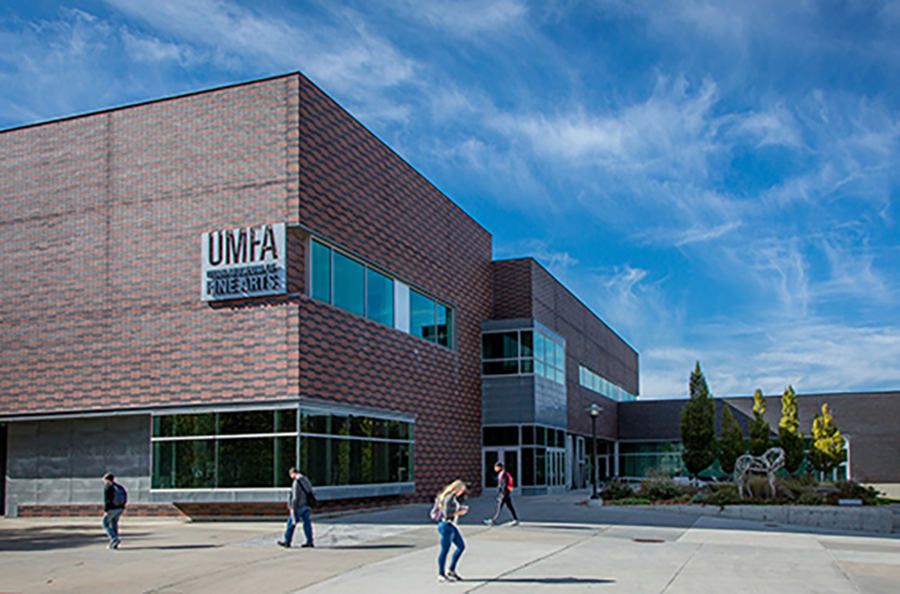 Adelaide Ryder
UMFA
Utah Museum of Fine Arts
Housed in the Marcia and John Price Building, the gallery known officially as the Utah Museum of Fine Arts and colloquially as UMFA, has grown from its small 1914 origins as an art gallery on the University of Utah's campus. Now, it's an accredited art museum containing 20,000 objects and traveling exhibitions of national and international renown.
Mindy Wilson, director of marketing and communications for UMFA, says the museum is known for its collection's expansiveness. She adds, "the UMFA's mission goes much deeper. Our goal is to inspire critical dialogue and illuminate the role of art in our lives."
"The [Salt Lake City] scene has grown so much over the past several years, with greater appreciation for more diverse artists, and a growing scene of artist-activists coming together to use visual art to support important causes," Wilson says.
UMFA's efforts to inspire dialogue are part of its yearlong partnership with SLC-based nonprofit Artes de México en Utah. A Día de los Muertos Celebration takes place Nov. 2 at UMFA in connection with the art piece "La ofrenda" by Diego Rivera, on display for the next year. Other exhibits include "DE | MARCATION" and works by Georgia O'Keeffe, Thomas Moran and Alma Thomas. (CK) 410 Campus Center Drive, 801-581-7332, umfa.utah.edu