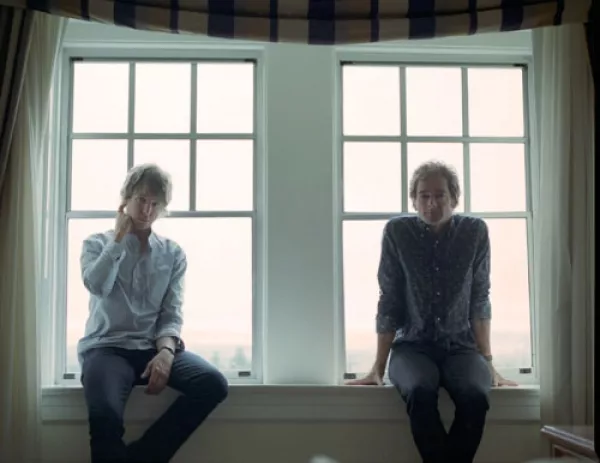 There is nothing quite like arctic, gloomy Chicago weather to bring out the warmer, lighter side of Patrick Sansone.
"Chicago winters can be long and dark, and we often find ourselves making records during the winter months," the longtime Wilco member and multi-instrumentalist says about the latest release from his side project, The Autumn Defense. "The studio can be a warm, cozy place to hide from the cold. I think that feeling definitely found its way into the songs on Fifth, of trying to fight some seasonal depression."
Fifth—the band's fifth album, which comes out Jan. 28—is a decidedly positive, easygoing record. A lot of the songs are akin to the warm, mid-tempo pop-rock numbers that populated AM radio stations in the '70s and '80s. "August Song" is a percussion-led down-tempo track that is tailor-made for summer listening, while "None of This Will Matter" marries its upbeat sound to lyrics about veering away from pointless and shallow pursuits. And "Calling Your Name" feels like it's cut straight from the James Taylor playbook with its laid-back folk-pop sound.
But for the most part, the album is centered on love songs. "This Thing That I've Found" zeroes in on the realization that a certain someone is perfect for you, and "Can't Love Anyone Else" is a self- explanatory ode to the object of Sansone's affection. Hell, even "Under the Wheel"—which feels like a Simon & Garfunkel song, with its echoing fusion of Americana and folk music and the vocal qualities of Sansone and Wilco bassist John Stirratt—sounds pretty damned romantic. The album is the band's most confident release yet, and demonstrates how much they've grown in their 15 years together.
But for Sansone, it's something of a surprise that they've made it this far.
"I don't think we knew when we were making our first album back in 1999 that we would still be at it in 2014," Sansone says. "But the project has had a slow, steady push ahead, which seems appropriate. This second half of the band's life—since we have solidified our live band, and finally got them all together in the studio for Fifth—has been very satisfying for us, musically."
The Autumn Defense's past work has received critical acclaim from the likes of the Nashville Scene, the Chicago Reader and Paste. But regardless of whether or not Fifth ends up being a hit with critics or audiences, for Sansone, it all comes back to simply loving music and the creative opportunities that Wilco and The Autumn Defense afford him.
"I love to sing, probably more so than playing any of the instruments I play," Sansone says. "I love to play, no question about it, but I can imagine a life without playing an instrument. I can't imagine a life without singing. So The Autumn Defense gives me a direct connection to that part of myself that I don't get in Wilco. The two projects provide a good balance for me."
But just because Sansone can imagine a life without playing an instrument doesn't mean his instruments are not important to him.
"A flight attendant [gave] me some grief once about [bringing] my guitar on the plane," Sansone says. "I didn't want to check it. I knew there was space in the overheads, but she wouldn't budge. She said to me, 'Now sir, I like music as much as you, but you can't bring that guitar on board.' I said to her, 'I can assure you, without a doubt, that you do not like music even half as much as I do.' There was plenty of room on the plane for the guitar."
Actually, Sansone says, "Isn't there always room for guitars?"
THE AUTUMN DEFENSE
w/ Desert Noises
Velour, 135 N. University Ave., Provo
Thursday, Jan. 23, 8:30 p.m.
$12 in advance, $14 day of show
VelourLive.com
w/ The Hollering Pines
The Urban Lounge, 241 S. 500 East
Friday, Jan. 24, 9 p.m.
$12 in advance, $14 day of show
TheUrbanLoungeSLC.com
Limited no-fee tickets at CityWeeklyStore.com