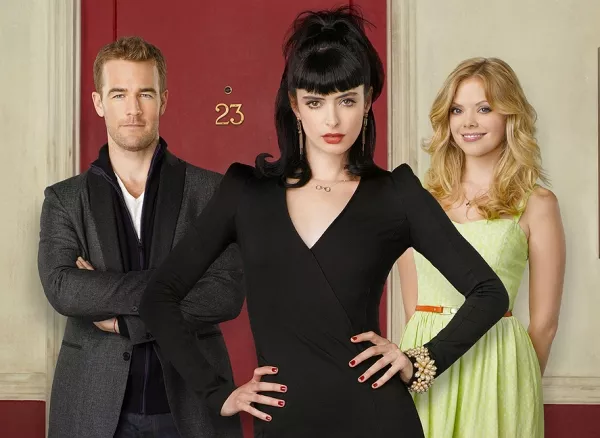 ABC
Don't Trust the B in Apt. 23
Don't Trust the B in Apt. 23
Wednesday, April 11 (ABC)
Series Debut: In the second new midseason series wherein ABC is afraid to use "bitch" in the title, Krysten Ritter (still best-known as Jesse's ODed girlfriend in Season 2 of Breaking Bad) stars as the untrustworthy B who rips off her Midwestern rube roommate (Dreama Walker), only to have the tables turned on her, and the two then become quirky NYC pals. Oh, and James Van Der Beek (James Van Der Beek) is hanging around, as well. Don't Trust the B in Apt. 23 should be this year's Happy Endings (an outta-nowhere, smart comedy hailed by critics and viewers), but could just as easily evaporate into nothingness (like every other Ritter vehicle). Do the right thing, 'Merica.
---
Scandal
Thursday, April 5 (ABC)
Series Debut: Shonda Rhimes, she who brought us Grey's Anatomy (sexy doctors having sex) and Private Practice (sexy doctors having sex in a different hospital), is getting out of medicine and into politics—the crisis-management side of politics, anyway. Scandal is based on the story of Washington, D.C., insider Judy Smith, a notoriously effective (and invisible) former White House press secretary who's spent over 20 years scrubbing high-profile cases from the headlines; she'd make for fascinating TV, in the right hands. Rhimes' ain't them: Scandal is just another assemblage of pouty-pretty people barreling through idiotic dialogue that meshes well with bouncy indie-hipster rock. So it'll probably be a hit—can't wait for Must-Shonda Thursdays this fall.

Nurse Jackie, The Big C
Sunday, April 8 (Showtime)
Season Premieres: The lesser of Showtime's surviving Women With Problems series (R.I.P., United States of Tara), Nurse Jackie and The Big C are at least changing things up a little in their respective fourth and third seasons. Nurse Jackie Peyton (Edie Falco), after three years of skating by as a functional drug addict in a dramedy that barely functions as a drama or a comedy, is checking into rehab, and Cathy Jamison (Laura Linney) is finally showing signs of beating The Big C (aka cancer). And … nope, still don't care.
The Borgias
Sunday, April 8 (Showtime)
Season Premiere: It's not the most coherent or accurate portrayal of Pope Alexander VI (played by Jeremy Irons) and his reign over the Roman Catholic Church in the late 1400s, but … damn, The Borgias looks fantastic. And, with Spartacus over for the season, premium cable needs an oversexed period piece: HBO's Game of Thrones is too smart to fill that bill, and Starz's new 1959-set Magic City, while liberally serving up the sex and violence, is just too … Miami.
The Client List
Sunday, April 8 (Lifetime)
Series Debut: In Lifetime's 2010 movie The Client List, broke Texas housewife Samantha (Jennifer Love Hewitt) takes a job at a massage parlor, only to discover that said parlor is actually a front for a high-society-serving (servicing?) prostitution ring. Since her husband can't work and her kids selfishly refuse to seek employment, she moves into the hooker game and starts raking in the cash—and also develops a cocaine addiction, all the while keeping everything a secret from her family. She and her co-workers are eventually busted and sent to jail; the movie ends with just-released Sam and her husband reconciling. Now, forget all that: The Client List, the series, is about abandoned housewife Riley (Hewitt), who's hired at the same massage parlor/'ho service and becomes a secret working girl (minus the coke habit); sexy comedy, lingerie montages and girl-power bonding ensue. Sure, it's a bastardization of the movie's message, but … damn, Hewitt looks fantastic.