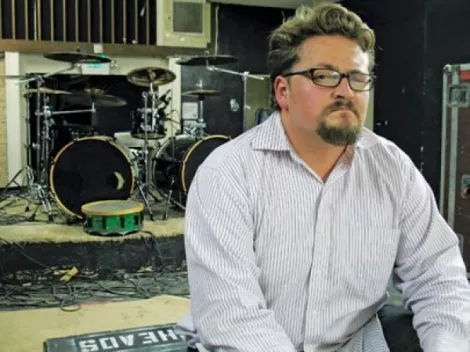 "Jason Allen is a jerk," read two haphazardly placed bumper stickers on The Basement's former streetside window. A few other ragged stickers remain on the facade, and the interior, although always sparse, isn't much better—all that remains are a few pieces of sound equipment and a faint painted-on Twister board on the floor, starting to disappear after years of dancing and spilled Mountain Dew.
This is the all-ages venue that Jason Allen built and is now bidding adieu to, as The Basement moves to a new, larger location—as yet devoid of stickers—a few blocks away, at 3109 Wall Ave. in Ogden.
Initially, "Jason Allen is a jerk" seems like a retaliatory slogan by some pissed-off band angry at the venue owner. The price you pay for doing business?
"No, no. That's my band; that's our name." Allen says with a laugh. "We play organ-core. I play organ and rap, and Ben Gabrielsen—of Gunfight Fever—beat-boxes and plays guitar. I just love having a good time." Allen, a civil engineer by day, adds that he firmly believes they could make an organ-core song so catchy and poppy it would be a sensation in the local scene.
That scene is something that Allen could talk about for days. His legs fidget with excitement and, in a never-short-of-breath barrage, he extols Ogden's many musical virtues, including the many young bands that will grace his new stage. With his big smile and California-boy hair, it's hard to think that anyone would call him a jerk.
"It's a very good market. The attitude of Ogden has always been derived from the thought that we're a gritty, down-on-your-luck, little-brother sort of city," Allen says. "Because of that, I think, metal and hardcore are really big."
The Basement has helped generate a certain buzz locally for those genres since it opened its doors on Oct. 17, 2009. "The local music scene was so small then. We had a hard time getting 30 people here on Fridays and Saturdays. Now we are averaging 200 people," Allen says.
Most of those 200 are in high school. "It's a good thing for these kids to do. We do everything we can to keep this a safe venue. When my kids are old enough to go, would I want them at The Basement? Yes, definitely," Allen says, adding that that's why the shows begin as early as 5 p.m. and end well before midnight.
The seed that initially sowed his desire to open a venue was a little bit different, though. During college, Allen and some friends used to host clandestine concerts in the basement—hence the club moniker he uses now—of an old house that they illegally copied the keys to.
"We couldn't advertise it, because we didn't want to get caught. This was back before the Internet was big and there wasn't Facebook," Allen says. "We'd print out a couple hundred fliers, and if you knew where it was, you got to go; if you didn't, well, you didn't."
However, everyone is welcome at the new venue, which will help capture The Basement's ethos of giving the kids—and any Ogden music lover in general—a safe place to rock out. The new spot is about twice as spacious and will house two concert halls and The Basement's recording studio, Tragically Average Studios. There will be an open house Oct. 28, followed by The Basement's grand opening and second-annual metal extravaganza, Halloween Havoc, on Oct. 29.
HALLOWEEN HAVOC 2011
w/ Fire in the Skies, My Final Estate, Dead Gates, Becoming Everest, When Love Meets Destruction, Freedom Before Dying, For Tomorrow We Die, Necromaniac, Cries of the Captive
The Basement
3109 Wall Ave., Ogden
Saturday, Oct. 29, 5 p.m.
$8 in advance, $10 day of show
TheBasementMusic.com
Jason Allen talks about his iPod picks:

The Mars Volta
"Cygnus ... Vismund Cisgnus"
Frances the Mute
I'm someone who's more into albums, because I feel like a band puts together songs in an intentional order. I want an album to tell a story. It's hard to separate songs with Mars Volta because they are so conceptual. They found a diary in a taxi, and they wrote this album to tell its story. I love that.
MeWithoutYou
"(A)"
A to B: Life
This is one of my all-time-favorite bands. I love the emotion in all of the songs on this album. Aaron Weiss is such a poet, and the way he expresses himself is so beautiful. One moment it won't mean anything to me, and, two weeks later, his lyrics will just hit me, hard.
Brand New
"Luca"
The Devil & God Are Raging Inside Me
This is one of my favorite albums, although when it came out I hated it. I was big into the 2002 Brand New. The guy that sold me the PA here told me I had to listen to this album again, but with the lights off and on a good pair of headphones. And, after that, I fell in love with it.
Touché Amoré
"Condolences"
Parting the Sea Between Brightness & Me
They are a brutal hardcore band. Fans want to scream into the mic, and kids run up and smash into each other [in concert]. What I love about this album is that they recorded it with Ed Rose, who has done sound engineering for The Get Up Kids—my favorite band. This song is Get Up Kids-esque.
The Get Up Kids
"Close to Me"
Eudora
I love The Cure, but I hate it when bands cover it. I love this band, though. I dig how raw and emotional they are. This is a band that taught me to write emotional lyrics, to not be cowardly. Here, he's talking about his dad leaving. I could feel the visceral emotions coming out. This takes a lot of guts.