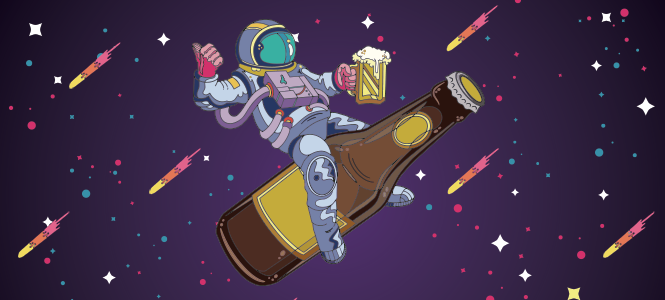 Raise a glass, friends, for the Utah Beer Festival has returned!
The coronavirus injected a dark irony into many beloved traditions—and here's one more example. In 2019, the Utah Beer Festival celebrated its triumphant 10-year anniversary as The Beehive State's best and booziest party. To think such a milestone would be followed-up in 2020 with a forced hiatus, but such is life in the time of COVID-19.
But 2020 is gone, and we who remain are thirsting. Our neighbor brewers have rallied to keep the lights on and the taps flowing, we've all learned a little about contagion etiquette, and the time has come to gather once again for the 11th annual Utah Beer Festival.
This year's two-day event (Aug. 21-22) has a new home at The Gateway and all of—if not more of—the things we love: dozens of brewers, hundreds of beers and ciders, live music and good vibes, all free from the judgmental, puritanical eyes of our anti-imbibing statesmen.
And don't worry, we know it's been a while since anyone's done ... well, much of anything. Inside these pages you'll find all the information you need to shake the dust off and enjoy some great beer.
Mike Riedel, Utah's preeminent beer expert/advocate and City Weekly's resident cicerone (confession: I had to look that word up), will help you get into the right mindset to enjoy your weekend, with tips and insights into the local and national brewing scene. Scott Renshaw, our arts editor, has the 411 on the festival itself, with information on how to purchase passports, hitch an intoxication-friendly ride to the event, and navigate the sampling system. And Aimee L. Cook and Michael Saltas check in with some of the participating brewers to see how they made it through quarantine.
So, readers, brewers, countrymen: Come one and come all to the Utah Beer Festival. It's been a long time, but it's also been no time at all, because we've been here for years, and we're still here.
Cheers!
—Benjamin Wood
Adjunct Guzzler
---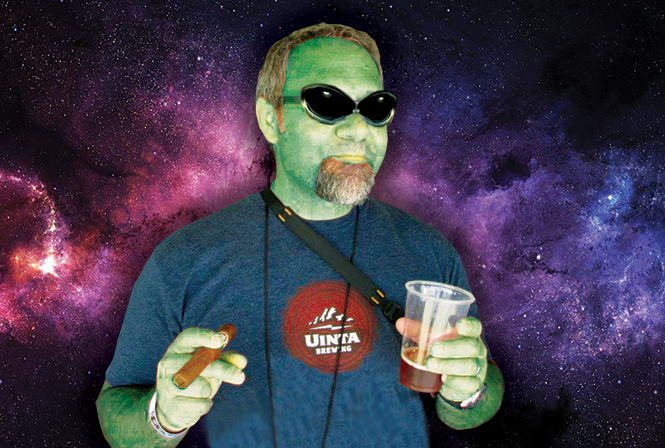 Derek Carlisle
Mike Riedel
Take Me to Your Leader
Q&A with beer nerd Mike Riedel
Few people are as fascinated gazing upon the head of foam rising from a freshly poured glass of beer as Mike Riedel, the scribe behind the much beloved Utah Beer Blog (utahbeer.blogspot.com) and author of City Weekly's Beer Nerd column. Riedel is also a regular fixture at the Utah Beer Festival, and as such, we asked him about what attendees might expect at this year's event.
Why he's jazzed about the Utah Beer Festival
Mike Riedel: Not only is the Utah Beer Festival the perfect one-stop shop for getting acquainted with the best Utah has to offer in regards to adult beverages, it's a showcase for new brands arriving in our market along with what's hot and trending in alcoholic beverages.
COVID's impact on the festival
The Utah Beer Festival will be the first beer event that many of us have attended since 2019—party mode will be in full effect. However, this doesn't mean that those who respect COVID health guidelines won't have access to PPE or other social distancing tools. Plan on the same great party, with a greater awareness of individuals' well-being.
How Utah's craft brewing scene compares with other markets our size
The beer lovers of Utah are lucky to have a strong beer scene that far exceeds our state's teetotaler reputation. Our market is absolutely comparable in quantity and quality to others of our size, with 37 entities operating breweries in the state—not to mention that no brewery in Utah ceased operations due to the COVID shutdown.
Brewing trends to look for
One of the more popular trends is the "impersonation brew." These are beers that mimic other foods, dishes, desserts or confections with the addition of creative adjuncts and ingredients. Pastry stouts, milkshake IPAs and pie-flavored beers will definitely be showcased, along with sour ales and wine/cider/beer hybrids. Hard seltzers, hard kombucha and canned cocktails are also popular beer alternatives.
What's a good plan of attack when attending a big beer festival?
A good plan is key to a successful beer festival outing. Be efficient, but don't go all Vulcan—you're at a beer fest, for Thor's sake! Pre-gaming is very important, and food is a solid part of that. Eat before you hit the road; beer makes you hungry, and there will be a wide array of food options to keep you level-headed while at the festival.
If there's a beer or beers that you really want to try, check out the UBF 2021 Pocket Guide, and it'll get you where you need to be. From experience: A designated driver or a reliable ride home is your best post-fest strategy. With Trax and Frontrunner so close to The Gateway, there's no excuse to drive home.
And don't forget the fundamentals: scoping out which vendors are located where before tastings; choosing which beers you must try, which ones you'd like to try if the line isn't too long, which beers are new to market, etc.
What to pay attention to when tasting beer
If you just want to get drunk, you can stay home and do that. The Utah Beer Festival offers attendees the opportunity to get familiar with the flavors that make beer the most popular fermented beverage in the world. Hops tend to be the most popular ingredient in beer. They often have flavors similar to citrus, pine, berries and grass—identifying those flavors with different malt combinations can create a fruit basket of flavors. Yeast can also add flavors ranging from banana, to clove, to berries—even cheese. Ask your brewery representative for their beer's flavor profiles if you're not sure.
Is there a preferred order in tasting beer—light to dark, for example?
Generally, starting with lighter-flavored beers is the best way to keep your taste buds from getting overwhelmed. But I've found that IPAs and pilsners are easily interchangeable, and often bring out the best in each other when alternating between styles. A bottle of water is also helpful to reset your tongue, not to mention that it will help with hydration. Also, avoid fruit beers after drinking soured beers—all that lactic acid can dull the sweetness of many fruits on the palate.
Best beer/food pairings?
Food pairings are a great way to bring out the best flavors in food and beer, but they're not necessary for the enjoyment of either. Look for complementary qualities, like a sour raspberry beer with a chocolate cupcake or a dry lager with sushi or barbecue. Flavors that are too similar can cancel each other out. Remember, if it works for you, then you win.
How to keep track of the beers you like
When you're surrounded by so many great beer options, an enthused beer drinker can easily lose track of who made those special suds and what they were called. You can utilize the handy UBF 2021 Pocket Guide to help keep track of the beers and breweries that you don't want to forget. Your smartphone's camera is also an invaluable tool along with beer tracking apps like Untappd (my personal favorite).
Exciting beers that local brewers are up to
Old-school beer drinkers like me only had classic American lagers as our gateways into beer. We quickly threw those aside when ale-making breweries like Wasatch, Squatters and Uinta hit the scene.
It's been fun getting reacquainted with Old World lagers again and becoming familiar with why they became the most popular beers in the world. That's why I'm really loving the beers from the Templin Family (T.F.) Brewery right now. The attention to tradition, ingredients and technique are practically a history lesson in a glass.
Shades Brewing is at the cutting edge of what is possible to add to beer. Their award-winning sours and their flavor bending confection beers keep you wondering, "How'd they make it taste like that?"
Your thoughts on hard ciders?
There are a lot of great ciders in our market that are made here and from other parts of North America. Ciders are a great complement to beer and can be enjoyed side by side, as long as you avoid overly sweet beers with tart ciders—then you just end up with a mouth full of tannic bitterness. Try a beer made with apples and see if you can identify what sets it apart from actual hard cider.
Hard ciders that are "must trys"
If craft beer has taught us anything, it's that there are no limits in what is possible, flavorwise. The same goes with hard cider. I'm sure you've had an apple-flavored beer, but what about a beer-flavored cider? Mountain West Hard Cider's Cottonwood is a cider that features Northwest, citrus-forward hops. Angry Orchard's Rosé cider takes you in a different direction, skewing towards the wine part of the spectrum with tannins and berries that mimic the classic summer wine.