With the explosion of new breweries hitting the Salt Lake City area, it's easy to forget there are others serving up suds outside the metro confines and doing it well. Midvale, it turns out, is a perfect example of a thriving beer district. Living up to its "in the middle of everything" slogan, its central location in Salt Lake County—along with the proximity of its centric breweries—make it a no-brainer for the beer enthusiast wanting to explore new flavors and get out of their ho-hum drinking ruts. If you're looking to try something new or revisit a few places that might have fallen off your radar, Midvale's new Brewery Mile awaits.
Hoppers Grill & Brewing Co.
Around since 1996, Hoppers (801-566-0424, hoppersbrewpub.com) is the oldest Midvale brewery. Cranking out award-winning beers from its high-traffic corner at 890 E. Fort Union Blvd., it was originally conceived by the Sizzling Platter Corp.—owners of restaurant franchises like Sizzler, Little Caesars and Red Robin. The cozy brewpub quickly found its niche as an alternative watering hole in response to the glut of national chains that engulfed the area. Driving the brewery's creative direction is brewmaster Donovan Steele, who started as an assistant brewer in 2003 and rose to head brewer four years later. Since his takeover, Steele has won 19 out of the brewery's 36 medals—including three gold and a bronze at Denver's Great American Beer Festival. The establishment's most award-winning beer is Steele's This Is the Pilsener—a light German-inspired lager that is always on the menu.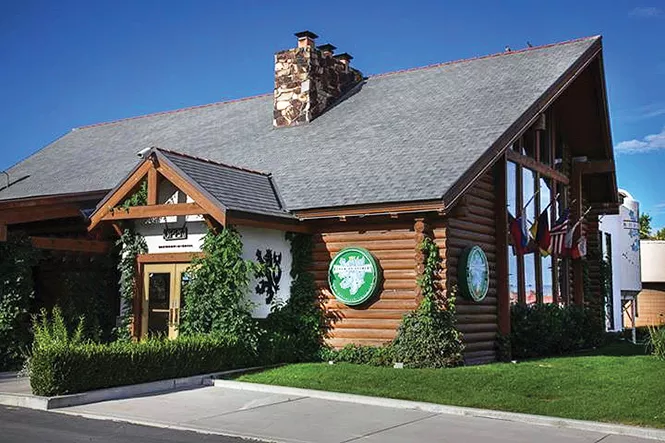 Bohemian Brewery
Throughout the late-'90s, a number of failed breweries tried to make a run of it in the location where Bohemian (94 E. 7200 South, 801-566-5474, bohemianbrewery.com) currently sits. The iconic log chalet was once the home of such breweries as Ganter, Brook Haven and Avalanche. It wasn't until Joe Petras, a Czech immigrant, brought his Old World European beer-making techniques to Midvale that the spot finally thrived. Petras, who was once a brewer at the globally famous Plzeský Prazdroj (the folks behind Pilsner Urquell), decided Utahns were thirsty for his old-school brews, and it turns out he was right. Bohemian's fleet enjoyed wide success as the brewery concentrated on making just four beers under the time-honored mantra "quality over quantity." Petras passed away in 2012, but his vision lives on as Bohemian's new guard continues the tradition of making lagers the European way, just like Joe preferred.
2 Row Brewing
Sometimes people forget that operating a brewery is expensive. Even in Utah, beer is big business and "making it," even on a small scale, means acquiring a sizable property to house all of your equipment. The brewhouse, fermentation vessels, refrigeration and storage cost a lot of moolah, rent notwithstanding. When you're looking at spending your life savings, municipal fringes often become homebase. The owners of 2 Row (6856 S. 300 West, 801-987-8663, 2rowbrewing.com) had to prioritize beer over location and it turns out the move paid off, with the tiny industrial-area brewery quickly reaching cult status. In just two years, 2 Row's IPAs have taken the SLC market by storm. Of the 20 beers currently made by owner and brewer Brian Coleman, 14 contain an intense hop profile that's kept a steady stream of customers coming back, again and again.
So break away from the norm. These off-the-beaten-path breweries are worth your time and sheckles, and have you covered with a symphony of styles—from golden ales to German Zoiglbier. Cheers!