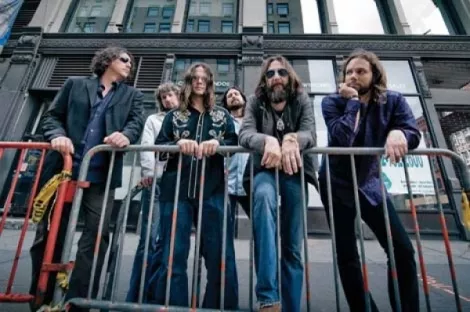 Heavy drug use. Hollywood marriages. High-profile arrests. Multiple hirings and firings of band members. And, of course, a steady diet of brotherly battles—physical, verbal and emotional—between the leaders of the band, singer Chris Robinson and guitarist Rich Robinson.
Those are the things that come to mind when a casual observer thinks of The Black Crowes, which is unfortunate given the band's 20 years of making potent, blues-based rock & roll. For evidence of the music's worthiness, check out the new Croweology collection: 20 songs from the band's catalog re-imagined and mostly acoustic, released to coincide with the band's current Say Goodnight to the Bad Guys tour. 
After a six-night stint in San Francisco in December, the Black Crowes are going on indefinite hiatus. And talking to Rich Robinson, it doesn't sound like a future reunion is automatic. He's reflective on the band's 20 years to date (including a stormy breakup from 2002 to 2005) and has a list of plans that includes solo albums, film scoring, painting and plenty of family time. If the Black Crowes play again after 2010, it's clearly not going to be for a while. But Robinson notes this split is different from the one eight years ago.
"We essentially broke up last time; it wasn't planned," Robinson says. "This time, we thought we should just let everybody know what was going on. There are no issues, we're just going to take a break and figure it out. We have no plans to get back together or not get back together. We'll do other things and get reinvigorated … I think it's good to go out that way. I don't think you want to go out kind of crawling. It's good to go out when you feel good about what you're doing as a band."
The band has plenty to feel good about with its current incarnation. While the Robinsons have been the only constants for the past two decades, the addition of North Mississippi All-Stars guitar ace Luther Dickenson in 2007 was an inspired choice, and the band has had some of its most consistently stellar shows since he signed on.
The live show has never been a question with the Black Crowes, though. That's as true now as when they first played Salt Lake City on April 12, 1990, opening for quickly forgotten rockers Junkyard at The Speedway Café to a tiny audience I happened to be a part of. It's a gig that, despite the intervening 20 years of nonstop activity, still sticks out in Robinson's mind.
"Absolutely. I think there was about 12 people in the audience in Salt Lake City," Robinson recalls. "Do you remember the guy stage-diving? I just remember that guy and being like, 'Wow, really? You didn't know there was only one row of people?' That guy landed right on his jaw. We were shocked. We still talk about it; it was unbelievable!"
What I remember from that show helped make me a fan. There was one guy in the audience who somehow knew all the Black Crowes' songs, even though they had yet to break and this was their first Western tour. After their set, the Robinsons grabbed the guy and loaded him up with free T-shirts.
While some might look at the band's declining CD sales as evidence they're less popular than they once were, the Black Crowes have continued selling out venues large and small since their debut, Shake Your Money Maker, sold 7 million copies. No 20-year-old band sells albums the way they once did, and the Black Crowes are no different.
"Our records have kind of become less accessible on a popular level, but heavier and much deeper on a musical level," Robinson contends. "If you listen to Shake Your Money Maker—and I love that record—it was a much more simplistic approach. And as we grew as musicians, we really tried different things. One of the things I think proved to be one of our strengths is that we never tried to do the same thing twice."
Except, apparently, when it comes to splitting up.
THE BLACK CROWES
The Depot
400 W. South Temple
Tuesday, Aug. 31
9 p.m.
$42 advance/$45 day of