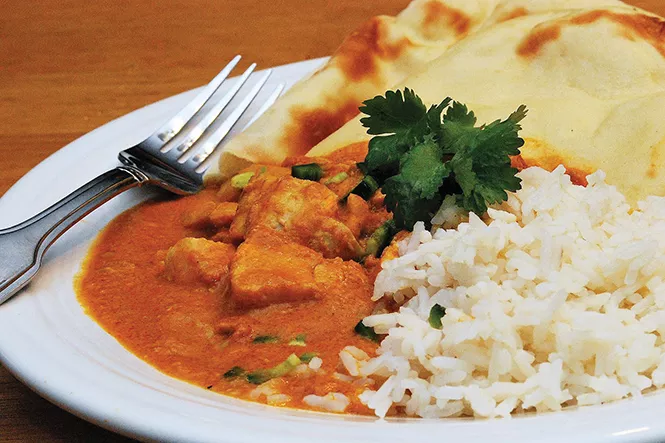 When thinking of destination dining, Bountiful might not come most immediately to mind. The city is rife with franchise- and chain eateries which probably outnumber independents 20-to-1. That said, it's notable that three of my favorite Utah restaurants are there.
First, there is the venerable Mandarin, where the Skedros family and their staff of chefs has been dishing up bona fide Chinese fare since 1978. Then there is Ti Amo, another delectable family-run operation. Mauro and Gloria Bonfanti, along with their children, pump out some of the best Neapolitan-style, wood-fired pizza you'll ever taste, along with plenty of smiles and warmth.
Rounding out the list is Royal India. A younger sibling to the original in Sandy, the Bountiful iteration offers the same bright and bold Indian flavors, albeit in a smaller space with not quite as much ambience. The good news is, because this excellent establishment hasn't hit everyone's radar yet, there's rarely a table wait.
The backbone of both restaurants is owner/chef Emmanuel Shanthakumar, who occasionally returns to India to sharpen his knowledge of the country's diverse cuisines—bringing back new expertise reflected in his dishes. Shanthakumar is also one of the most affable, kind and generous chefs I've met, seemingly never without a broad, infectious smile.
I'd smile a lot, too, if I were able to indulge in Royal India fare as much as he does. There are very few eateries—Indian or otherwise—with flavors as fresh, as curries and other sauces are all made from scratch.
The menu here is a smidge smaller than Sandy's—where you'd need to go to enjoy a handful of specialty items such as ground lamb-stuffed keema samosa, and some southern Indian dishes like masala dosa and a fried lentil crepe called ghee dosa. Otherwise, the two menus are pretty much identical.
At the Bountiful location, I always begin my meal with an order of papadum ($2.95)—a generous serving of four crispy lentil wafers, seasoned with tart spices such as cumin and coriander. You also can't go wrong with the mixed appetizers plate ($7.95), which includes vegetable samosa (fried, fluffy pastry dough stuffed with spiced potatoes and peas) and pakora (battered and deep-fried chicken tenders and veggies, served with chutney and dipping sauce).
My go-to curry dish has always been the exquisite chicken vindaloo ($12.95). It's a tangy mélange of boneless chicken morsels, potatoes, onions and tomatoes in a tart vinegar-based curry sauce. Though lately I've been more drawn to the lamb rogan josh ($15.95) a specialty here. For it, boneless chunks of tender, lean lamb are bathed in a silky, spicy sauce made with tomatoes and cream, accented with bay leaves, cumin, ginger and other sensational spices. I always order a side of multi-layered paratha ($2.95)—whole wheat bread baked in a clay tandoor oven—to help with soaking up all of that sauce.
For a milder experience, but just as layered, complex and rich, I recommend my wife's favorite dish: shrimp saag ($15.95). Common in th state of Punjab, saag is a creamy, greens-based dish (spinach, in this case) cooked with onions, spices and tomatoes. All the menu items are generously portioned and shareable, tending to leave plenty of leftovers for a next-day lunch or snack.
As an added bonus, this location also offers online ordering. So, if you're looking for authentic Indian flavors, head down Bountiful way.