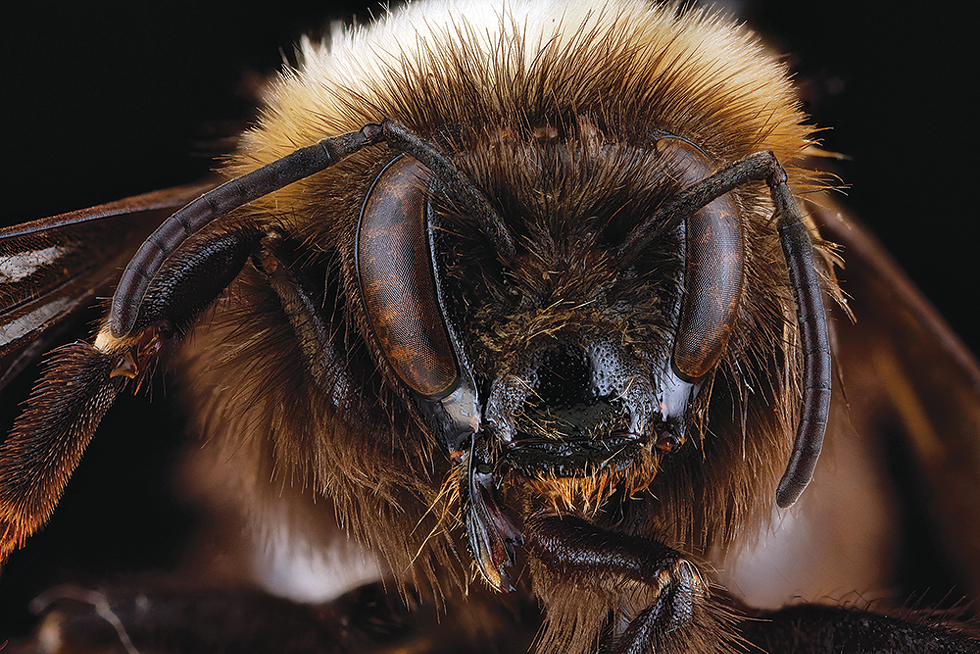 USGS Bee Inventory and Monitoring Lab
Honey companies, local and national, are trying to devise new ways to increase diversity and numbers in native bee populations.
Although a beehive adorns the state seal, honeybees are not native to the "Beehive State." They arrived in Utah with Mormon settlers, who held the honeybee in high regard for what, you guessed it, they considered its industrious nature and collective spirit—virtues they saw embodied in their own community. The Church of Jesus Christ of Latter-day Saints leader Brigham Young initially named the region "Deseret," the Book of Mormon's word for honeybee.
Less celebrated is the state's notable native bee diversity. In Grand Staircase-Escalante National Monument alone, more than 650 native bee species have been identified. By comparison, 750 documented native bee species exist in total east of the Mississippi.
Now, a push to store commercial honeybees in Utah's Manti-La Sal National Forest could threaten its native bee diversity. Located about 180 miles north of Grand Staircase, the national forest is home to hundreds of native bee species, including the declining western bumblebee. Scientists worry that a large influx of honeybees could bring resource competition, disease and ecosystem changes.
According to documents acquired by the nonprofit Center for Biological Diversity through Freedom of Information Act requests, South Dakota-based Adee Honey Farms—the largest private beekeeper in the country—has persistently applied for bee storage on several Utah national forests since 2012, boosted by a 2014 Obama administration memorandum that directed federal agencies to aid honeybees and native bees. In the fall of 2017, Adee applied to place 100 hives each on 49 sites in Manti-La Sal, which equates to hundreds of millions of bees. To date, it has received permission to place 20 hives at just three sites.
Commercial honeybee populations have plummeted in recent decades, in large part due to pollinating crops coated in pesticides. With immune systems weakened by chemicals, honeybees are vulnerable to diseases and pests, including the varroa mite, which latches onto honeybees and sucks them dry. Meanwhile, available land for storing bees during their off-season has shrunk, thanks to funding cuts to a federal program that paid Midwestern farmers to let land lie fallow. Beekeepers often stored their hives on this land.
"We are desperately trying to get out of pesticide areas due to the loss of our bees," Brian Burkett, an Adee Honey Farms employee, wrote in his application for commercial bee-storage.
Tara Cornelisse, a scientist at the Center for Biological Diversity, called pesticides the "common enemy" of honeybees and native bees. "The reason honey producers want to put their hives there [on national forests] is that there are so few unimpacted places," she said.
The company has sought bee storage on at least three Utah national forests. Honeybee storage on forest service land is not new; the practice exists in Arizona and California, as well as in Wasatch-Cache National Forest in northern Utah. Even so, scientists and conservationists fear bee storage in southeastern Utah might damage native bee populations.
The threat to native bees stems from the same collective nature that the Mormons admired in the insects: Honeybees, which are social, direct others in the hive to viable sources of pollen and nectar. Most of Utah's native bees are solitary, so they risk being outnumbered in the hunt for floral resources. Honeybees also are generalists; they pollinate many plants, which accounts for their value as commercial pollinators. Many native bees, meanwhile, have evolved to visit specific kinds of plants, so if they are driven away, they have fewer options, and their populations could decline from lack of food. That can affect an ecosystem's makeup, because native bees often are better at pollinating native plants than honeybees. Vincent Tepedino, a retired bee biologist who has urged the Forest Service to reject honeybee storage, says the practice in the Manti-La Sal could eventually change fruit and seed production, impacting birds and other animals throughout the ecosystem.
Biologists also worry about the sheer magnitude of resources used by honeybee colonies. A research paper by biologist Tepedino and James Cane, an agency entomologist based at the U.S. Department of Agriculture's Agricultural Research Service office in Logan, calculated the amount of resources collected by a honeybee colony, and translated that into the equivalent number of baby solitary bees. In four months, the 4,900 hives requested by Adee would remove enough pollen to rear hundreds of millions of native bees.
Scientists say the effects of honeybees on native species, especially the potential for disease transfer, demand further study. "Absolutely there needs to be more research to learn more about competition and impacts," said James Strange, a research entomologist at Logan's Agricultural Research Service.
A version of this article appeared in High Country News.


A Bee's Home
More than 50 people gathered at Sugar House Park on a recent Friday afternoon to take Utah's nickname—the Beehive State—to heart.
Drills whirred and kids sawed away as they assembled a nesting box for native bees. The project, put on by Sandy-based Hollow Tree Honey and Midvale's belt company Grip6, was intended to help grow the number of bee habitats in people's own backyards.
Thomas Bench (pictured, above left), a co-founder at Hollow Tree Honey, told City Weekly there are about 1,500 native bee species and about two-thirds of them would likely nest in the small shoe-box-sized wooden enclosures. While Bench's company relies on honey bees, he says the group wants to aid bee conservation and create a project to maintain diversity in the bee population. While a honey bee can help pollinate plants, other bee species can do even more.
"These native bees, they don't have any pollen sacks though, [but] they have tons of hairs," Bench said. "When they go to a flower, they go in there and get all covered in pollen and it's almost 90 to 95 percent efficiency."
The boxes were made from wood scraps collected from cabinet makers and phragmites grass harvested along local waterways. The grass, which is similar to a reed and hollow inside, provides a nesting and breeding habitat for the insects. Those who assembled boxes were instructed to hang them up in their home garden and given flower seeds to plant in hopes of attracting bees.
Amy Sibul, an instructor with the University of Utah's biology department who attended the event, said many people might only think about honey bees, but "what the population doesn't understand is that we have thousands of other kinds of bees." That's where the easy-to-build boxes come in handy.
"The biggest problem with all questions of biological diversity is habitat destruction, so we're trying to combat that by putting these components in our urban spaces," Sibul said. "That's one of the wonderful things about bees: They're resilient, they'll repopulate and grow in abundance."
Bench, a former student of Sibul's, said they hope to do more events like this one at Sugar House Park in hopes of spreading the bee-conservation gospel.
"People ask us about the bees all the time when we're at farmers markets," he said. "They're like, 'What's happening? They're dying.' So, we try to give them really simple stuff like seed packets and help them build these boxes to put up in their garden." —RH